From a decades-old VW van, aspiring actor Spencer Falls pulled up curbside on Abbott Kinney to sell a few flowers. More impulse than business at the time, "The whole idea was a bit of a laugh, really," he says, confessing no real intention to start a brand.
Falls was between jobs and thought of a hustle to "make a little money" and "fulfill a creative void." Not only a son of New Zealand, but of an orchardist and fine artist as well, Falls didn't lack for experience or clients. He rolled on and today is the founding artist of growing brand, The Unlikely Florist.
Not long ago Falls put his van in park to set up shop in a 2,000-square-foot studio in the heart of Venice. With good design bones, an artsy, industrial vibe and a soaring 25-foot-high ceiling, the warehouse is "a place to call home, a place to dream up and realize large-scale installations, a place to offer the community of Venice a place to congregate with our Jazz nights, and a place to share with people who need a place to shoot their product or host their own events," says Falls. "It's a Proteus of a work space."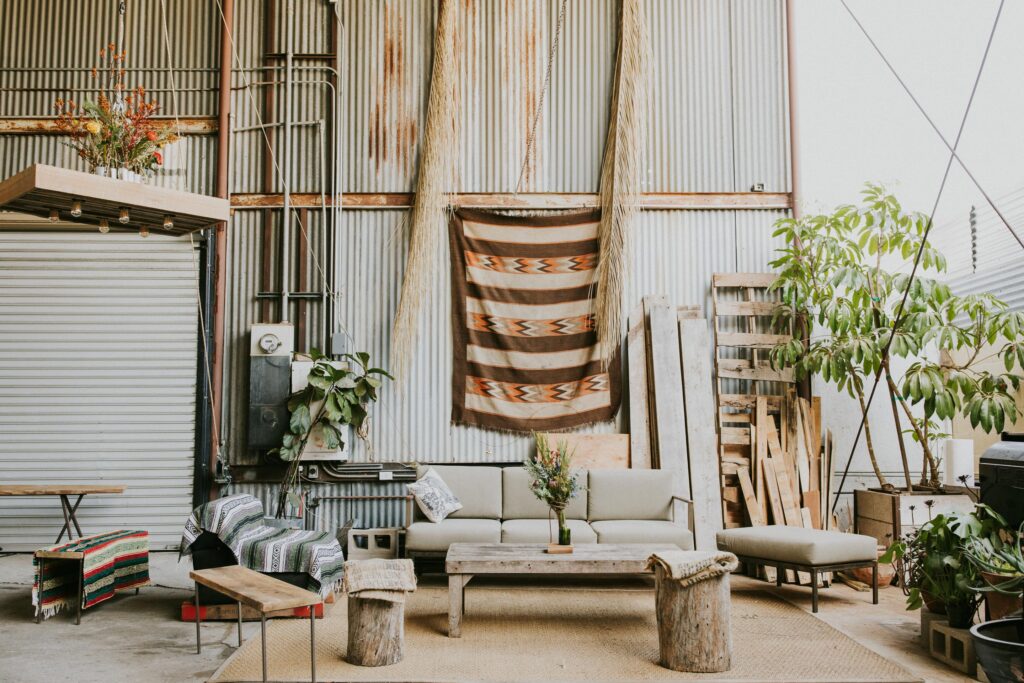 And not without its rustic charms, a patina of rusted walls and exposed beams, not unlike the working warehouse space of a hip neighborhood startup. "Reclaimed wood frames doorways, act as a living wall and structure, to frame a home made out house," describes Falls.
"It also frames giant chalkboards and is stacked in corners ready to create, well, whatever it's needed for. One of the walls is coated with a healthy amount of dried flowers hanging upside down." It's a work-in-progress, Falls notes, but a match for L.A.'s easy aesthetic that vibrates the cool bohemian style of its design-driven enclave.
Like any creative, Falls has more ideas than hours in the day and a number of future design plans to execute. While rare, brightly-hued blooms are what characterize The Unlikely Florist-branded arrangements, its studio, while fragrant, strikes a more muted, unfussy tone. Natural beauty is clearly a reference point and a signature of his homeland.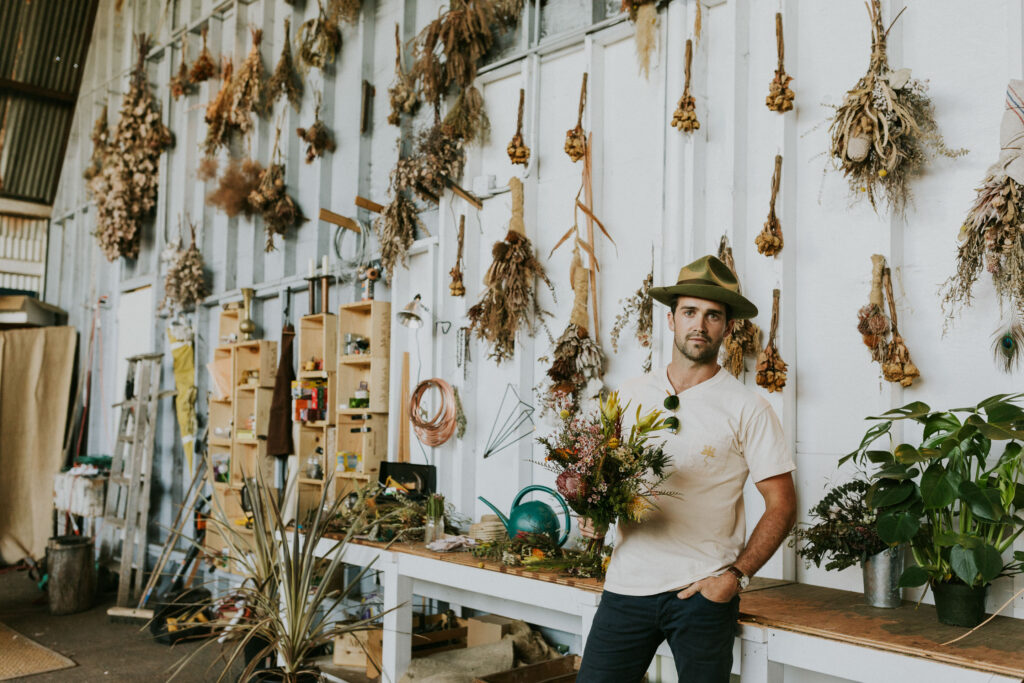 Falls describes New Zealand as a hardworking, no BS kind of place where people aren't afraid to get their hands dirty. "From a style and aesthetic perspective," he says. "I guess that mine is an organic look."
This is evident throughout the studio, which is available to rent for events and productions. For those looking to stop and smell the flowers, extra accommodations, complete with fresh florals, complimentary beverages and a movie projector and screen, is offered as well.
PHOTOGRAPHS: COURTESY OF FANN CHU