The Farmhouse Inn takes down-home upmarket with a full revitalization and a brand-new spa.
With deep roots in Sonoma County, the woodsy, award-winning Farmhouse Inn sits on six acres of storybook surrounds. Emerging this spring from an $8 million property-wide expansion and redesign, stewarded by sibling owners Catherine and Joe Bartolomei, in partnership with SB Architects, Myra Hoefer Design and Valley Crest Landscape, the jewel of the Russian River Valley is now absolutely glistening.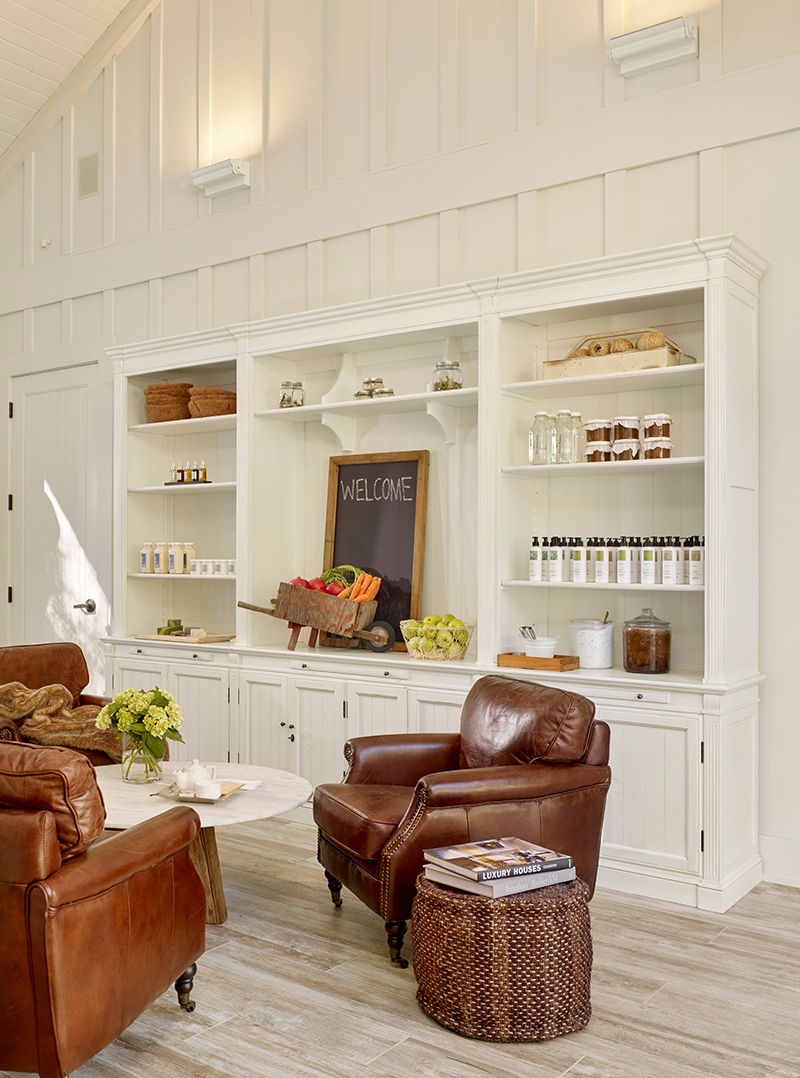 A product of its wine-country wilds, Farmhouse's new look befits the world-class roost with a 15-year reign as one of the finest offerings in the realm of luxury boutique hotels. Doling out farm-to-table hospitality long before there was the term, the Farmhouse's modern pastoral approach to its overhaul has introduced a slew of new extravagances, including nine top-grade accommodations, a sumptuous spa, verdant gardens and a refreshed pool area.
Pervading all is a sense of casual elegance and warmth. To this end, Catherine Bartolomei says, "Hospitality at Farmhouse is all about making guests into friends, and introducing them to our fabulous wine country lifestyle. Our hope is that they leave feeling connected, relaxed and longing to come back."  She, of course, never really left; the inheritance that Catherine and brother Joe now oversee has been in their family for more than a century. Thus, at the insistence of its fifth-generation farmers, winery and vineyard owners, Farmhouse emphasizes absolute sincerity—from gracious service to spoils in short order.
And do the "spoils" ever abound. In the culinary category, it starts with a decadent two-course, artisan country breakfast; moves to the Michelin-starred Farmhouse Restaurant, where Executive Chef Steve Litke churns out organic, sustainable, regionally influenced fare; and culminates in a sommelier-led wine and beverage program by estate Wine Director Allyson Gorsuch.
Beginning its own indulgent run is the Spa at Farmhouse Inn, a "farm-to-table" concept under the direction of internationally regarded spa consultants, Francis & Alexander, and a kind of 21st century homage to the site's original 19th century barn. Melding simplicity with texture (rich woods, flashes of white, industrial touches), the spa oozes purity, right down to the double barn doors and open-air ceilings. Likewise, treatments, from massages to facials to aromatherapy, offer a similar air of naturalness, furthered by the presence of handmade artisan products and garden-fresh ingredients.
Bridging old and new elsewhere, farm hand housing of an earlier era is now cottage-style guest rooms constructed in historic style. These sophisticated examples of contemporary architecture and easy style offer earthy, unhurried allure. Featured are hand-woven textiles and country-soft trimmings; bathrooms awash in Italian marble gleaming alongside weathered wood; and a sea of glass luring in the lushness beyond.
Coinciding with the refreshed Farmhouse—and celebrating its official grand opening—is the Spring into Sonoma package, which extends stays with a complimentary third evening. Those on a Monday through Thursday schedule will also receive a $160 spa credit or wine-country picnic with a bottle of wine.
(Offer valid through May 31.) FarmhouseInn.com
Wine Country Curated
Catherine Bartolomei shares her ideal day in Sonoma County.
9 a.m. Espresso at Taylor Maid Coffee, Sebastopol
"A little pick me up before I start my day at the hippest spot in the Russian River Valley is always welcome—The Barlow is Sonoma County's newest walk-around outdoor market, featuring local wineries, breweries, restaurants, artisans and more. The coffee drinks at Taylor Maid are so good we use their coffee in the restaurant."
10:30 a.m. Light hike at Armstrong Redwoods, Guerneville
"I love to stretch my legs at one of Sonoma County's most beautiful parks. This old-growth redwood forest is 15 minutes from the Farmhouse Inn and has many hiking trails for trekkers of all levels."
11:30 a.m. Terrace Tasting at Gary Farrell Winery, Healdsburg
"This Russian River gem sits on top of a ridge overlooking much of the western edge of the valley. Enjoy winemaker Theresa Heredia's fantastic chardonnays and pinot noirs while enjoying the views. I always ask for a cheese plate!"
1:00 p.m. Hang out by the Farmhouse pool
"Pool time epitomizes everything I love about going on vacation—sunshine, water, relaxation and indulgence. Ask our team for a poolside menu; you'll enjoy delectable snacks from our estate chef… and a selection of wines by the glass."
2:30 p.m. Experience the Spa at Farmhouse
"I can't pass up a spa any time I travel. I love our new spa, particularly our indoor-outdoor treatments. My new favorite may be the Roll in the Hay—
it's seasonal, but certainly one to try this spring."
5:00 p.m. Silver Service pickup at Farmhouse
"A personal car service is oh-so decadent, and I highly recommend it. Our team of concierges has found the best services in the area, and they regularly work with Silver Service. Arrive in style in their Mercedes S-class."
5:30 p.m. Drinks at Spoonbar in the H2 Hotel, Healdsburg
"This trendy bar is well-known for their tasty cocktails and hip bar scene. I love a good old-fashioned martini, but you'll find their custom cocktails eye-opening."
6:30 p.m. Stroll Healdsburg Square, Healdsburg
"Downtown Healdsburg went through a major change about a decade ago—some major sprucing up, the introduction of new restaurants and shops, and a revitalization of the green have all made this a must see on any visit to Sonoma County."
7:00 p.m. Dinner at SCOPA, Healdsburg
"Probably the most popular restaurant among locals and visitors alike, SCOPA is a fantastic Italian eatery right on Healdsburg square. Small and narrow, you get to know your neighbor as you enjoy arrancini and Nona's chicken (one of my favorite dishes of all time!)."
9:00 p.m. Nightcap at Bergamot Alley, Healdsburg
"This hole-in-the-wall is hard to find, so ask a local. Their list of esoteric wines attracts all kinds of wine industry folks. Enjoy a glass of bubbles while listening to classic records on vinyl."
Spa Photography Courtesy of Cesar Rubio
Farmhouse General Photography Courtesy of Farmhouse Inn