A Trip Back in Time
L.A.'s past meets a booming Downtown resurgence at the city's newest urban retreat, Hotel Indigo
Written by Wendy Bowman | Photography Courtesy of Matt Walla
Visiting the new Hotel Indigo Los Angeles Downtown is like cracking open a long-forgotten time capsule of the surrounding neighborhood, circa the late 1800s to the 1920s, complete with stylish decor that hints at the Fiesta de las Flores parade, pre-Hollywood glamour, underground tunnels and speakeasies, and starlets and directors of the time period, all paired with industrial touches that nod to the area's current resurgence. The best part? It's all captured in a design story told through the eyes of Anna May Wong—the first Chinese-American movie star, who resided in the area during its heyday—by interior designer Hirsch Bedner Associates (HBA).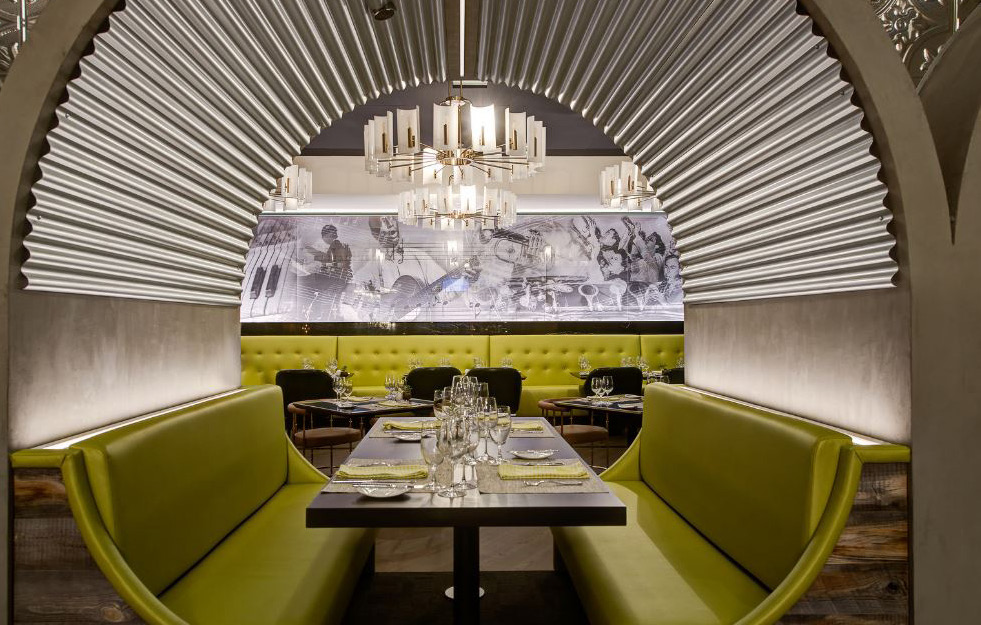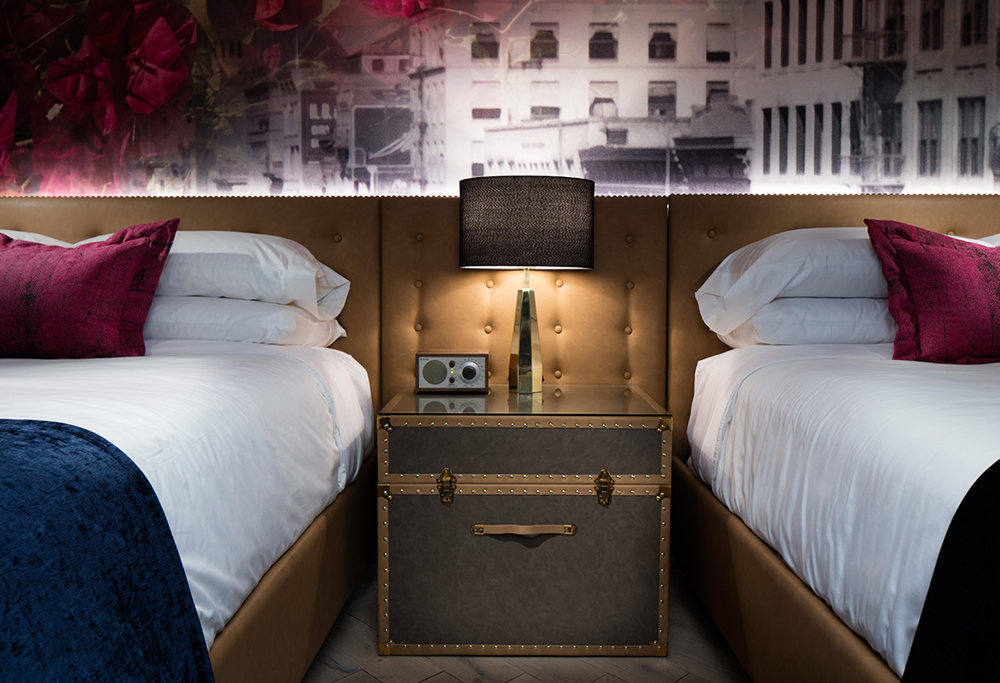 "Per Indigo's brand standards, each hotel design must reflect the local area within a story drawn from a five-block proximity of the hotel's location, making each project incredibly unique and deeply rooted in its locale," says HBA Associate Richard Tennill. "Since Indigo Downtown Los Angeles is the largest Indigo in the world and a flagship project, HBA was able to research and thoroughly develop four different narratives from Downtown Los Angeles for this project."
Situated at 899 Francisco St.—just one block from LA Live and Staples Center—the 18-story, Gensler-designed building features 350 rooms and suites priced from $229 per night. Expect some rooms to feature a mural over the bed that imagines what Anna May could have seen out of the window during her time, while other more masculine rooms have been created around "The Director" theme, using brown and maroon tones that recall the leather and woods found in an office. Three sophisticated suites depict Anna May's rise to fame via luxurious finishes and art.
The historic imagery also is woven throughout the hotel's public spaces, with the lobby featuring large murals of ghosted flowers over images of decorated carriages and crowds, along with a hat wall representing what young starlet Anna May might have looked down on from her room as she watched men walking to work. A custom chandelier composed of 30 large spokes hangs above the reception desk and illuminates a free-standing, floral-decorated "penny-farthing" bike set on display, while the elevators have three distinct looks that each represent the era of inspiration.
Even the hotel's food and beverage programs reflect the culture and history of L.A., from the classics of the Golden Age of Hollywood to the modern trends of today's Downtown culinary scene. "Our city and neighborhoods are truly a melting pot, and represent one of the most culturally dynamic culinary scenes in the world," says Bruce Curry, Hotel Indigo Los Angeles Downtown's director of sales and marketing. "Our menus were designed to reflect that diversity, concentrating on local flavors and neighborhood favorites."
Look for 18 Social, the hotel's top-floor cocktail lounge, to include a wide selection of locally brewed drafts, some of California's finest wines and an assortment of cocktails ranging from the FDR martini—created by the former president to celebrate the end of Prohibition—to a locally created twist on the Moscow Mule, the Pineapple Mule. Meanwhile, Metropole Bar + Kitchen, the hotel's ground-floor restaurant, showcases menus using local ingredients and featuring everything from small bites such as tuna poke tacos to locally-inspired favorites such as the French dip. Upscale fine-dining options include honey miso baked wild sea bass and duck confit risotto with foie gras foam.
One of two new InterContinental Hotels Group properties hitting the L.A. market in 2017, Hotel Indigo debuted at the end of March, with the 73-story InterContinental Los Angeles Downtown set to open this summer, adjacent to the Financial District. "Both hotels are managed by IHG, which is bringing its first hotels back to DTLA in more than 20 years," says Curry. "We are not only bringing flagship, new-build iconic hotel properties to the market, we are also bringing choice, as some many of the downtown hotels are represented by a single brand. This is great for travelers, and also great for the city."
HOTEL INDIGO
899 FRANCISCO STREET
LOS ANGELES, CA 90017
213.232.8800
HOTELINDIGOLA.COM
Related Post
A timeless Playa del Rey retreat is home to private bliss and endless ocean views Written by Constance Dunn | Photography&n...
A private hilltop villa in Hermosa Beach proves the perfect retreat for the finest in resort-style living Written by Joclene Davey&nbsp...