A New Jewel in Old Town Torrance
Bouchon alum Camden Hershberger advances the South Bay dining scene with a charming spot in an under-the-radar neighborhood
Written by Constance Dunn | Photography by Paul Jonason
When Camden Hershberger decided to make a move from the kitchen of Thomas Keller's Bouchon in Beverly Hills, it was not to another prominent L.A. eatery or celebrity chef-helmed restaurant. It was a pioneering return to his native Torrance, to helm the kitchen at Restoration Kitchen & Wine, which opened last July in the midst of the historic Old Town neighborhood.
The streamlined restaurant has an intimate dining room and a sidewalk patio, and a welcomingly concise one-page menu. One side lists a well-curated selection of locals-only beers (Smog Ci, Strand Brewery and Absolution among them), and wines selected by owners Greg Harai and Wesley Takiguchi, who've stacked the list heavily with California selections, along with a pick or two from the Pacific Northwest and France.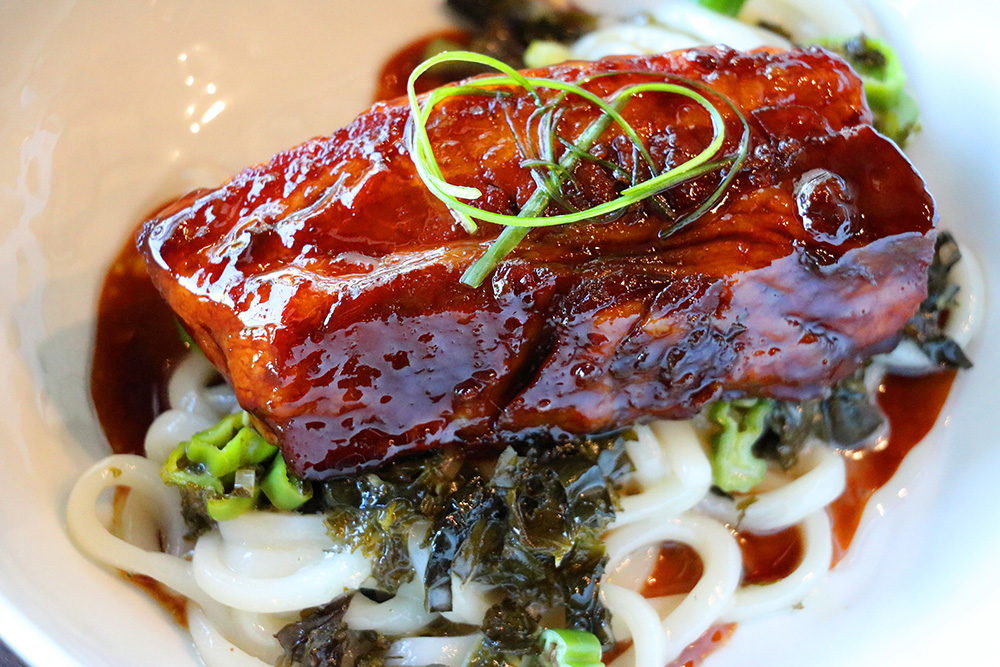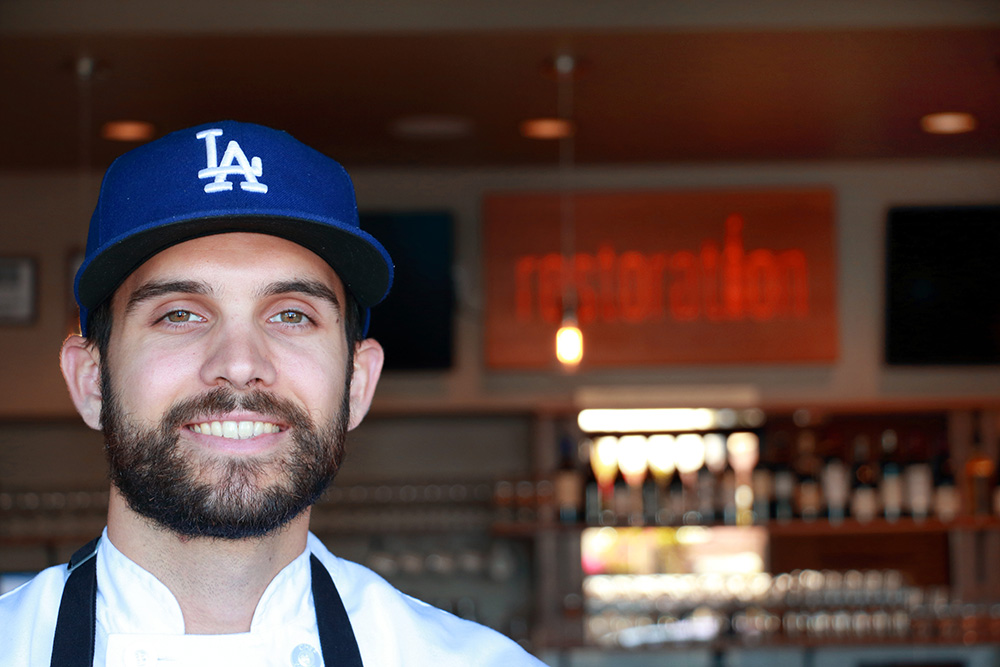 The menu's focus is on simple dishes executed at a sophisticated level. Cuisine twines Hershberger's classical French cooking chops with seasonal California edge. This means a slew of different influences, Asian included (a note driven by the Japanese and Hawaiian ancestry of the owners). There's a specials board and a dinner menu—around 20 items, with starters—that rotates a bit, mostly for seasonal-ingredient adjustments, and includes mainstays like the Braised Pork Belly, which exemplifies the cuisine of Restoration.
"It's a take on a classic Okinawan-style braised pork belly," explains Hershberger. Braised in a blend of soy sauce, brown sugar and other ingredients, the meat is then glazed—a French technique overlaid on an Asian dish, resulting in something different altogether. "It adds a lot more richness and another texture, a different mouthfeel and a whole other flavor profile to the pork," says Hershberger. Served with shishito peppers and pickled greens, the dish is accompanied by Japanese udon noodles that have been butter glazed—another French technique.
There's a hearty Oxtail Ragu with Rigatoni and a seared Atlantic salmon with butternut squash puree and braised cabbage, and a star among starters is the Wild Mushroom Flatbread (fontina and mozzarella cheese, roasted mushrooms, arugula and thyme). Plates are easily shareable, and a few of the tables are communal, making Restoration an equally fun destination for friends catching up as it is for a date night.
Speaking of, if you're a die-hard local who's keen on the idea of exploring new restaurants outside the Beach Cities beltway, but not so eager to battle the traffic to downtown L.A. or the Westside, a trip to Old Town might be in order. Approximately 15 minutes from Riviera Village (making it 20 or 25 from Hermosa and Manhattan piers, respectively), the area is home to a slow but steadily rising tide of eateries, with Restoration Kitchen & Wine among its most standout options. "The reward of opening the restaurant is the reception we've gotten from the neighborhood," says Takiguchi. "It's phenomenal."
RESTORATION KITCHEN & WINE
1437 MARCELINA AVENUE, TORRANCE, CA 90501
310.328.8100
Related Post
A food truck with royal roots rolls into Los Angeles with fresh handmade pasta Written by Joclene Davey | Photography Court...
A purveyor of fine cheese parlays his passion into a new shop Written by Joclene Davey | Photographs: Tom Cocking Courtesy ...
Captain Kidd's keeps its decades-long reputation for the freshest seafood in town, served in a down-home harbor atmosphere Written by Cons...