Once home to famed artist Gary Sweeney and his family, this Manhattan Beach property soon will boast a set of striking new townhomes
Written by Wendy Bowman | Photography courtesy of Mike Cooley
If this Manhattan Beach property could talk, it would have plenty of stories to tell. The former residence of artist Gary Sweeney, from his birth in 1952 until the time he left for college, the almost century-old house that once stood here boasts many memories—from the stairs his father built to make life easier for his polio-stricken mother to the single shower that he shared with his parents and sister. A magnolia sapling, a gift to his father from the parent-teacher association, has even grown into a two-story tree throughout the years.
Now the property is ready for its next chapter, having been sold in just one day to Richard Haynes Development. The company has since razed the wood-framed beach duplex and is in the process of replacing the fading structure with a pair of contemporary, ocean-view townhomes, slated for completion this summer. Before construction started, however, Sweeney took one last chance to turn the home's exterior into a public art installation, renting back the residence from its new owner to display 100 massive images of family milestones taken by his late father (an amateur photographer) as part of the exhibition, "A Manhattan Beach Memoir: 1945-2015," all meant to say goodbye to the end of an era.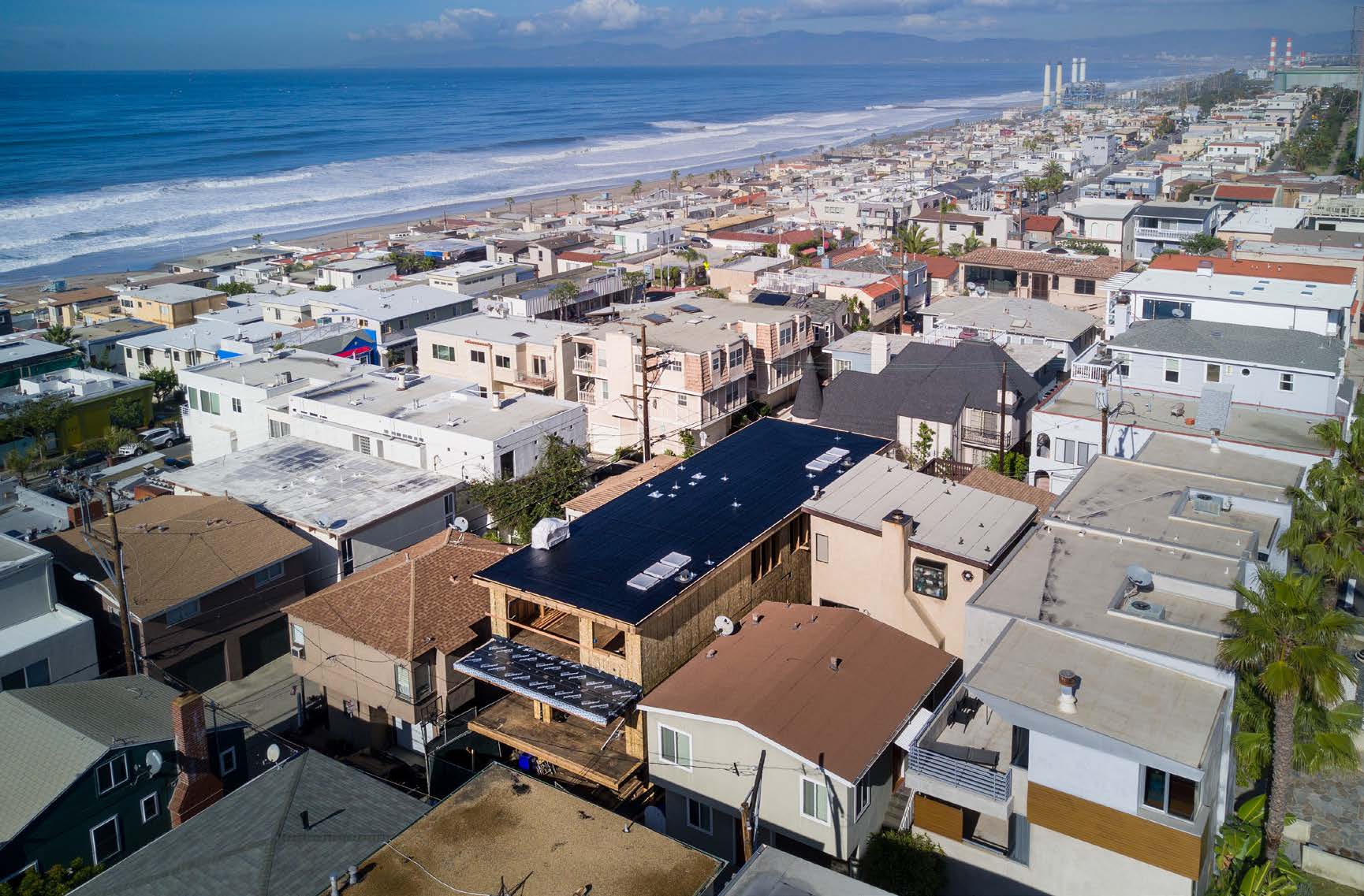 "We were happy to let Gary part ways with the home," says Richard Haynes, president of Richard Haynes Development, who also is listing the property for Manhattan Pacific Realty. "It was in a state of disrepair and now will emerge as a modern, updated option that's ideal for homeowners seeking a modern coastal lifestyle. It's difficult to find new-construction townhomes east of Highland Avenue and north of Grandview Elementary, and these will be affordable for the area and offer fabulous ocean views."
Situated at 320 35th Street, on a 2,700-square-foot parcel in the North Manhattan Beach Sand Section, a highly desirable family area with convenient access to the beach, popular restaurants, high-end boutiques and the nearby community of El Porto, the property will house a pair of three-level attached townhomes planned by Harry Abhichandani of Harry Designs. One will feature 2,400 square feet of living space, four bedrooms and a basement (perfect for a theater or home-based business), and the other, 2,000 square feet and three bedrooms. Expect both homes to include bedrooms on the first and second levels, along with an open-concept floorplan on the top level that features decks offering breathtaking views, an entertainer's kitchen boasting Thermador appliances, and inviting living and dining areas.
Among the townhomes' highlights: bi-folding doors on the top level that open up to the patio to offer a seamless indoor/outdoor feel and maximize the views, as well as hardwood flooring throughout and master suites with luxurious en-suite master baths. A split-level heating and cooling system also will allow homeowners to separately control the temperature on each floor.
"You just will not get new construction in the Manhattan Beach Sand Section that has these views and finish level for the price," says Haynes. "No question, this will be one of the best Sand Section deals in a long time for buyers looking to break into the Sand."
PRESENTED BY RICHARD HAYNES OF MANHATTAN PACIFIC REALTY INC.
LIST PRICE AVAILABLE UPON REQUEST