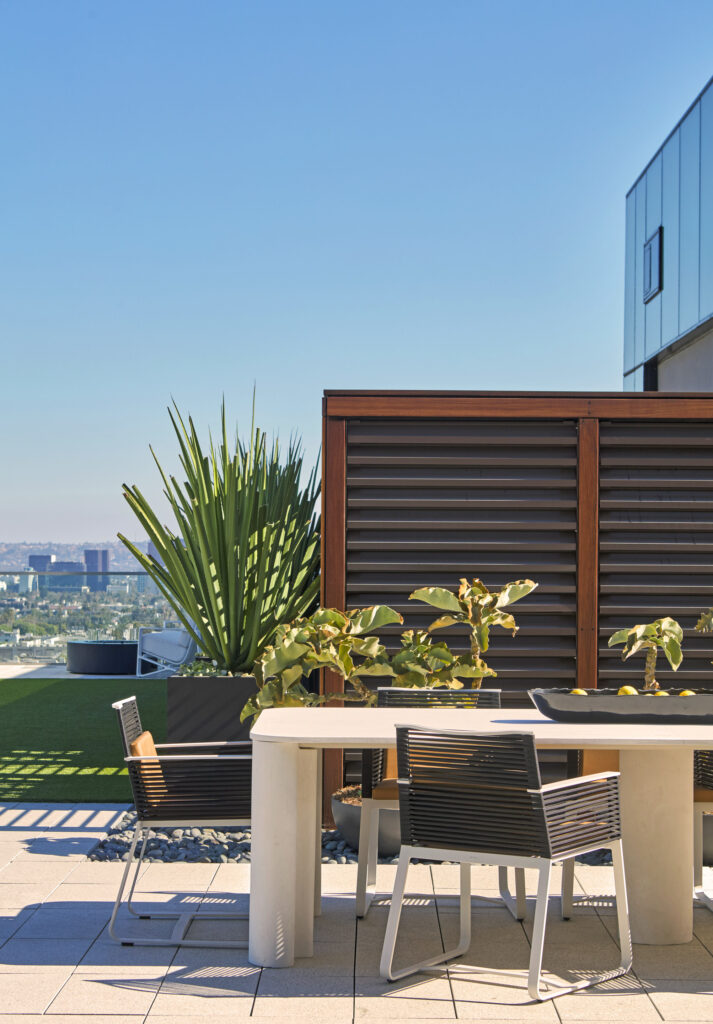 In West Hollywood, This Exceptional Penthouse With Interior Spaces by Kes Studio Overlooks the Sunset Strip
Embracing the best of California modernism and glamor in the Hollywood Hills is what Kara Smith, principal at KES Studio, wanted to offer to her client—a globetrotting entrepreneur—and she clearly delivered.
"This residential development was complete in 2021 with clean modern luxury," she says. "Our involvement was to personalize the space, making some architectural modifications, updating many of the finishes and all the furnishing of the home with bespoke pieces as well as a curated art collection."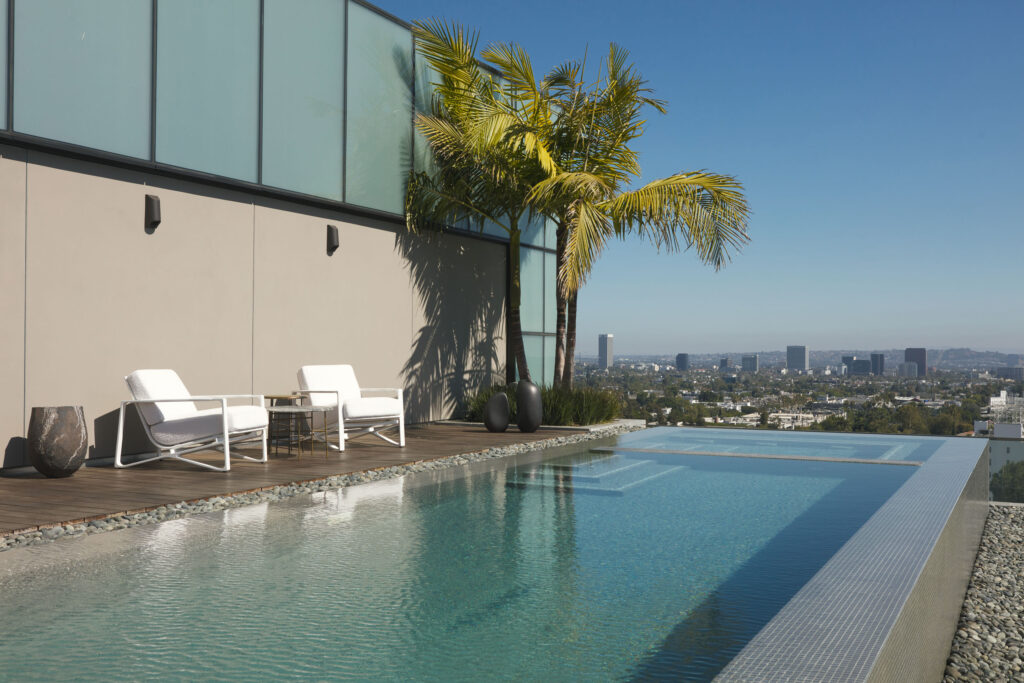 Covering 2,498 square feet inside (consisting of the living room, bedroom, TV room, two full bathrooms, a powder room, kitchen and dining room), the penthouse also comprises a 4,267-square-foot terrace that offers 360-degree views of Los Angeles with a large dining/kitchen area and poolside lounge.
Most of the home is adorned with a color palette of cream and taupe, complemented with accents throughout. For example, Kara Smith used blue touches in the living room to play off the James Nares art piece and evoke the sky outside, which can be admired through the floor-to-ceiling windows.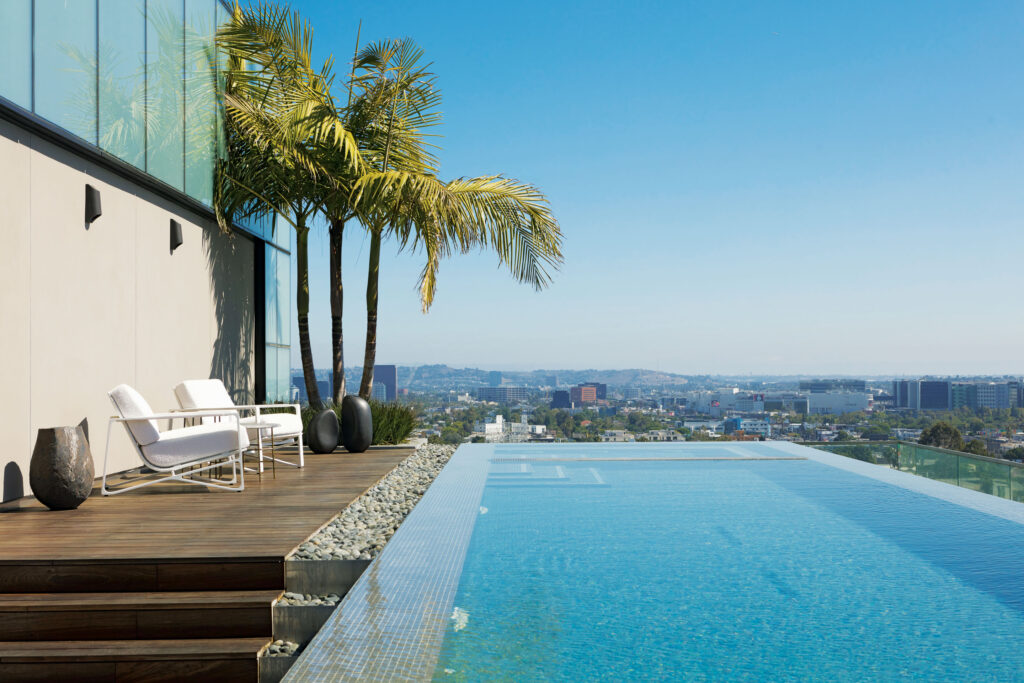 In the main bedroom, the interior designer introduced the homeowner's favorite color, green, with an armchair, helping to bring the tree-filled landscape into the space. "In the dining room, we accentuated the black and cream with camel, pulling from the art piece," says Kara Smith.
All these hues adorn the spectacular terrace, too, creating an indoor-outdoor connection. For the materials, the interior designer opted for hand-made wallcoverings, plaster finishes by Kamp Studios, bronze mirrors and reflective surfaces, and stones found in Italy to add movement and texture to the home.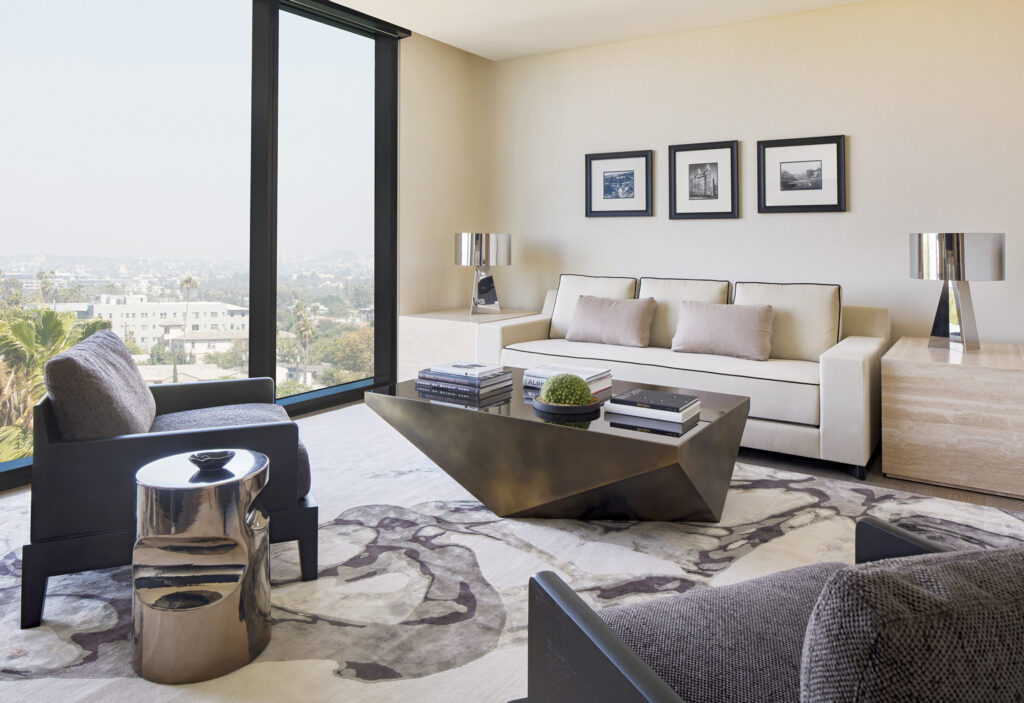 "The client owns many properties throughout the U.S. and abroad, each of which is inspired by its location," says Kara Smith. "Our goal was to create an interior with a sophisticated nod to Hollywood glam."
Pieces by Ralph Pucci, Studio 27, Herve Van Der Straeten, Liaigre, Stéphane Parmentier and Luce Stefano, as well as outdoor furniture from Kettal, combine with custom creations designed by KES Studio such as the bench at the end of the bed in the main bedroom. An extensive collection of artworks by Lee Bull, James Nares and Kieff further the different areas.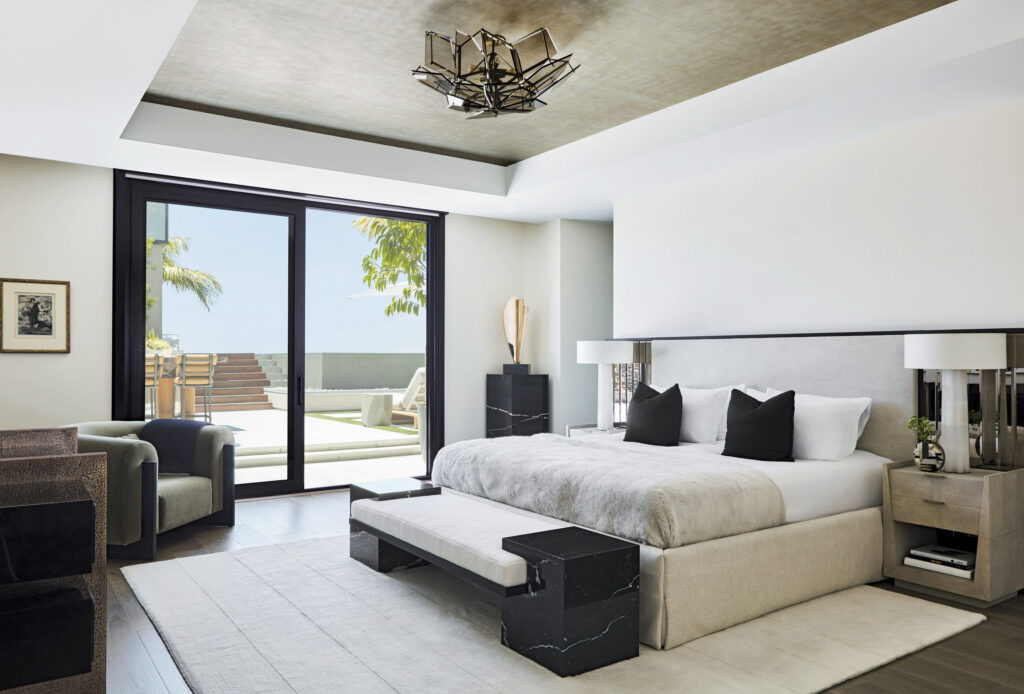 "This home strikes the perfect balance of California penthouse living, luxury and functionality," concludes Kara Smith.
KES Studio | kes-studio.com
Photos: Stephen Busken