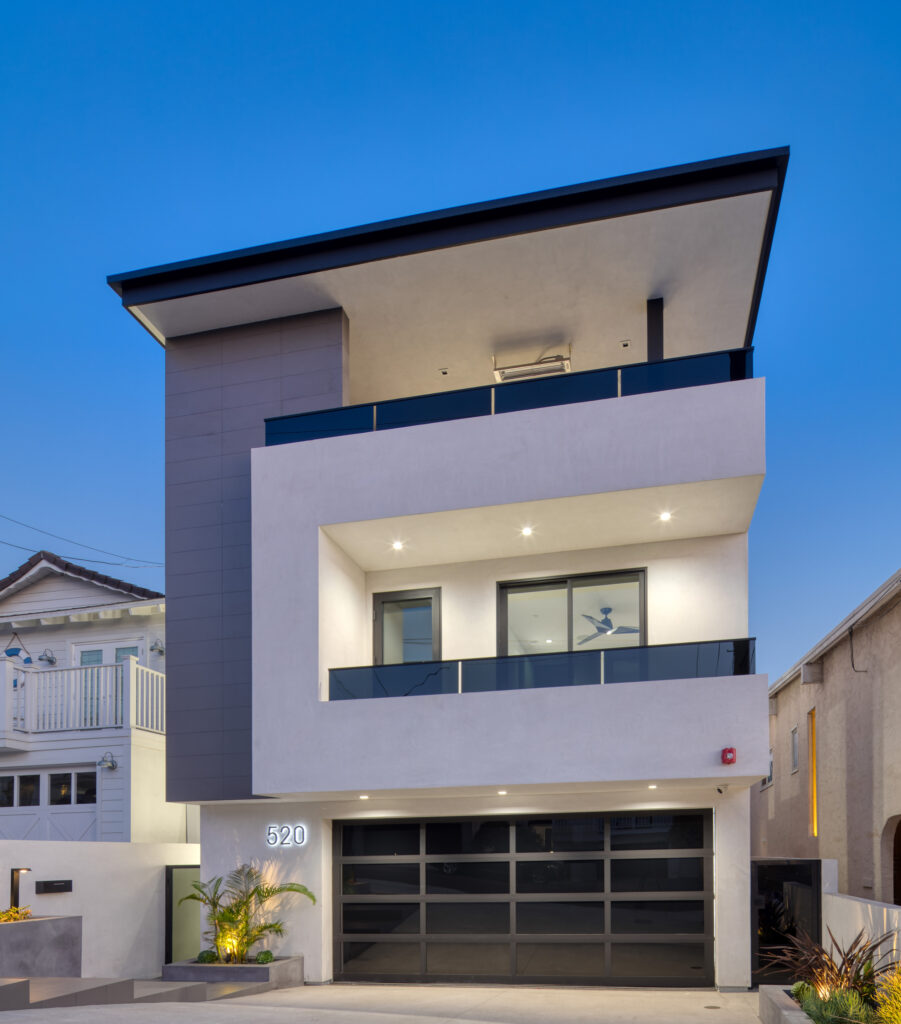 520 13th Street—a New Manhattan Beach Home Showcases the Beautiful Utility of Streamlined Design & Luxe Features
There's a sense of order and tranquility that comes from rich, uncluttered spaces. Newly finished in 2020, the Manhattan Beach property—glossy and gallery-like while tastefully etched in luxurious details—is the result of a discerning couple who dreamt up every space in the four-bedroom home, then hired local, luxe build and design firm Titan & Co. to produce their vision.
"It's rare for me to see something I've never seen before," says real estate agent Lauren Forbes of Compass about the refined residence, which measures about 3,550 square feet, adding in another 1,000 feet or so after factoring in the property's many outdoor living areas.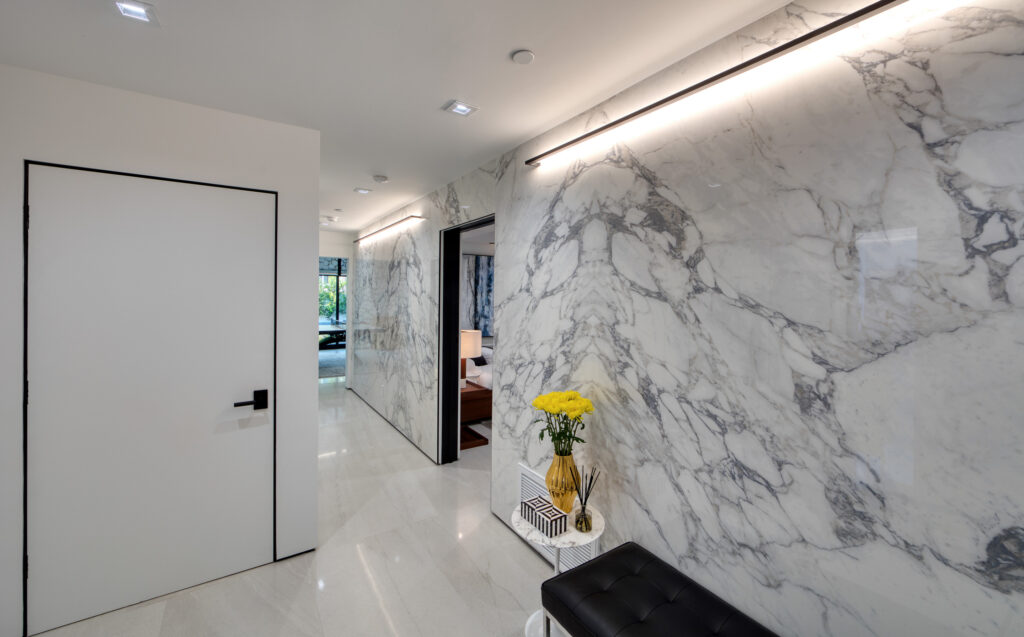 At the exterior, the home is eye-catching Modernist with sharp angles and overhanging eaves: Italian porcelain tile wraps one side in a soft gray hue, which contrasts neatly with the rest of the creamy white exterior and the bold blue of the surrounding sky. Once inside, the sumptuous details continue. The walls of the elegant front entrance are also decked in Italian porcelain, slabs of it, with intricate gray veining that mirrors classic marble. Steps away is the garage, which stands out in its sleek detailing.
"It's an automotive enthusiast's dream in there," says Lauren Forbes of the space, where an entire wall is outfitted with gleaming, shop-grade cabinetry.
One motors in through a black glass garage door, jewel-like in its reflective depth, and across floors of automotive-grade Italian porcelain—a nice welcome home.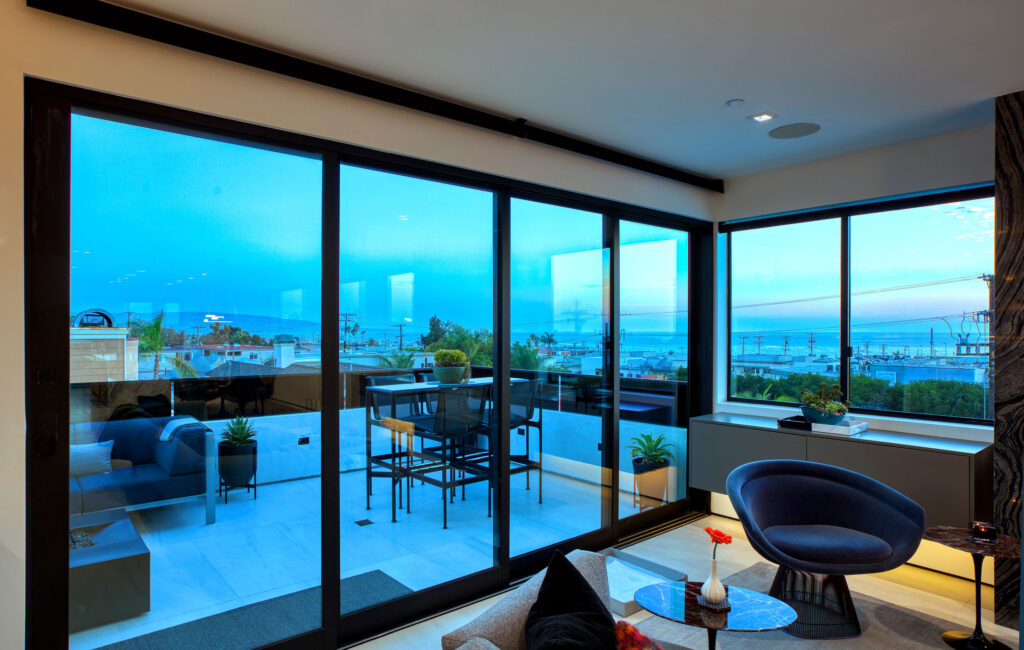 In the interior, a three-stop elevator ascends to the top floor, where a polished collection of gathering spaces—seven in all—are assembled in a sun-and-view drenched open floorplan that includes two outdoor decks. It's an uplifting and inviting space that's notable for its sweep of Pacific Ocean views that are set against a contemporary atmosphere, one gilded with exceptional materials. Floors are clad in large-scale Italian porcelain tile, and the streamlined kitchen is defined by thick Calacatta marble counters and oak cabinetry that springs open with a touch.
"It's one of the most beautiful kitchens," notes Lauren Forbes, "yet it's also a professional chef's kitchen."
She's speaking of the kitchen's many cutting-edge accouterments, nearly all by Miele, including both convection and steam ovens, a professional range top, and dual workstation sinks.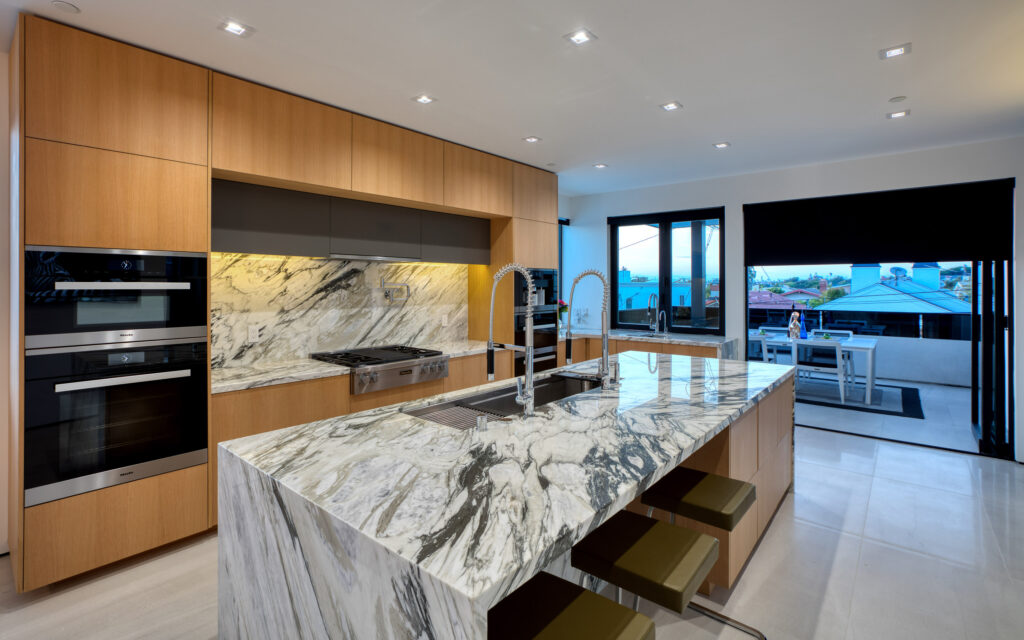 Nearby an uncluttered dining area is set aglow by a geometric pendant light, and a sophisticated living room is dominated by a fireplace and built-in TV display, both encased in a polished slab of dark Italian marble that extends from floor to ceiling. There's a thoughtful versatility to these spaces: each is ideal for everyday dining and lounging—or seriously elegant entertaining.
One can slide open the Fleetwood sliding doors and let in oceanside views and air while, nearby, flames flicker over the blue glass in the fireplace. Steps away there's a custom bar and lounge equipped with niceties like a built-in wine station, plus a sizable fresh-air balcony where guests are warmed by remote-controlled heating and a minimalist slate firepit.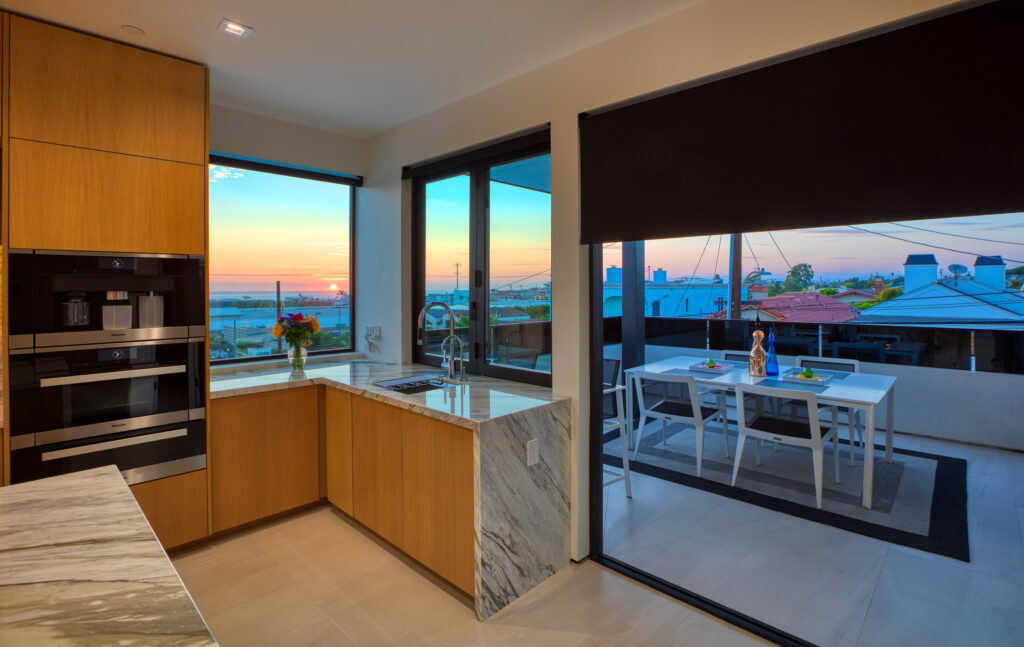 "The owners custom-built the home with an eye for enjoying outdoor space," says Lauren Forbes. "Luxurious outdoor space."
The hillside position of the home is fortunate, with views of the town and ocean that are capitalized on via the home's five outdoor balconies and decks, all designed for privacy. (The house itself is fully automated, from sound and shades to security, and has a video feature so homeowners can monitor the perimeter.)
Among the home's open-air spots is a nicely cloistered patio on the ground floor that is adjoined by a tidy green yard. This is yet another versatile gathering spot that can be expanded to accommodate larger guest counts by linking it to the adjacent room; in this case, a spacious, white-wall family room featuring a sleek butler's kitchen and tucked-away cabinetry.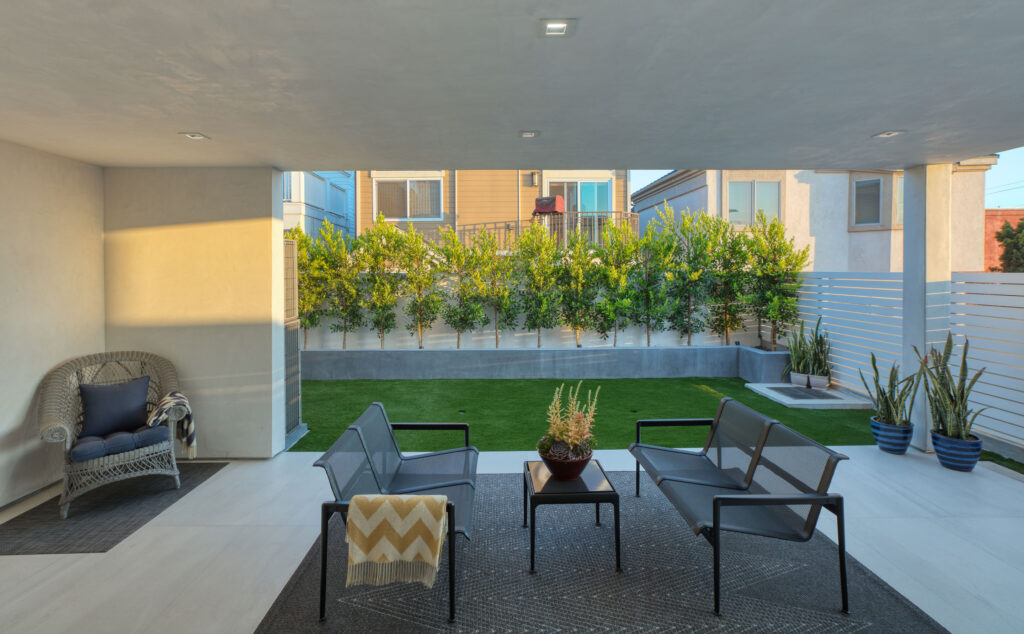 Yet another outdoor refuge is the spa-like lounge located off the sunlit master bedroom—an ideal space for waking up over ocean views or winding down around the glowing firepit at night. Speaking of the master suite, this is yet another area of the home with unique features: a grand fireplace that's framed in gleaming gray marble, plus a walk-in closet with custom rows of backlit cabinetry and displays, not unlike a designer's showroom.
Another not-to-miss feature of this home is its dedicated glam space, a charming hideaway—located within the elegant polish of the marble-slab master bathroom—where one can primp and preen amidst softly glowing mirrors and walls set in shimmery pink, diamond-cut tiles.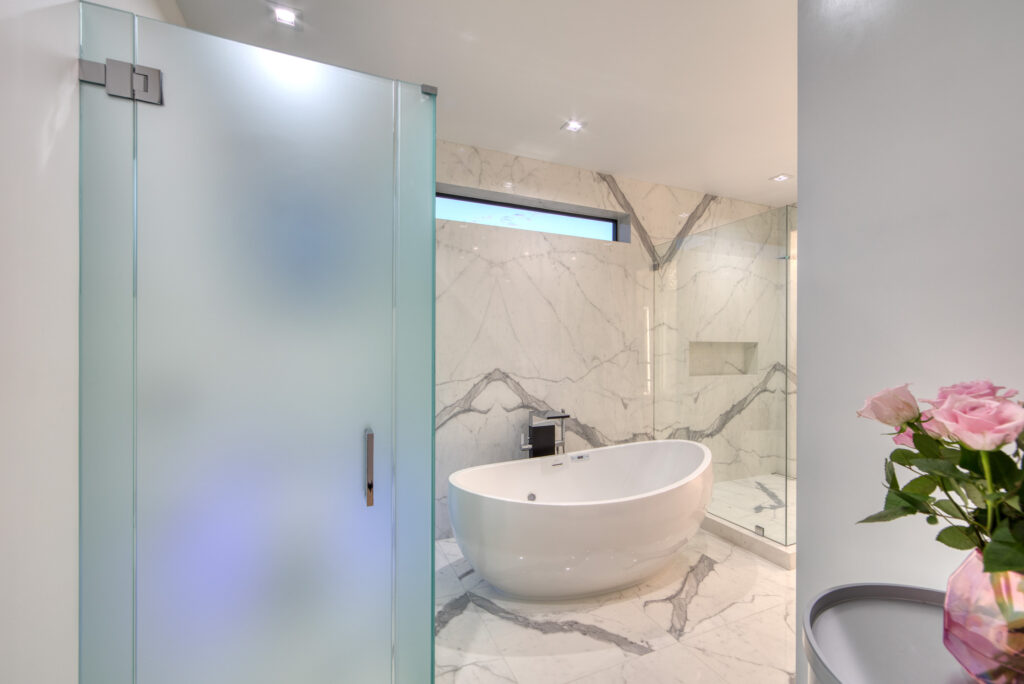 Further down the hall, nicely set apart from the master suite, are two additional bedroom suites that open onto an outdoor balcony, a cheerful area with views of the palm-lined street below, and a not-too-distant blue expanse of sky and sea. In a home filled with lofty features, this view is an invitation to one of the finest: its plum location.
Step out the door and in less than five minutes on foot, one is in the midst of Downtown, with its smart collection of eateries and shops. A few minutes later one steps onto the sandy shores of the Pacific Ocean.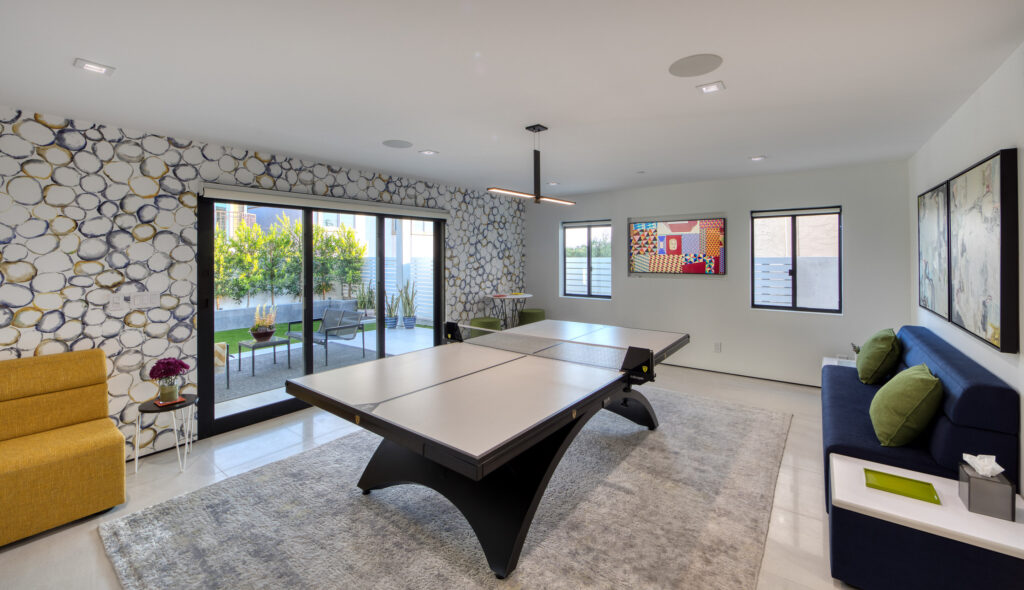 "Even though the house is technically in the Tree Section, it's more like the Hill Section or the Sand Section, because you get views, yet you're so close to the beach and town," explains Lauren Forbes. "It's an exclusive, great area."
This home, meanwhile, is one more than worthy of its locale. 
Lauren Forbes | 310.901.8512 | DRE 01295248
John Corrales | 310.346.3332 | DRE 01263687
Forbes Corrales at Compass
List Price: $5,995,000
Photographs by Paul Jonason