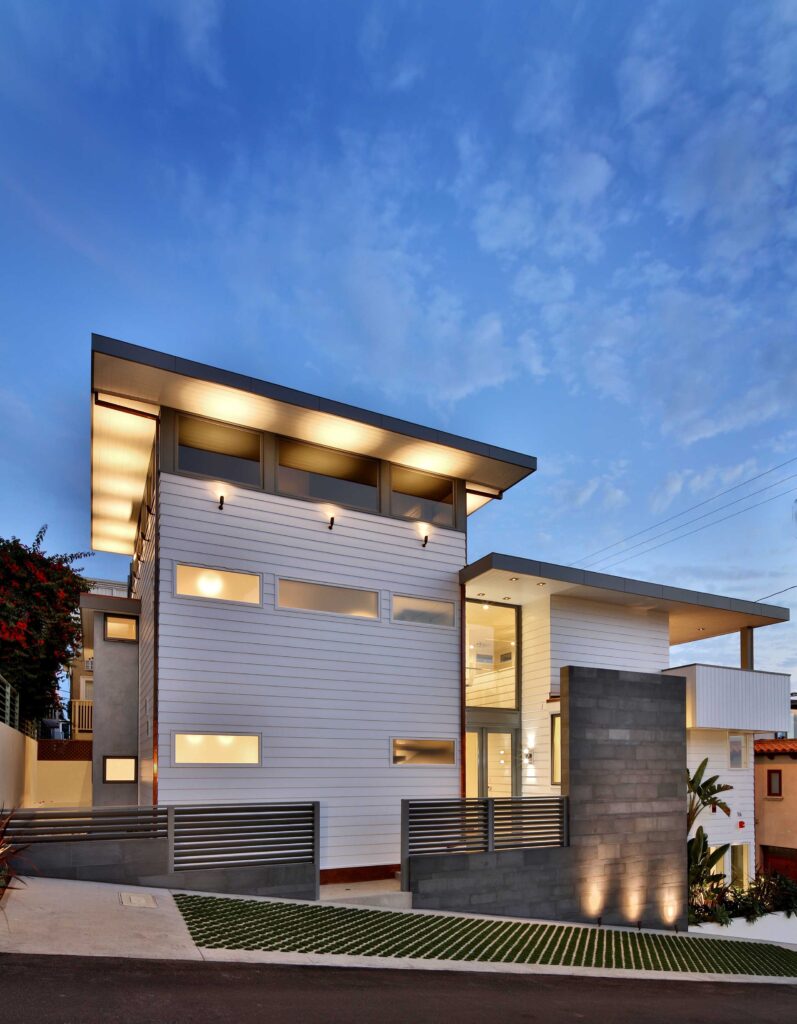 Steve Lazar Brings Forth a New Flavor of Beachside Cosmopolitan at 316 27th Street, Manhattan Beach
Veer off Highland Avenue in North Manhattan Beach and one enters the charming Sand section of town. Neighborhoods are filled with families, close to both town and the ocean, and lined with upmarket beachside homes. Standing out from its neighbors is a fresh new contemporary home.
Eye-catching first for its silhouette—angular and clean-cut—316 27th Street's slender eaves are a crown on its sharply geometric profile. Then it's a mellow juxtaposition of textures on the exterior, plus a symphony of roof elevations and colors (chocolate, slate, and white) that warm the design to its surroundings.
Inside, 316 27th Street is designed for creating memorable hours and exploiting every pleasure of beachside living—and in a state of heightened beauty.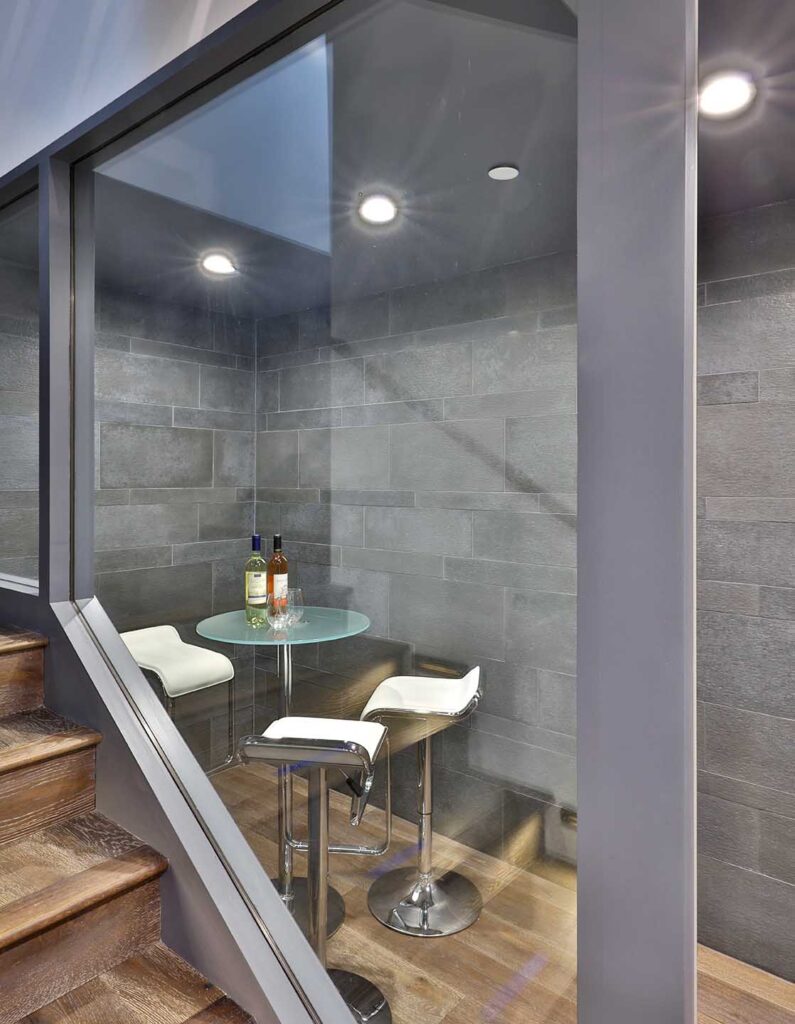 New Market Design
If you're familiar with South Bay homebuilders, it's not hard to spot the design hand of Steve Lazar, who has been crafting luxurious homes exclusively in the South Bay for years. His Lifeguard Tower home in Hermosa Beach was a breakout contemporary design with nods to East Coast lifeguard structures, notably in shape and window placement.
In his newest home, Steve Lazar carries over his beach-feeling signatures, melding them in a home with a strong, sophisticated and contemporary feel that will no doubt be welcomed by a shifting class of buyers coming to Manhattan Beach.
"The beauty of this home is its wide appeal to buyers of all stripes," says real estate agents Mike Michalski and Sachi Fujita. "From media and entertainment professionals and pro athletes to tech entrepreneurs."
"It's the most modern home I've ever done," says Steve Lazar of the house, which spans over 4,000 square feet.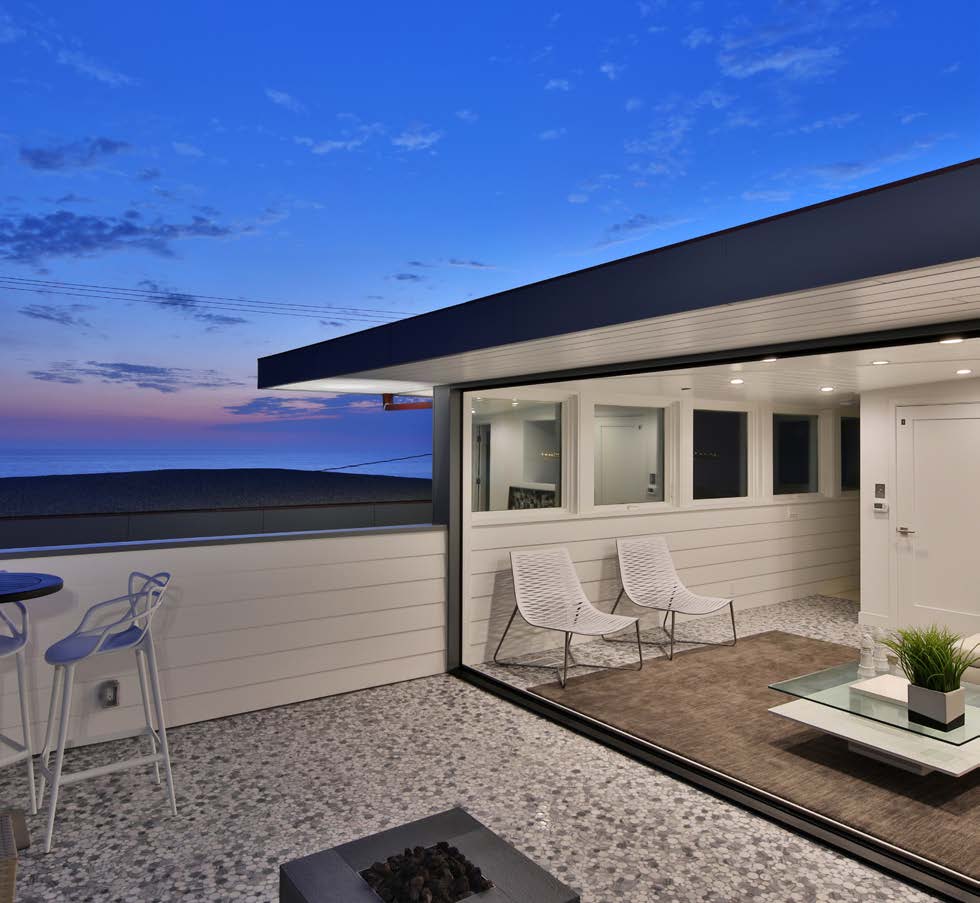 Due to the shape of the nearly square lot (it is 45-feet-wide by 60-feet-deep, instead of the neighborhood's standard 30 by 90 dimensions), 316 27th Street's orientation and feel is more broad and open than other area residences, giving Lazar "a much better use of space." Another spatial advantage is the home's generous height. "I took advantage of the fact that I had a very steep lot," says Lazar, which allowed him to squeeze in a plum fourth level.
316 27th Street's first, or street, level houses a wine room and media room wired for surround sound, along with a guest suite, all-encompassing with its sunny bedroom, auxiliary office space and a bathroom that's nicely accessorized with a spacious wet-room shower. The second-floor houses three of the home's four bedrooms, including a sunny master suite and two-bedroom suites, each with direct access to the outdoors.
This fresh-air space, one of many throughout 316 27th Street, conveniently leads to a side yard that's been landscaped into a wild, colorful place. It serves as an earthy contrast to the home's strict lines but achieves a practical purpose, too. Leading into the landscaping is a floating staircase for the dog.
"He can run down here and have his own little bathroom protected by foliage," says Steve Lazar.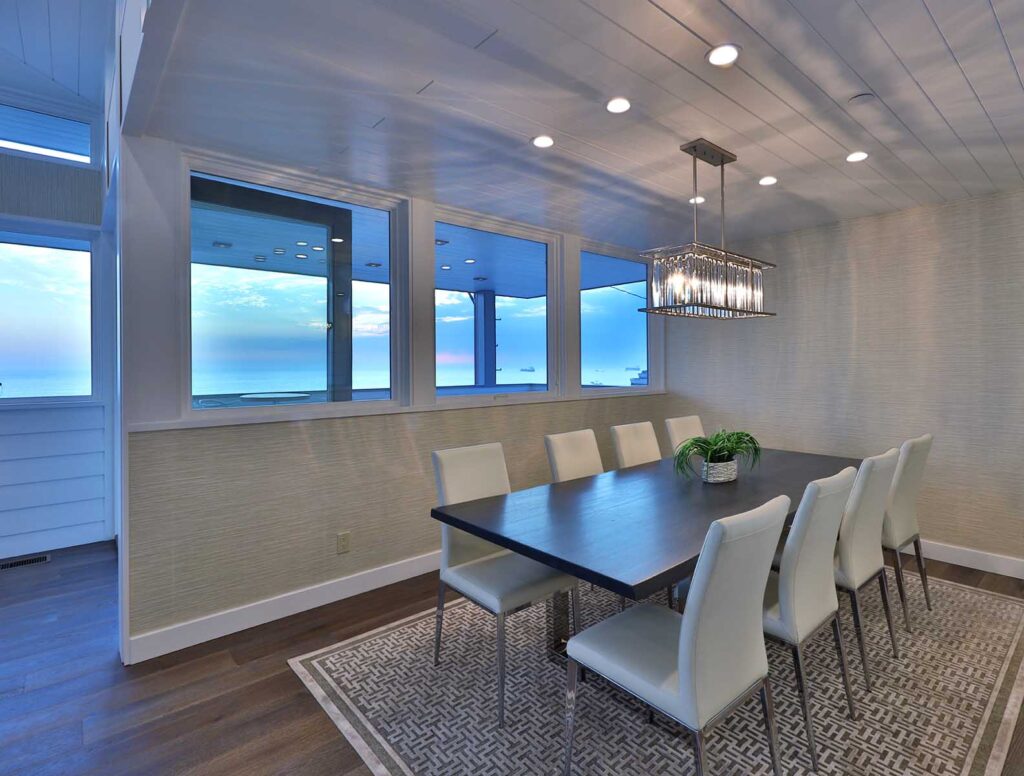 A Home in Bloom
Like other Steve Lazar homes, this one has woven through it a nuanced interplay of finishes, materials and details. This is done to establish an atmosphere of sophistication and cohesiveness—one that is felt before it is seen, and accomplished by subtle and deft execution.
"There's a strong level of discipline to being simple," Steve Lazar is fond of saying. "If some is good, more is not better."
It's a level of design quality that's not lost on Mike Michalski and Fujita, who have been selling homes in the area for almost 20 years: "This home's timeless architecture and commitment to quality materials and construction ensure that it will be enjoyed for generations to come."
On the third floor, 316 27th Street reaches full bloom. A study in elegant intersections, the floor is comprised of separate living areas that are distinguished by different elevations, structures, and textures. "You feel like you're in four separate rooms," says Steve Lazar, "but it's still one big room."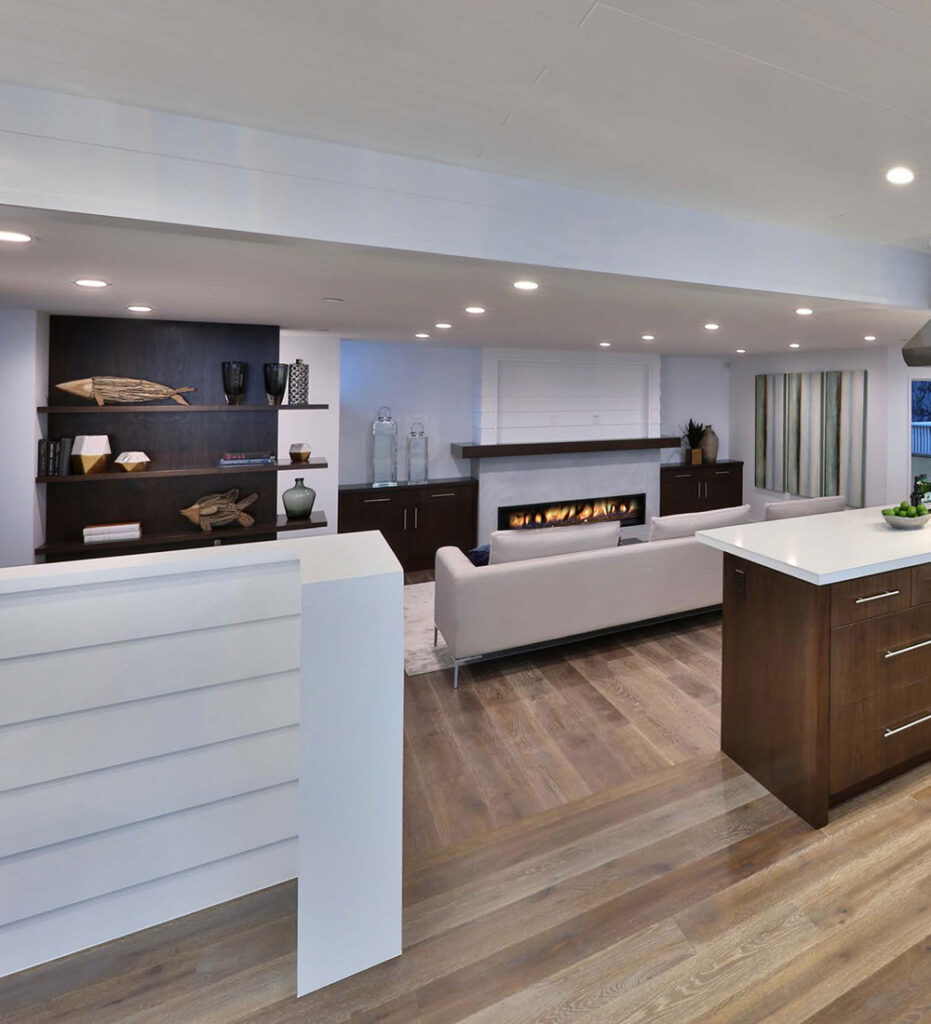 The floor comfortably encompasses 316 27th Street's everyday and formal living areas. There's a fireplaced family room and a sleek central kitchen, along with a sunny breakfast nook, a formal dining room and an elegant living room.
"Look at this great point of view that you have of your kids and your casual space," Steve Lazar points out, standing in the kitchen and looking at the family room. "Then you turn around and you've got your formal spaces. It's a totally different experience."
What one can't miss is the network of oversized awning windows that frame the hypnotic, always-changing views of the Pacific Ocean. It's a Steve Lazar signature, this minimalist window system composed of glass-frame-and-repeat that singlehandedly creates an atmosphere of contemporary beach chic while making the most of views. Coupled with 316 27th Street's high-on-the-hill elevation, the effect is that of penthouse grandeur. But instead of a glittering city, one takes in the grandeur of endless sky and ocean.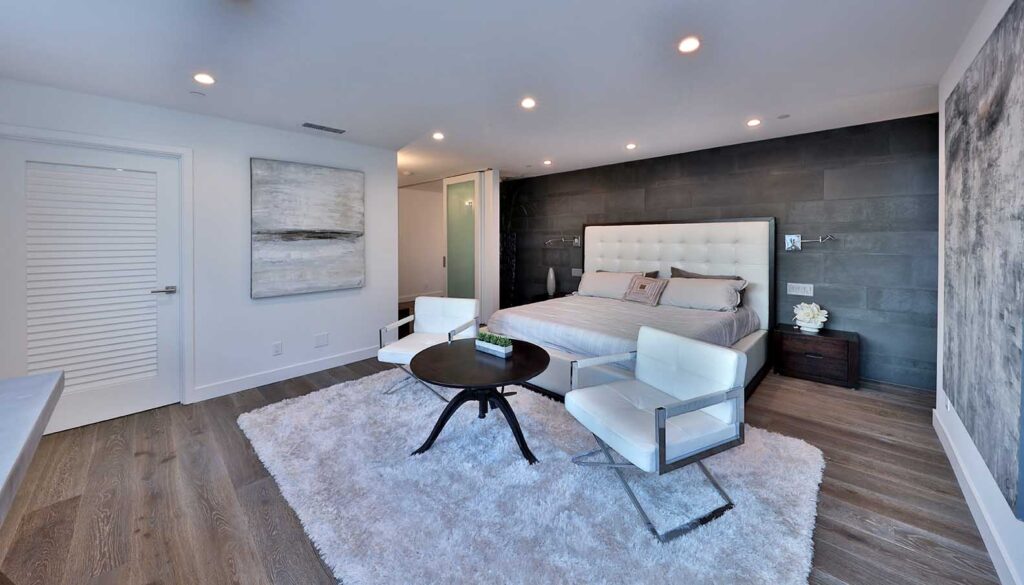 Penthouse on the Pacific
Not to miss on this floor is its copious outdoor spaces. There's an ocean-facing covered deck that's perfectly situated for capturing the sunset each evening, plus a smaller grilling deck situated at the rear of 316 27th Street, where prevailing winds can sweep away barbecue aromas.
"Down by the beach, your inclination is to spend a lot of time outdoors enjoying the fresh air and the ocean view," says Fujita. "But as you get closer to the ocean, outdoor space is at a premium. This home solves that problem with two levels of outdoor entertaining space, including a top floor indoor-outdoor area that can also serve as prime office space."
The fourth floor is icing on the already substantial cake. Here, Steve Lazar has created a fresh-air living room that adjoins to an interior lounge.
"The whole floor becomes one room," he says folding open glass doors that adjoin the exterior space with the interior one. It's a layout that adheres to the Steve Lazar design rule of never having an outdoor space exist on its own.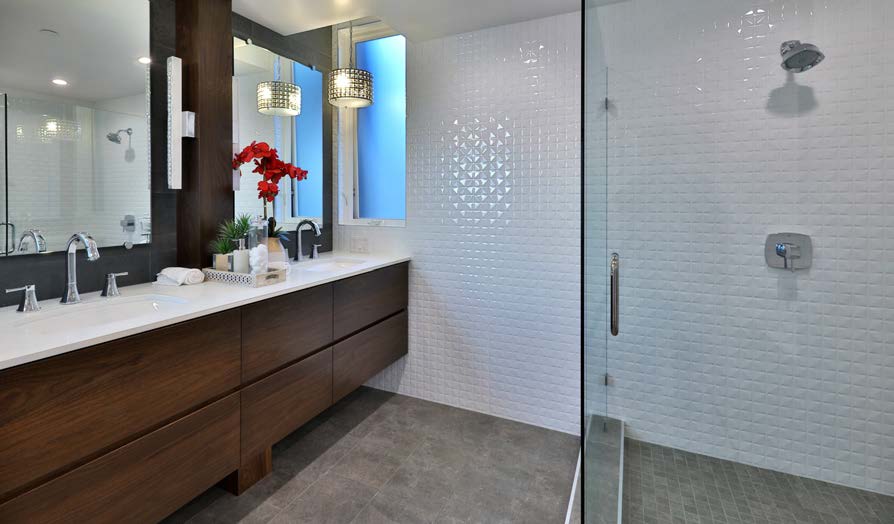 To ensure it is used, a living space must connect to it: "If it's just a rooftop deck," says Steve Lazar, "it never gets used."
For continuity, both spaces sport fresh white shiplap walls and floors covered in a geometric medley of cool blues and grays.
"It's such a cool space," says Steve Lazar. "It's plenty for a cocktail party or for a person to turn into an office, or to do Pilates."
Best of all is the panorama of light and views that are had from this floor, including a postcard view of downtown Manhattan Beach, the ocean and the pier.
"No matter the size of your family or stage of life," says Mike Michalski, "this home will appeal to people who value living authentically and comfortably at the beach, bringing the outdoors in and feeling a constant connection to our charmed surroundings."
It's true. Every corner, curve and window of the house has been carefully crafted to enhance the positive—whether it's natural light, only-in-California views, or optimizing everyday livability and comfort. But in the end, it's 316 27th Street's designer who heaps the highest praise on the home.
"I would love to live in this house," says Steve Lazar.
Mike Michalski and Sachi Fujita
RE/MAX Estate Properties
List Price $6,599,000
Photography Courtesy of Paul Jonason