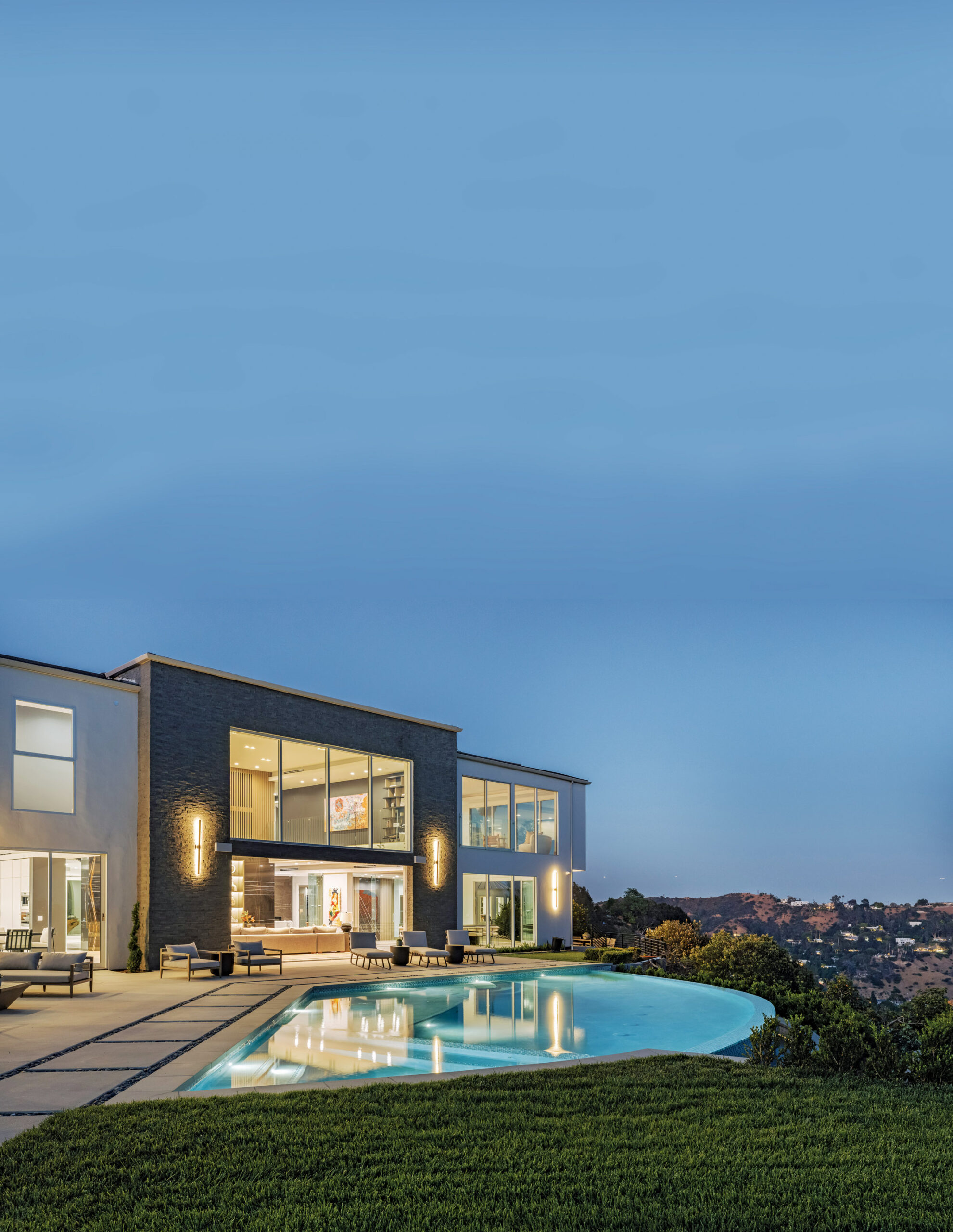 Behind the Gates in Hollywood Hills West, 2727 Cardwell Place a Vast Contemporary Estate Combines a Rare Privacy With Lots of Land and Magnanimous Views
In many ways, the modern traditional residence is the quintessential Los Angeles idyll. Spacious, glass-walled, stunning—big as life, and one-of-a-kind, aggressively solicitous of cinematic-size views. A property nonpareil. 
"This type of outdoor space is very rare for Hollywood Hills West, and the lushly landscaped grounds provide an ideal setting for families to entertain and lounge alongside the unobstructed city and mountainside views surrounding the 1.5-acre property," says agent Mauricio Umansky, who is listing the house for $14,995,000 with Nick Sandler and Bennett Hirsch of The Agency.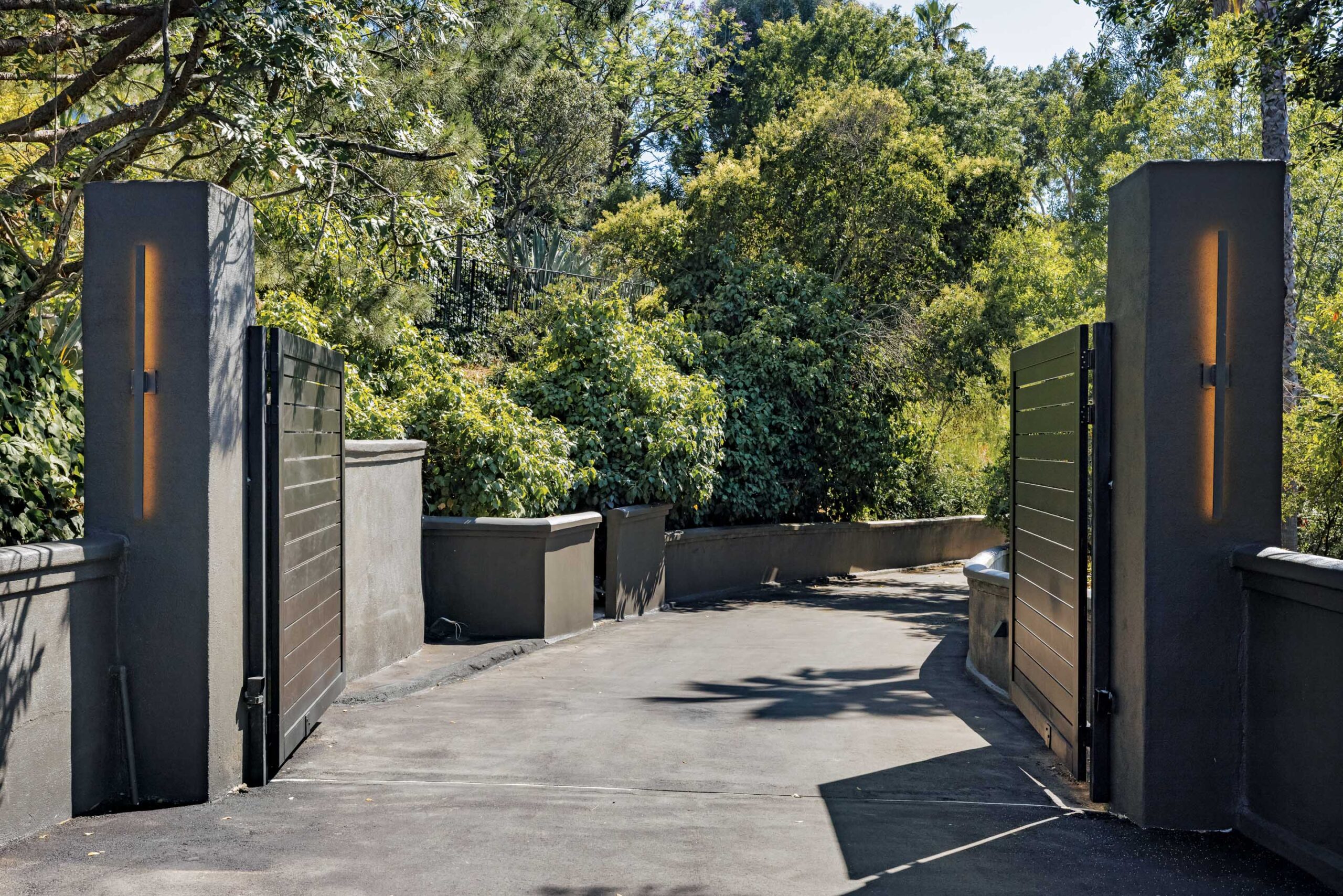 This being the Hollywood Hills, a long private driveway advances on the house in a dramatic fashion. Immense as it is, the more than 11,000-square-foot space breathes easy. It's chic at scale but warm and welcoming, expressing thoughtful and deliberate design. Combining outdoor spaces, for instance.
"We wanted to prioritize taking advantage of the 360-degree views, while also creating lots of personable spaces for people to come together," explains Emil Zatikyan, the home's interior designer. "The house has many dualities which we aimed to merge harmoniously."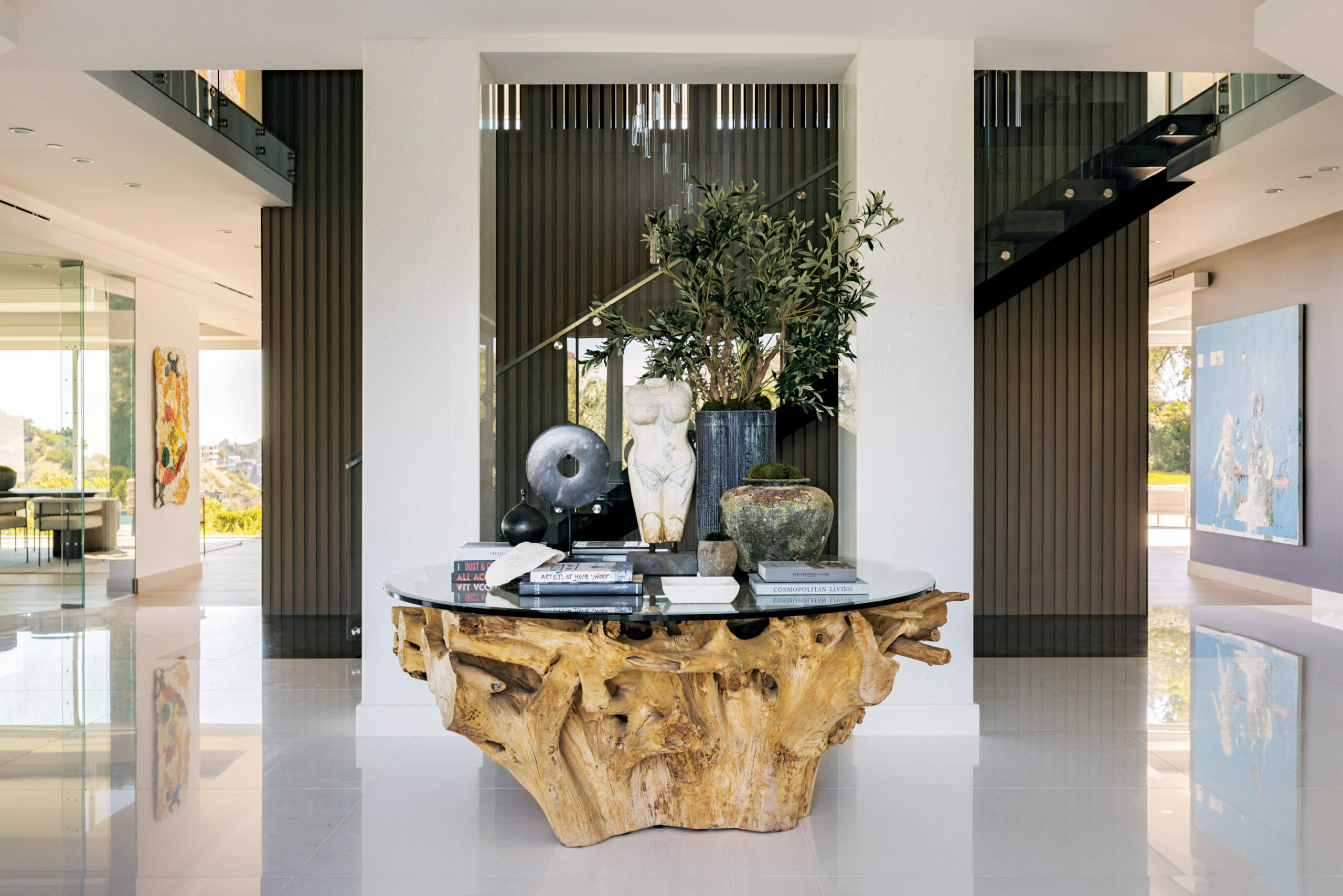 "Rather than the occupants feeling like they're living in a fishbowl surrounded by vast spaces and views, we honed in on designing for function and human connection."
As a whole, the house puts on quite an exhibition. Finished in flashing floor-to-ceiling windows and sliding pocket glass doors, the interior is lavished in natural light, which streams, not shyly, into the open-plan interior, highlighting its stunning volume, its overtures to openness, and its absorbing art.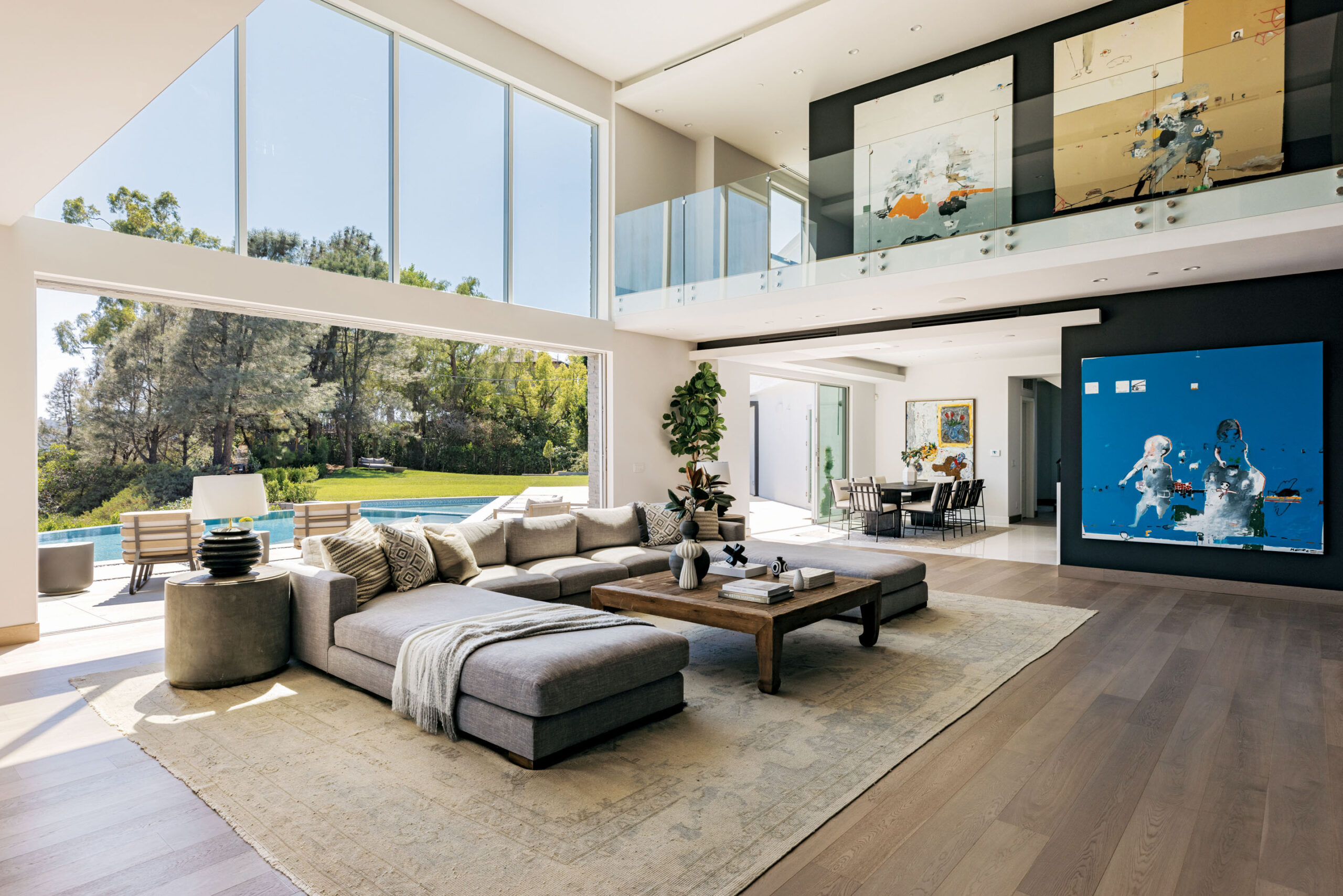 It also supports a sublime flow between public and private environments, from the gourmet kitchen and gracious living and dining spaces to the sensational primary suite, featuring dual walk-in closets with built-in wood cabinetry. The remaining bedrooms have en-suite baths. The media room, office, gym, and four-car garage are also smart, put-together spaces. 
Outdoor offerings form the misc en scene of an entertainer's paradise. Certainly, there's enough space for gatherings of all sizes to float in and out of the open glass doors with casually elegant ease.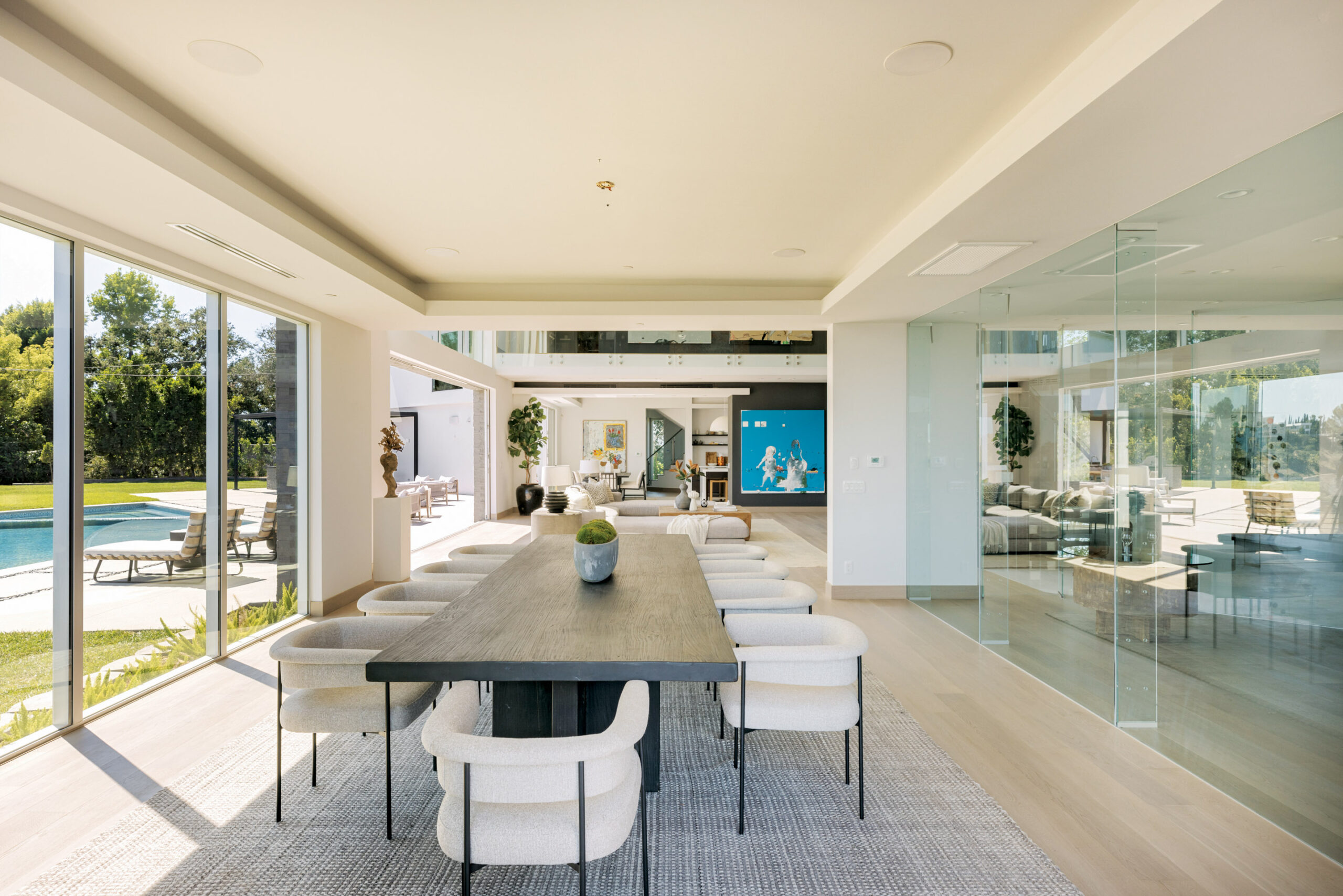 With all-encompassing panoramas of the city and mountainside, "capitalizing on the views while creating a space ideal for entertaining was crucial," notes agent Bennett Hirsch. "The expansive grassy pads, infinity pool, and multiple alfresco terraces come together perfectly here to achieve this."
Of special note in this house is that every single space has its own unique view of the sunset.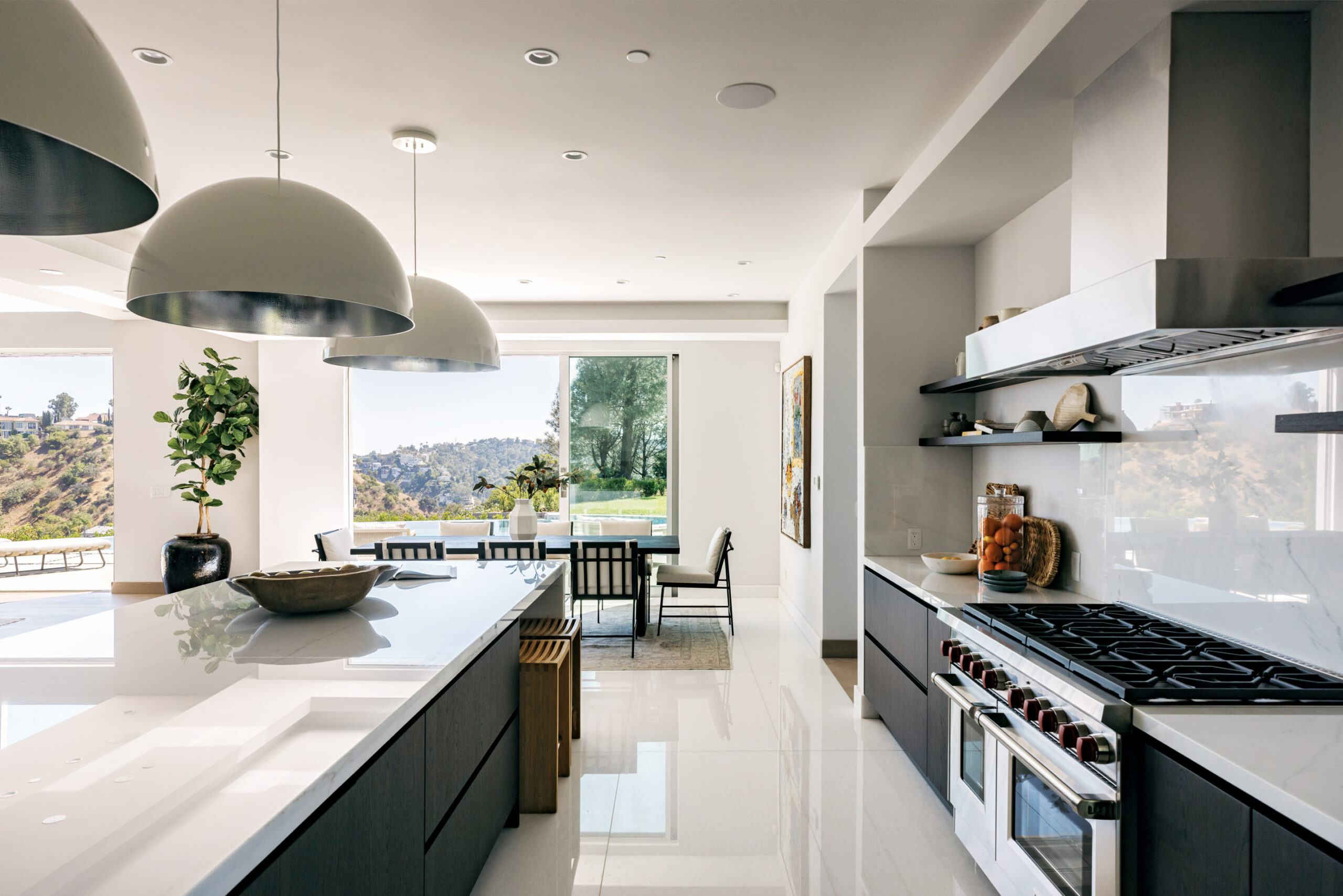 "Being located on top of a hill allows each room to have a distinct color gradient during sunset time, which is quite extraordinary," says designer Emil Zatikyan. "To maximize the natural light in the living room areas, we actually matched the colossal pocket doors with same size windows above."
The scenes inside the house are equally strikingly, sometimes to a jaw-dropping degree. Note the Sahara Noir marble fireplace, a smashing architectural extravagance stretching two stories from floor to ceiling, and the floating glass and marble staircase, a showpiece that greets one from the entryway.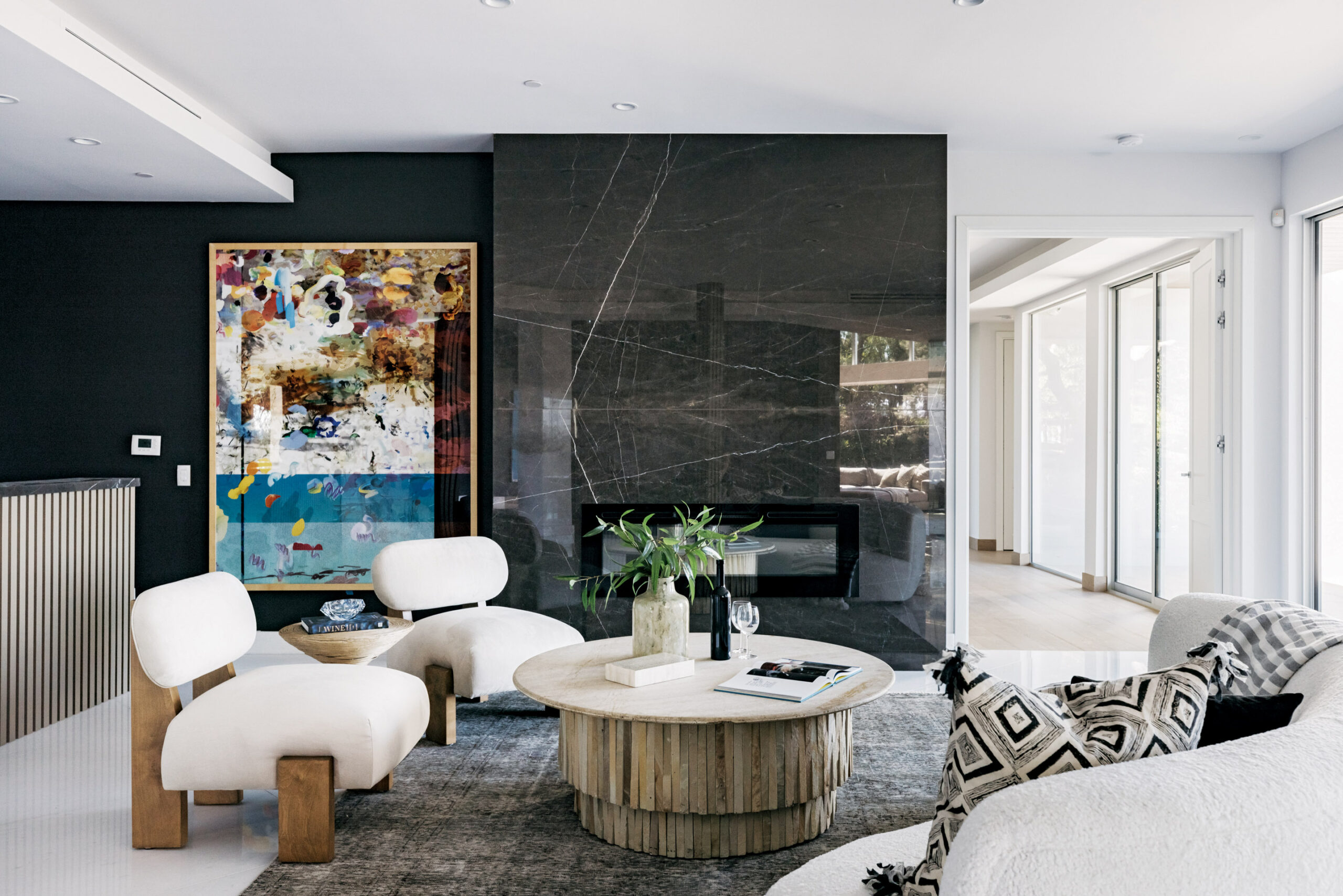 The wine cellar, meanwhile, is "an original idea willed into reality" and completely visible from almost every room on the first floor. "Yet again," Emil Zatikyan explains of this element, "giving the house a small nugget of a space where traditional and modern work together in harmony to create something incredibly unique."
The finishes throughout the house are exquisite. Natural wood, for example, is used in every living space "to ensure the home feels like a real home, rather than a hotel," says the designer. "However, we still wanted the home to have its own contemporary personality and luxurious interior which is easily accented with many styles of furniture."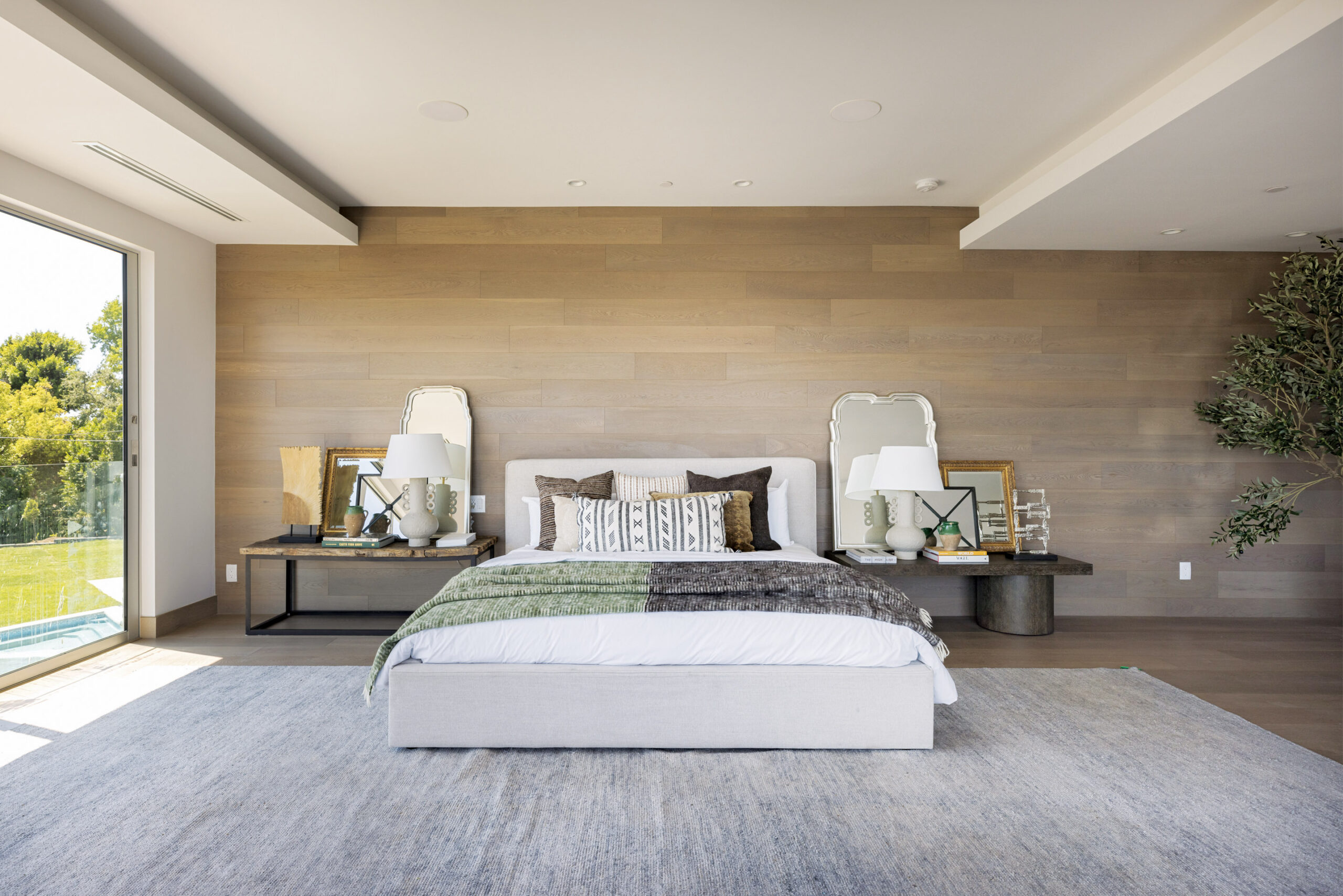 To this end, she adds, "we have paired the pleasant wood flooring with Bianco Neve white marble on most of the first floor, as well as Bronze Amani marble for one of the fireplaces and the matching bar."
Marble is always a congenial canvas; flexible with any style of décor while lending the space a timeless, elegant feel.
"We trusted the flawless craftsmanship of Italian furniture, which truly never goes out of style—all of the closets, bathroom vanities, and the kitchen have been imported from Italy. In addition, every single one of the elegant interior doors with magnetic locks are from the Romagnoli factory in Italy."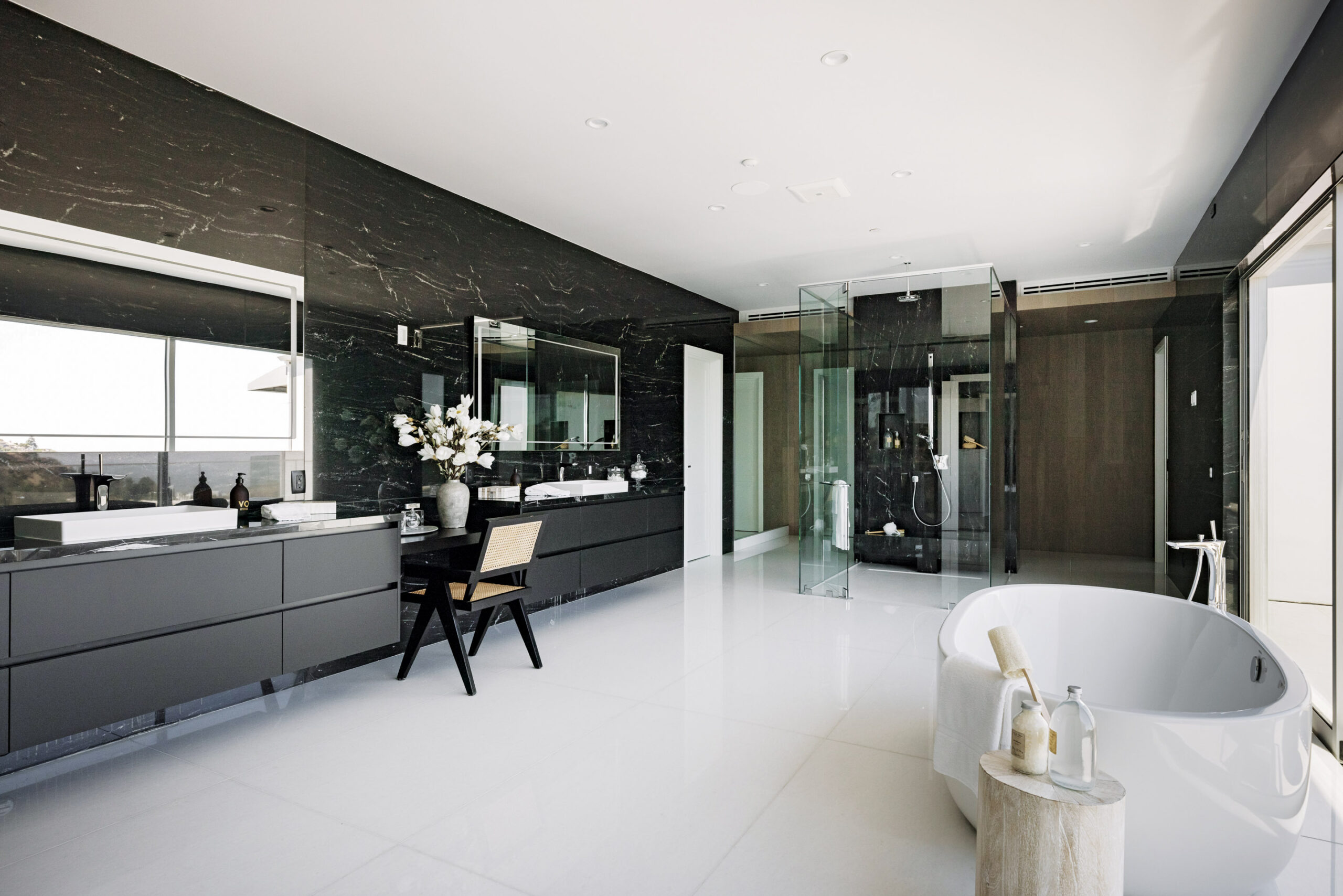 The result is a house with "a sense of 'home' from the moment one walks through the door," says agent Nick Sandler. "We want everyone that steps inside to be able to imagine California living at its finest."
Nick Sandler, Bennett Hirsch and Mauricio Umansky
The Agency
List Price: $14,995,000
Photos: Alex Zarour