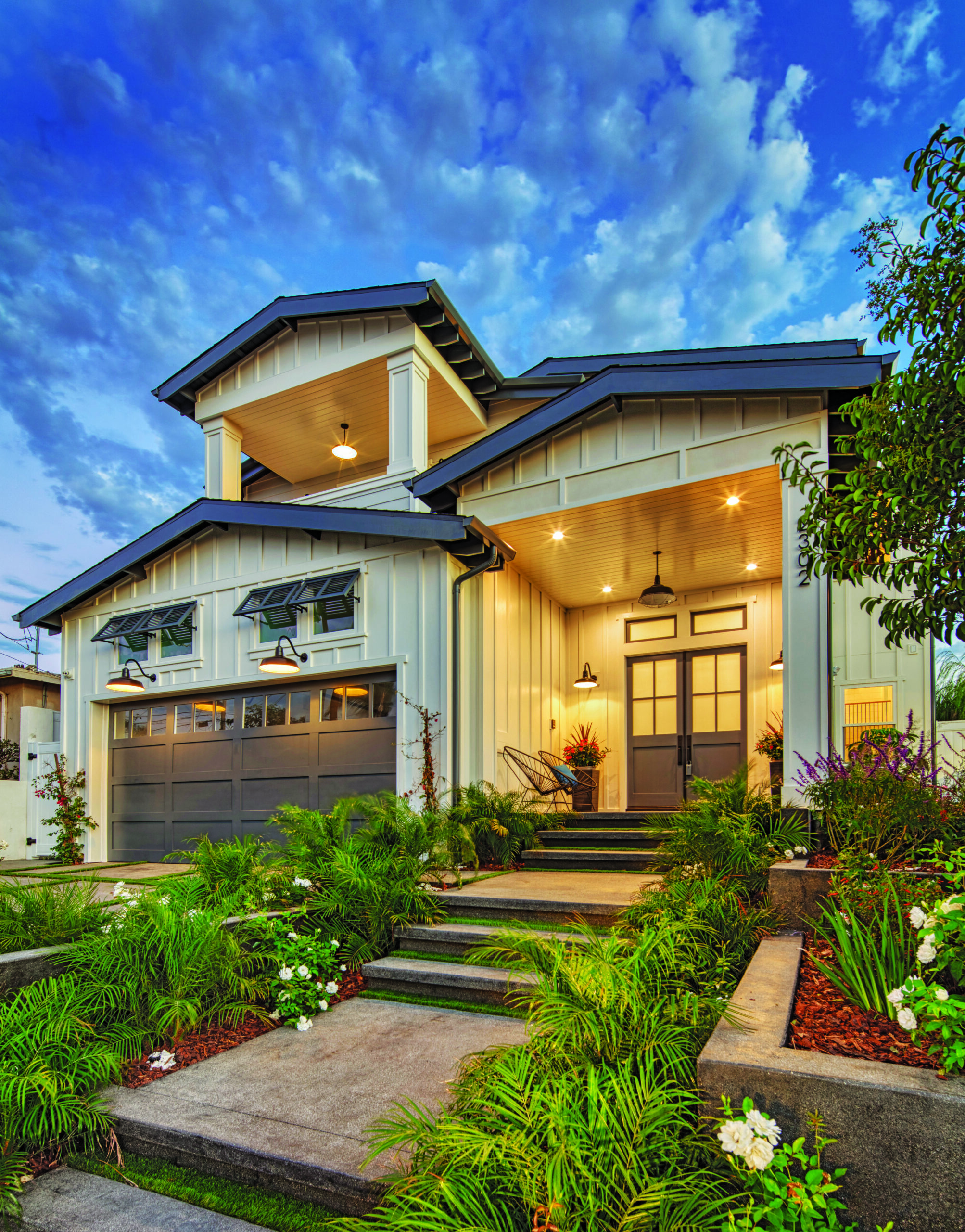 Dori Custom Homes Crafts an Elegant New Family-friendly Residence at 2302 Ives Lane With a Well-styled Back Yard and a Central South Bay Location
"We're both hands-on, and we put ourselves in the shoes of the people who will live in the space we're creating," says Ali Madani, a lifelong home craftsman who, along with veteran residential builder Amir Dori, make up Dori Custom Homes.
The builders focus on upmarket custom homes, primarily in the Beach Cities, where they two have also lived with their families for years. At their newest project 2302 Ives Lane, a spacious North Redondo Beach home—approximately 4,363 square feet in size, with 5 bedrooms and 5.5 bathrooms—located in a quiet residential neighborhood just a mile and half west of Pacific Coast Highway, a couple of things immediately stand out.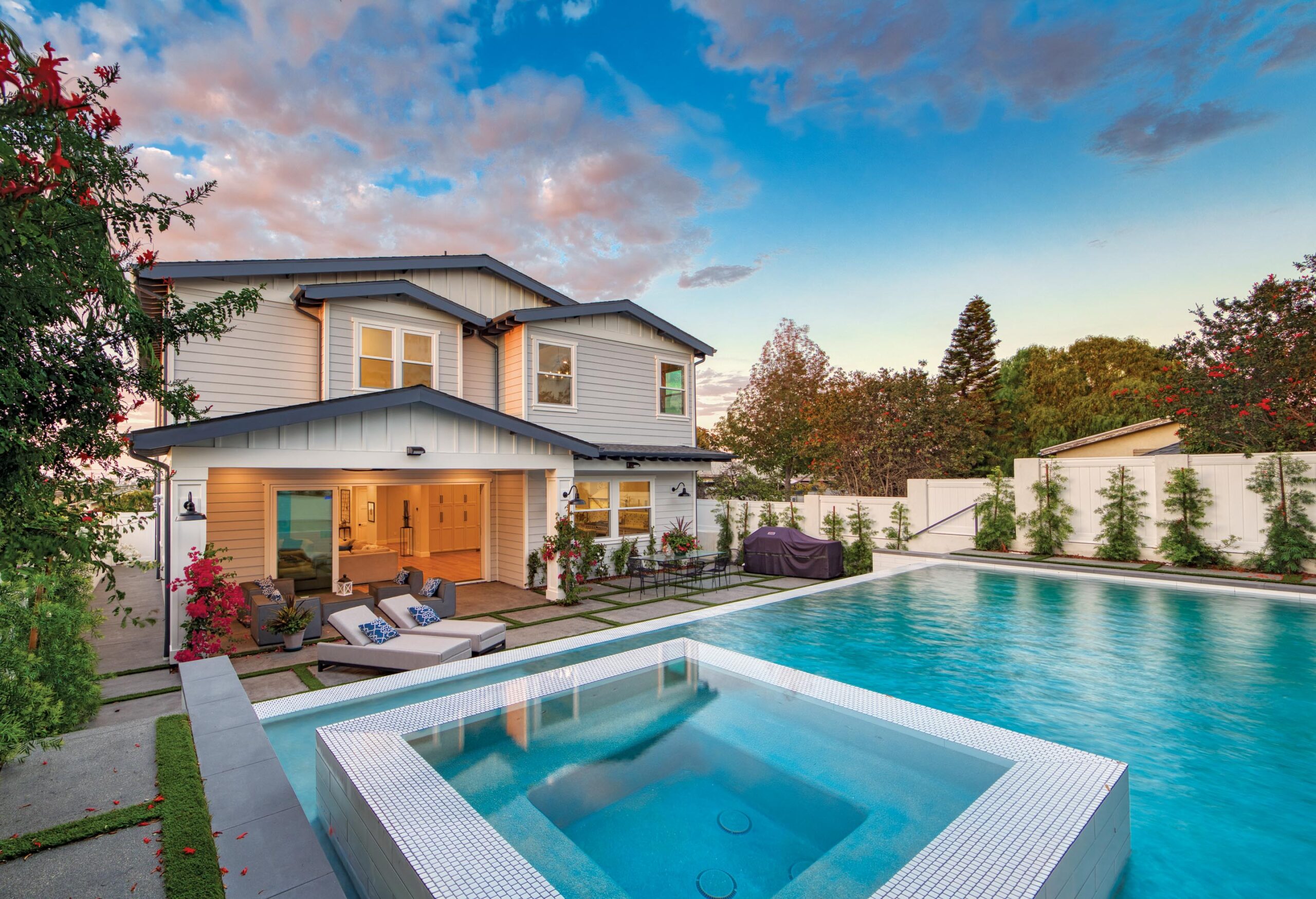 The first is the crisp, modern atmosphere of the coastal farmhouse residence, which is imbued with a lighthearted warmth and an of-its-time sophistication, both in equal measures. Amir Dori and Ali Madani have utilized an airy, open scale that's introduced at the entrance of 2302 Ives Lane, and experienced steps later in the formal living room, where there's a vaulted ceiling, about 24 feet high, and a wall of oversized windows that serve as a portal of natural light reaching up to the second-floor catwalk, and playing against the home's natural wood floors.
They are made of ash, Ali Madani explains, a hardwood selected for its durability, ideal in a family home with lots of traffic, and beauty, particularly in its grain patterns and overall light hue.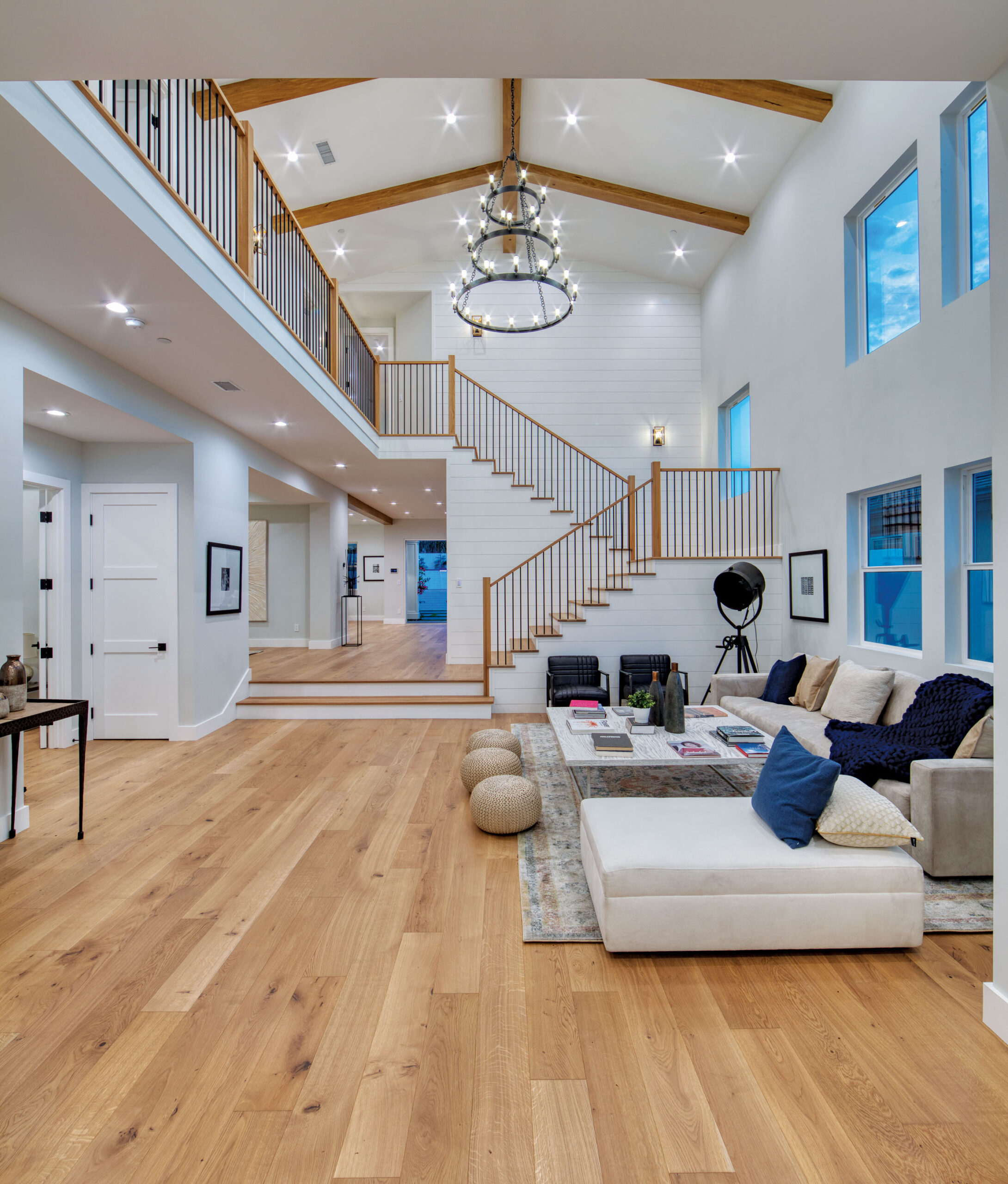 "We also picked this specific color because of its neutrality," explains Ali Madani. "It looks good with any type of rug or furniture."
There's also a keen floorplan—serving as a user-friendly domestic living space on a day-to-day basis, and morphing into an elegant entertaining space as one needs, or desires. This is articulated in the home's most central square, consisting of a welcoming kitchen and a family room that's warmed by a sleek floating fireplace, its mantle framed in wood.
"It creates a very inviting environment, especially if you have guests," says Ali Madani of the arrangement of spaces.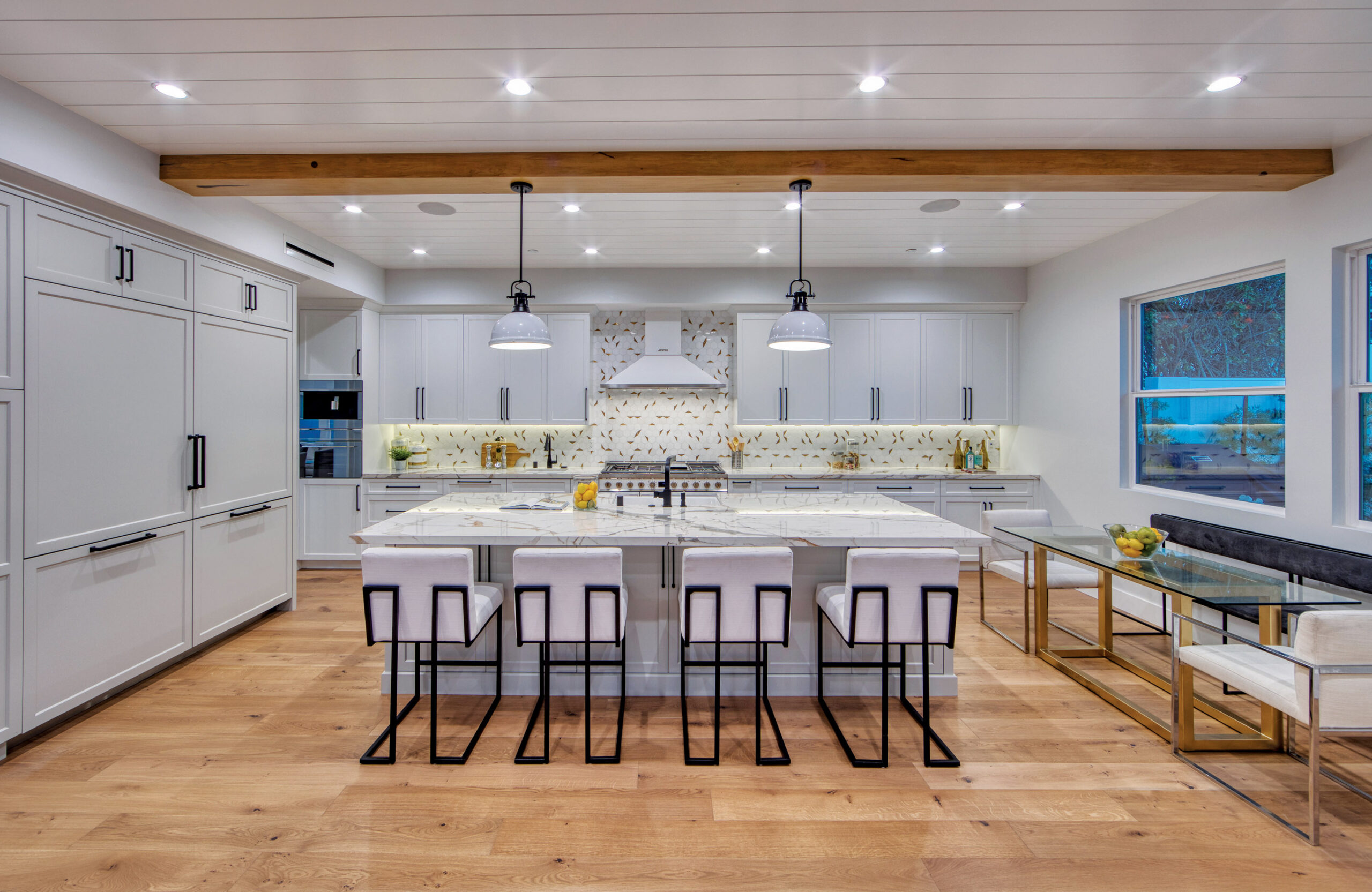 Steps away, and adding to the home's entertaining quotient is a separate, formal dining room where tongue and groove planks emphasize the room's sophisticated tray ceiling. 
The kitchen is a sunlit gathering spot featuring high-grade Italian appliances (by Smeg) and a gleaming porcelain island.
"In the last five years the industry has been able to produce slab-sized porcelain," notes Ali Madani. "It's strong, gorgeous and nothing stains it."
Other kitchen features are neatly integrated into the space and tend to come in duplicates: there's a farm sink and a separate prep sink, for instance; dual dishwashers; and two refrigerators, each 36-inches wide, that sit flush with the cabinetry.
"Kitchens and primary bathrooms are the most important spaces in the house," remarks Ali Madani, pointing out that these are where size, au courant technology and thoughtful spaces, like islands and nooks, are particularly emphasized.
"We've carefully incorporated a built-in coffee machine and a combination steam oven to further compliment these essential spaces."
As glass doors slide away, this section of the home is joined with an invigorating outdoor living area.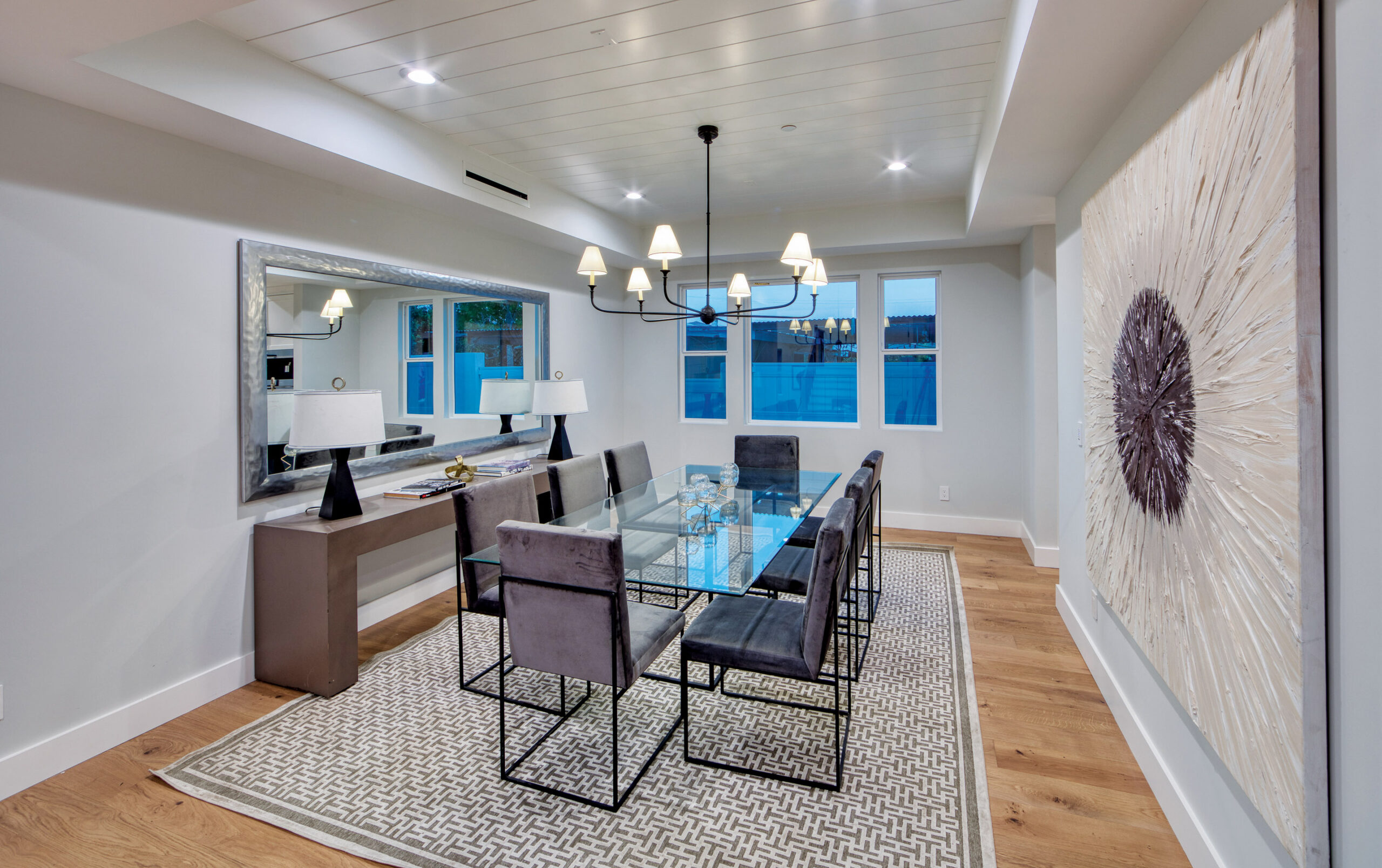 "It gives me the feeling of a Palm Springs boutique hotel," says Ali Madani of the fresh-air space where water cascades into the spacious infinity pool and a bubbly spa sit on an elevated perch.
Here you can host sunny pool parties while guests socialize in the yard, set with manicured grass pavers, or relax under a covered veranda equipped with heaters to warm the cooler evenings and months. It feels like a private, secluded space due to strategic landscaping, including clusters of wafting greenery and manicured green trees planted along the tall white wall.
The ease of being in one's own world is also reinforced by the property's smart home capabilities, which include lights, security cameras and door sensors, all controllable via phone. (The builders have also installed a comprehensive system, including extensive wiring, to support additional automation.)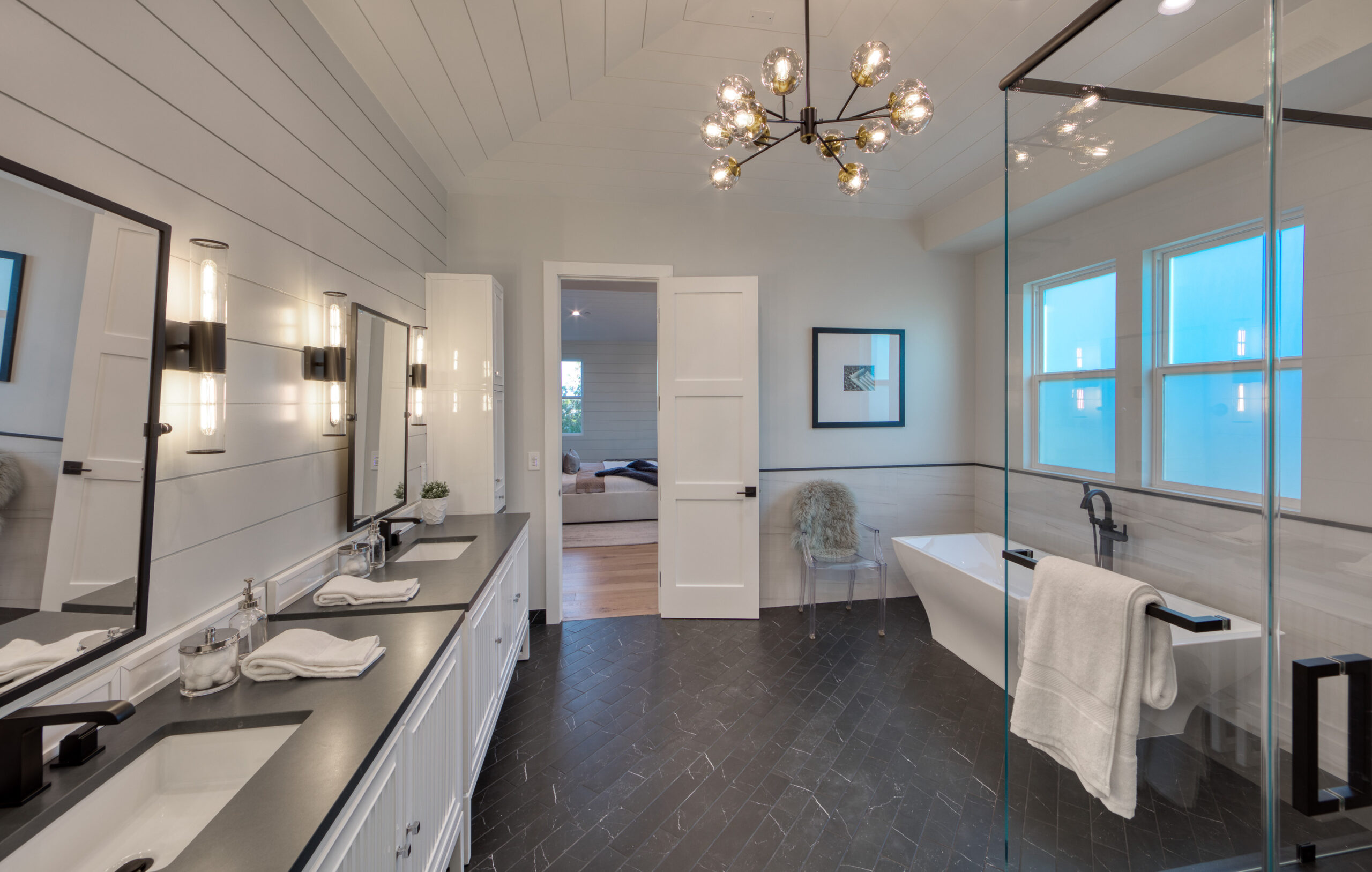 The home's appealing atmosphere—of upmarket coastal style and user-friendly comfort—is consistent throughout the home, including in the primary bedroom suite where you can relax under a vaulted, tongue and groove ceiling while watching the glow of flames in the sleek fireplace. The walk-in closet is a spacious, custom space while the primary bathroom is a generous retreat with porcelain floors that's home to two separate vanity stations and a white soaking tub. All bedrooms have private bathrooms, and one even has a balcony where you can take in the fresh coastal air; a particularly nice touch if the suite is used as an office.
Like many of their projects, this Dori Custom Homes residence is located in Redondo Beach, and its address—2302 Ives Lane—is a central one in terms of accessing both the beach and the freeway. You can bike to the Pacific Ocean in about 15 minutes, and walk to nearby green parks and award-winning schools. It's also close to Beach Cities' pulse points like Riviera Village and the Hermosa Beach Pier, both about 10 minutes by car and the 405 Freeway, also a 10-minute drive.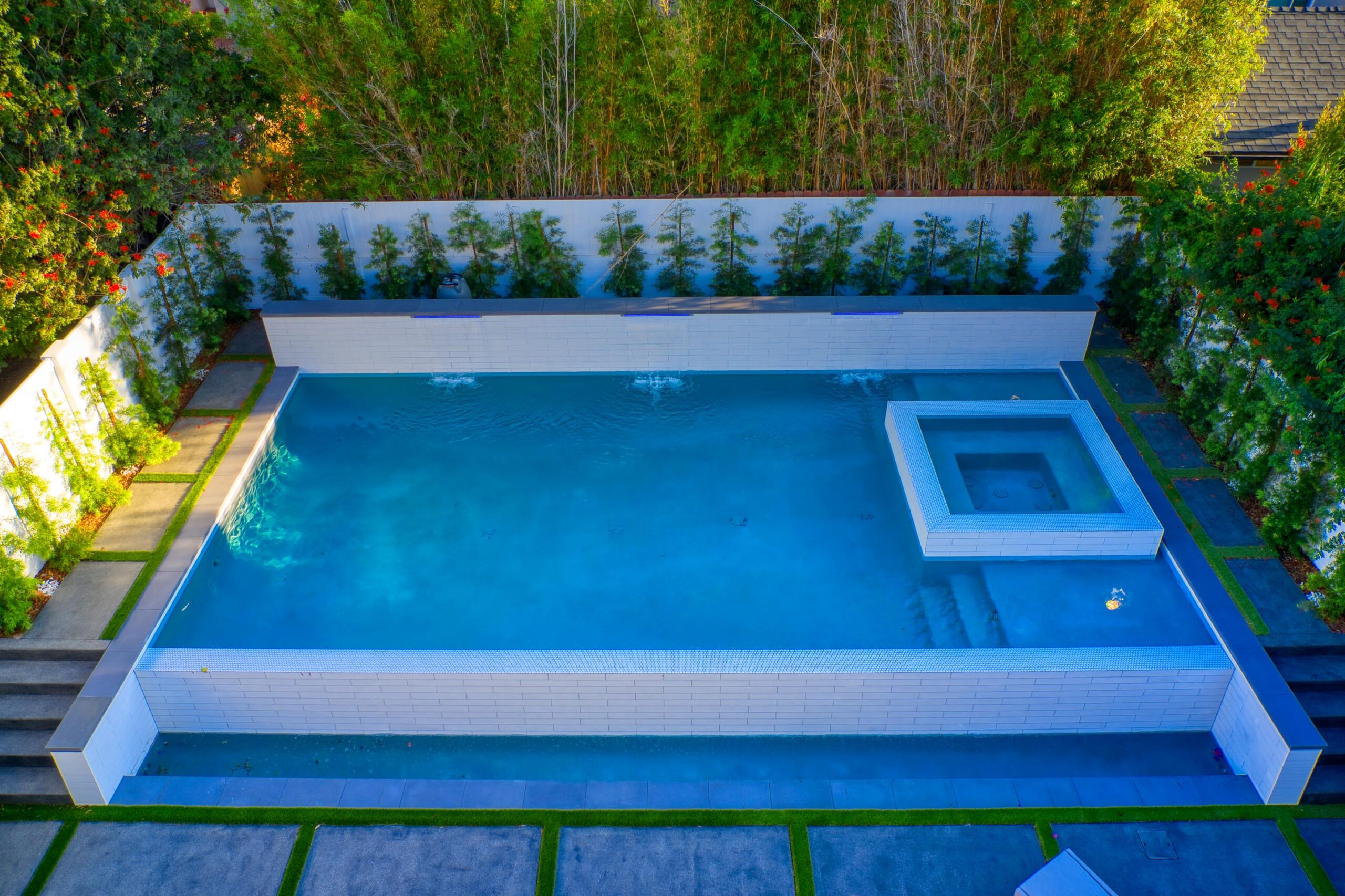 "It's a great spot if you want to be close to the freeway—but not too close," remarks Ali Madani. "We choose our sites knowing we can deliver a quality product in a prime location, on time. Our experience and relationships with our sub-contractors have helped us accelerate our average building time to 12 months from the permit date," adds Ali Madani, "which helps us maintain a great working record with the lending banks."
The location was yet another aspect of the property that was studied by its builders, who considered the home's comfort and flow of design in great detail, along with how every inch would perform, and remain beautiful, for years to come.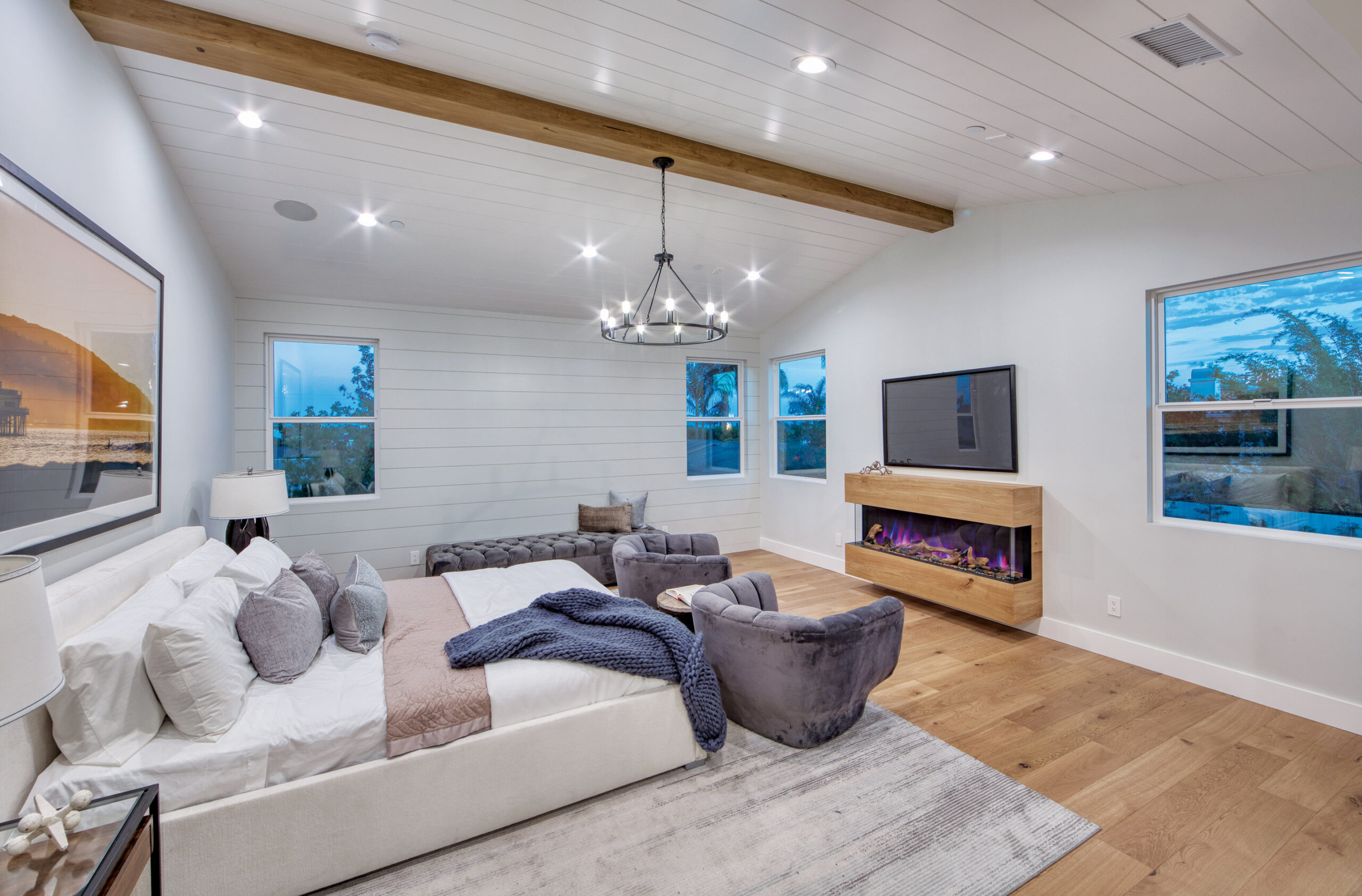 For Dori and Ali Madani, who work with a committed team including an architect and subcontractors, there's an exhilaration that comes with creating a residence's initial design—then seeing it constructed, realized, and purchased by someone who finds it ideal.
"Then you see a family living there and find out how much they appreciate it," describes Ali Madani. "It's extraordinarily gratifying."
Amir Amiri | 310.379.4444 | DRE #01041226
Merit Real Estate
List Price: $3,750,000
Photography by Paul Jonason
Staging by Rachel Tang, Dressed Design Inc.