Upon moving to L.A. a few years after graduating from law school, Brianna Abrams missed the down-home warmth she experienced while growing up in North Carolina—especially the tradition of sitting down with friends and family to enjoy each other's company over a slice of pie. Trying to capture a bit of that small-town feel, the full-time attorney began baking pies as a passion project in her home kitchen.
After spending almost two years building a customer base via orders for everything from weddings to corporate events, Abrams left her law firm and opened the first brick-and-mortar of Winston Pies in Brentwood in 2017. Now, just one year later, she's branched out with a second retail spot on West Third Street in West Hollywood.
"Baking has always been an integral part of my life, something all of the women in my family have done together," says Abrams, founder, CEO and ChiefPieSmith of Winston Pies.
"While there are a lot of incredible bakeries in L.A., there aren't any true all-dessert pie shops, and I wanted to fill that void. Winston Pies is my ode to the special brand of Southern hospitality that is synonymous with my hometown of Winston-Salem, right here in the City of Angels."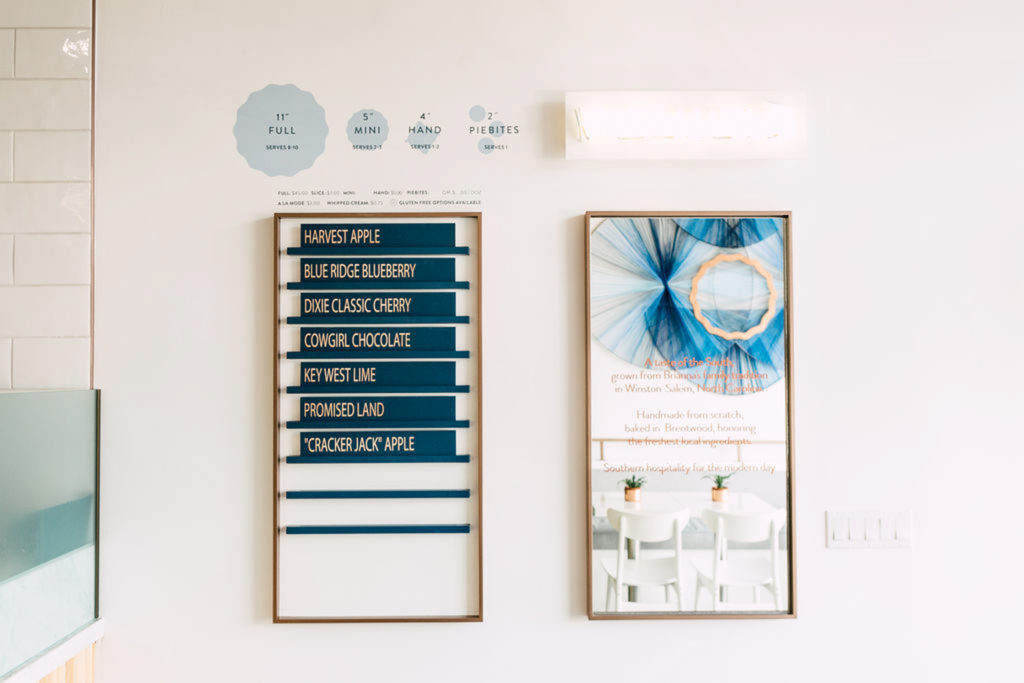 Set between the Original Farmers Market and reimagined Beverly Center, Winston Pies' newest locale is highlighted by a cozy blue, white and copper space featuring banquette seating and terrazzo-topped tables, a large menu board of available flavors, central counter showcasing freshly baked pies and custom woven art piece created by local artist Laura Stewart.
A plant-filled back patio is outfitted with Adirondack chairs and a teak sofa. As for the pies, expect varied sizes—from small bites to extra-large options for families—with popular selections including Dixie Classic Cherry, Blue Ridge Blueberry, Harvest Apple, Key West Lime and Chocolate Cowgirl. Special rotating, monthly flavors (including vegan and gluten-free choices) also are available, with Classic Fall Pumpkin, Classic Southern Pecan and Cranberry Orange Chess pies planned for the upcoming holidays.
"Each Winston Pie is handcrafted and made from scratch with the finest, all-natural ingredients using my trusted and treasured personal and family recipes," says Abrams. "The result yields pies bursting with flavor, and heart-warming satisfaction down to the last bite. I hope to continue growing into new neighborhoods, so I can keep sharing my love for pies." winstonpies.com
PHOTOGRAPHS: COURTESY OF MARIE BUCK PHOTOGRAPHY