With Will Rogers State Park in its backyard, this beautifully crafted home, in one of Los Angeles' most private enclaves, puts nature at your doorstep
Written by A
bigail Stone |
Photography by
Paul Jonason
One of Los Angeles' most alluring qualities is its proximity to nature. In what other city can you hike a sparsely-populated trail, traversed by wildlife and offering a mesmerizing vista of green treetops and endless sky, and, with a quick shower at home, be at your desk by 10 a.m.?
If you have ever dreamed of how peaceful life would be if nature walks were a regular part of your schedule, then 14411 Villa Woods Place is your ideal home.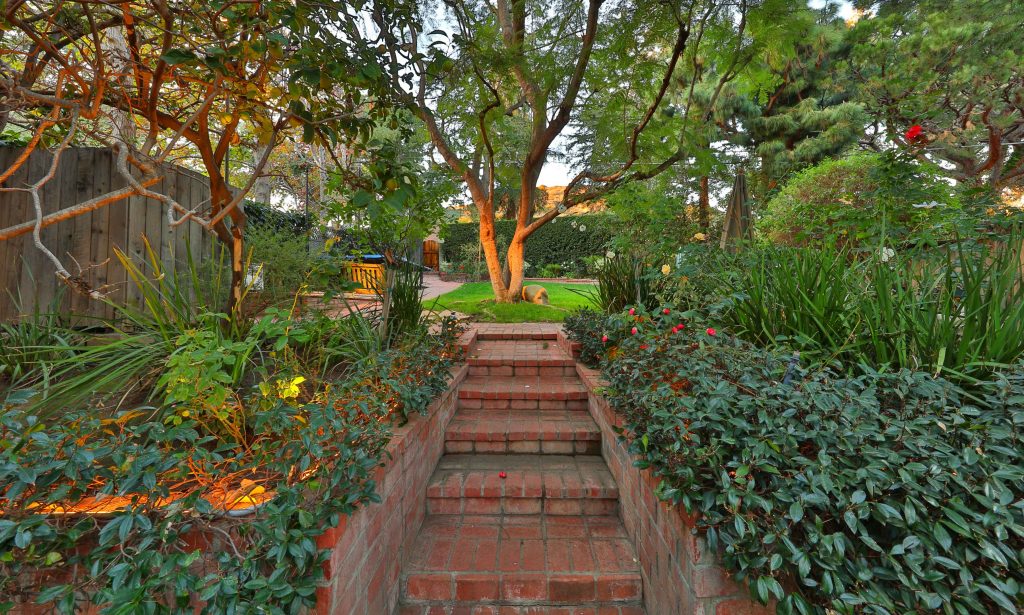 Just off Sunset, a moment past where the Boulevard turns to run straight towards its eventual embrace of the ocean, take a sharp right onto Will Rogers State Park Road and go slow along the softly winding road that lead to the hidden neighborhood that is your destination.
It's a drive often punctuated by the breathtaking sight of a deer leaping across the street. Though these sightings are a common part of daily life here, the experience never ceases to delight. You begin to understand why the handful of homes tucked within this enclave rarely change hands.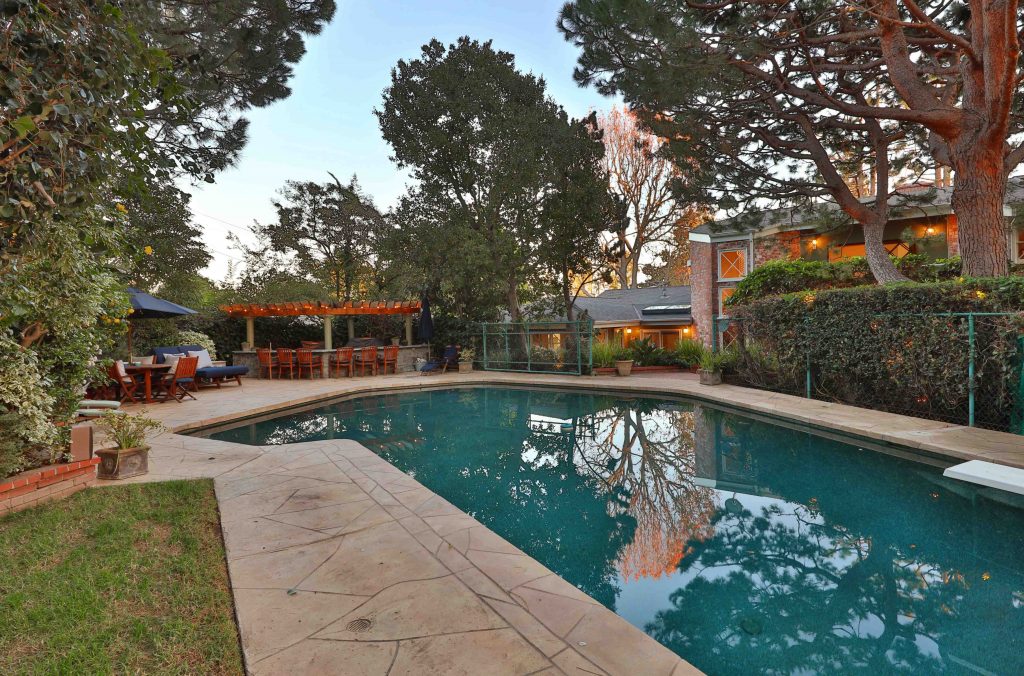 The parkland's 186 acres are, literally, the backyards of the houses in this neighborhood (trails also connect these lands with Temescal and Topanga State Parks).
Take this house: Exit through a gate tucked into a corner of the home's rear garden, just beyond an avocado tree ripe with fruit that has already produced over 200 pieces this year, cross behind the slender cabins belonging to the forest ranger and the head of maintenance and you'll be on protected state lands, donated to the city by actor, humorist and cowboy Will Rogers.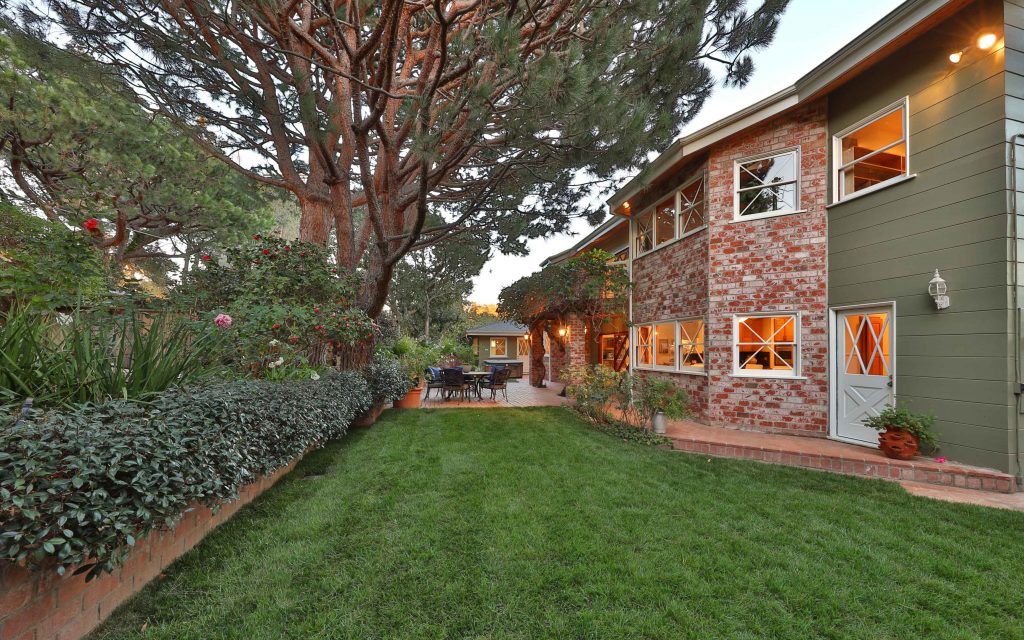 No need to escape to the mountains for the weekend, not when they're so close. With its horse trails and hiking paths, polo fields and the aptly named Inspiration Point, it's often challenging to remember that this former ranch is within a few minutes drive of the sophisticated shopping and restaurants of Brentwood, Santa Monica, the Pacific Palisades and Beverly Hills.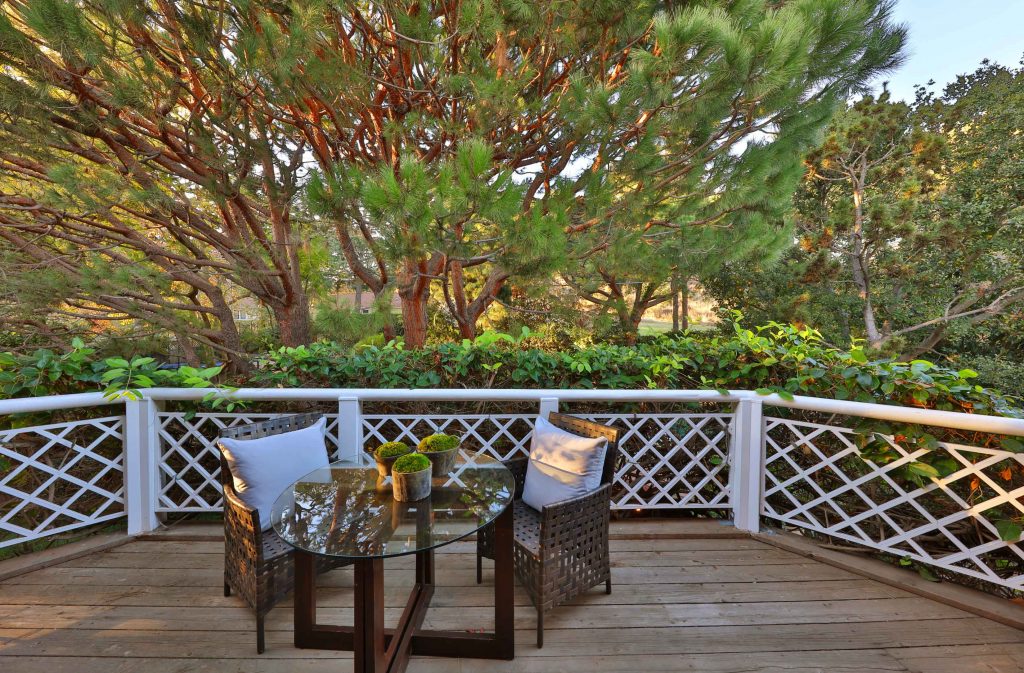 Not only does the chaos of city life seem far away here, but the outside world too. In what other Los Angeles neighborhood are children still encouraged to take advantage of a protected, safe space in which to ride bikes and skateboards along mostly deserted streets?
It won't take much encouragement to prod them off of their devices and out into the world once they've tasted the pleasures of navigating a freedom that few in L.A. enjoy.
Designed to support old-fashioned values—family, nature, connection, and contemplation—the home was built in 1953 and sports the solid construction and beautiful craftsmanship that are hallmarks of that era. Yet it easily adapts to the needs of a modern family.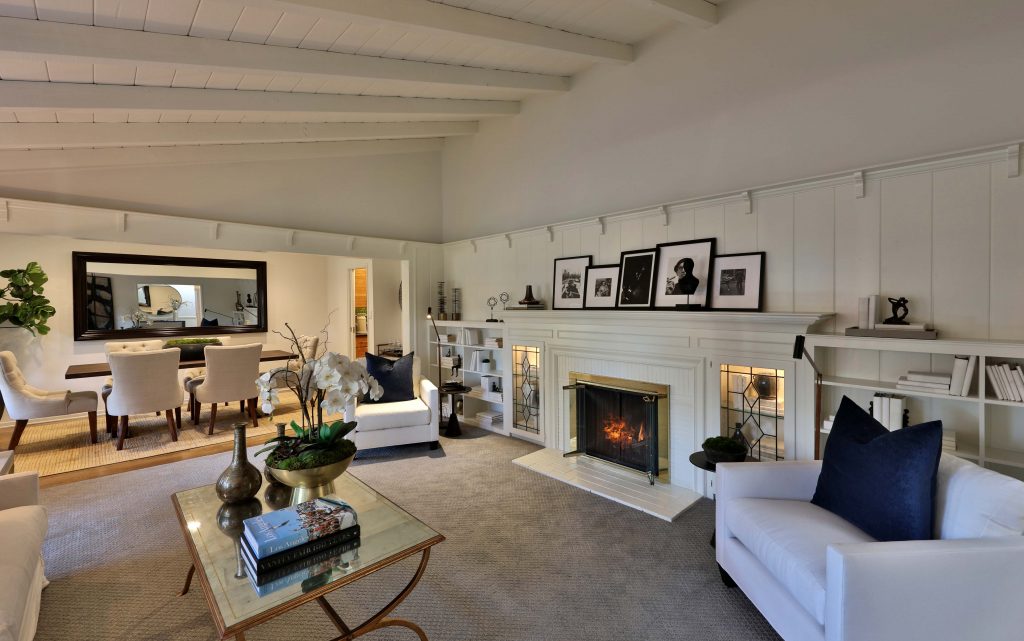 To the right of the front door, the arrangement of a children's wing, with four bedrooms and three bathrooms, supports strong sibling relationships.
To the left, a long porch helps forge strong ties with neighbors and the close-knit community while a light-filled formal living at the front of the house welcomes visitors.
Most of the activities of this home center around the rooms at the back of the house, underscoring in physical form a commitment to establishing strong family bonds: a large, eat-in kitchen, warmed by original carved wood cabinetry, is the setting for lively pancake breakfasts on weekends, cozy weeknight suppers and hours of cookie baking marathons; a soaring family room with a wet bar and a fireplace sets the stage for bundling up by a crackling fire on a crisp night, high-spirited board games and movie marathons.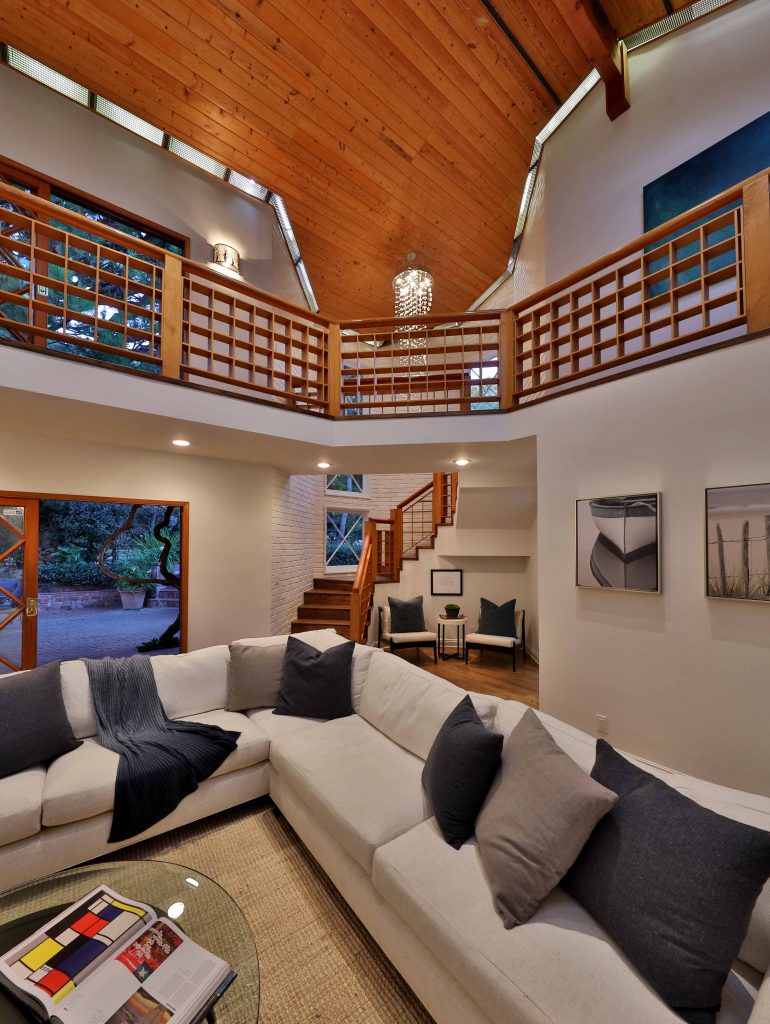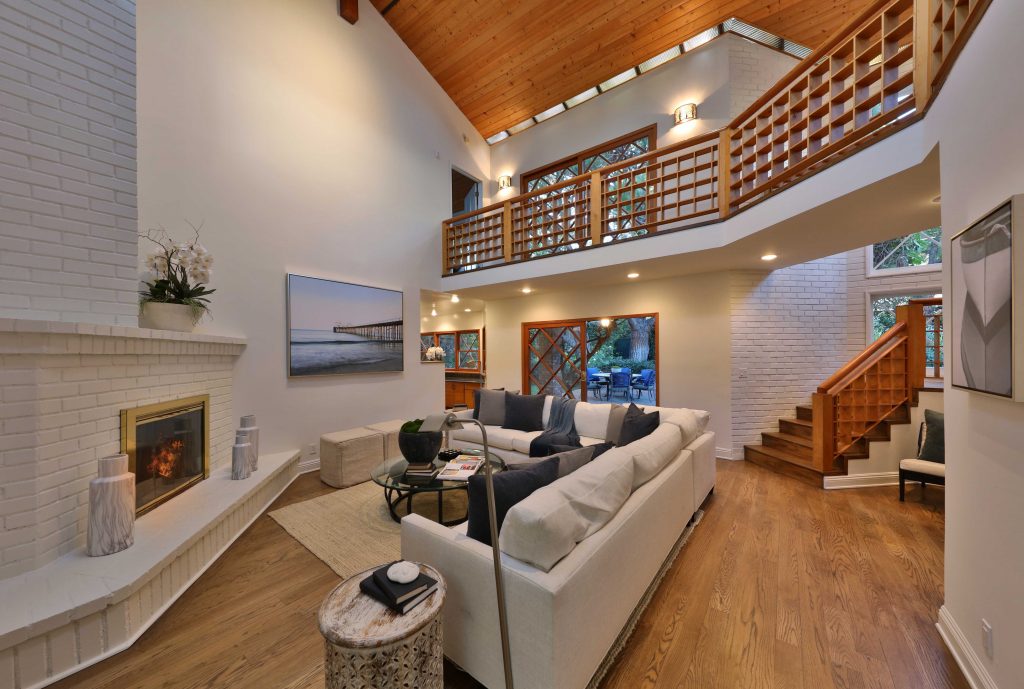 Large double doors open this room to the outdoors, where a full kitchen, including the largest size Viking grill made, a warming tray and a refrigerator and a sink ensures that the spacious, beautifully landscaped backyard is also corralled into action of everyday life.
Fruit trees— lemon, orange, and peach varieties—and flowering bushes, hanging vines and fragrant spices create a garden of vivid sensory pleasures.
With its gated pool—deep enough to support a diving board, a true rarity in the city—shaded nooks and winding paths, everyone will find a favorite spot on the property.
Sturdy carved balustrades wind up to the second floor's master suite. Here, parents have their own sumptuous retreat looking out over the calming view of the mountains.
The amenities—including two spacious walk-in closets, and a balcony from which to enjoy the endlessly mesmerizing vista of nature's ever-changing show—meld cozy with luxury for a space that feels like a private cabin getaway.
Another light-flooded and spacious room on this floor is ideal for a home office. Windows overlook the street, offering parents a bird's-eye view of children playing below or returning home from school.
It's also within hearing distance of activities in the backyard and in the family room and kitchen directly below, ensuring that parents are near (but not too near).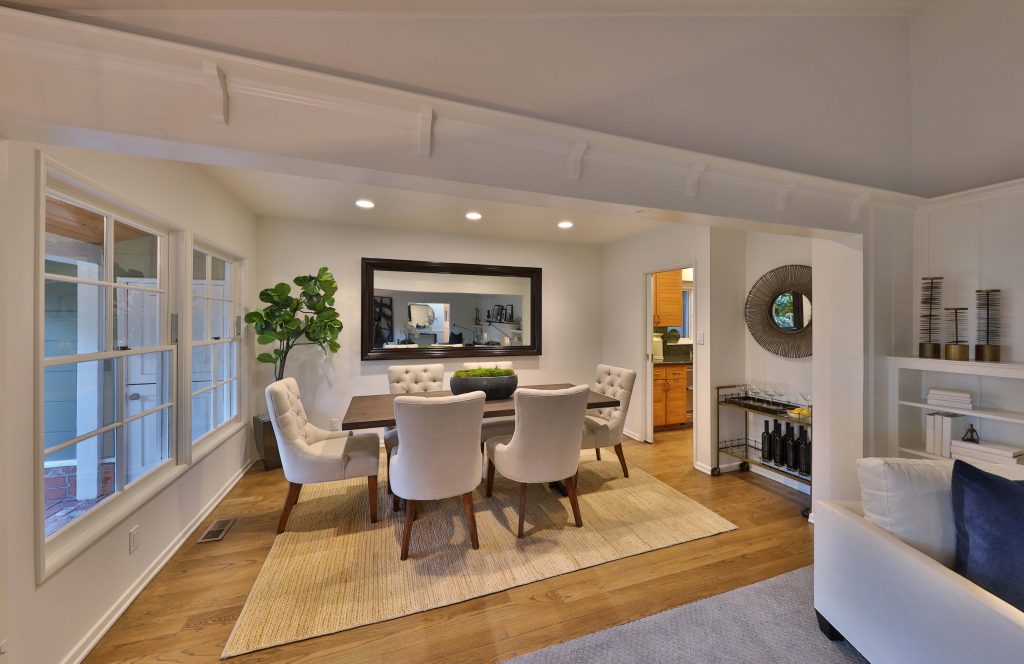 This is a house for entertaining. Guests of future events will marvel at how the easily the generous house and its grounds accommodate a crowd of 100, along with space for two catering teams, one inside and one out, and numerous bar set-ups.
Plenty of space on the street, meanwhile, ensures smooth valet service. When a guest pulls you aside to stress that it's always these tricky logistics that engender the success of an event, you might be tempted to take the credit. But it's the house. There's something about it that's pure magic.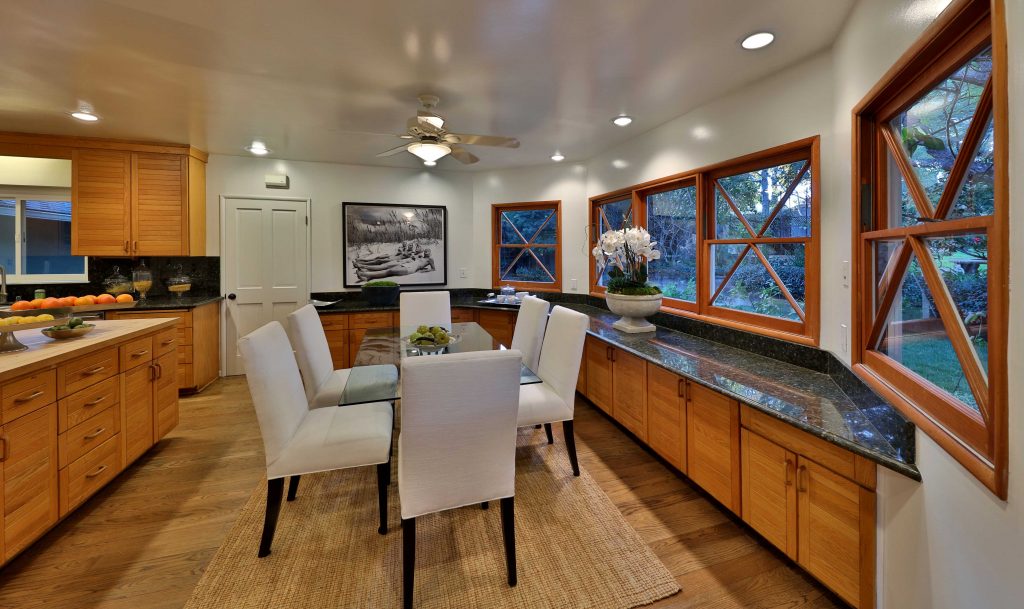 "We'd wanted to live in this area for a long time, so it only took me a minute, when I first saw the house was available, to put in an offer," says the seller, recalling it as "an incredible place to raise four incredible kids. An escape from the city within moments from everything you could want."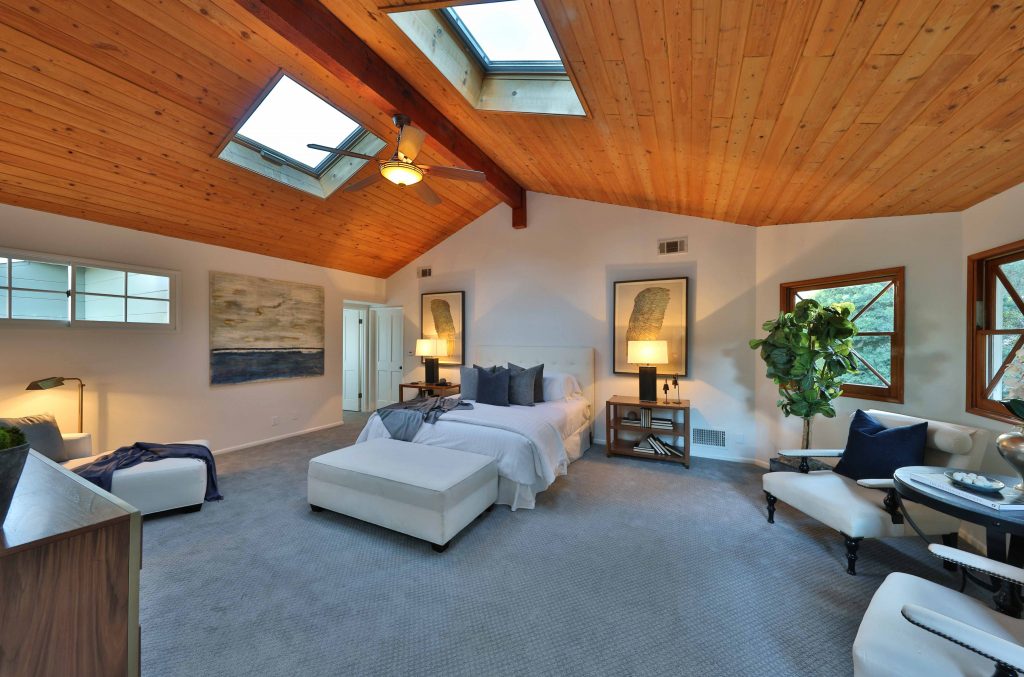 Realtor Michael Edlen reiterates the home's incredible qualities: "This home is unique in its opportunity to live in the highly-desirable Will Rogers area; coupled with the neighborhood's short, private cul-de-sac and direct entrance to Will Rogers Park & Polo Fields from the [backyard]."
Though it may be a real estate cliche, in the case of this house, the old adage is true: This is a once-in-a-lifetime opportunity.
Presented by
Michael Edlen | 310.230.7373
Coldwell Banker
list price $5,325,000