With its 105 luxury rooms and suites, lounge spaces, pool, and a rooftop event area, the recently opened Kimpton La Peer Hotel is the new West Hollywood Design District hot spot. In addition to chic design and luxury amenities, the hotel hosts a striking modern trattoria. Inspired by chef Casey Lane's trips to the Mediterranean coasts, Viale dei Romani—which means "avenue of the Romans" in Italian—blends Italian, Southern French and North African influences. The menu is rooted in Positano, a village on the Amalfi Coast, and includes seafood-driven dishes, pastas, and pizzas.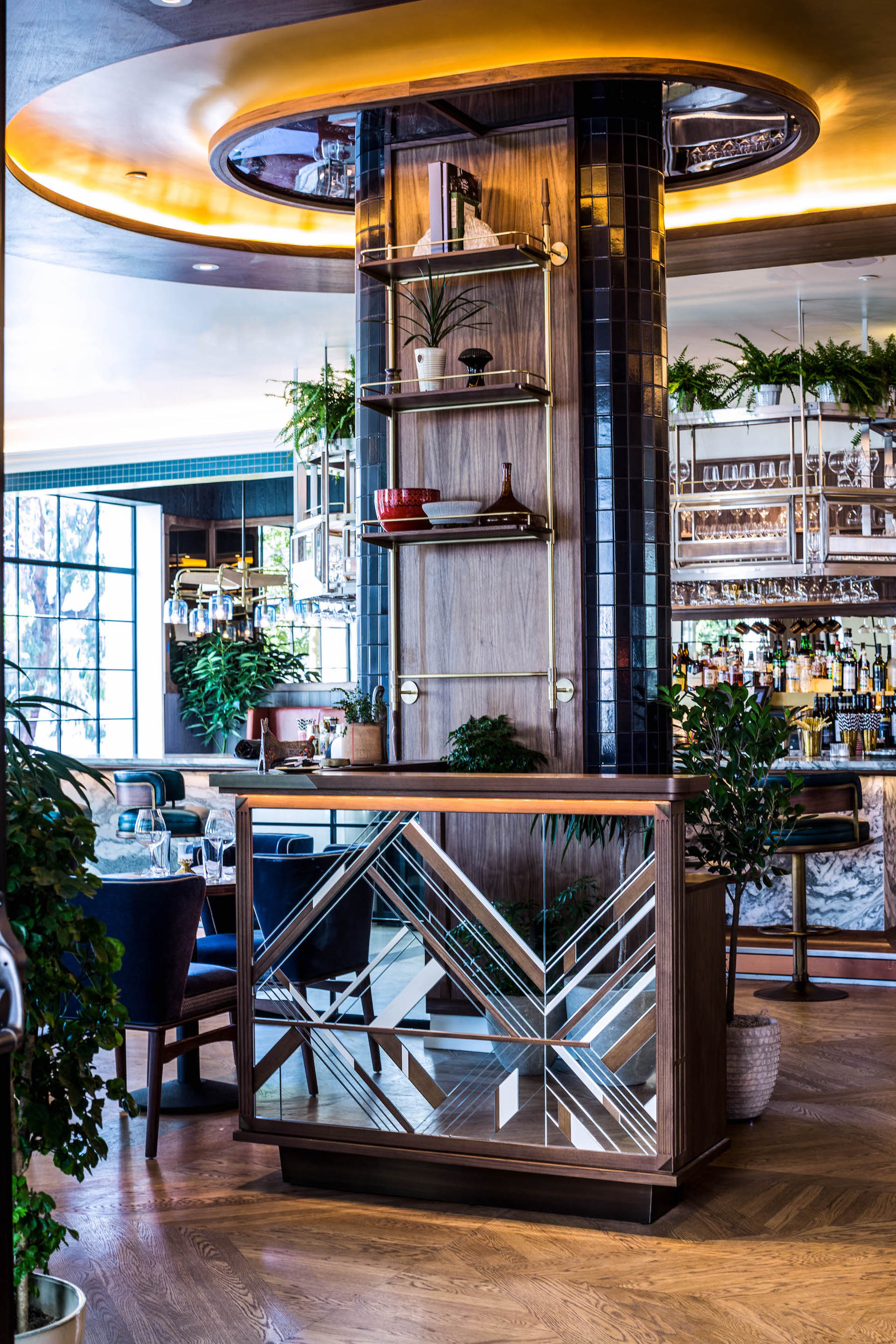 Crafted by Parts and Labor Design—a New York City-based studio established in 2009 by co-founders Andrew Cohen and Jeremy Levitt—Viale dei Romani features an upscale Mediterranean atmosphere with nods to Hollywood glamour. Luxurious yet approachable, the curated aesthetic reflects "an experimental approach to form and materiality," according to Cohen and Levitt. With lush ferns hanging overhead, a custom host stand made from a mosaic of mirror and wood welcomes guests.
Next to it, the bar, adorned with brass detailing and creamy Crystal Stratus Danby Marble with bold veining, is reminiscent of art deco jewelry. Furnished with round-shaped, custom-designed bar stools, this area exudes casual elegance, inviting guests to socialize. Adjacent to the bar, a cozy banquette occupies an alcove, making this nook more private from the rest of the space.
One of the main design highlights is "a massive, oval central coffer detail formed out of curved wood and metallic gold paint, [which] creates a feature within the main dining room ceiling that incorporates mirror to reflect the plantings and textured columns below," say Cohen and Levitt.
In the concept's main dining space, the 42-foot-long open kitchen featuring Mediterranean blue tiles is visible from almost any corner. A yellow velvet-upholstered lounge-style banquette echoes the gold painted ceiling. Throughout the restaurant, custom lighting fixtures complement a mix of vintage and modern furniture.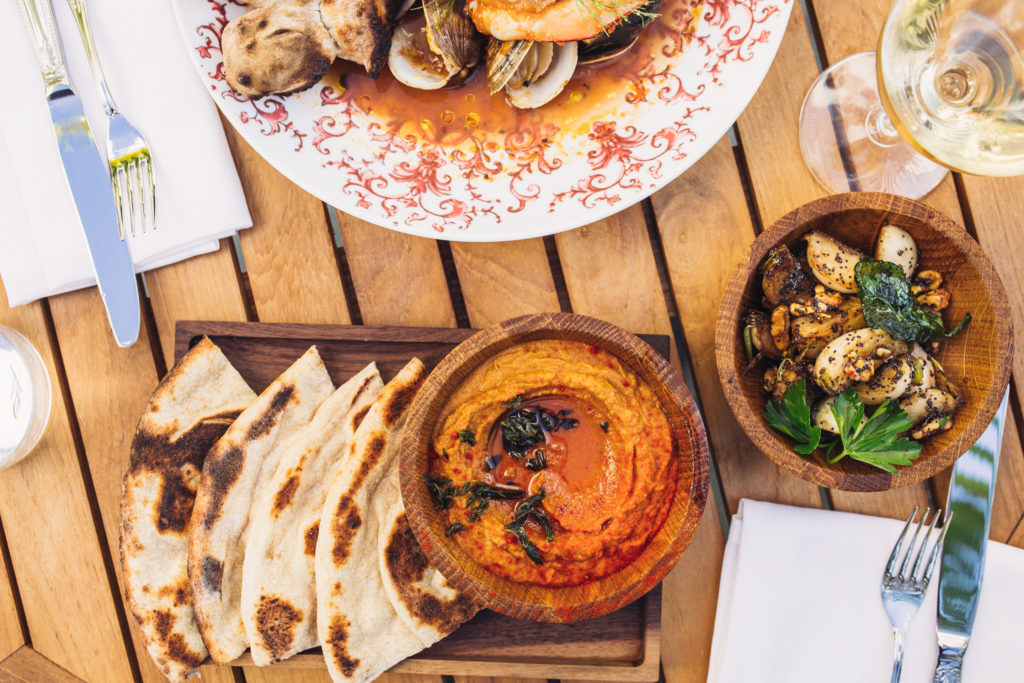 With its colorful concrete pavers, lush plants and fireplaces, the courtyard is the perfect place to enjoy al fresco dining. Separated from the patio by vertical louvers and overlooking the pool, the intimate lounge area can easily be made private. In addition, the rooftop offers the perfect backdrop for a cocktail party.
Offering a "verdant dining experience with a Mediterranean palette and modern design sensibility," according to the Parts and Labor Design duo, Viale dei Romani is relaxed, sophisticated and, fittingly, truly tasteful. vialedeiromani.com
PHOTOGRAPHS: (THIS PAGE AND NEXT) COURTESY OF VIALE DEI ROMANI (FOOD) AND ANDREA BEHRENDS (RESTAURANT)