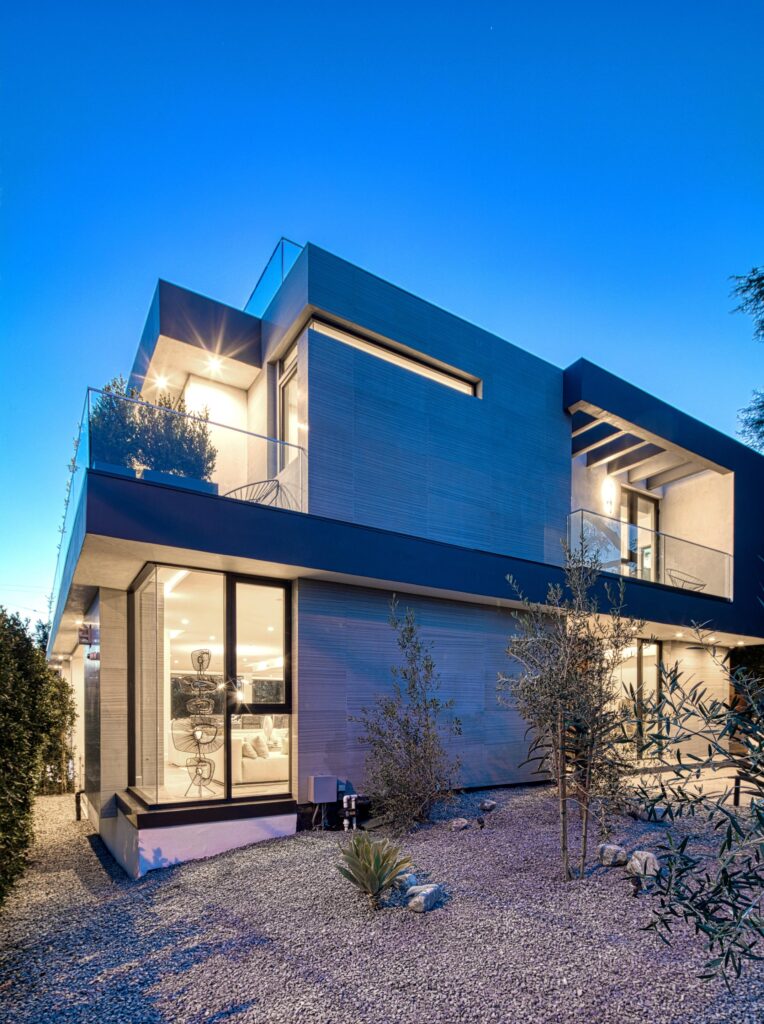 One measure of a neighborhood's desirability and charm is its walkability, a rare commodity in Los Angeles. Walking opens up a myriad of opportunities to enjoy the pleasures of serendipitous encounters and unplanned discoveries.
In this regard, 1101 Kagawa Street is a star of Pacific Palisades, with a myriad of destinations from Pacific Palisades Park and the library, the weekly farmers' market, and elementary and high schools to grocery stores and many favorite dining spots, all just a few blocks away. So too is Caruso's new Palisades Village development.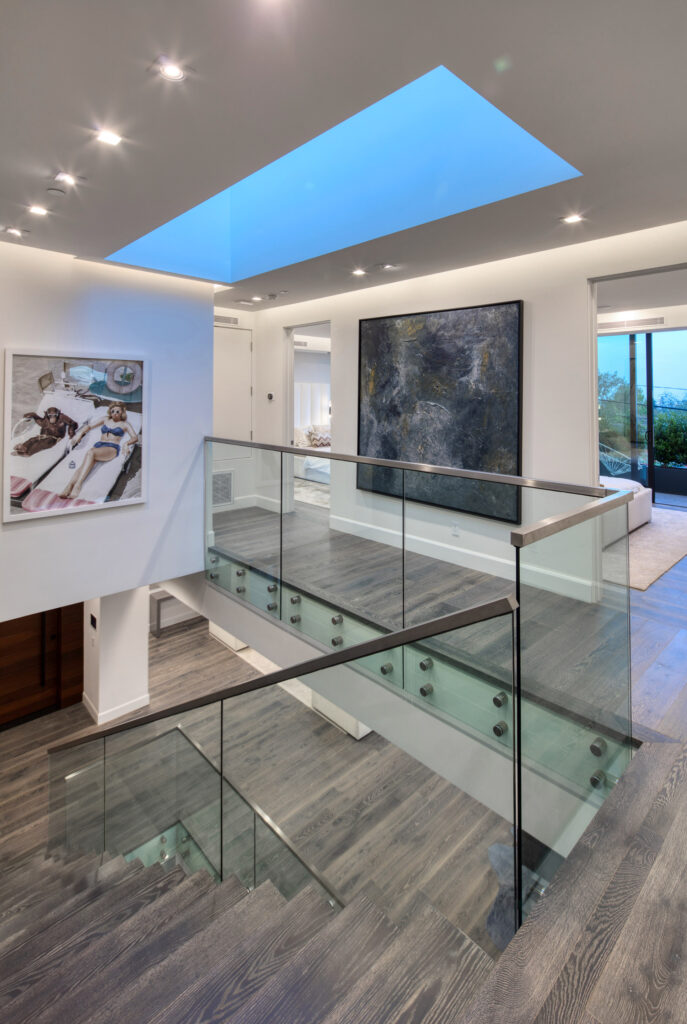 An equal to its neighborhood both in form and function, the newly constructed house, an arresting edifice of stone and glass, is majestically poised on a corner lot. The imposing ipe wood front door introduces the interior.
First is the astonishing main floor of extraordinary proportions. French white oak wood floors complement high ceilings and soft cove lighting. A dining area, living room, breakfast area, built-in bar and chef's kitchen are corralled into this breathtaking first impression.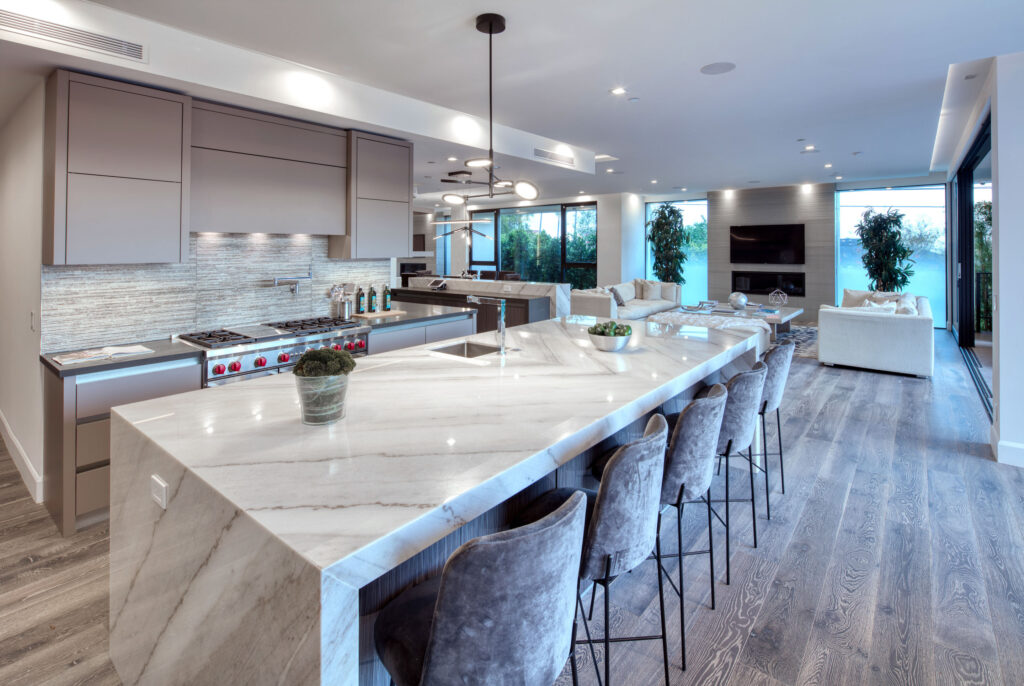 Light pours through large glass windows that run along one side of the space and frame lush green plantings; making this area even more astounding, Fleetwood doors stretch across the home's rear wall. Opened, they seamlessly merge this room with the backyard, where a grassy back lawn, sun deck, entertaining patio with a barbecue, and a pool and spa complete a perfect snapshot of the indoor-outdoor lifestyle that is the hallmark of Southern California living.
Luxurious and thoughtful details make the kitchen a delight for professional chefs and home cooks alike—a book-matched marble island, separate pantry, exquisite Blum hardware, and a plethora of Sub-Zero and Wolf appliances including a warming drawer, wall ovens, range, and built-in espresso machine.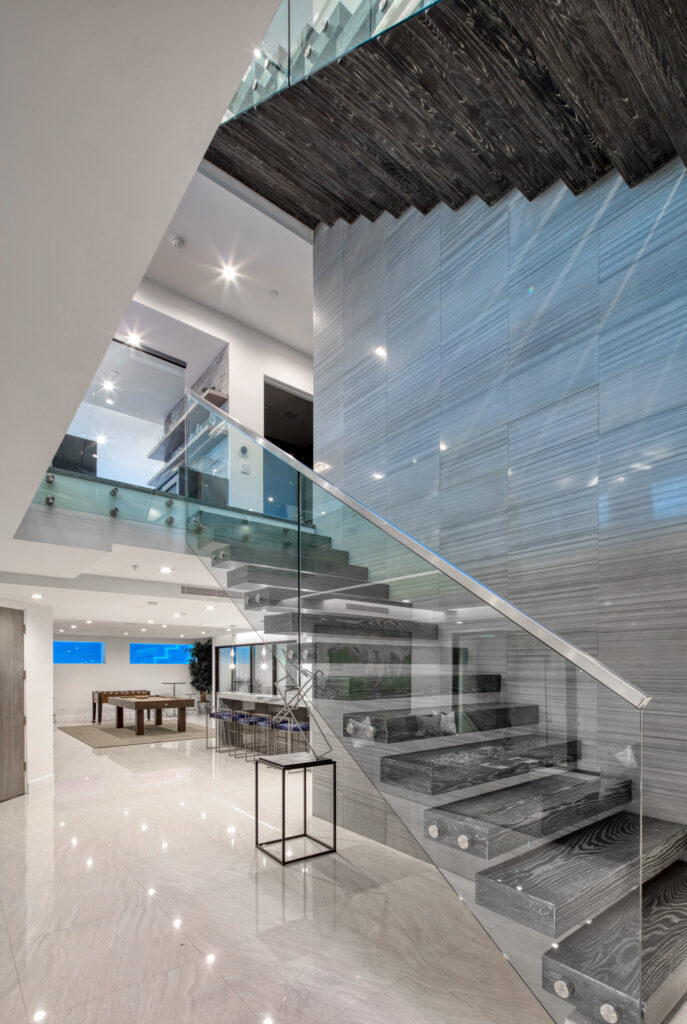 Also on the main floor are two fireplaces with natural stone surrounds and a touchpad system that puts full control of the home's lights, music and security features at one's fingertips. Whether considering hosting a cocktail party for 200, a bountiful Thanksgiving dinner for extended family, an intimate dinner party, or a spirited 4th of July pool and barbecue party, this home is equipped to handle it with ease.
While everyday life doesn't include hosting elaborate events, the future owner of this home should not be surprised at the increase in spontaneous invitations sure to arrive here—from friends who'll find an excuse to drop by for coffee in the afternoon, play dates by the pool; and the boys' night out that suddenly becomes a boys' night in.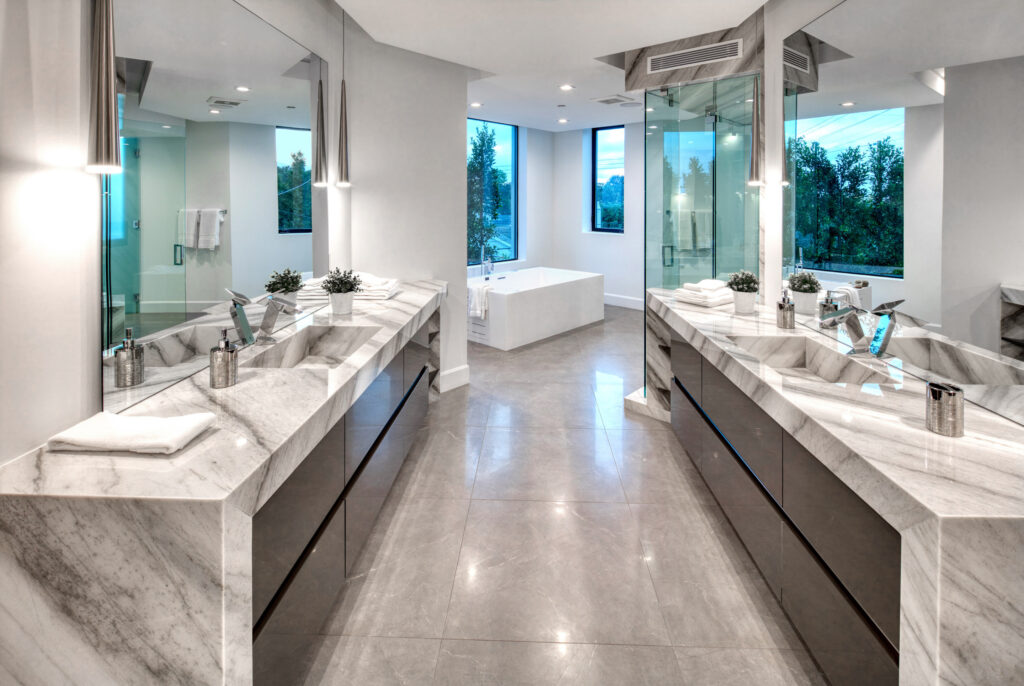 The lowest floor of the home, with its wine display, ventilated cigar room and plenty of space for a pool table and foosball table is ideal for the latter of these occasions. This floor also boasts a state-of-the-art home theater that makes watching Game of Thrones here a mesmerizing experience.
Once guests leave, albeit reluctantly, the home allows for the natural ebb and flow of solitary and group activities that make up the rhythm of family life—work and reading, gaming and watching television, food prep and meals—with everyone finding a favorite spot. Six en-suite bedrooms, meanwhile, grant everyone a private space of their own.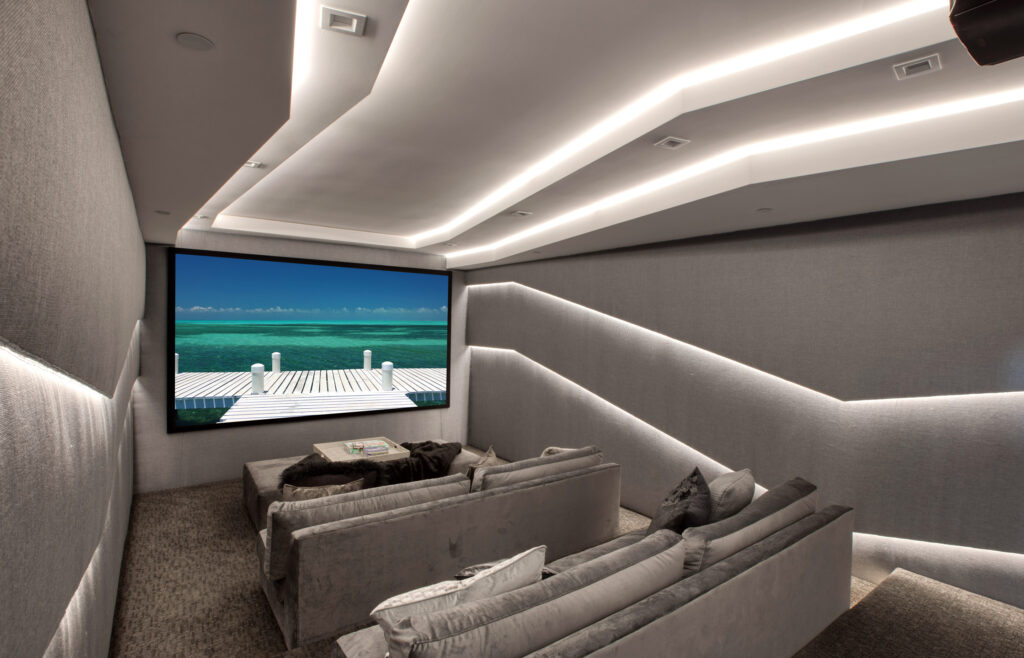 For the illusion of complete solitude, one need only disappear into the office. While it can, of course, be used as a private bedroom for out-of-town guests who demand the utmost in autonomy (a bedroom suite downstairs offers the same), this en-suite room's location, just to the right of the front door, and overlooking the home's sculptural central floating staircase, offers the perfect vantage point from which to monitor the household's comings and goings.
One must look up to find one of the four-story home's most jaw-dropping features: the roof. Accessed by an exterior spiral staircase or the elevator, it showcases a custom bar, fire pit, and hot tub. With its stunning panoramic ocean and mountain views, watching the sunset here could easily become a nightly ritual. Later, in the master suite, one can view discreet echoes of this display.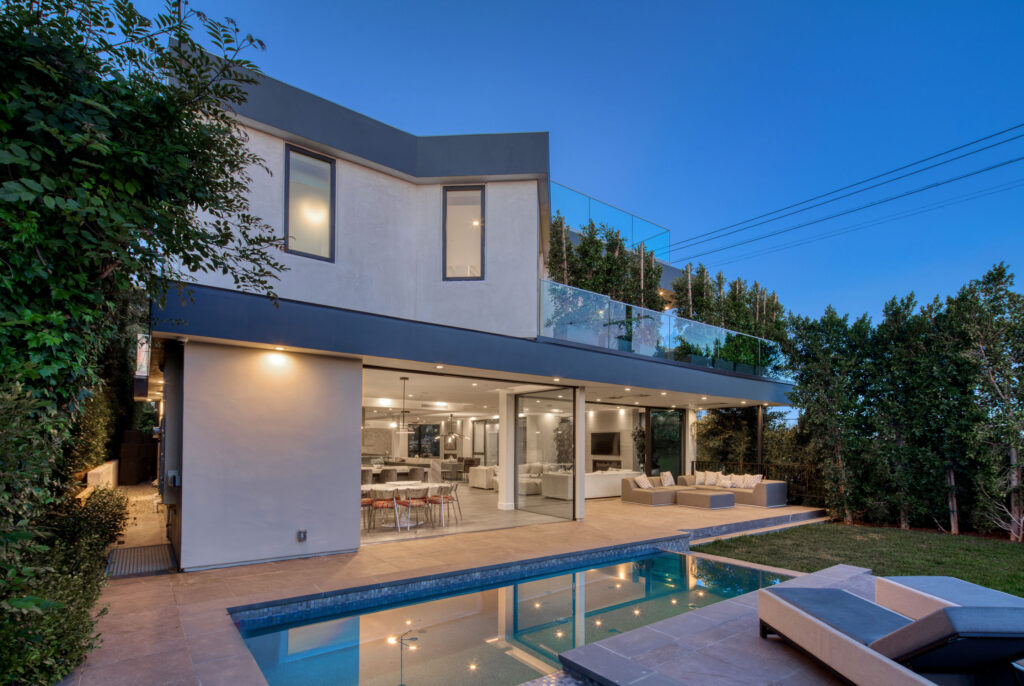 This space's well-designed layout, which includes a large balcony and spacious walk-in closet, offers a thoughtful surprise with its generous bathroom, separated from the bedroom by a two-sided fireplace. Sinking into the freestanding tub, plush with bubbles, it takes but a moment to realize that soaking in luxury takes many forms—from a stunning edifice to an equally captivating interior, to a luxuriant immersion of a more private variety.
This is life. If only others knew how great it really was. It is a secret not long for the keeping.
Anthony Marguleas
Amalfi Estates | 310.293.9280
List Price $6,999,000
Photographs by Paul Jonason