Chef Evan Funke displays his famed pasta prowess at Felix, his highly touted Abbot Kinney restaurant open in Venice
Written by Wendy Bowman | Photography Courtesy of Alan Gastelum
Visitors to Evan Funke's newest L.A. eatery can expect an authentic trattoria experience, right down to the warm and inviting atmosphere akin to relaxing in the home of a doting Italian grandmother. Think stylish Old World interiors rife with vintage lighting, marble counters and flooring, rich fabrics and Fornasetti wallpaper complemented by pops of Vespa green, black and white, along with a glass-encased, temperature-controlled pasta "laboratorio" where the chef handcrafts a variety of delicious pastas nightly.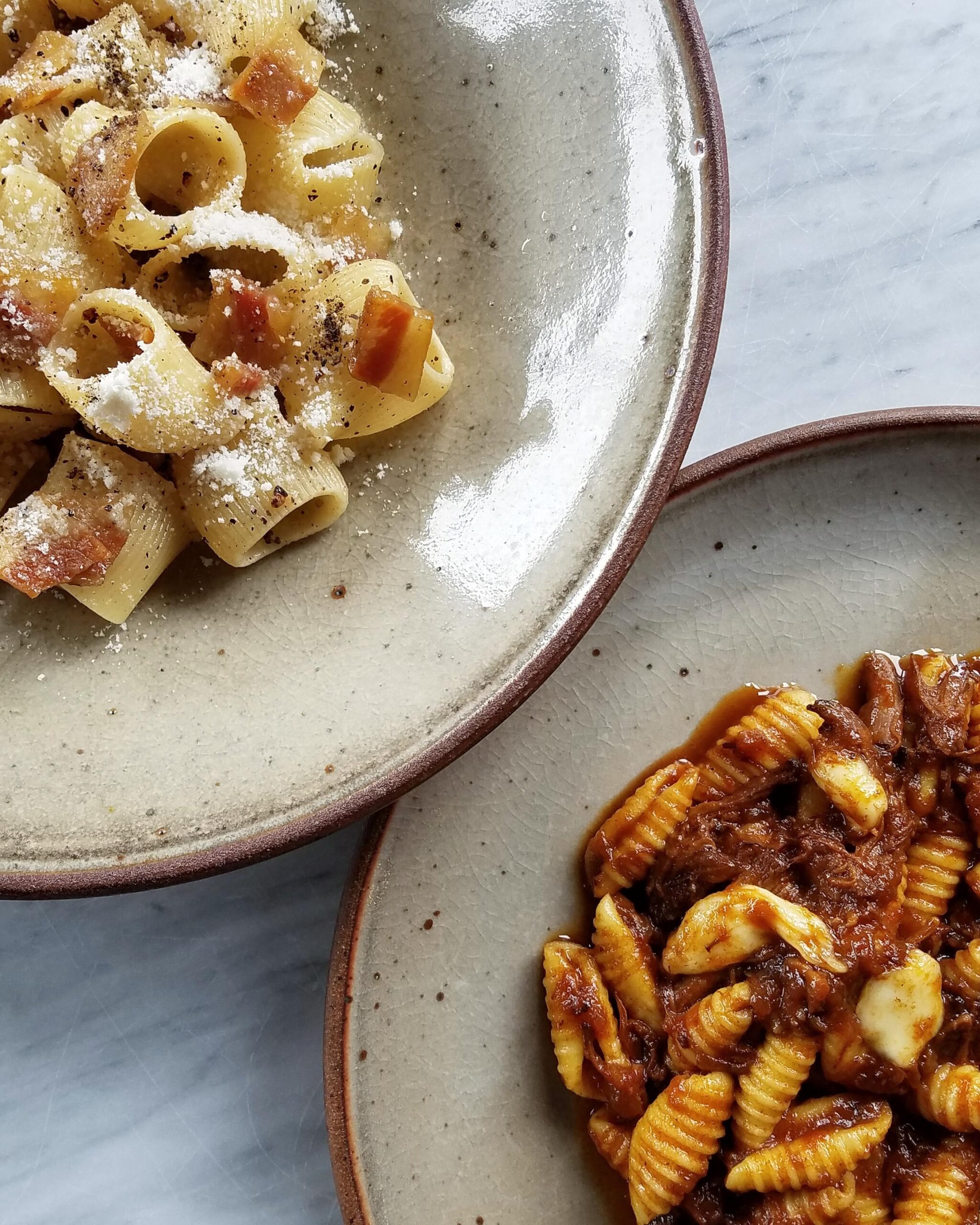 "I want to create the most comprehensive pasta program in the U.S., presented in the most authentic manner, with full recognition and respect of the history and origin of each [pasta] shape and its corresponding condiments," says Funke, an Italian-trained pasta-maker (he mentored under master pasta-maker Alessandra Spisni of La Vecchia Scuola Bolognese) and longtime chef who opened Felix restaurant in collaboration with his partner, Gusto 54 group CEO and Owner Janet Zuccarini, in early April.
"It's very easy to cook Italian food in California because of its similarities in region and climate and produce," adds Funke, who's also wowed diners at restaurants such as Culver City's Bucato and Santa Monica's Rustic Canyon. "I cook as if California is its own region in Italy by using what's around me. We have a reverence for the land that's very much the same in Italy, where products shine through in the cooking."
Situated at 1023 Abbot Kinney Blvd.—in a renovated 1920s building once occupied by Joe's Restaurant, just minutes from Venice Beach—Felix welcomes loyal pasta-lovers dating back to Funke's days at Bucato alongside locals and visitors alike. Expect a menu filled with modern takes on rustic pasta dishes laced with local farm-grown ingredients, all celebrating Italy's North, Central, South and Island regions. Among the favorites: tonnarelli cacio e pepe (with cheese and black pepper); sfincione (Sicilian focaccia); trofie (with bright pesto); and pappardelle (with ragu Bolognese). Also a must-try is the Cutloose, a cocktail, made with tequila, Pisco, passion fruit and pineapple.
Forthcoming for Felix is weekend lunch service. Why "weekend lunch"? According to Italian food culture, there's really no such thing as brunch in the boot-shaped country, where lunch typically begins around 11:30a.m. and runs until the last cocktail has been quaffed.
FELIX
1023 ABBOT KINNEY BOULEVARD
VENICE, CA 90291
424.387.8622 | FELIXLA.COM