Modern Luxe Design
A sleek, museum-quality home by Michael Torrey of Avalon Construction Corp mixes the best of Malibu living with a quiet, off-the-beaten track neighborhood and astonishingly untarnished views of the Santa Monica Mountains
The idyllic beach community of Malibu offers all the benefits of small-town living within a short driving distance of the big city. It's the kind of place where children skateboard and ride bikes along quiet winding roads, neighbors greet one another with genuine warmth, families gather in the handful of long-time restaurants whose staff know them by name, and legendary waves make fast friends of surfers who congregate on beaches at dawn to catch a few rides before work. Living here is like coming home to a vacation retreat every night. This is the feeling at the heart of 5664 Calpine Drive.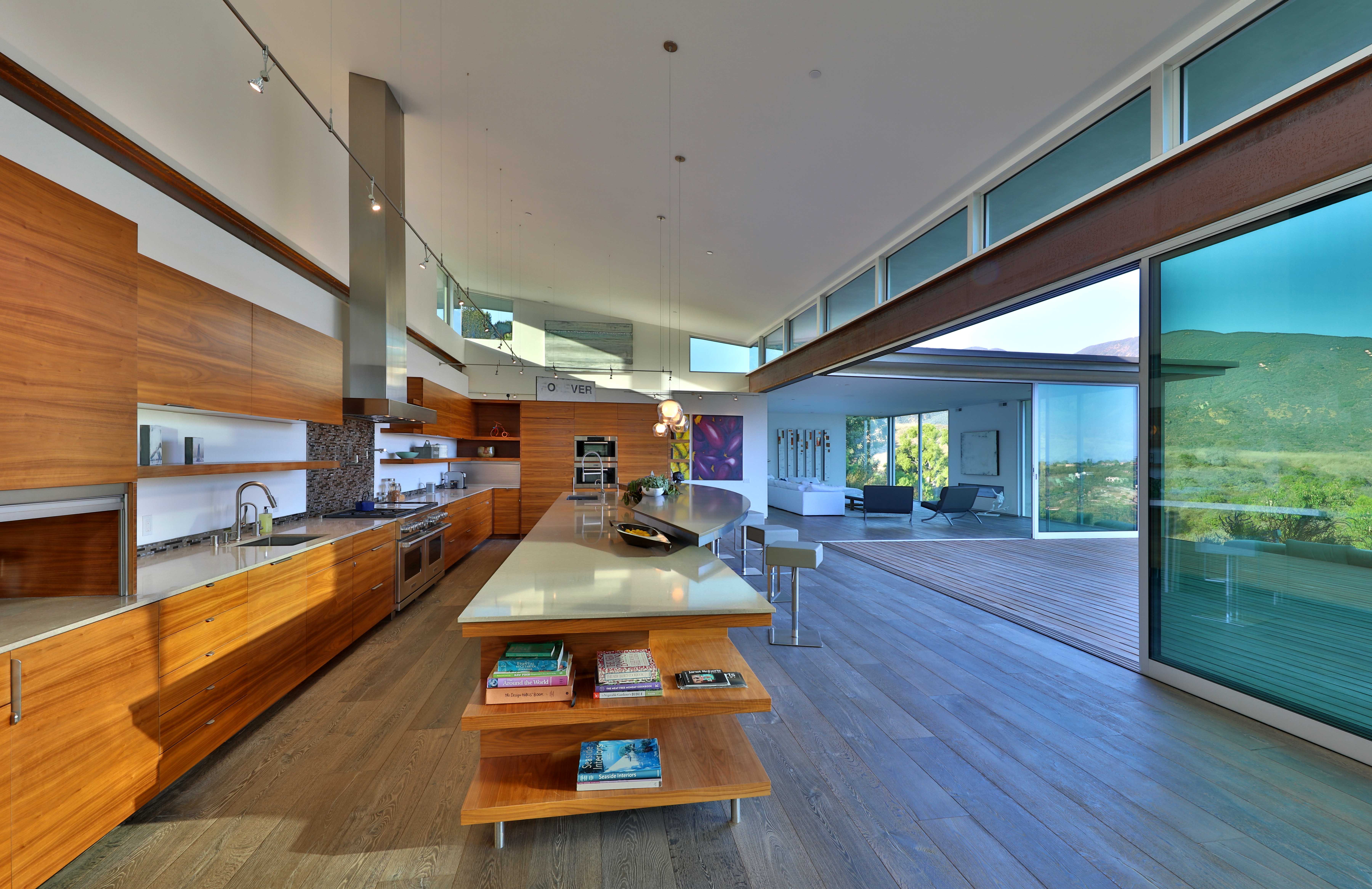 The home at this address heeds the mantra of real estate agents everywhere—location, location, location. Situated on a quiet enclave, up a peaceful road just east of Point Dume, the home looks out over the serene beauty of the Santa Monica Mountains and cerulean ocean views. Combining the best of both worlds, the neighborhood is within easy reach of Malibu's markets and shops, but out of reach of crowds and busy roads. Although the house is located across the Pacific Coast Highway, avid boarders will quickly discover one of this area's well-kept secrets: a tunnel under PCH that means the beach is only a short golf cart ride away. Equestrians will be delighted to realize that the entry to the state parkland is just at the end of the street. No wonder Malibu's famed Equestrian Park is located nearby. The numerous trails that crisscross through those verdant hills—over 500 miles worth—beckon riders, runners, joggers and hikers alike. It's not uncommon to find yourself sharing the road with a group of horses calmly clip-clopping along. The traffic and noise of Los Angeles seems very far away.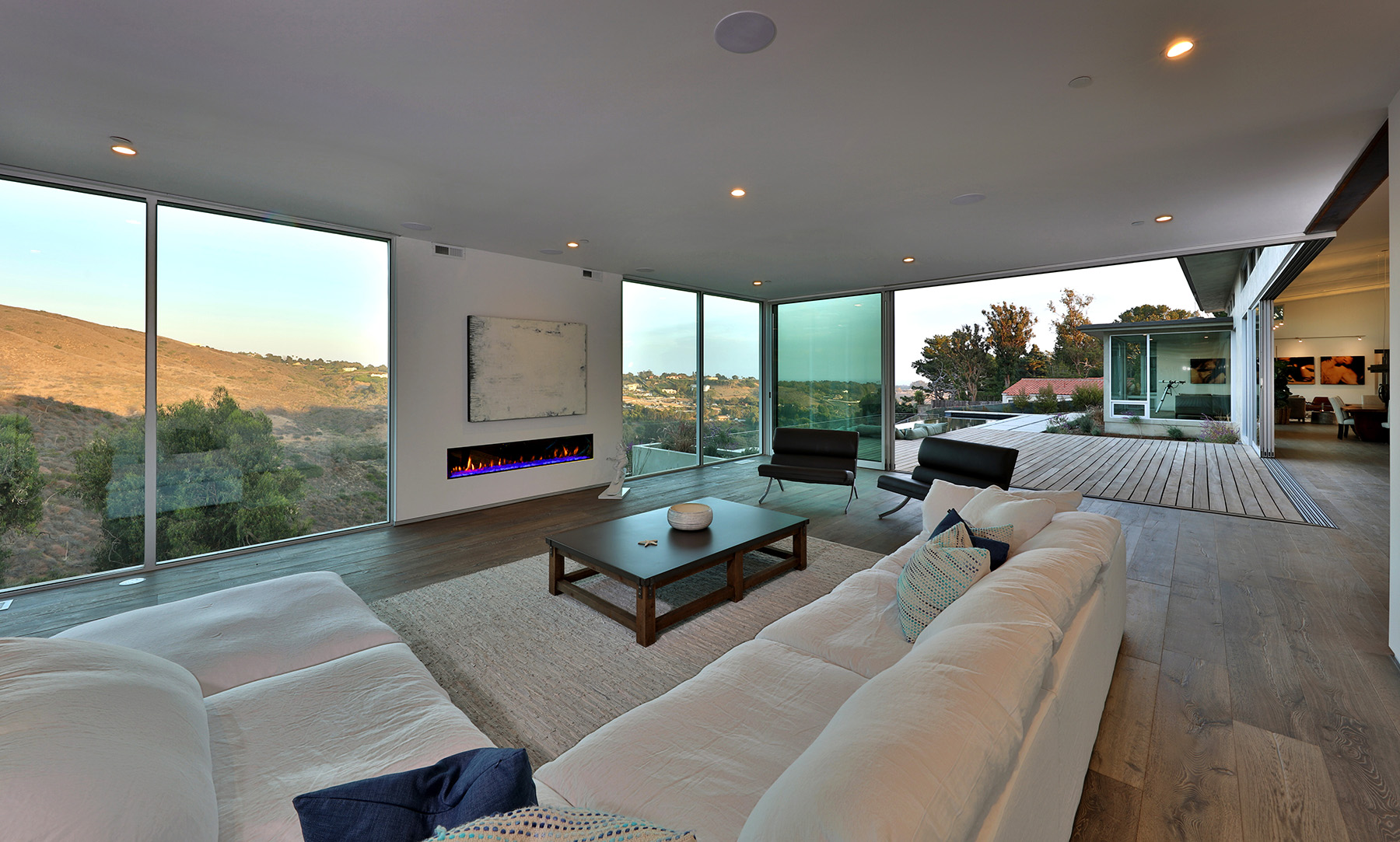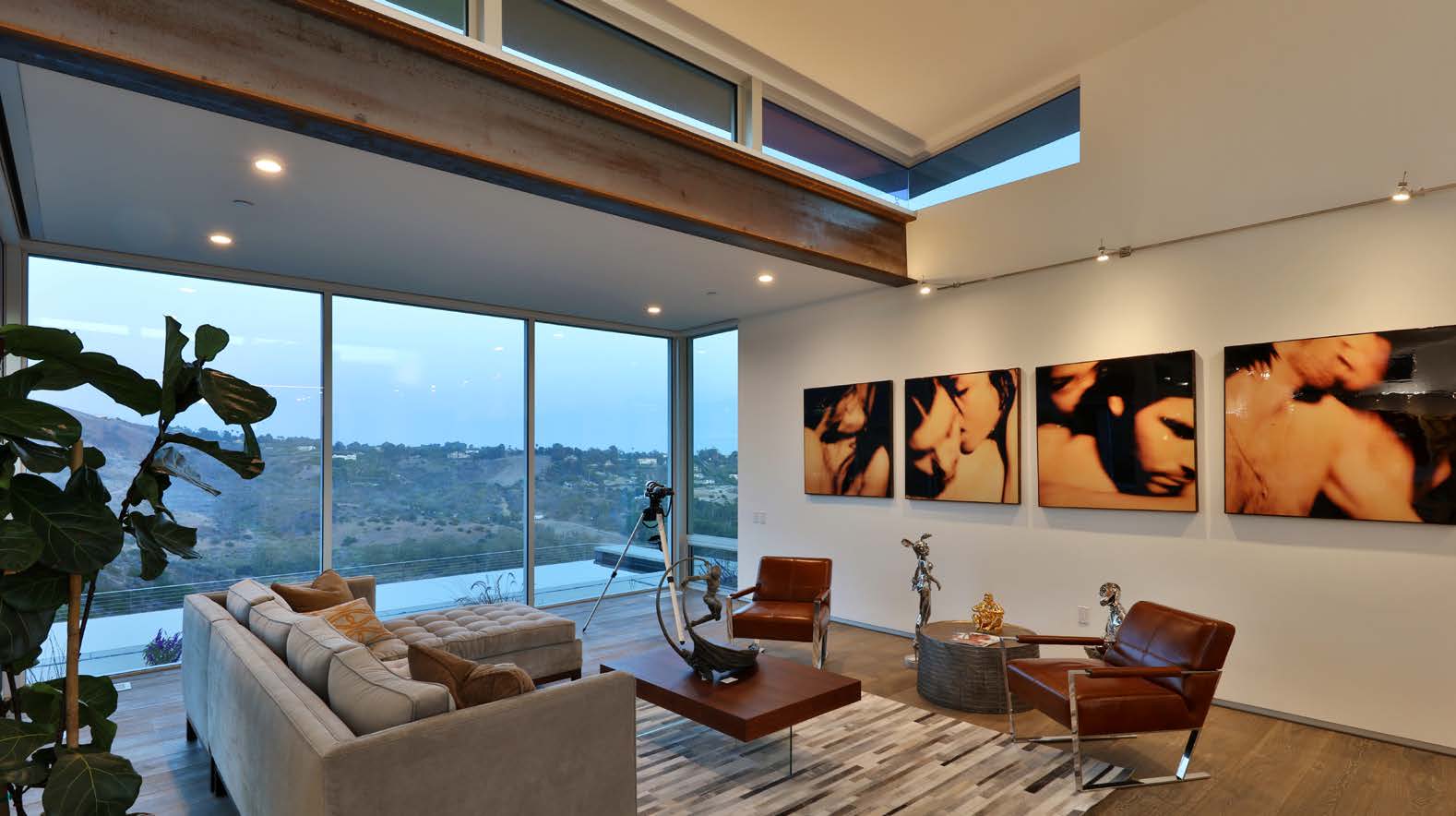 "With its graceful proportions and balanced beauty, the home beckons to you even before you step inside its tall Corten steel door," says real estate agent Gary Gold of Hilton & Hyland. "From the front door, the home flows seamlessly into a breathtaking open living room framed by two 86' long exposed steel beams." Combining the formal living room, dining room and kitchen in one, the long space is truly spectacular, rivaled only by the unbroken vista of the mountains that unfold before you. Wide plank light oak wood floors run through this room and into the bedroom wing and towards the family room, underlining the home's graceful long lines. A semi-circular bar floating above the kitchen's expansive island coaxes visitors to sit and stay awhile; it's a convivial spot for drinking and mingling. No worries about storage space here. There's plenty, gracefully tucked behind custom wood cabinetry along the perimeter of the kitchen and on both sides of the long island.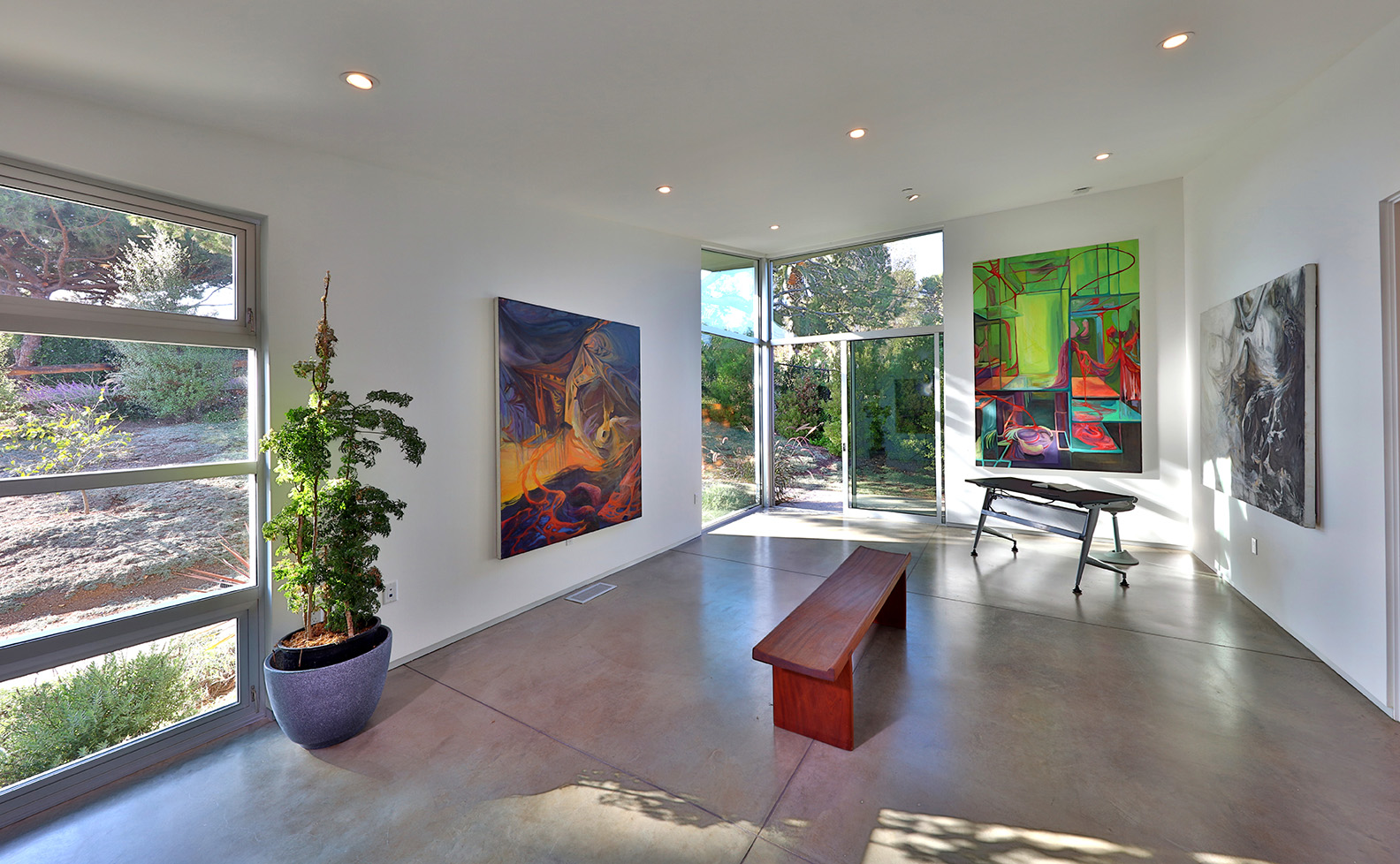 But it's true that the home's well-balanced layout and exquisite details—including a finished basement level room that would be ideal for a game or screening room—pale in comparison to the view. Floor-to-ceiling windows that stretch across the entire back of the home ensure that it's always in sight. Open completely at one corner, a floating bank of Fleetwood doors weave together the interior of the home and the expansive deck. And there, shimmering at the edge, a 60-foot-long infinity pool merges the ocean, mountains and outdoors into one enthralling whole. "That's a state park and it will never change," confirms the home's designer and builder Michael Torrey of Avalon Construction Corp.
Of course, given the central great room's expansive size with clerestory windows for natural light, it's the ideal setting for a large party (the home, which has hosted a number of charitable events, easily holds a few hundred people). Yet, unlike many modern homes, it doesn't feel cavernous. Lighting is one reason. Art lights throughout the home highlight a beautiful collection of art that infuses the interior with a
warm glow at night that's bolstered by the crackling dance of the light emanating from many gas fireplaces (not only beautiful, they also emit enough heat to warm damp Malibu nights). During the day, indirect sunlight settles over the entire space.
Three bedrooms make up one side of the h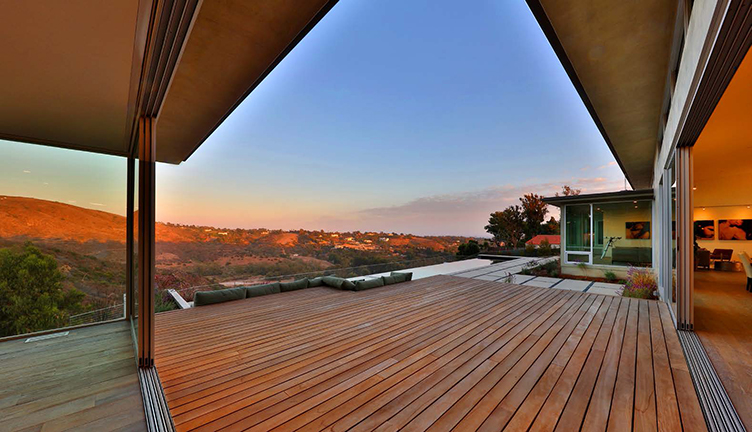 ome for private sleeping quarters. At its opposite end is a bedroom ideal for guests or teenagers—tucked between a spacious corner office with a full bath and the family room that is surrounded by floor-to-ceiling glass walls and door. Both the guest room and office are situated apart from the living room with a private entrance.
Of course, each bedroom has its own en-suite bathroom. Sumptuous closets, faced in rich polished wood, not only confer plenty of storage space, they've been thoughtfully designed to hold unseasonal items, like skiing gear and sports equipment, that rarely find a satisfactory place in most homes. One bedroom also includes a built-in desk and a window seat.
The master bedroom suite is also situated to enjoy the stunning view, even from the bathroom's grand soaking tub, which also boasts an indoor and an outdoor shower. A walk-in closet, equal in size to any of the bedrooms in the home, easily allows two people to dance to the frantic pace of weekday mornings without bumping into each other.
But to live in Malibu is to live without frantic days and hectic nights. Here, you'll quickly learn, the pace is leisurely. Life experienced against the backdrop of this home is a series of breathtaking moments to be savored: dawn drives to the beach to catch some waves, frothy lattes enjoyed on the deck, long unhurried lunches, lazy afternoons by the pool, evening cocktails that turn into late-night dinners with friends and family. For some people, that's the definition of vacation. Living here, it's the easy cadence of everyday life. Says co-listing agent Rodrigo Iglesias, "This home is the perfect balance between comfortable, easy living and bold, modern architecture."
PRESENTED BY
RODRIGO IGLESIAS | 310.699.3435
& GARY GOLD | 310.858.5411
OF HILTON & HYLAND
LIST PRICE $6,500,000
Related Post
A timeless Playa del Rey retreat is home to private bliss and endless ocean views Written by Constance Dunn | Photography&n...
A private hilltop villa in Hermosa Beach proves the perfect retreat for the finest in resort-style living Written by Joclene Davey&nbsp...
A custom Mediterranean Revival brings home size, beauty and features galore Written by Constance Dunn | Photography by Paul...