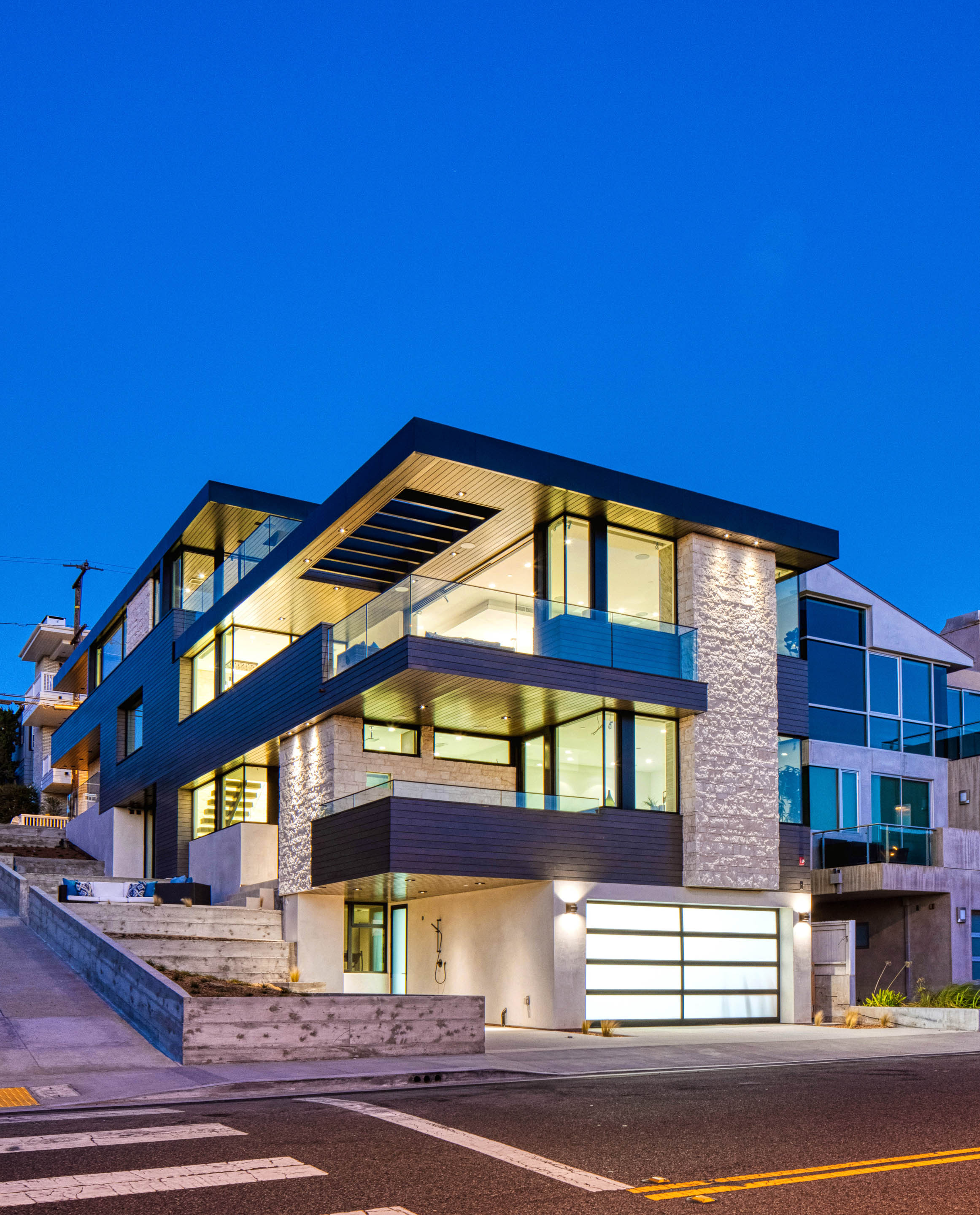 Pair Soaring Unobstructed Ocean Views From a Walk Street Corner Lot in Manhattan Beach With a Stunning Modern Michael Lee-designed Home and the Result Is Simply Amazing
With unfussy, straightforward design the foundation for what this townhome is all about—the views, the light, and savoring life—25th Street and Highland Avenue is mere steps to the sand and the adjacent grassy lawn at Bruce's Park.
Walkability to both north and south Manhattan Beach is fantastic from here. Commuters, meanwhile, have an efficient route to Rosecrans and Vista Del Mar. This gorgeous, three-year project began as a labor of love for homeowners Jon and Kim Friedman.
"We have always loved architect Michael Lee's modern style, contemporary lines and dramatic combination of wood stone and glass," shares Kim.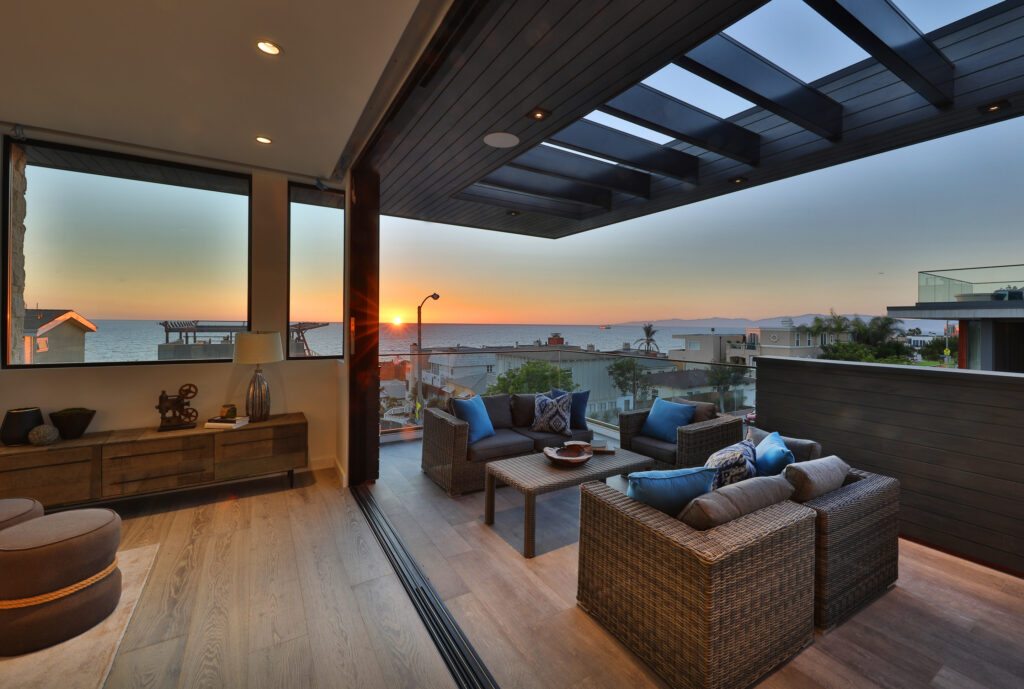 Planning for more than a year, the Friedmans set out to make the very best use of every square inch of the 2,300-square-foot abode.
Michael Lee's distinctive stamp on the project: the wood and steel roof built with cantilever engineering; clean, modern lines and transitional indoor-outdoor spaces accessed through Fleetwood pocket doors.
"Our goal was to develop townhomes that were visually stunning and with blurred transition from outside to inside," explains Kim.
They successfully maximized the living space on the top level where the wood floor seamlessly transitions to almost identical porcelain tile floors on the enormous outside deck.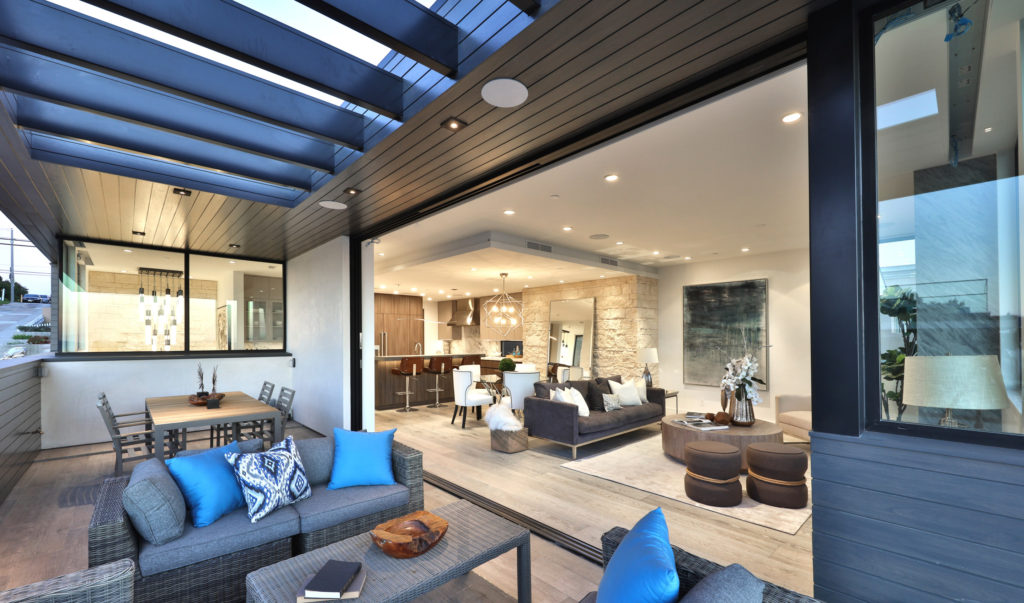 Built on the reverse floorplan, the townhome's bottom floor includes two bedrooms, one that might also function as an office with ocean views. Both rooms have private baths with floating vanities. Sharing the same floor is the two-car garage plus two parking pads, and an outdoor shower. Unique to this area is a property with on-site parking for six cars.
"The corner lot allows for larger outdoor spaces for landscaping and parking; for example, the parking pads are roomy enough for an SUV," says listing agent John Altamura of Altamura Real Estate Group.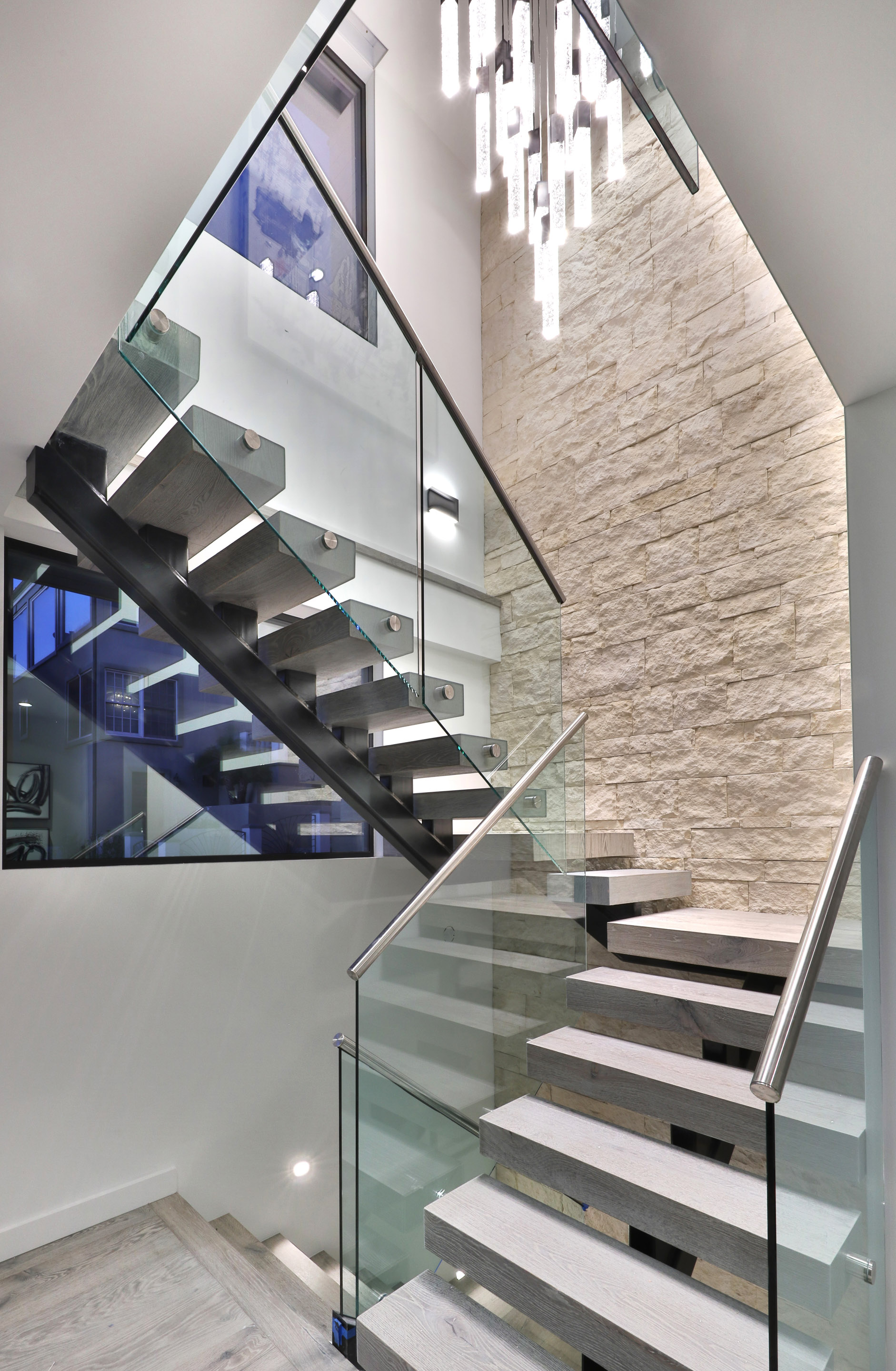 Occupying the townhome's second level are two remaining en-suite bedrooms, one of which is the master suite. This contemporary space features frameless corner windows that maximize views of Palos Verdes to the south and Malibu to the north, and also includes a massive private balcony with a clear line of sight down the walk street.
The focal point, however, is the striking floor-to-ceiling stone fireplace. Add the convenience of recessed, remote-controlled window coverings and one can cozy in at night with ease. The lovely master bath, meanwhile, includes an ocean view peekaboo window built into the shower, and a freestanding, tulip-style soaker bathtub. In the master bath and throughout the home are floating vanities that nod to the modern characteristics of the home. A large walk-in closet completes the master suite.
"A Michael Lee design always incorporates lots of natural light," states Altamura while ascending the stairs.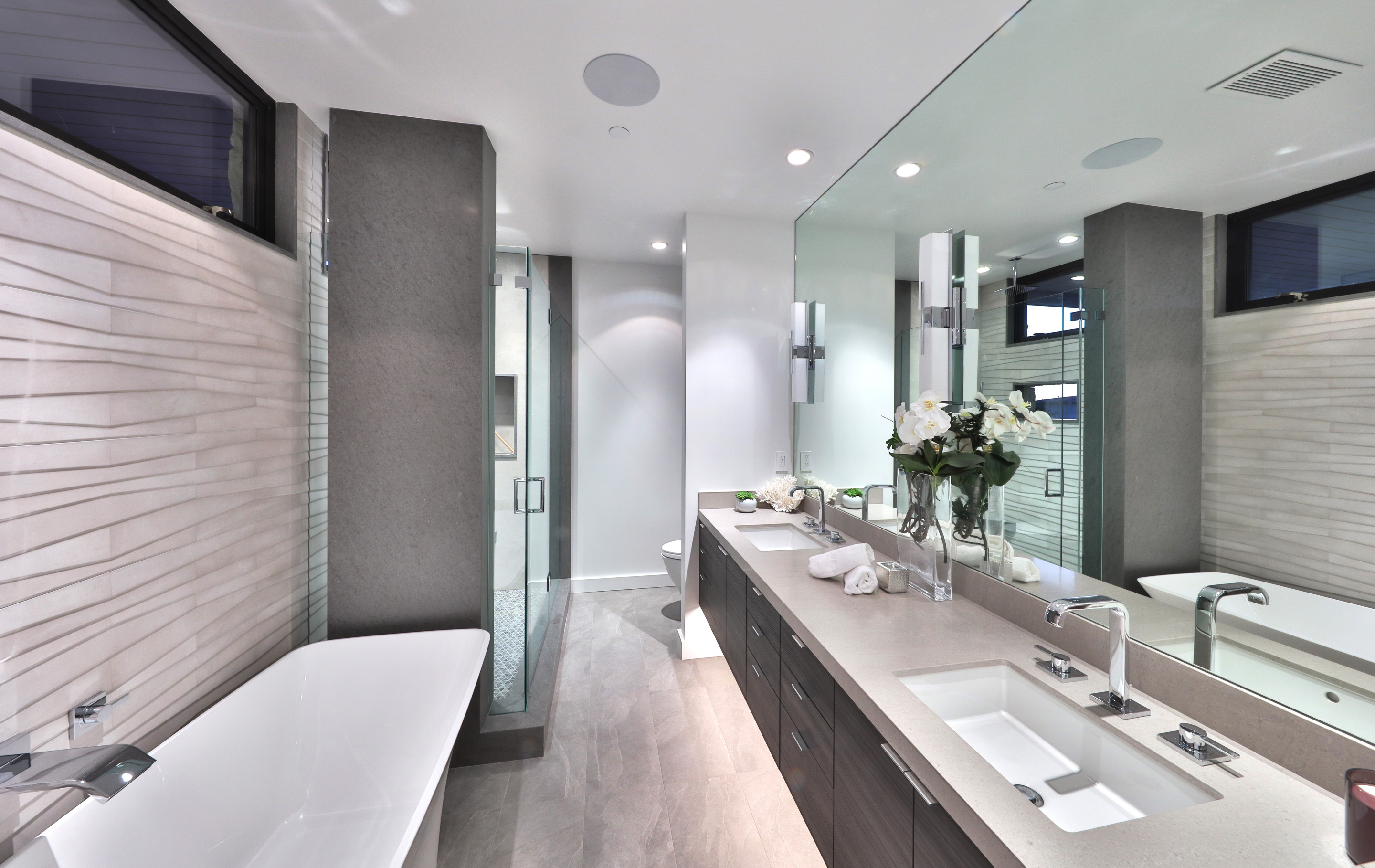 Meticulously designed and built, the floating staircase is a gorgeous mixture of glass and substantial wood built onto an almost sculptural iron support beam. The backdrop—a stunning limestone feature wall—feels like a work of art. Once atop the stairs, a mesmerizing picture window blasts views of the Santa Monica Mountains and Malibu and ocean vistas as far as the eye can see.
The mixing of opposing elements—rough and sleek, clean and textured, matte and polished—is evident in the upstairs space that includes a powder room, the kitchen, dining room and indoor-outdoor living areas.
"Knowing that the Friedmans wanted a monochromatic design, I knew to create drama and interest," states Deborah Gear of Deborah Gear Interior Design, who did so by starting "with a mixture of finishes and textures."
Examples of this approach include the highly textured cream limestone for the exterior stone, entry and strategic areas in the living room, along with gorgeous and sleekly veneered cabinets in soft gray amid porcelain counters and warm wood cabinets.
The lustrous floor-to-ceiling stone fireplace anchors the adjacent living room with massive Fleetwood pocket doors opening out to awe-inspiring vistas on the balcony. Here, there is room for outdoor dining and living areas to relax while one prepares a feast on the built-in barbecue. Throughout the home is a similar use of materials: wood, exotic stone, unique porcelain tiles, high-gloss cabinets and leathered slabs.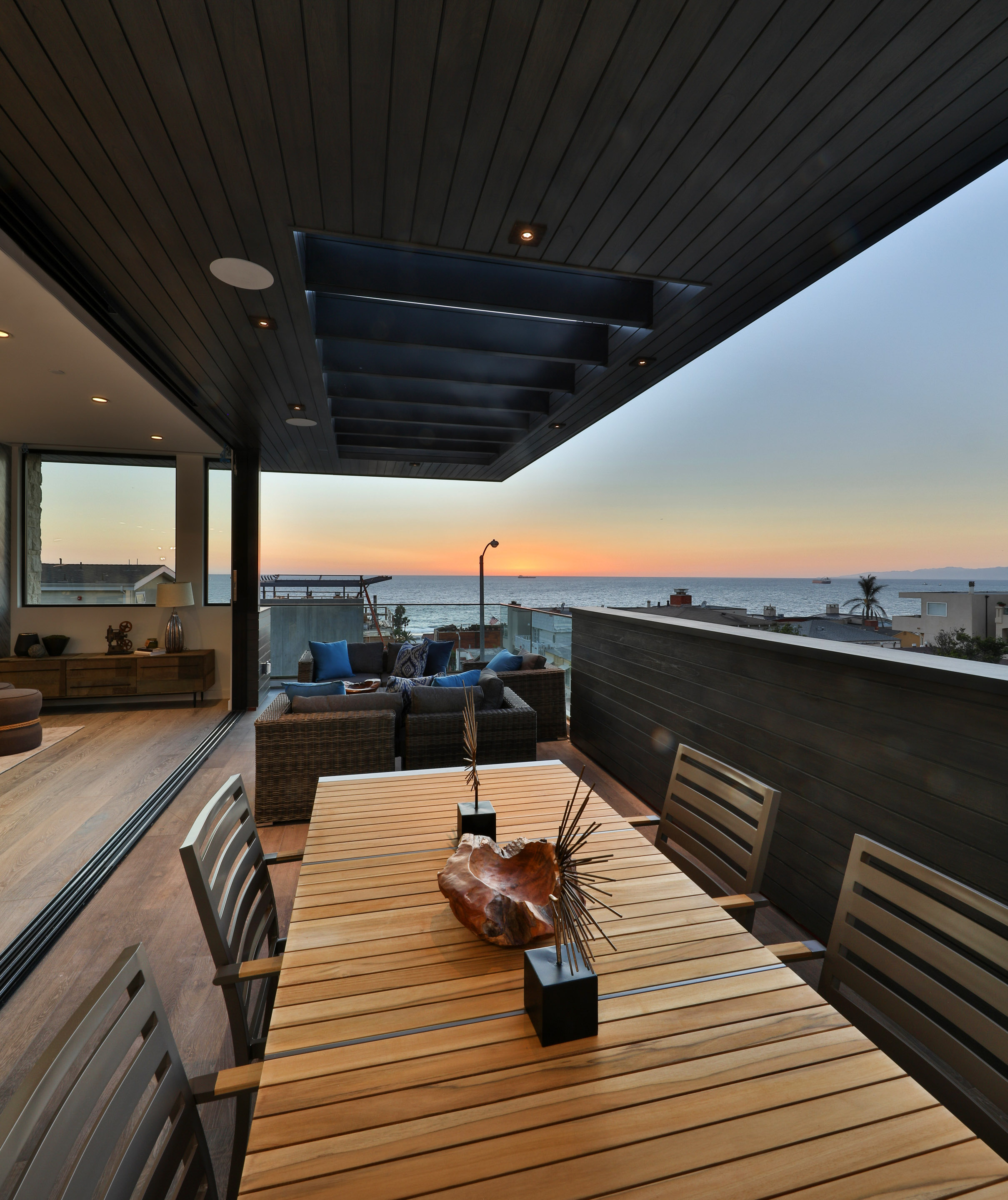 Wide plank oak flooring, pure white walls and superior craftsmanship raise the bar for townhome living, as does automated shades throughout that maintain the clean, modern look. There is also pre-wiring for home automation by Crestron and vantage lighting control.
"This three-year project has been a labor of love—it feels like creating a 3D art project!" says Kim.
After working closely with contractor Tyler Krikorian, as well as Deborah Gear and Michael Lee, the couple's modern-chic beach house was complete. A dream born in Manhattan Beach.
John Altamura
Altamura Real Estate Group
310.751.7009
List Price: $4,999,000
Photographs by Paul Jonason