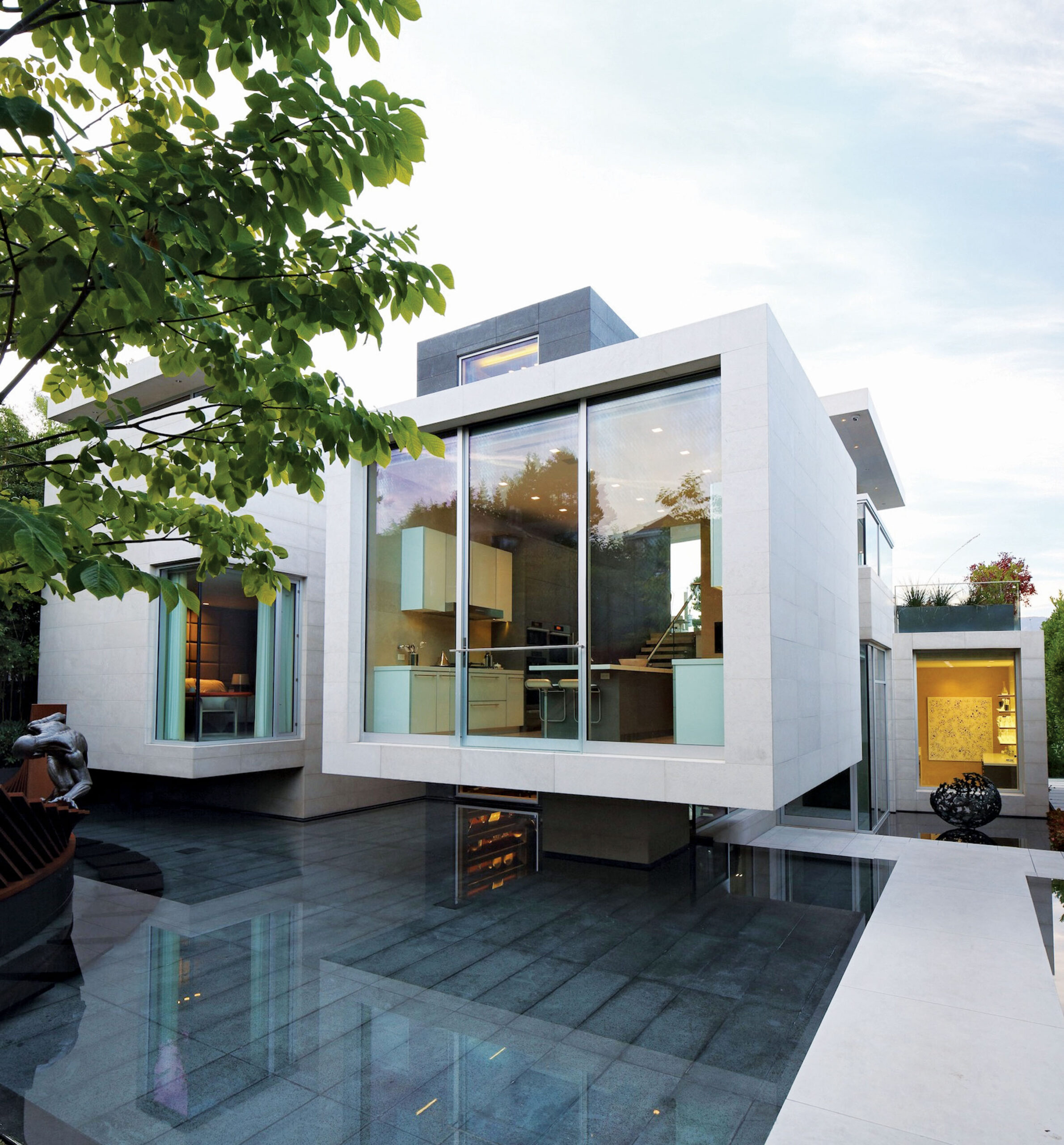 This Vancouver Home With Interiors by Mitchell Freedland Design Features Bachelor Pad Vibes
Located in an established, upscale, water-view neighborhood of Vancouver, in British Columbia, this contemporary Canadian house—built approximately 10 years ago—"embodies craft, art and design in an audacious and seductive manner" according to Mitchell Freedland, who helms Mitchell Freedland Design, the studio responsible for the interiors. The project, where the architecture by Chris Doray and the landscaping by Paul Sangha Creative also play their part, reflects a cohesive visual vocabulary. 
"The dominance of architectural forms was beautifully softened by the interior furnishings and finishing details, in the same way that the landscape design brings to the exterior composition," says Mitchell Freedland.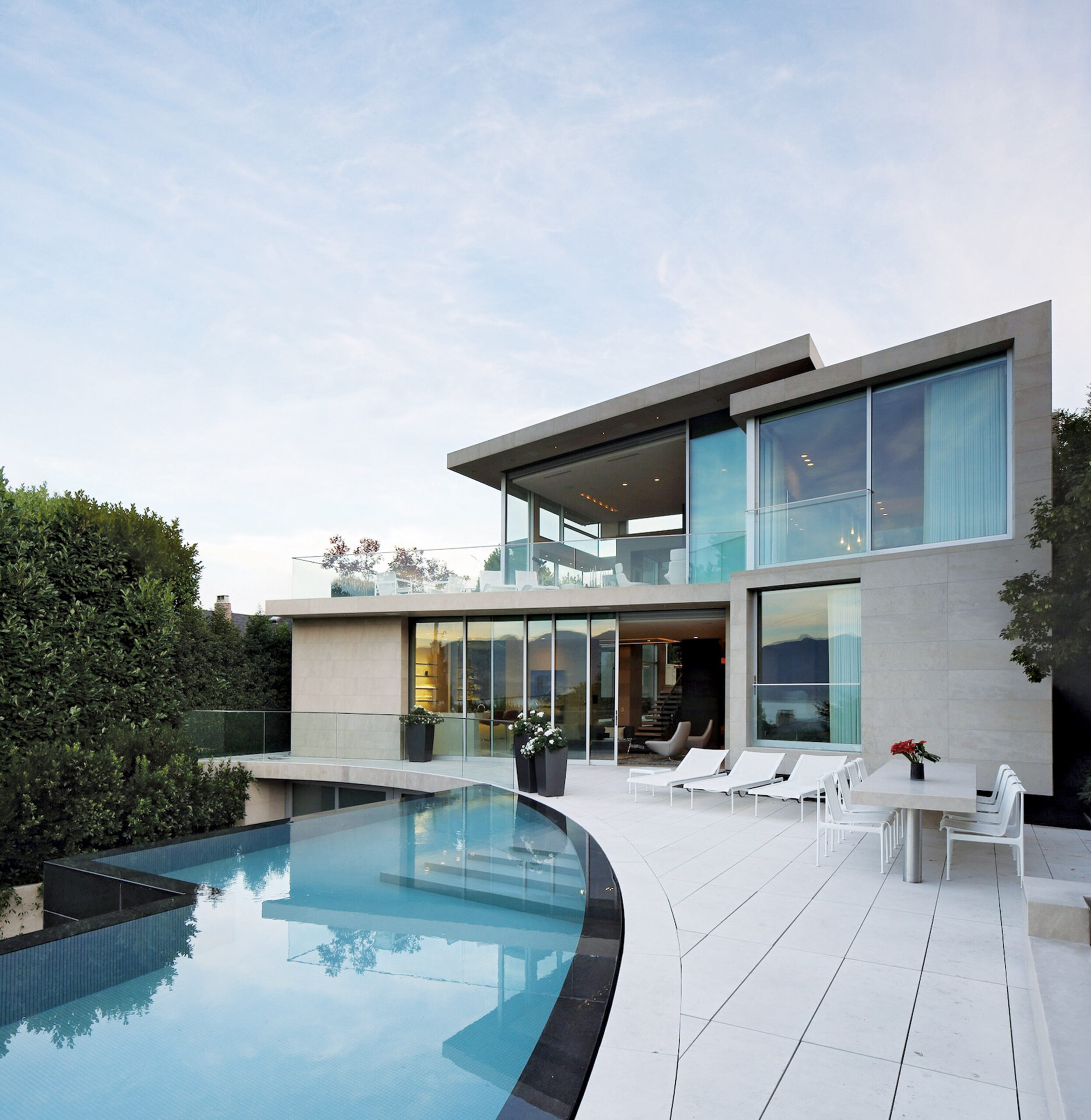 "It is the coordinated efforts of these three disciplines that attests to the seamless results of this bold residence."
"It has a very modern and dynamic aesthetic with a strong visual presence established by the bold use of geometry," describes Mitchell Freedland. "The challenge was to give no distinction of where the architecture ends and the interior begins."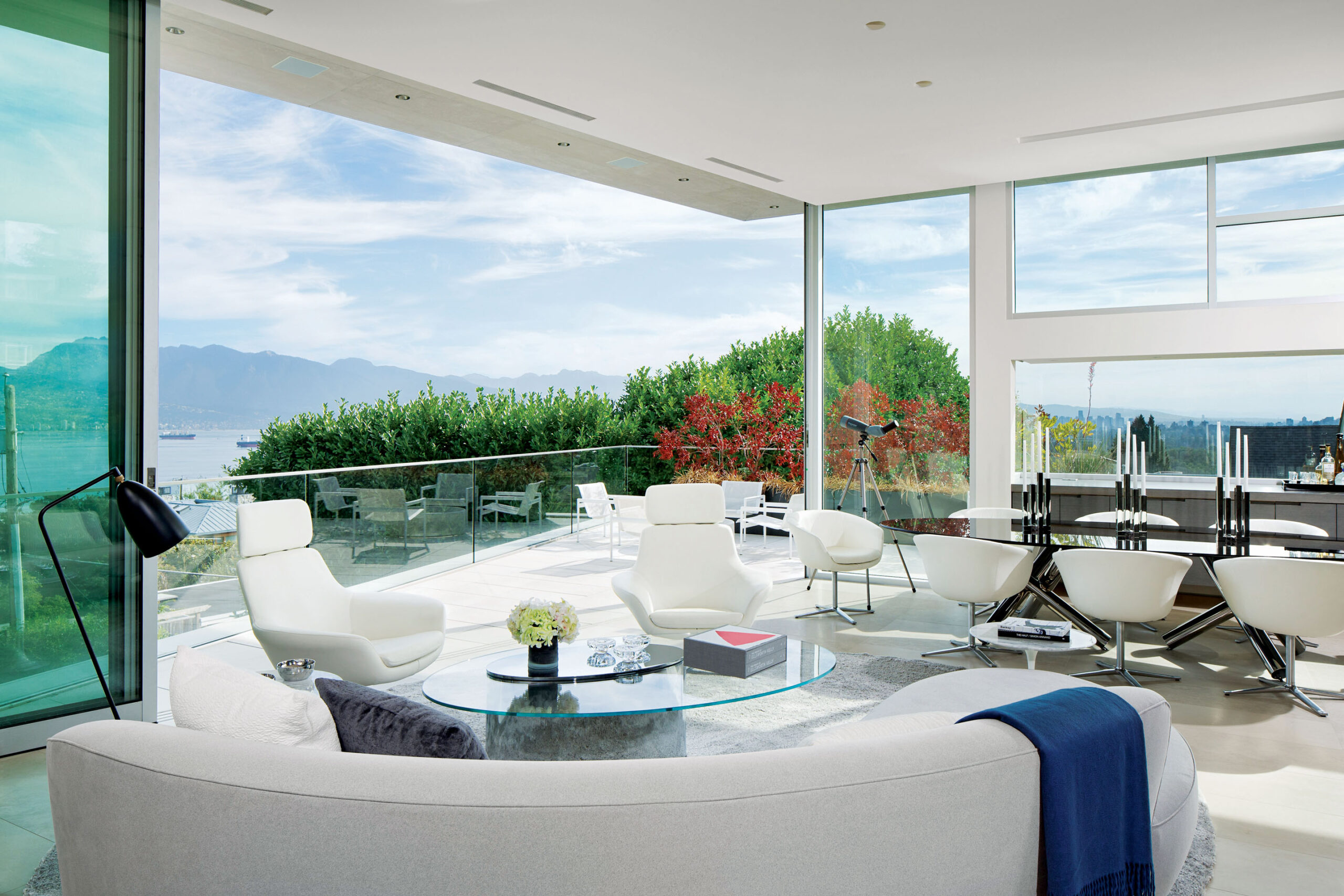 To achieve this result, it took over a year to create and coordinate the meticulously detailed design. The homeowner's lifestyle and personality guided the creative concept and organization of the spaces.
"He is a bachelor who enjoys entertaining, hence the lounge, wine room and the well-appointed fitness facilities," confesses Mitchell Freedland. "He loves art and has done some acting along his journey."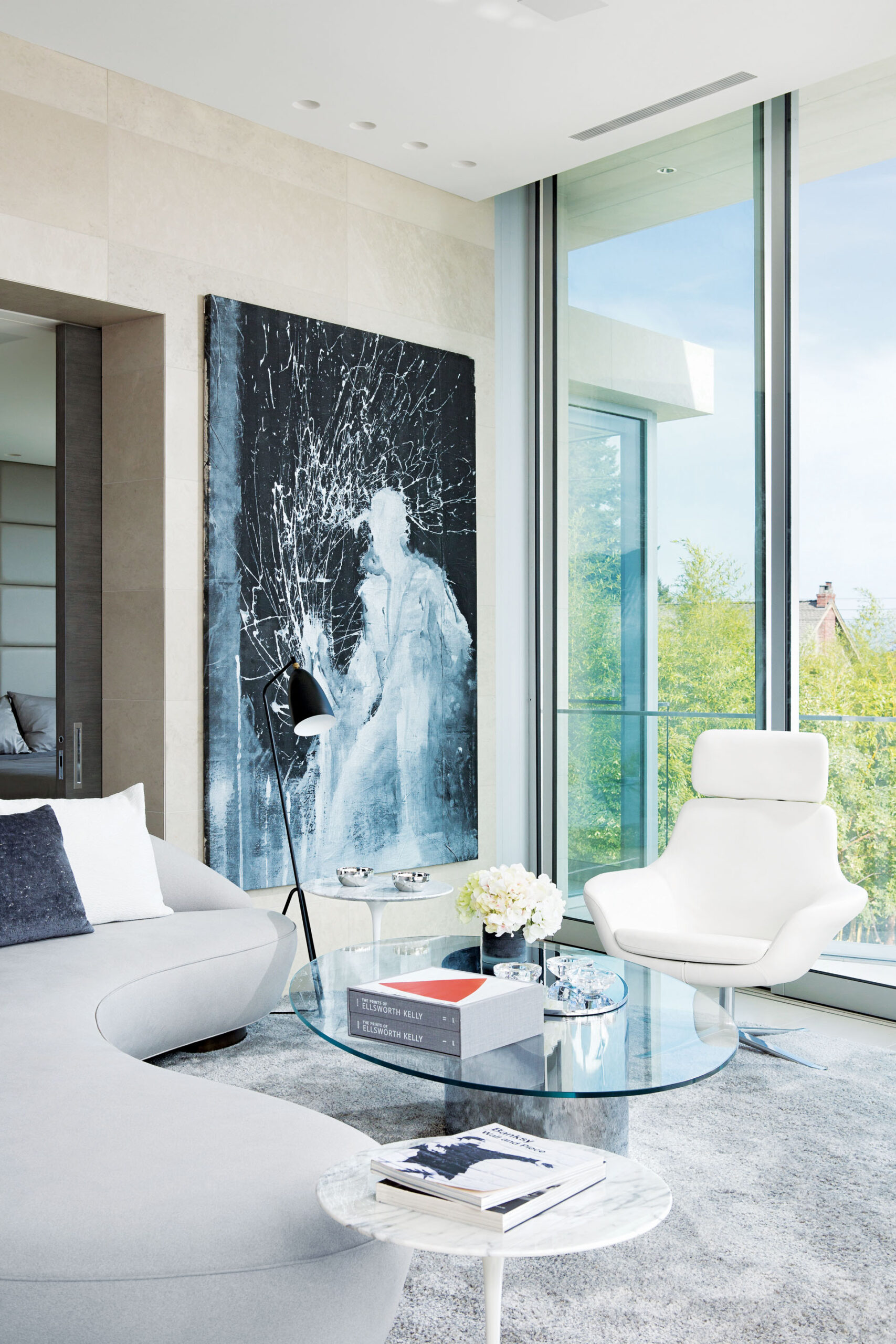 Reminiscent of this experience is a poster for a local play in which the now successful businessman starred, among the collectibles that the team of Mitchell Freedland Design spied when curating his home. 
Furnished with pieces by Vladimir Kagan, Eero Saarinen, Minotti, Colin Campbell, Alessi, Poltrona Frau, Eileen Grey, B&B Italia, and Mitchell Freedland Design—among others—and adorned with artworks by Richard Hambleton, David Bierk, Carla Tak, Andy Blick, and Marie Khouri—to name only a few—this home is as sophisticated as it is fun.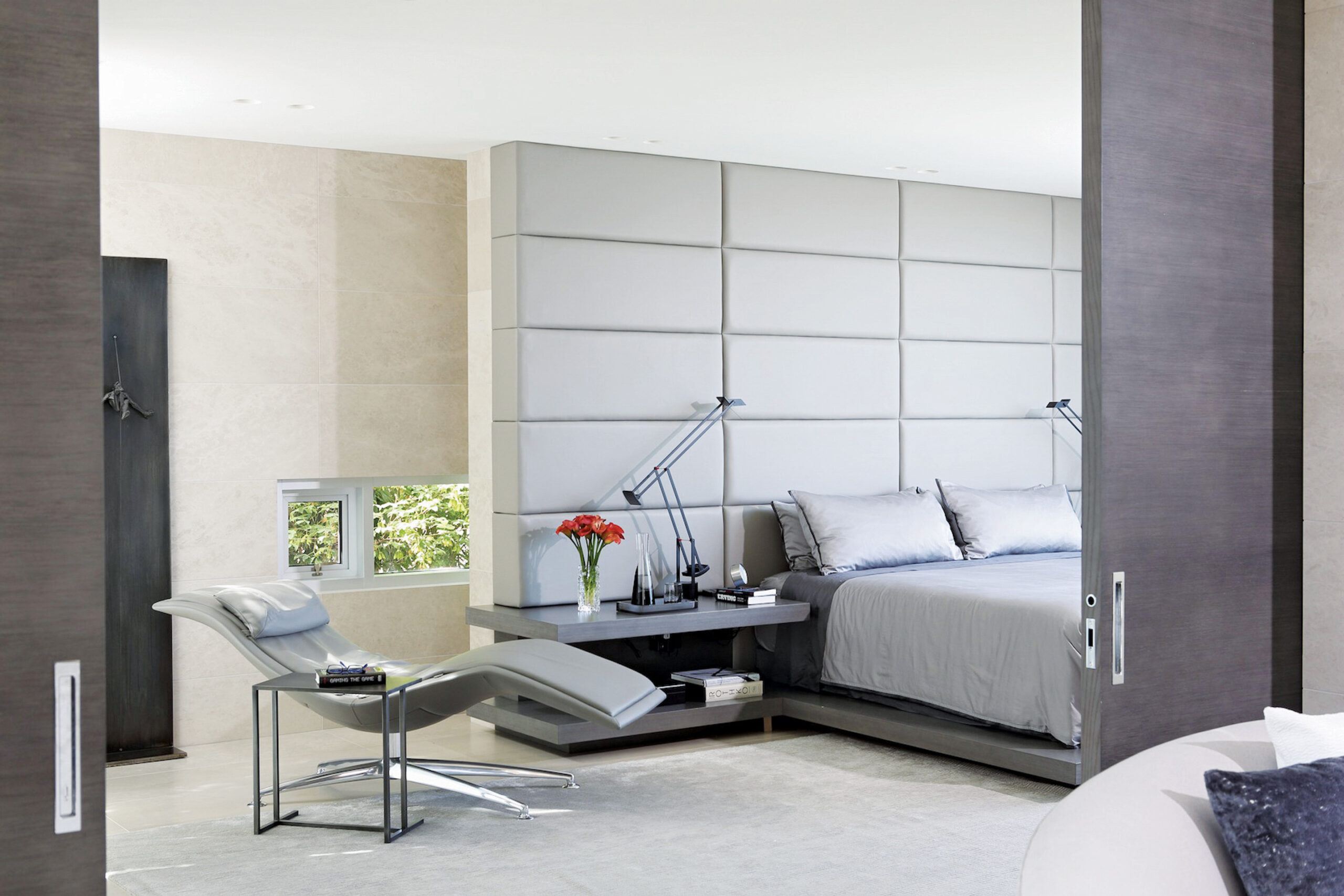 Outside, the pool and garden epitomize "a fabulous modern West Coast lifestyle, perfectly tailored to this man," as Mitchell Freedland says. 
Driven by the architectural elements, the palette has just a few pops of color while limestone, granite and oak were used consistently throughout the home to create a seamless flow from the exterior to the interior and to give a sense of timelessness.
"The house has to be sexy," says Mitchell Freedland. "This was achieved with form, material lighting and adhering to the principle of balance."
Mitchell Freedland | mitchellfreedland.com
Images: Ema Peter