It's a ramble of dirt road that brings one to a place of intention called Casa Tiny, a Boutique Hotel. A modern variation of Thoreau's 18th-century experiment in primitive living as envisioned by architect Aranza De Arino and creative director Claudio Sodi, this striking structure set in a dense scrub of jungle was constructed in 2014 but, philosophically at least, realized much earlier—a Walden in coastal Oaxaca, calibrated to the vibration of nature with which it coexists in quiet, poetic sympathy.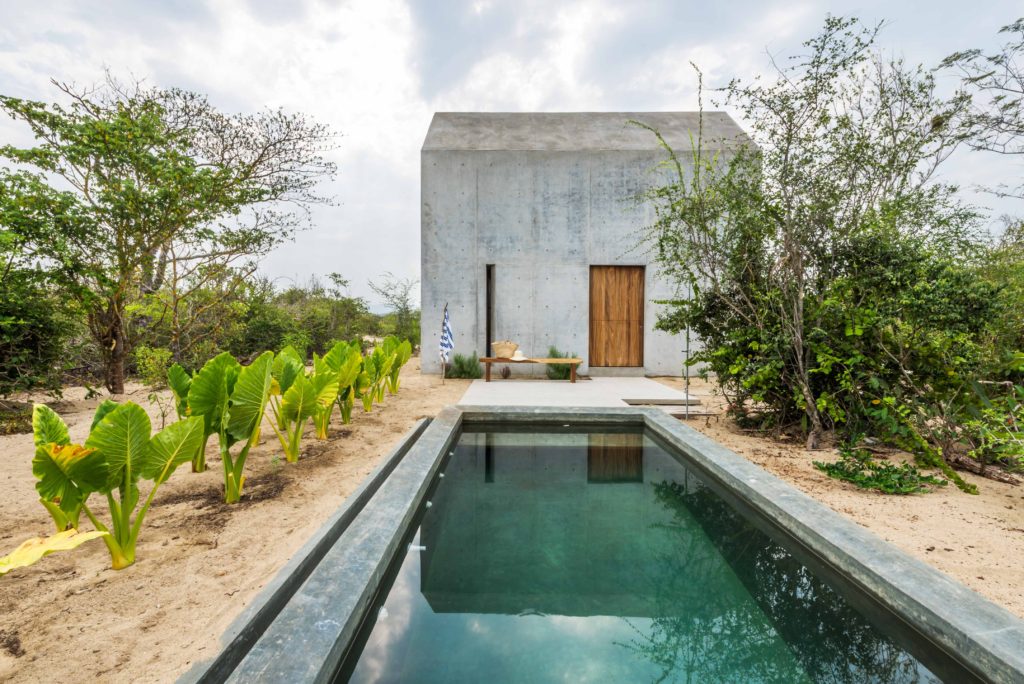 Casa Tiny is solitarily situated but opens to a private wild shoreline. The blue-water beaches of lively surf spot Puerto Escondido are not far away, as is the home's spiritual cousin, famed artist retreat Casa Wabi by master Japanese architect Tadao Ando.
But it's the home's economy of design and wabi-sabi aesthetic that produce what is an overwhelming desire to simply stay put, the call to reconnect in earnest just too strong. In this sense, Casa Tiny does not feel so much constructed as it does cosmically ordered.
The whole place is a kind of prayer, its high gabled roof evoking hands folded together.
Earthly and unencumbered, Casa Tiny eschews embellishment and is representational of modernism in lines, character, and idea. As currently composed, the home's limited palette of materials—raw concrete, bi-folding wood doors and windows blending interior and exterior environments—offers the emotional, contemplative warmth that stems from a truthful observation of nature.
That's not to say that putting one at the heart of the natural world means not putting up one well. While Casa Tiny is simple, a proper vacation cottage with a kitchen, one-bedroom loft, and bathroom, mostly it's exquisite, an architectural expression whose geometric contours are softened by a garden of spiky green plants and a blanket of sand.
There's not a soul to come calling, just that rambling road and—because it's the 21st century and this is a BoutiqueHomes rental—a pool with the surface of a reflecting pond in the courtyard of some fabulous and faraway place.
Highly attuned to form and space, Casa Tiny grants all that one needs, nothing more. But this artful blend of "all that one needs" proves more than enough. Items here are not meant for show; they have no need for provenance, only purpose.
They are valuable precisely because of their utility. All this gets one to thinking: Maybe Thoreau, with his ideas about simple, deliberate living—but with an obvious step up in style from his ramshackle cabin in the wilds by Walden Pond—was really on to something.
Imagine not just existing in the world, but honestly engaging with it, not from a screen, but from a place of authenticity that acknowledges both human and non-human spheres. Isn't this the purest form of architecture? By embodying the spirit of this idea, Casa Tiny is as inspired as it is, well, transcendent.
PHOTOGRAPHS: COURTESY OF BOUTIQUEHOMES