Kitchen Curation
To create a central gathering space equal parts sophisticated and welcoming, mixed materials are key
Written by Virginia Fay | Photography Courtesy of Amy Bartlam and Mary Costa
Creating a kitchen that is at once inviting and visually pleasing is integral to making a house a home. A rising trend in realizing this aesthetic is the mixing of materials for a look that's a little less on the nose, and a feel that's warmer yet still intentional.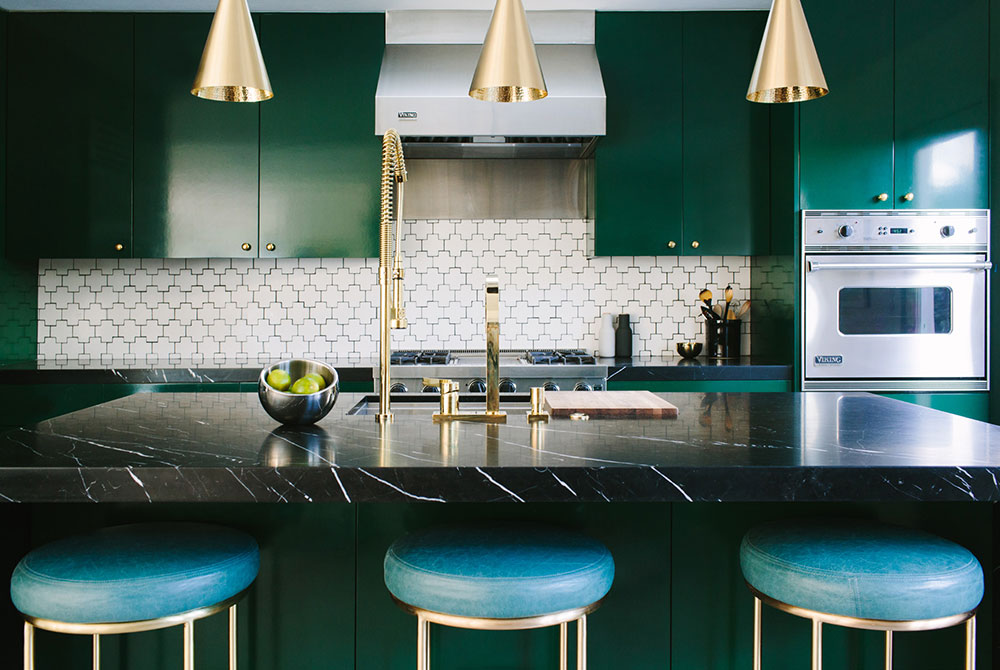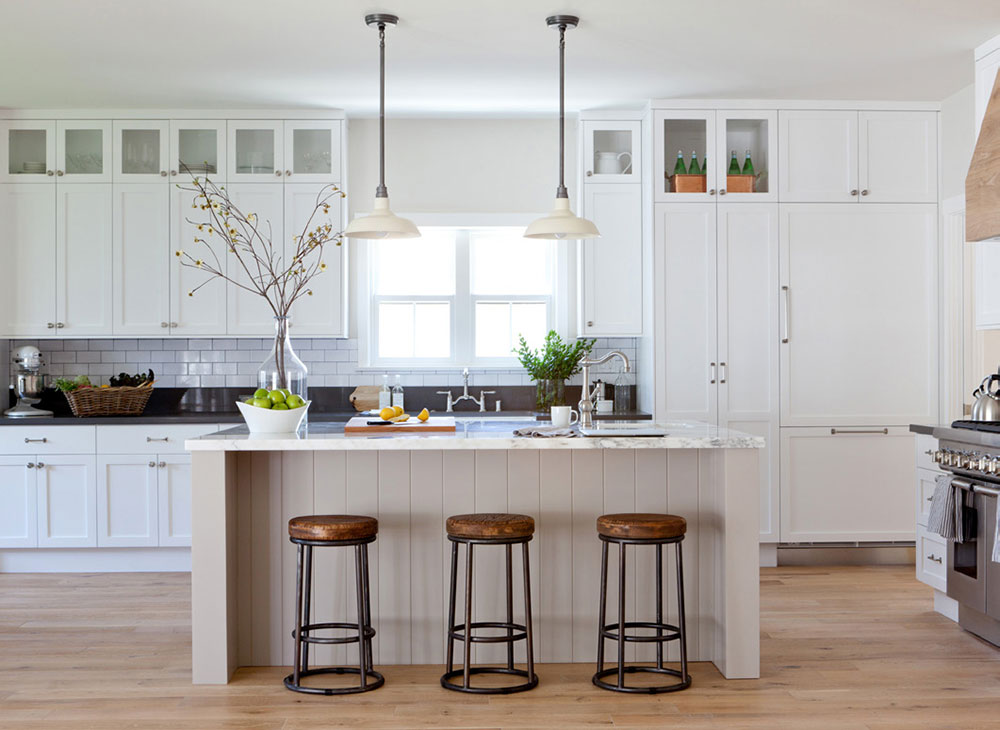 With the goal of fashioning a modern farmhouse, interior designer Kate Lester was tasked with creating a "luxurious, bright, and open" kitchen that would be "a space where [the homeowners] could not only entertain, but where their kids could also do homework, play games, and interact with the rest of the family."
To achieve an elevated farmhouse charm in a livable space, Lester took inspiration from traditional elements like wood paneling, simple millwork and glass accents, and created a less rustic version. "The lacquered cabinetry, carrara marble, and tile with a contrast grout are all thoughtful additions that bring a chic, stylish element to this classic concept," Lester says. As a special touch, the oven hood is made of the same cerused oak as the flooring.
In a totally different iteration of mixed materials, Caitlin Murray of Black Lacquer Design used luxe elements like polished brass fixtures, Nero Marquina marble, and high-gloss cabinets in deep British racing green to create a modern, glamorous kitchen.
Murray says the availability of more options, like diverse tile and engineered stones, has instigated an uptick in mixing materials. "People seem to be less timid about trying combinations that previously weren't deemed practical due to notions regarding resale value or short-lived style," Murray says. "Now that so many aesthetics are being celebrated, it seems these old rules are less relevant."
Blending styles and elements in the kitchen can create warmth and sophistication in almost endless combinations. As Lester says, "When you mix materials, you give the space added texture, depth, and dimension, and that will always result in a more sophisticated, curated feel."
Related Post
Well-being and comfort: two key words that translate to decorative ideas to make your home feel like a sanctuary "Hygge is about an atmosp...
South Bay Door & Window helps enhance a home's most pivotal features Doors and windows are an architectural focal point of any home, a...
Interior designer Lindsay Pennington brings her classic Southern sensibility to the contemporaria of California Written by Jenn Thornton "...