Material Culture
"I started making the Chautauqua Ottoman back in 2015," says interior designer Amber Lewis, whose reinterpretations of a mostly multifunctional piece has elevated it from humdrum to haute seat. "I love ottomans and I love vintage rugs," she adds, "it's a match made in heaven!" One that looks divine just about anywhere—as a coffee table between sofas, a perch at the end of a bed, or an accent the entryway.
Dressed in textiles from vendors across the globe, from Europe to Turkey to Argentina, even a material of one's own, each custom-covered creation is made-to-order and takes six to eight weeks to complete. "They are truly a labor of love from start to finish," says Lewis.
The result of a meticulous process that includes importing rugs, then customizing an upholstered top cushion and brass base hand-finished with a custom patina. The finished look telegraphs an easy yet elegant bohemianism a la modern-day Laurel Canyon. "Vintage textiles and faded colors mixed in with neutral rooms is very much 'California' style and I am here for it!" says Lewis.
So ideally suited to every space are her ottomans that Lewis has yet to design a house without one. Whether one fancies a traditional or contemporary abode, these pieces transcend style and offer a subtle and sophisticated statement in both. And though not inexpensive—ottomans run up to $3295.00—they are smart, long-term economical solutions that look like a million bucks.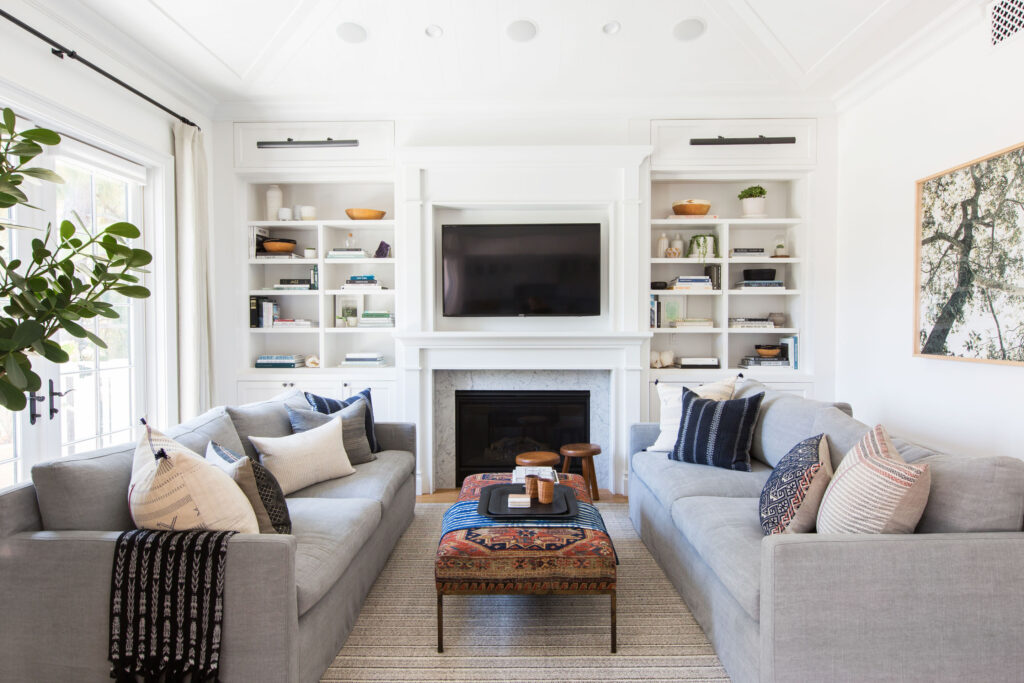 "Purchasing a large vintage rug can be a huge investment, and with the Chautauqua, for example, you can incorporate a vintage rug look, with the texture and color, without committing to the massive area rug," says Lewis. When considered as a pass-down piece—wearing well and lasting for generations beyond our own, a Lewis-fashioned ottoman is priceless.
Since funding her eponymous full-service design firm Amber Interiors in 2014 to assist clients with everything from selecting architectural details and finishes, to collaborating with architects and builders, to decorating a functional beautiful space with furniture, fabrics, accessories, to creating custom pieces, Lewis' work has caught nods from the likes of Architectural Digest, the Wall Street Journal and more.
She also helms Shoppe Amber Interiors (two brick-and-mortars in SoCal, including a new outpost in Pacific Palisades, and an online component offering her home goods in a curated environment) and Made by Shoppe, her line of bespoke furnishings, including ottomans, sofas, tables and pillows—all custom designed with a global vibe, but always made in L.A. shoppeamberinteriors.com
Written By Jenn Thornton | Photo Courtesy Of Tessa Neustadt