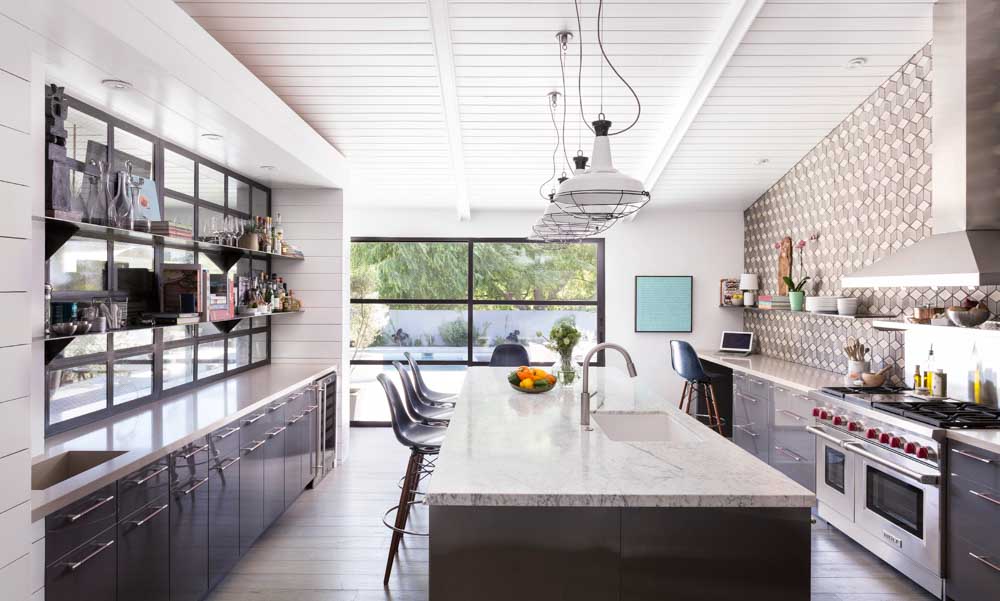 Partners in both life and business, Ryan Brown and Diego Monchamp of L.A.-based Brown Design Group (browndesigninc.com) fell in love with a 1960s Hollywood Hills home, purchased it from the original owner, and then remodeled it down to the studs.
Their intention? To work with its Mid-century architectural roots, but also to design a residence suitable to their family lifestyle by creating an indoor-outdoor flow, opening everything to views of the pool and surrounding hills.
"We both have a strong affinity for clean, modern design," says Brown. "We also entertain a lot and have a busy family life, so flow and layout are paramount."
Known for their casual, California approach to design, the pair began the remodel by incorporating 40 feet of sliding glass doors to the rear of the house to open it up to the pool and to serve as a great feature for entertaining. They raised the ceiling in the main living area, and infused the interiors with materials such as wood, tile and bronze; vintage lighting; and a mix of old and new furniture from favorite designers. They also used an all-white base color for the interior (Dunn Edwards' Cool December) to spotlight their vibrant artwork and furnishings.
"This being our home, we moved a lot of artwork and accessories that we had acquired over the years and that all have a story," says Ryan Brown. "Our dining table is a solid, 14-foot teak table that we have had since we met and has lots of great memories attached. We like to be true to the architecture of our projects, and our own home was no exception. Keeping the interior clean and classic allowed us to use great pieces that really reflect us."
---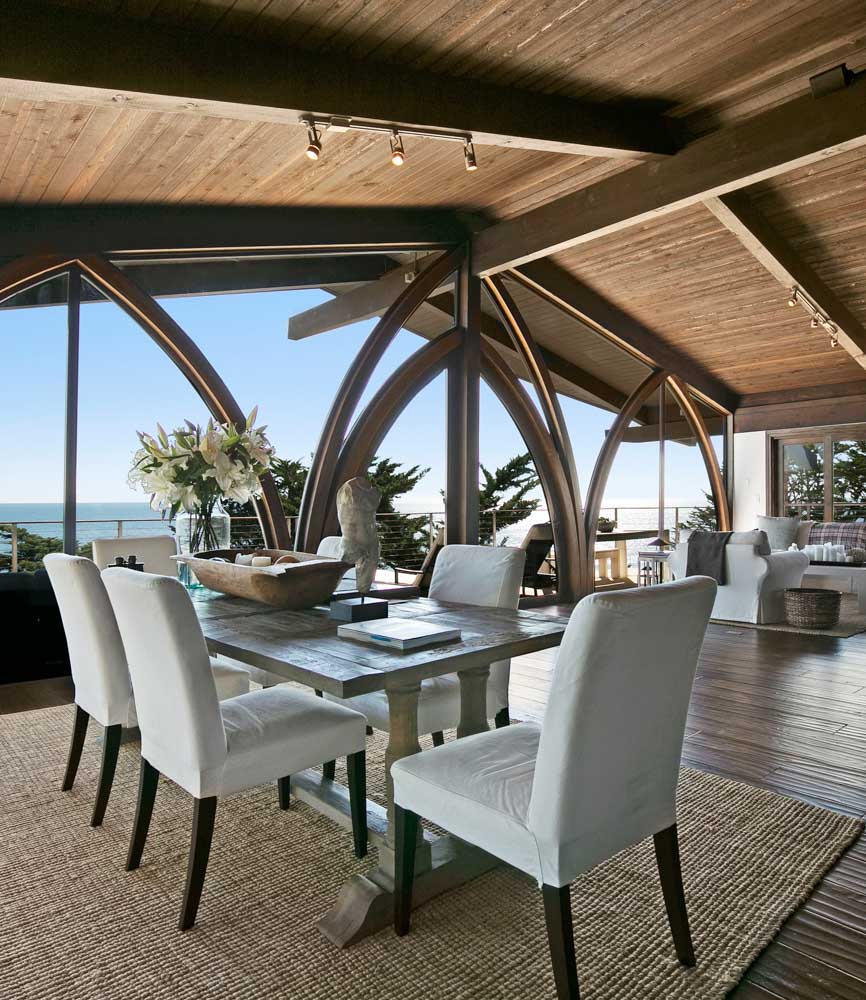 Coastal Homage
While seeking a spot in Malibu to call home more than a decade ago, Chicago-based real estate entrepreneur Sean Conlon toured numerous properties and ultimately settled on one of the first places he viewed—an amazing Harry Gesner-designed house that he went on to salvage and restore from near ruins, keeping the architect's outside signature design and transforming the interiors to serve as a true cathedral to the ocean, complete with soaring ceilings and glass windows opening to every level.
"When compared against everything else I saw, I couldn't pass up the energy that this home had," says Sean Conlon, chairman of CONLON & Co. (conlonandco.com) and host of CNBC's The Deed: Chicago.
"It sits on some rocks at the top of Broad Beach perched above beautiful old Cypress trees, kind of like a treehouse on Big Sur. It is my escape from a mad-mad world!"
Sean Conlon infused his classic Old-World meets a modern twist style with Gesner's bent toward nature by rebuilding original windows that inspired the Sydney Opera House to retain a portal to the ocean. He also employed natural stone and wide hand-scraped walnut flooring to maintain a warm, Zen feeling. Along the way, he added personal touches, including unique artwork and pieces collected while traveling such as beautiful old books, 2,000-year-old Greek statues and a 1500s charcoal drawing once owned by David Bowie.
"I would like to think the home reflects my personality, with lots of diversions for small, perfectly curated pieces and unique in style, but never losing sight of the fact that life is short and can be beautiful," says Sean Conlon. "My home never allows you to forget that; it's all about the majestic unbridled power of the Pacific Ocean and the home's purpose is to immerse you in that feeling."
---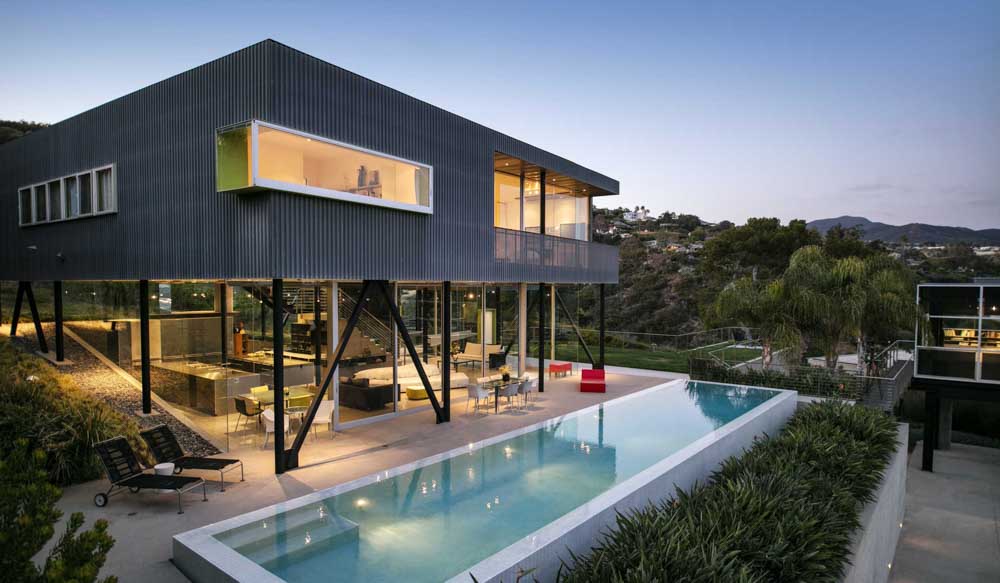 At One with Nature
Upon setting out to design a modern residence in Pacific Palisades in 2010, husband-and-wife architects Mark Cigolle and Kim Coleman were intent on creating a meticulously executed home that would mesh the natural surroundings with cutting-edge technology and sustainability, all while using durable and adaptable materials. What emerged at 17455 Tramonto Drive is a brilliant orchestration of concrete, steel and glass that captures extraordinary ocean, mountain and city views from virtually every point in and around the three-level home.
"In response to the truly incredible landscape and views, we wanted the architecture to sit quietly in the landscape," says Kim Coleman of CIGOLLE X COLEMAN, ARCHITECTS (cxcarch.com).
"The main living areas of the house are carved into the gentle slope of the site, with exterior walls made entirely of glass. Movement through the house was designed as a procession. At different moments, one may be more aware of the surrounding landscape—the ocean, mountains and sky—or interior spaces, some public and others private."
Now on the market for $11.5 million (listed by The Agency), the four-bedroom abode is designed around a series of platforms and containers that comingle to present an auto/sports court; studio/guest house; main indoor-outdoor living spaces; and a covered outdoor space/carport. Among the highlights: a floating kitchen, dining and living areas; a master suite accessed by a central staircase topped by a massive skylight; a media room; and a private garden and spa.
"The house presents a series of places that are varied and dynamic so that living and working are interchangeable," says Kim Coleman. "Walls slide out of the way, curtains subdivide or screen areas and spaces transform to respond to climatic or programmatic changes."
---
Good Vibrations
Scott Gillen has always had a passion for the creative process, first as a filmmaker and then as a custom builder, applying his hands to every facet of the process, from architecture to interior design. He crafted his first home on Abbot Kinney and then embarked upon a new Malibu property—The Carbon House—that he now resides in with his family. He designed and built the one-level, 6,800-square-foot residence on approximately 4 acres on Carbon Canyon Road, complete with his signature exposed beams, open spaces, soaring ceilings and custom furnishings throughout.
Massive windows on both sides of the 240-foot-long home allow for breathtaking ocean and mountain views from every room. Some of the show-stopping features include a massive great room with an open chef's kitchen featuring custom ash wood cabinets and Wolf appliances; an ocean-view master suite with a private patio; a gym; and a media room.
"It's a great house," says Gillen of Scott Gillen UNVARNISHED (scottgillen.com).
"It's large, but very cozy and intimate at the same time. It's got a beachy vibe…a good vibe."
What's next for the developer in Malibu? Selling the newly completed 15,500-square-foot property—The New Castle—that just hit the market for $85 million. Plus, a new project—The Case—featuring five Mid-century modern homes atop a bluff in the guard-gated Malibu Colony community, set for completion in mid-2020.
---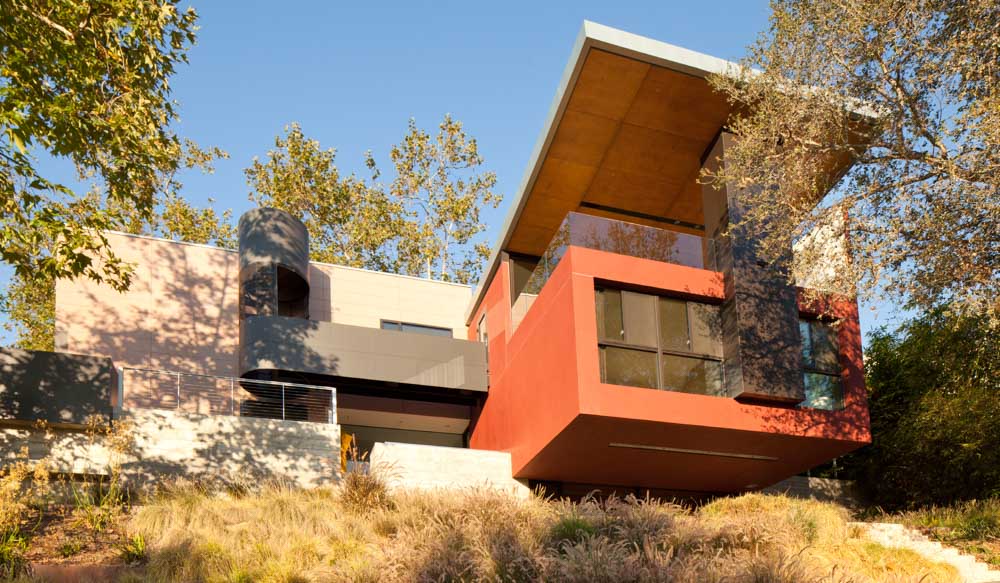 Sustainability Plus
Completed in 2010, L.A. architect Michael Kovac's Sycamore House was one of the earliest LEED Platinum homes in California, with a design approach that was conscious of the many existing sycamore specimens on the property.
"We have always incorporated environmentally sensitive design concepts and materials into our work, and this project was the perfect opportunity to really dive deeper into that and explore lots of new things," says Michael Kovac of Kovac Design Studio (kovacdesignstudio.com).
"We considered it our 'green laboratory.'"
Situated near the top of the Pacific Palisades at the edge of Santa Monica Canyon—with views of Downtown L.A., Will Rogers State Park and the San Gabriel Mountains—the modern home is rife with green systems, including solar photovoltaic power with battery backup; solar thermal hot water; radiant heating and cooling; gray water re-use; and rainwater capture.
"Our favorite green features are passive, relying on the basic laws of nature," Michael Kovac says.
"For instance, the entire house is designed to maximize natural airflow and ventilation. There are windows on the lower level that pull the prevailing cool ocean breeze into the house and higher, clerestory windows that allow the warmer air inside the house to escape."
Materials inside the home also were chosen to be as maintenance-free and natural as possible, including walls finished with an artisan veneer plaster rather than paint, along with wood floors reclaimed from an 1800s barn and a cement panel board exterior with a high recycled content.
"Everything feels warm and inviting to the touch, not cold or pretentious," adds Michael Kovac.
Perhaps the most crowning achievement is a shadowy pattern of sycamore trees created by artist Jill Sykes that has been hand-blasted into the facade's cement panels and offers an ever-changing dance with the real shadows cast by the surrounding sycamores.