World-famous architect Tony Ashai has a distinct design philosophy, one that is steadfast to all things classic and timeless. That is to build a client's dream home tailored to their individual lifestyle, and in a way that never goes out of style. For the property at 67 Paseo Del La Luz, Aisha—working with general contractor Josh Herbst, who is well-known for building premium homes in Beverly Hills—applied his classical stance and commitment to visual balance to create this elegant retreat reminiscent of a luxury seaside European villa.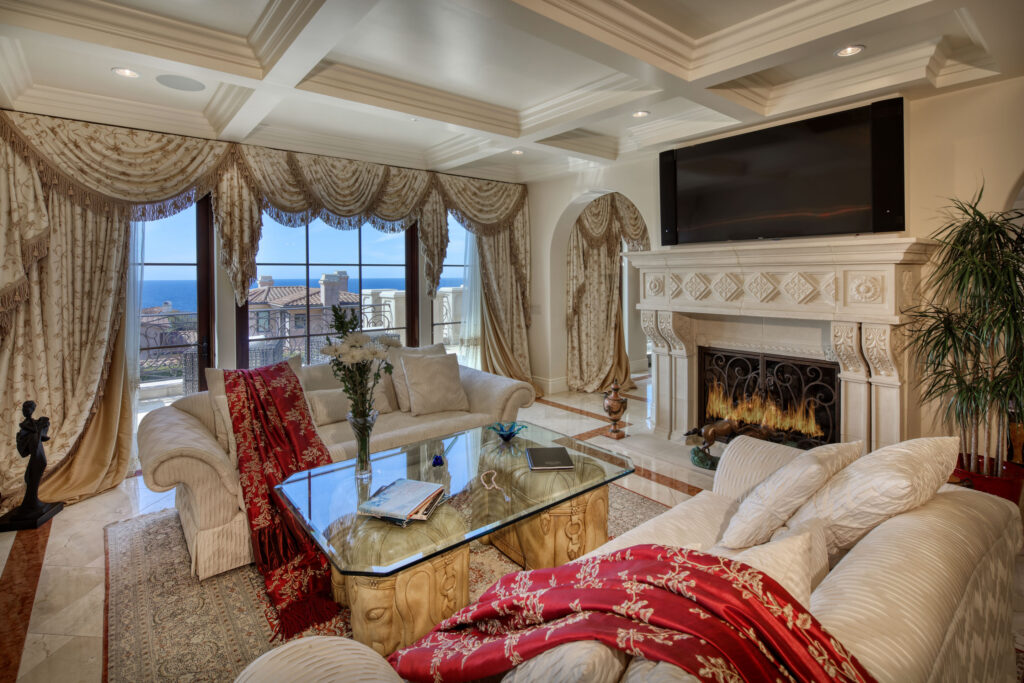 Commanding views from a secluded neighborhood in Rancho Palos Verdes, this particular home is one of the newest properties built in the Oceanfront Estates community. Here, gorgeous private estates are surrounded by large manicured lawns with deep setbacks and wide streets. The slight gradation of land allows one to truly enjoy the cliffside locale and still enjoy 180-degree ocean vistas. With this neighborhood also near to some of the town's hotspots like Terranea Resort and Trump International Golf Course, dining out or playing a round of golf is the norm.
The beautiful limestone colonnades at the entry create an almost piazza feel with cloistered ceilings along the hallways that are perfectly symmetrical, true to Ashia's philosophy. Along with this visual balance, the grand, almost palatial, spaces feel surprisingly intimate and comforting. "The entrance to this home and its common areas feel like the lobby of a five- or six-star hotel in Europe," describes Lily Liang, Realtor for Strand Hill Christie's International Real Estate Group.
The attention to detail is unmatched, evident not only in the classic European wrought iron that wraps the dramatic and curved dual-sided staircase but in the individually carved marble stairs and floors that run throughout the common areas and hallways too. Hardwood floors, meanwhile, warm the bedrooms. "Those with a keen eye and understanding for architecture can see the value in the curved lines of the marble stairs and the authenticity of the colonnade pillars and fireplaces being hand-carved from French limestone," adds Liang. Clearly, no expense was spared for the sake of quality and pure form.
Boasting just over 8,300 square feet, the tremendous volume of the space is highlighted by dramatic coffered ceilings that vary from room to room with clean lines so as to not feel overdone. Spaces seamlessly blend due to a flowing floor plan and creamy monochromatic color palette that yields a streamlined yet intricate aesthetic. One always finds delightful surprises in a home like this one: a regal study, custom wine cellar built directly into the dual staircase, and posh home theater, along with dedicated space for a gym or reading room.
All of these unique spaces are only steps away from outside access through a multitude of arched French doors leading to lovely grounds. The ultimate feature for the gourmet cook is the home's second kitchen, sometimes known as a kosher kitchen, where a self-proclaimed chef can engage in the messier side of cooking, discreetly and out of the way of the main kitchen. Anchored by a huge slab of cream marble on the island and furniture-style cabinetry, this space also is appointed with a six-burner Wolf range, including griddle, indoor grill, and a professional grade ventilation system, tucked under a classic French-style hood.
Meanwhile, refined wooden panels mask doubled-sided Sub-Zero refrigerators, as well as dual dishwashers and other storage. This home was definitely built for a family or an owner who enjoys throwing a good party too; there's a multitude of entertaining space, including two grand living rooms, one at the entry and the other downstairs with pool access, as well as a more intimate family room. Adjacent to the family room is a classic full-size wet bar with counter seating for enjoying a cognac after a dinner party in the formal dining room. Both upstairs and downstairs entertaining areas open up to gorgeous scenes from various balconies and patios.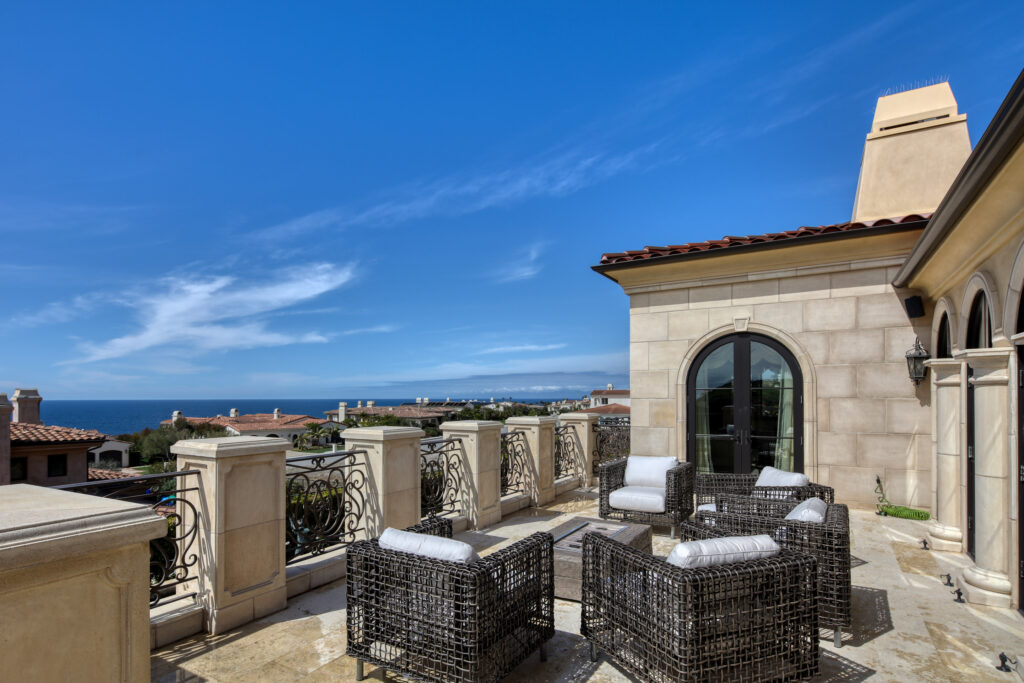 The lavish master suite is one of the four bedrooms. Bordered by two balconies—west and southwest facing—one may enjoy vistas to Catalina right from bed. In the master and throughout the balance of the bedrooms, finely crafted built-ins with trim details create ample storage, as well. A swoon-worthy closet fit for a king and a massive master bath with a silver-tipped clawfoot tub complete the master suite. The balance of the bedroom-suites are very generous in size, each with a full bath and closets with built-ins. Each of the six baths, which include two powder rooms, one with a richly-done chrome sink, are individually designed with fresco-style tilework, furniture-like vanities and unique features.
A unique advantage to this home is that has two separate backyards. Perfect for families with small children, and completely gated, there is a large grassy lawn for playing sports or housing a pet on one side, and meticulous landscapes wrapping the lovely pool, with waterfall feature, and the spa on the other. Here, plenty of outdoor seating is available on the covered patio draped by colonnade-style pillars, as well as in the outdoor kitchen area with built-in barbecue grill. Sitting on just over a half-acre of land, the home's exterior offers abundant grassy space for kids to run and play.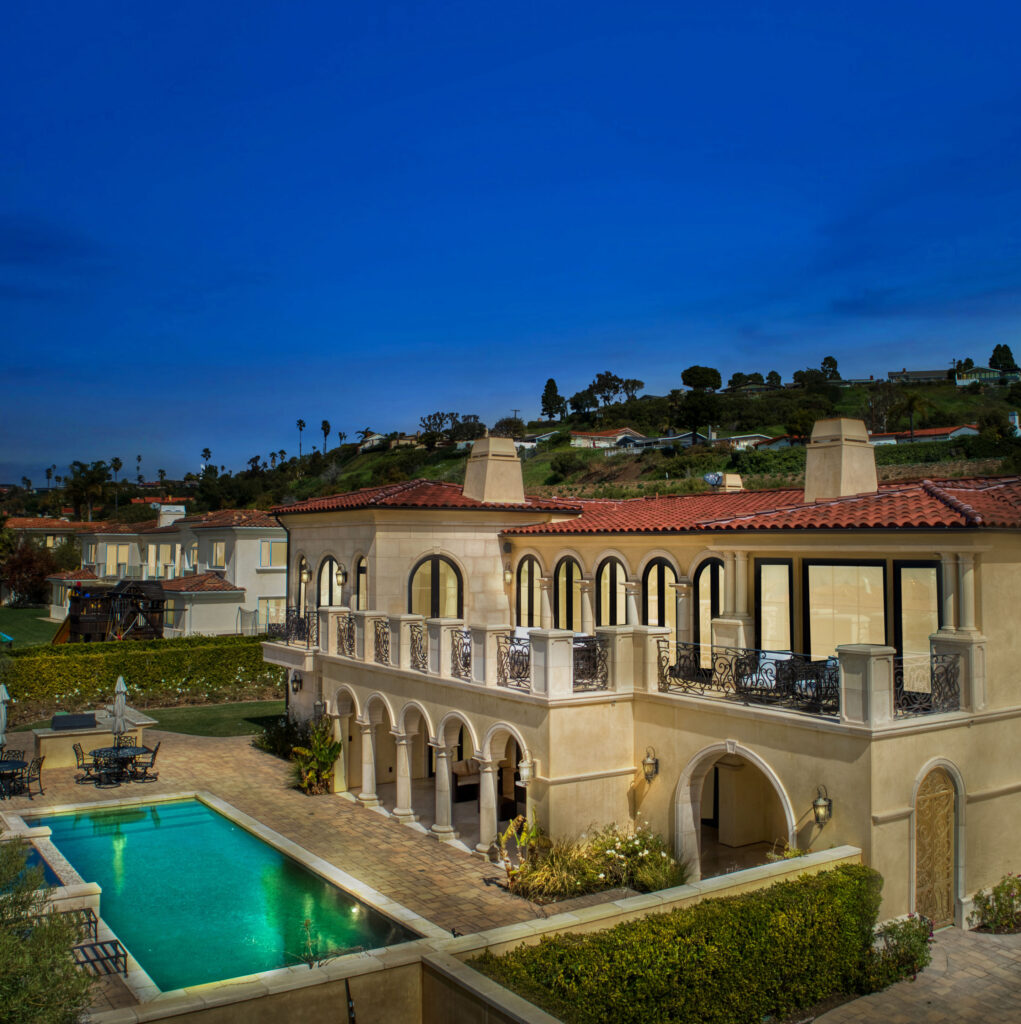 The property's outdoor environment paints a transcendent classical picture via its dramatic colonnades, pillars of limestone, wrought iron-wrapped balconies, and smooth stone finish. Combined with its exquisite interior, this home translates to a life spent on permanent vacation in a seaside villa where stunning views and privacy abound—beautifully.
PRESENTED BY
Lily Liang
Strand Hill Properties
Christie's International Real Estate
310.902.7799
List Price
$6,789,000
PHOTOGRAPHS BY PAUL JONASON