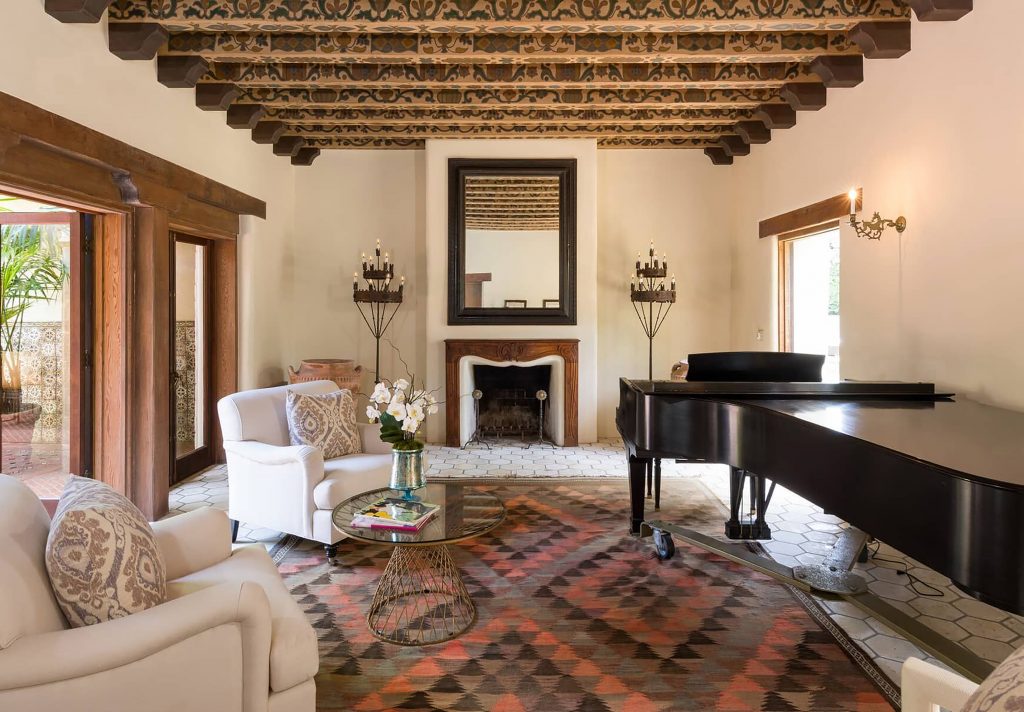 A Historic Home in Pacific Palisades Reflects Spanish Colonial Style
The Bradbury Estate, built for the son of real estate tycoon Louis Bradbury, is an architectural embrace. Constructed in the 1920s by famed architect John W. Byers, this four-bedroom, four-bathroom dwelling pays homage to the El Greco Museum in Toledo, Spain.
Designed with intricate details that include hand-stenciled wood-beamed ceilings, custom tile floors, and self-sustainable adobe craftsmanship, it embodies the legacy of the Spanish Colonial Revival.
"The uniqueness of a two-story adobe is an early tribute to green architecture," says, Rachelle Rosten, executive director, Master Trust & Probate Division of John Aaroe Group.
"Since the adobe absorbs heat during the day and redistributes it at night, it creates an even temperature. Plus there are vents built into the living room to allow for fresh ocean air at all times."
With a style that's timeless and sophisticated, this home is an inviting cultural monument, providing its newest owner a chance to be a part of residential history.
John Aaroe Group
150 S Rodeo, Ste 100
Beverly Hills, CA 90212
Aaroe.com
Photograph: Shooting LA | Michael
---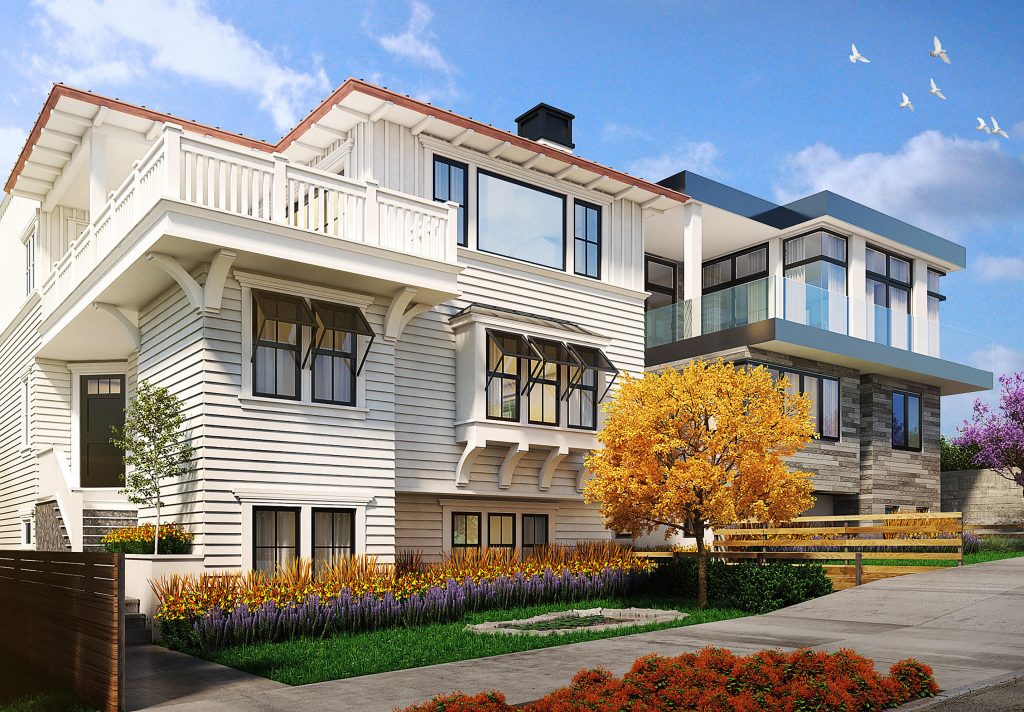 A New Pair of Townhomes in Hermosa Beach Showcase South Bay's Diversity
Developed by Beach City Capital in conjunction with Strand Strategic Group, and designed by architect Doug Leach, a new pair of Hermosa Beach luxury townhomes presents a fresh multi-family dynamic, adding to the diversity of homes in the South Bay.
Located at 935 & 937 15th Street is two contemporary units and two plantation-style units. The contemporary units include a modern and sleek design, while the plantation-style homes nod towards East Coast traditional. Both include approximately 3,300 square feet of living space with four bedrooms and four bathrooms.
"This project was meant to showcase and celebrate different families, different styles, and cater to everyone from different demographics," said Jason Muller, managing principal of Beach City Capital.
With inverse floor plans, including expansive contemporary finishes, green technologies, roof-top decks, ocean views, and lush landscapes, these units intend to reflect the natural ambiance of the neighborhood. Construction is scheduled for completion summer of 2018.
Beach City Capital
1240 Rosecrans Ave
Manhattan Beach, CA 90266
BeachCityCapital.com
Photograph: Shimahara Illustration