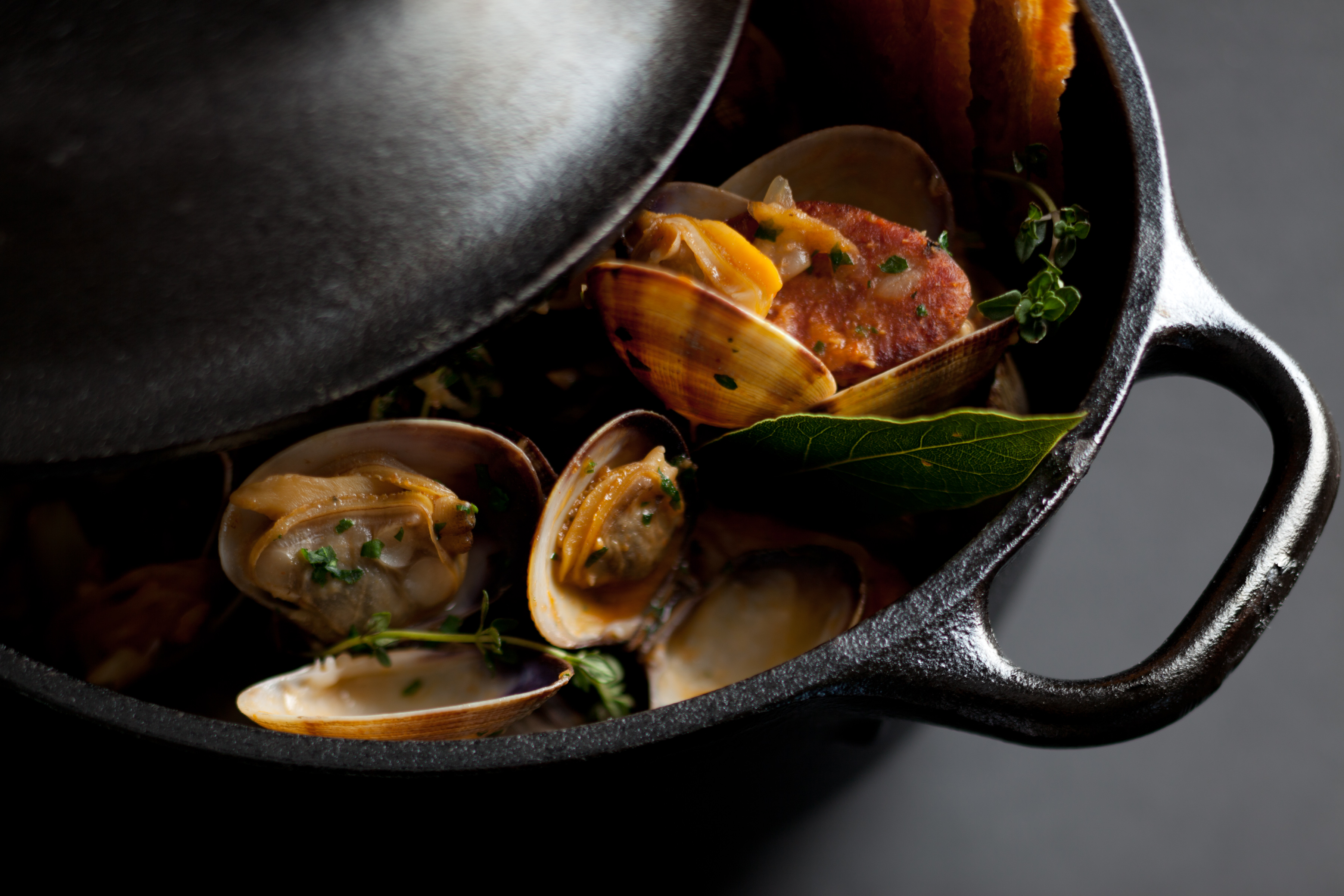 Rocking the Boat at Fishing With Dynamite
Special menu items drop anchor at Fishing with Dynamite in Manhattan Beach, just in time for some celebrating.
WRITTEN BY JENNY PETERS | PHOTOS COURTESY OF FISHING WITH DYNAMITE
If you haven't already ventured into chef David LeFevre's fabulous seafood eatery called Fishing with Dynamite, then get there in the next few weeks for some special dining. For they are celebrating Valentine's Day and Mardi Gras with limited-time menus designed to get you drooling.
The Manhattan Beach restaurant is intimate, with seating for only 35 guests, so to get in on the fun we advise luring in a limited reservation via phone or Open Table now.
In celebration of Valentine's Day, LeFevre has concocted the "Love Boat" seafood platter, filling it with chilled, super-fresh selections: six oysters, two Peruvian scallops, four shrimp cocktail bites and a half-pound King crab—for $48.
Also on the special menu is Steamed Black Cod in Thai Red Curry ($19); Whole Atlantic Lobster with Meyer Lemon Potato Puree and Drawn Butter ($44); and Dark Chocolate Ganache Cake and Raspberries ($9). All is a recipe for a seriously decadent evening at one of the hottest restaurants in the coastal enclave harboring it.
Chef's got the good times rolling straight through Fat Tuesday (Feb. 17), too, with a hearty Gumbo concocted with shrimp, chicken, linguisa (spicy smoked pork sausage), hot sauce and basmati rice. So don your beads and boas to dinner for an authentic evening out.
And if those specials don't entice your taste buds, the talked-about toque has (much) more to offer. Don't miss trying one of his seasonal offerings, especially if you see the whole New Zealand Tai snapper ($48) on the menu. It's "First Dibbs!" for a reason—and a crunchy delight. The Maryland crab cake is the genuine article, and save room for the pretzel and chocolate bread pudding served with house-made ice cream, a sweet finish to share with your favorite dining partner.
Dine There
Fishing with Dynamite
1148 Manhattan Avenue
Manhattan Beach, CA 90266
310-893-6299
www.eatfwd.com
Related Post
The first private, national off-market listing forum makes pocket properties accessible to all agents with a few simple clicks A novel new m...
The gated Studio City home made famous on E! TV series Keeping Up with the Kardashians is for sale at $7.895 million "The stunning archite...
Real estate veteran Nelson Rising's historic gated residence in La Cañada Flintridge has entered the market for the first time in 32 year...