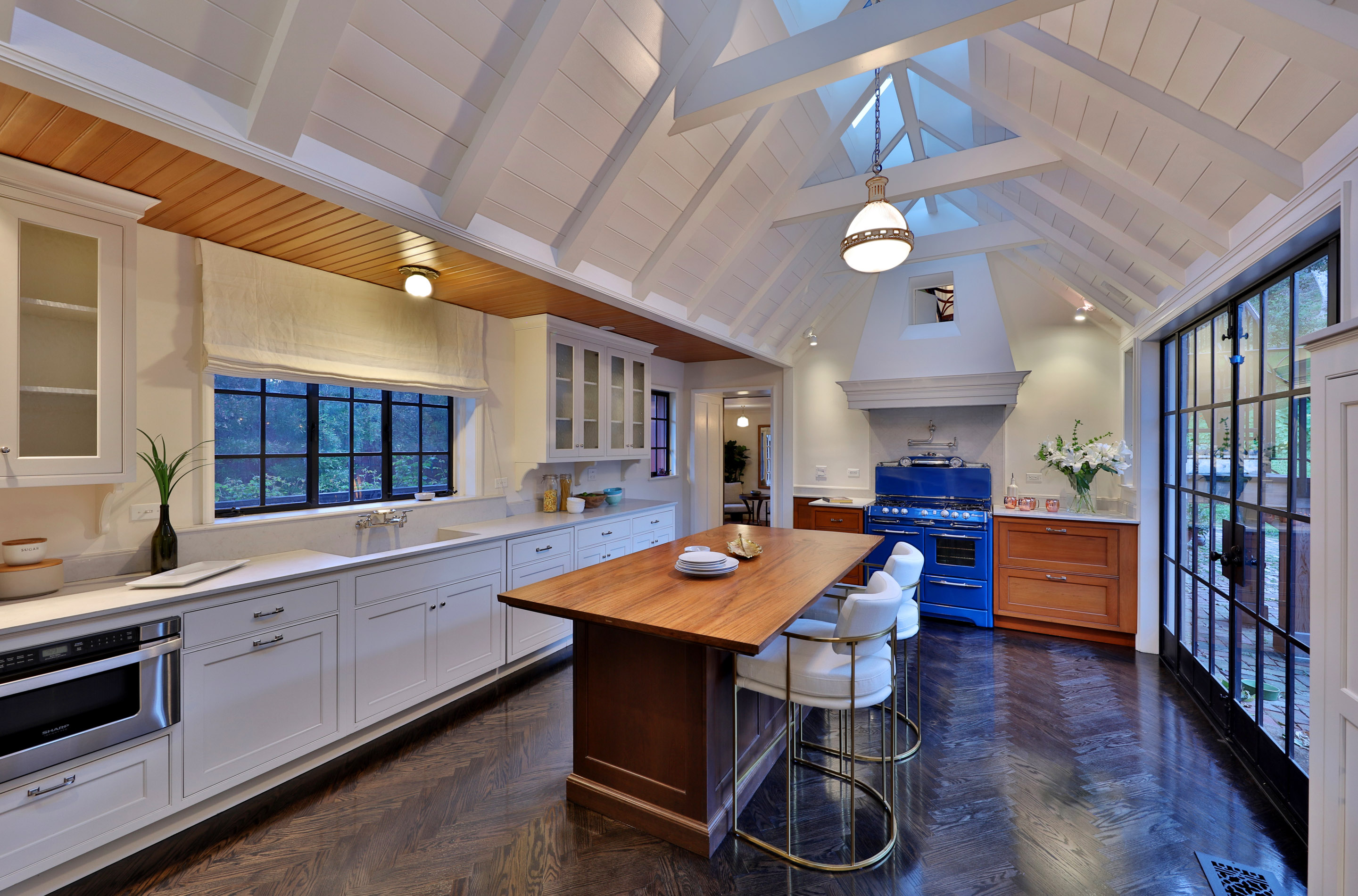 This Beautiful, Secluded Home, Located on 919 Rivas Canyon Road, a Private Road, Just East of Palisades Village, Perfectly Balances Old World Craftsmanship and Modern Amenities in a Fairytale Setting
Finding a home that strikes the ideal balance—between isolation and convenience, Old World craftsmanship and modern amenities, proximity to nature and accessibility to culture—is at the heart of finding the perfect house in Los Angeles. If such stringent criteria has thwarted your search, the home at 919 Rivas Canyon Road may be the answer to your prayers. Unique in its detailed architectural charms, singular in its natural beauty and unparalleled in its feeling of quiet solitude yet only moments from the city's world-class offerings, the home's magical sylvan setting provides an inviting respite from the exhausting pace of everyday life.
Located just east of Palisades Village and north of Sunset, Rivas Canyon, a private, creekside lane abutting the trailhead to Topanga State Park and populated by just over a dozen addresses, feels like another world, where privacy, seclusion and nature are of paramount importance. As the chaos of the city quickly fades from memory, it's easy to forget that one is only a few minutes to the sophisticated shopping and restaurants of Brentwood, Santa Monica, Pacific Palisades and Beverly Hills. Zoned for horses, avid equestrians will appreciate the ability to not only locally board their animals, but also to ride them over the bridle paths of Will Rogers Park and onto its facilities.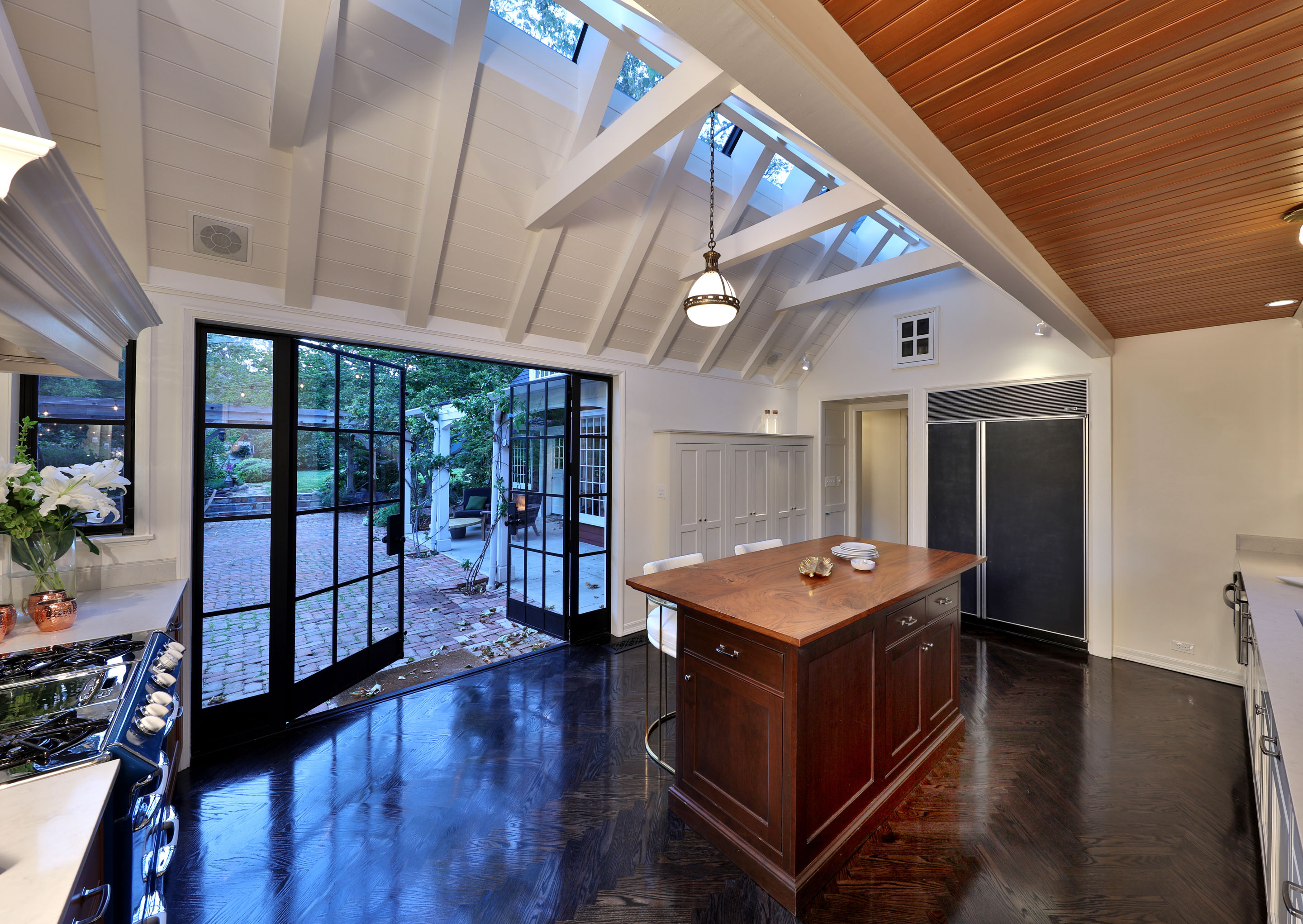 Formerly part of the vast Will Rogers holdings, this property, a saltbox-style home referred to by locals as "The Red House" for its deep crimson color, was the street's original estate property. Nestled under a canopy of majestic old oak and sycamore trees on just over an acre of land, it was built in 1940 by Avery Rennick, a renowned furniture maker.
Rennick's handiwork is evident at every turn: highly polished cabinetry, heavy wood doors, and detailed moldings layer spaces with beauty. No wonder a who's who of Hollywood heavyweights, including Myrna Loy, Zsa Zsa Gabor, and screenwriters Jean Holloway (The Ghost and Mrs. Muir) and Gary L. Goldman (Total Recall) have all called the property home.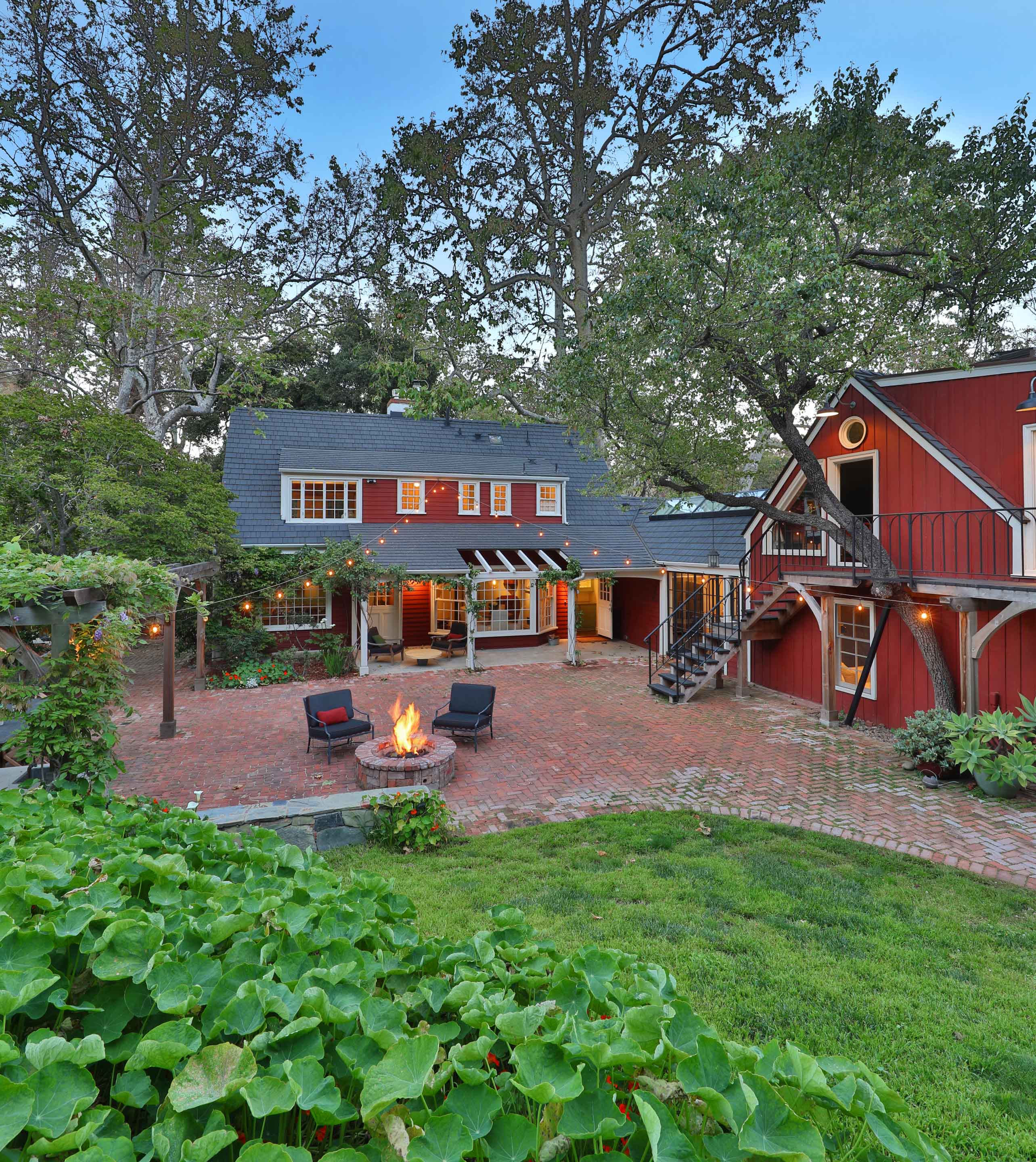 Meticulously Renovated
While old, the home is far from antiquated. Nimbly bridging past and present, it has been restored with meticulous attention to enhancing its historical beauty and updating to accommodate the needs of an active, modern life. Light-filled rooms distinguished by burnished wood floors and walls of crystal-clear windows overlooking the verdant setting underscore the home's aura of peace and tranquility. It's said that the living room's paneled walls were inspired by a display in the American Wing of NY's Metropolitan Museum of Art, and, over the fireplace (one of three in the main house), a television is artfully concealed.
A soothing palette of subdued deep grays, blues and greens imbues the perfectly proportioned rooms with serenity. Updated bathrooms proffer intriguing penny tile designs that straddle the delicate line where historical accuracy meets the modern need. There are two bedrooms on the second floor of the front house—a spacious master bedroom and a junior bedroom with a separate dressing area—while the guest house, added to the main home in the 1940s, with its two-bedroom suites, offers teenagers, guests, in-laws or live-in assistance the autonomy of a separate entrance. Downstairs, a den, and a guest bedroom, currently being used as a home office, and a dining room overlooking the backyard bring a soothing rhythm to the home's pleasing floorplan.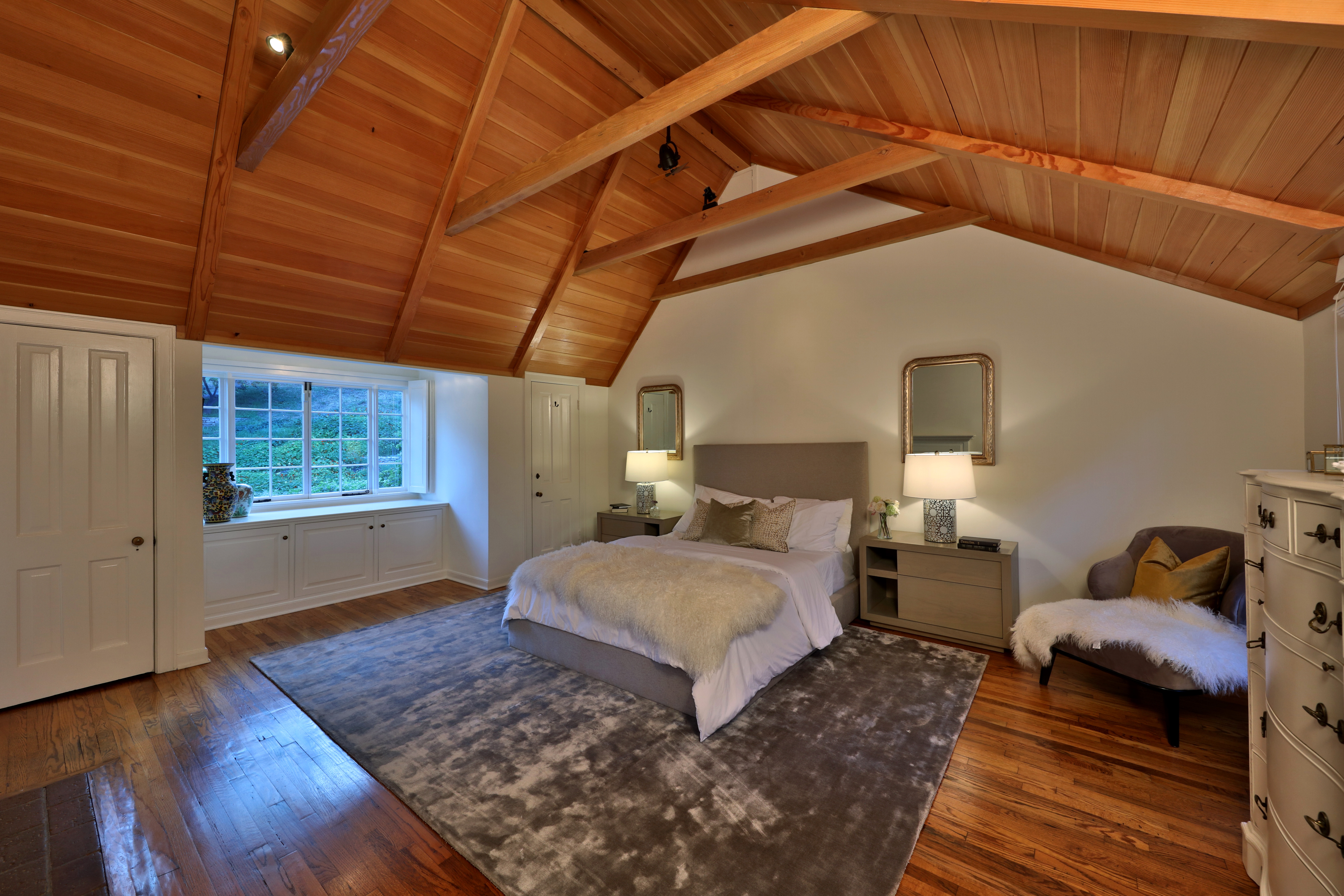 Perfectly Proportioned Rooms with Serenity
A spacious kitchen, with an expansive center island, cathedral ceilings and custom-made glass and steel doors, partners the main house with the guest quarters. Open to the expansive patio, with its fire pit, full outdoor kitchen and a dining area, canopied by a lush pergola fragrant with wisteria, this storybook outdoor courtyard is the space around which most of the activities of the home revolve.
Located just beyond the central entertaining pavilion and separated from the street by a towering privacy hedge of lush poplar trees, the large spa looks out over a generous lawn. There's a wine cellar here too. Carved into the hillside, the cool cave keeps prized vintages at the ideal temperature, ensuring that this home will be the setting for many a memorable feast, bounteous with vegetables plucked from the home's garden patch and fragrant with herbs from its garden.
Inevitable Entertaining Area
For the larger events that are an inevitable part of an active social life in Los Angeles, the sprawling, park-like grounds easily accommodate crowds of 100 or more. Guests will thrill at the winding paths that meander through oak, citrus and flowering trees, leading up through the wooded landscape, past areas for play, rest and reflection and to a private gate above which provides secure access to the Alphabet streets of the Palisades and the soon-to-be-complete Village center.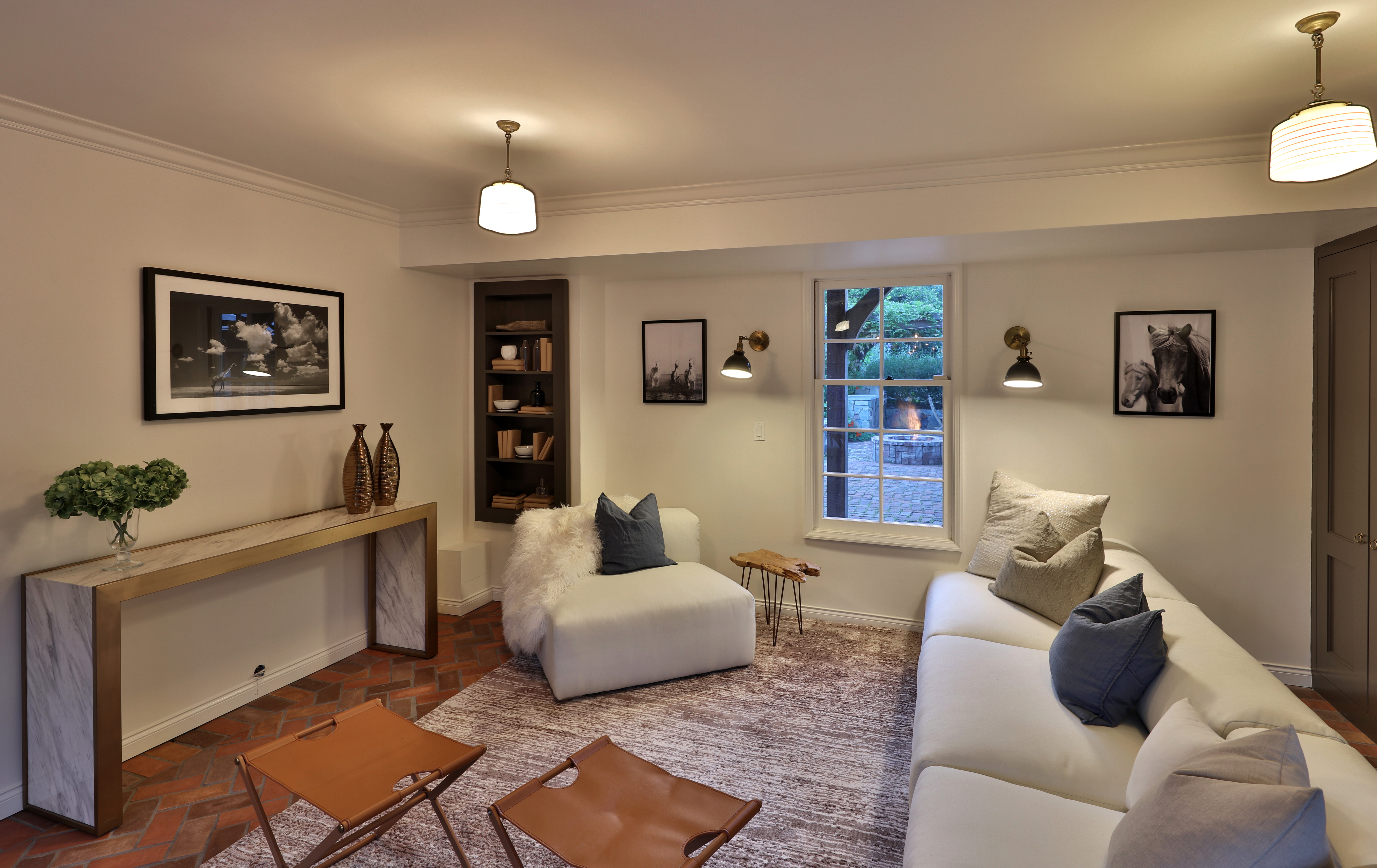 Whether you work at home or just need a spot to work out, the light-filled garage and carport, with windows that offer a view onto the street to watch for visitors or deliveries, is the ideal setting. As an office, its short distance from the main house offers the perfect amount of space that keeps work life and home life at a comfortable distance from one another. It would also make for a spacious yoga studio, meditation room or gym, as there's plenty of room for a Pilates reformer or two.
When it comes to real estate, the adage is location, location, location. While others may need a vacation to find their peace and tranquility, the owner of this abode need only come home.
"Home sweet home, with nothing like it in the whole city. Magic abounds, and happily ever after awaits."
Ellen McCormick | 310.230.3707
Berkshire Hathaway
919RivasCanyon.com
List Price: $6,800,000