To say that they're not creating more oceanfront properties is an idea that becomes even more evident when it comes to the treasured, and limited, inventory of beachfront homes in Manhattan Beach. Factor in the reality of finding a beautifully turned-out residence on a corner lot in a premium location along the sand, and the probability of hitting pay dirt shrinks to near nil.
"In the last 20 years," explains real estate agent Bryn Stroyke, "there have only been three properties that have come on the market in Manhattan Beach that meet the following qualifications: they have a fully built-out home on them, versus a tear-down; they're located on a corner lot, and they're positioned in one of the two most elite areas of The Strand, either South Manhattan, on 2nd to 7th Street, or here, between 16th to 20th."
Part of the exclusive group, this Montecito-style home, located at 20th Street and The Strand and approximately 6,000 square feet in size, was designed by well-known Beach Cities architect Doug Leach and built by custom home builder Mike Davis. Notable is the warm atmosphere of elegantly sculpted, seaside ease that spans its three levels. "The house has a lot of ins and outs," says Leach of the five-bedroom, seven-bathroom residence, which has been inhabited by its original owner since its 2004 completion. "It's not bulky."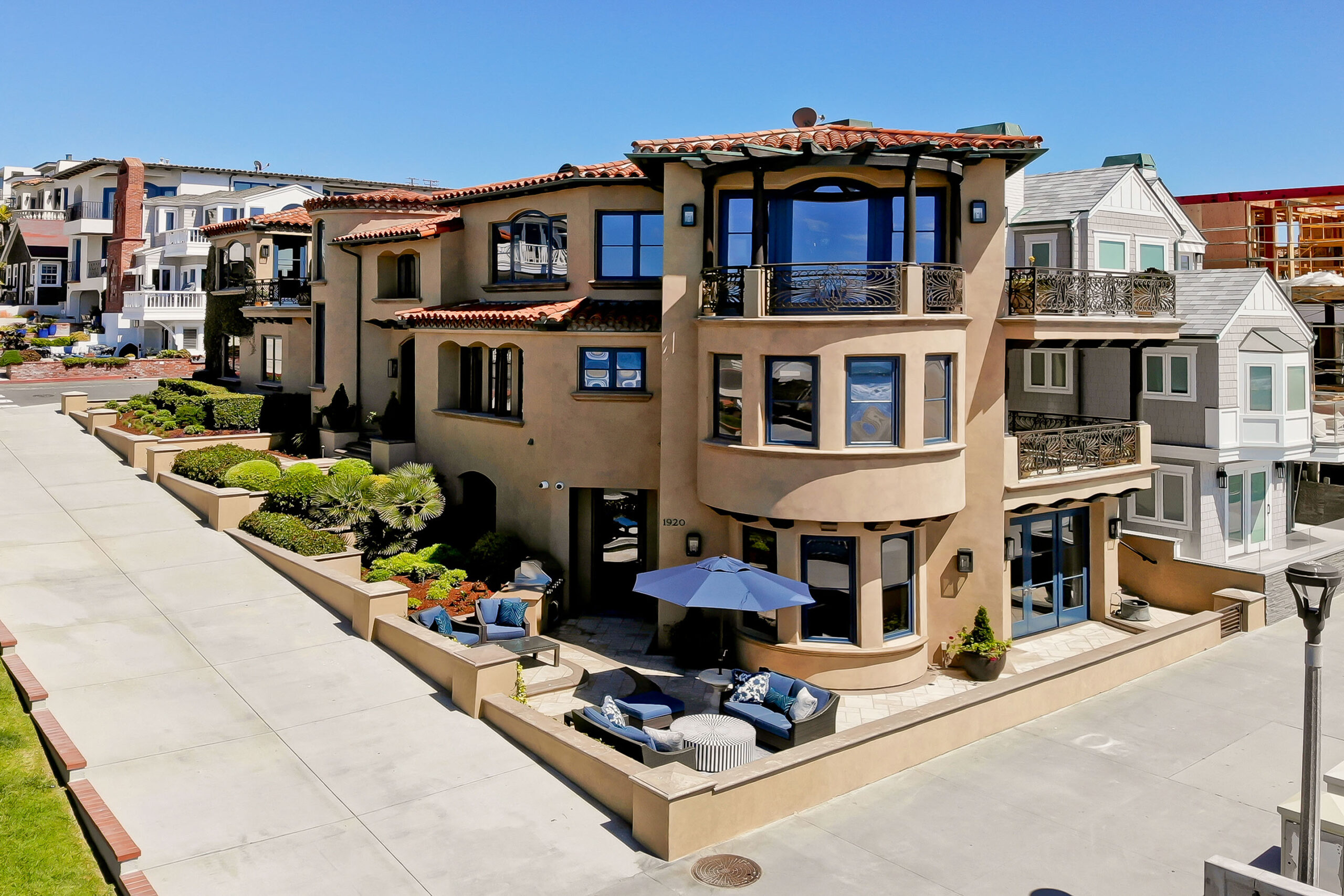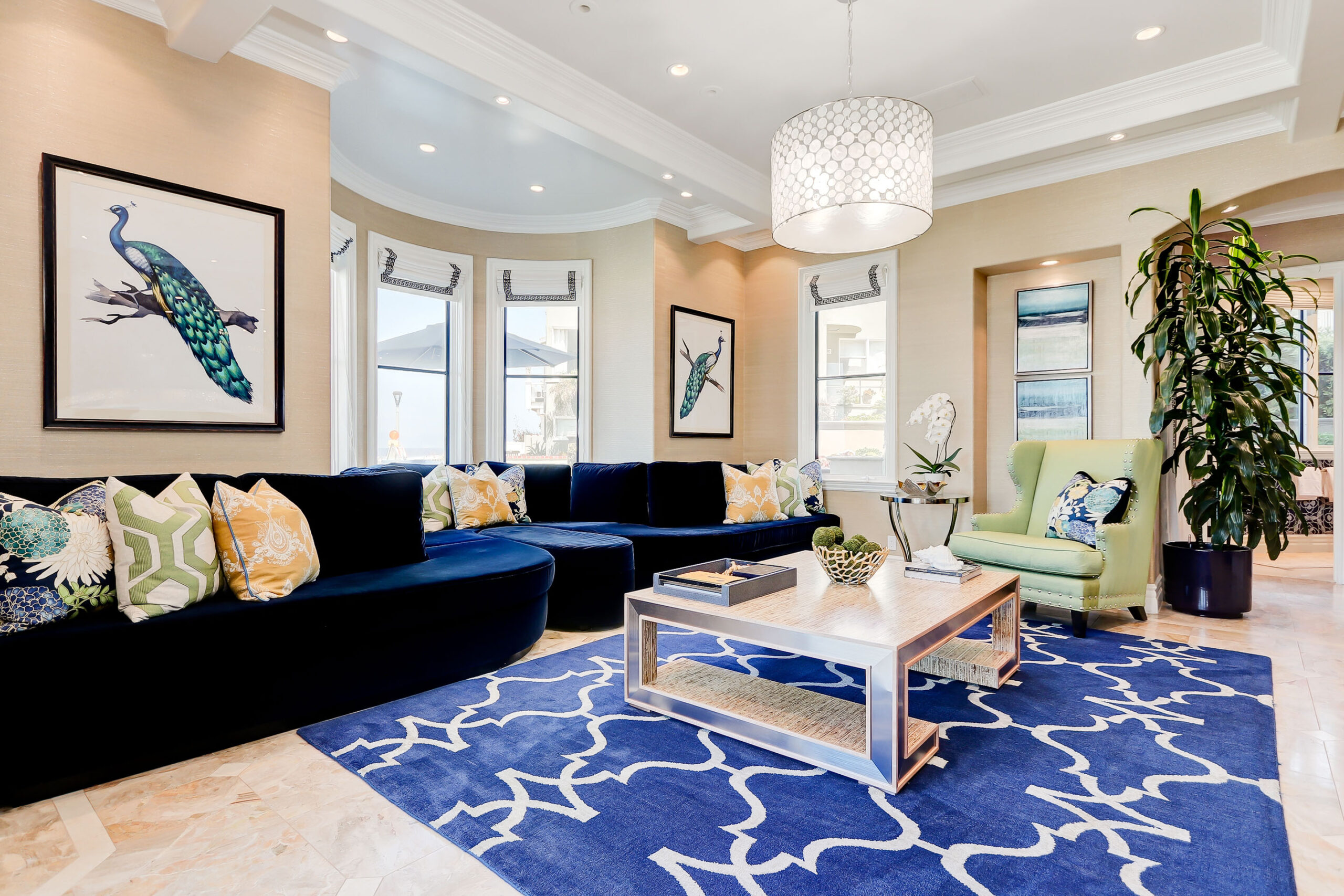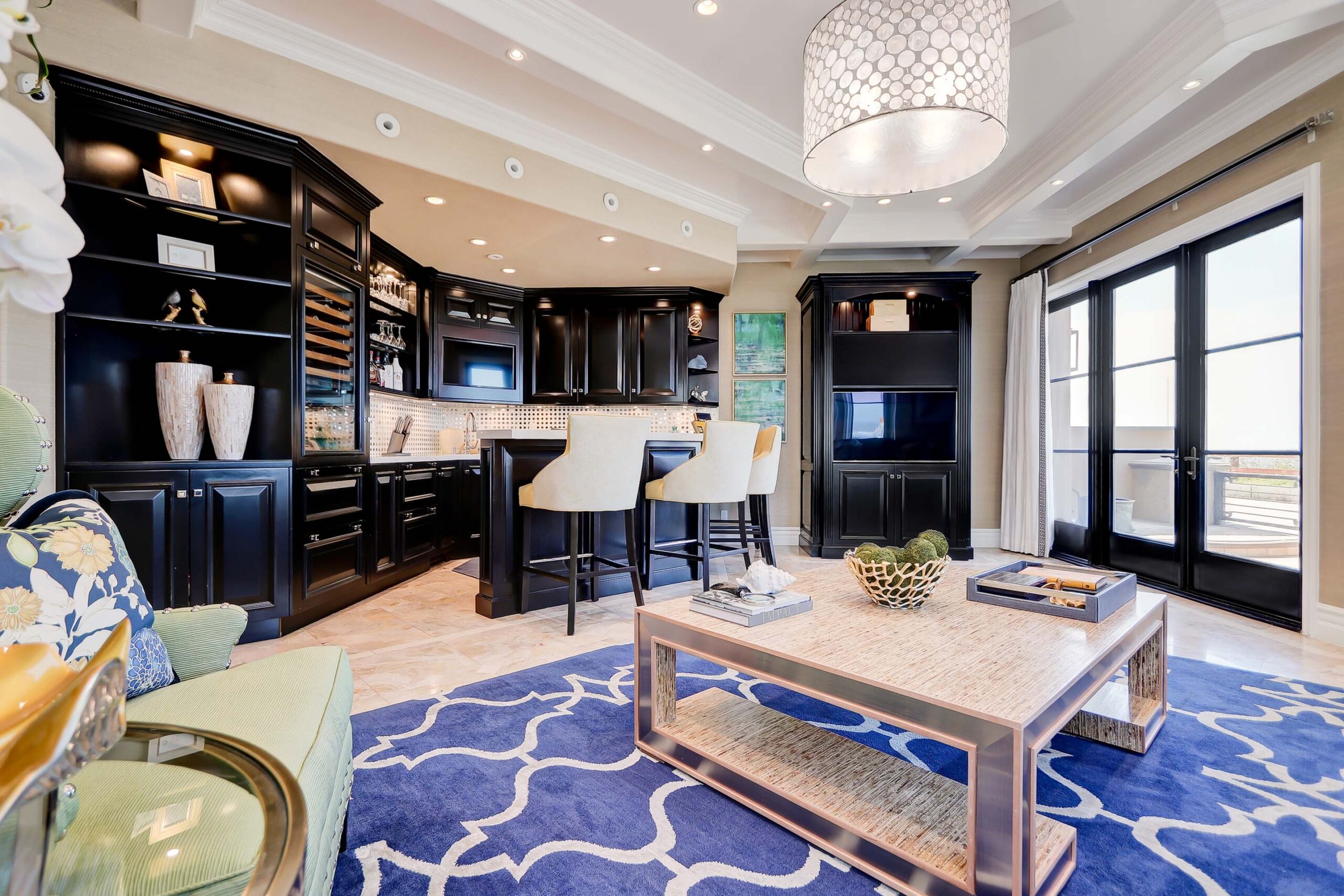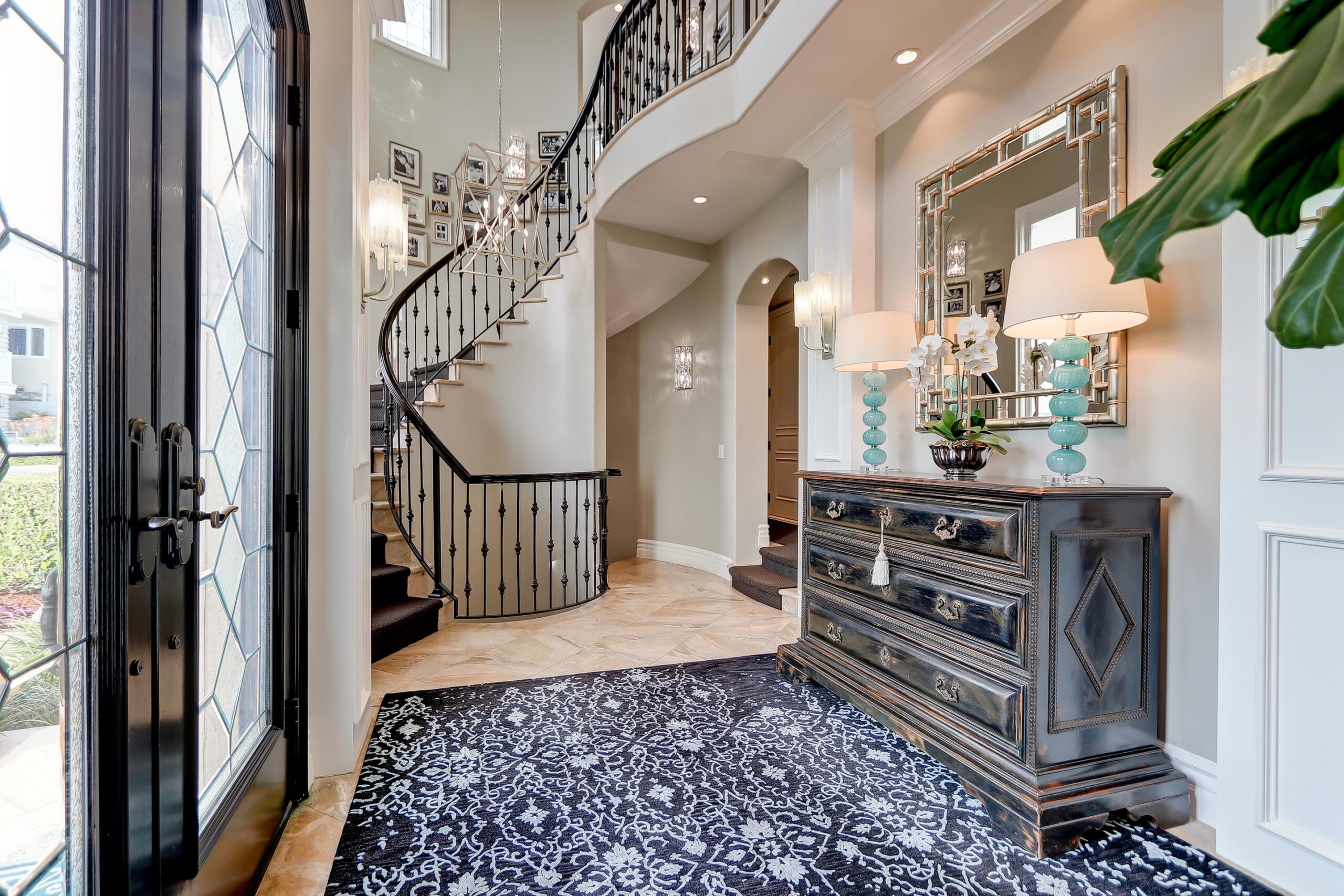 Significant is this free-flowing feeling of space and privacy in a home in an otherwise public location. Much of this is due to its position on the corner of 20th Street, one of Manhattan Beach's most mellow, spacious walk streets. The result is that one enjoys vivid coastal views along the entire north-facing length of the home, in addition to the uplifting whitewater-and-sand beach scene out front, along the Strand-facing section of the home.
Along this section of The Strand, points out Stroyke, "you get this elevated view, where you're sitting above the beach." This higher than usual vantage point has been optimized by strategic placement of windows, and intentional design of the home's diverse spaces, which means that views into the home are obscured from passersby. Here, one lives amidst a super-sized bounty of beach views and atmosphere while also maintaining a peaceful distance from it. "This home has tremendous privacy for being not just a Strand lot, but a Strand corner lot," Stroyke adds.
Further qualifying its premium location is its easy compromise between beach and town life. The scene on the sand here is typically sedate, and one can walk to Manhattan Beach's chic eateries and boutiques in less than 10 minutes. "There are two A-plus-plus locations on The Strand," says Stroyke. "What they have in common is they're far enough from Downtown to not have the congestion on the beach out front, but they're close enough to Downtown to be a convenient short walk to all of its lifestyle."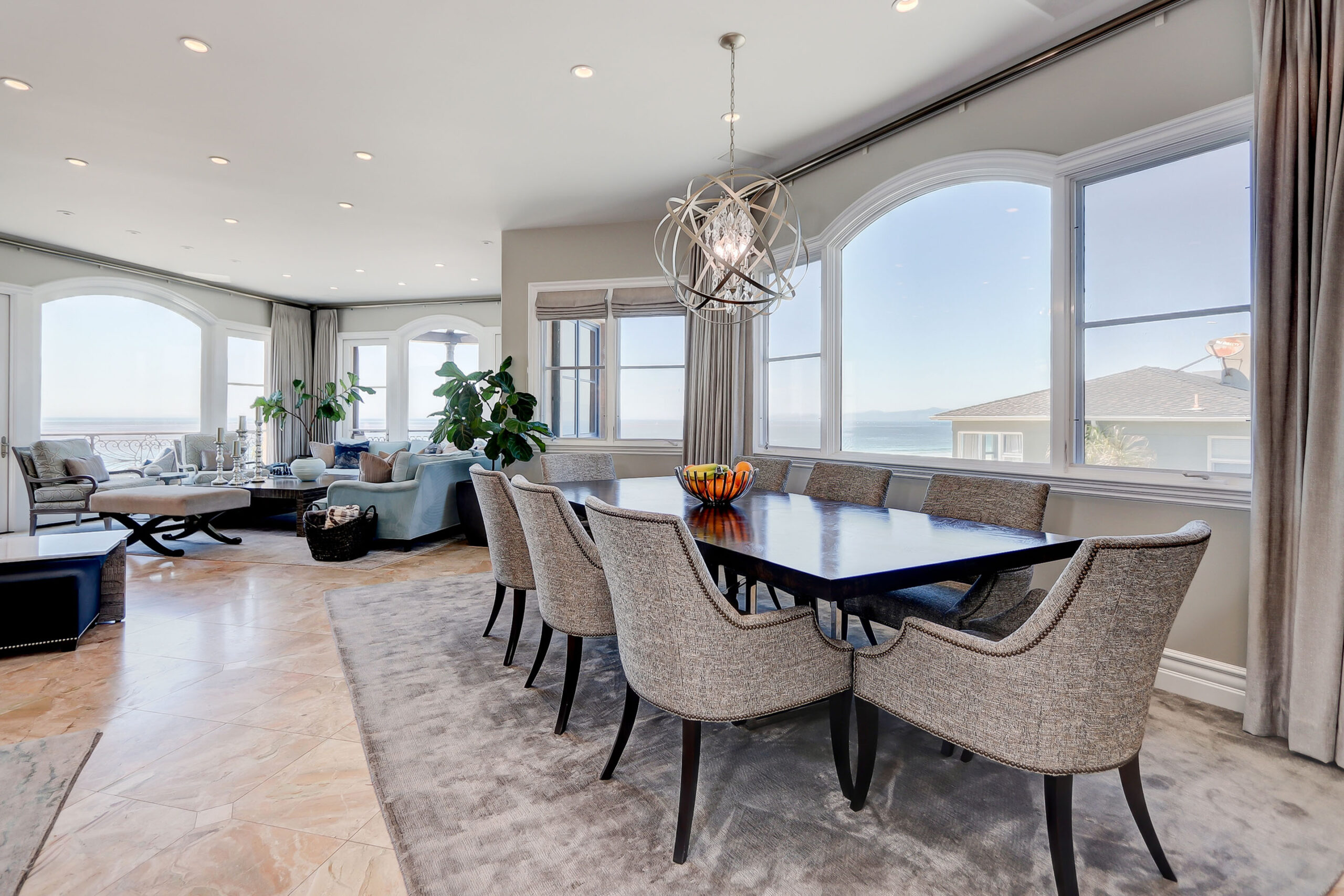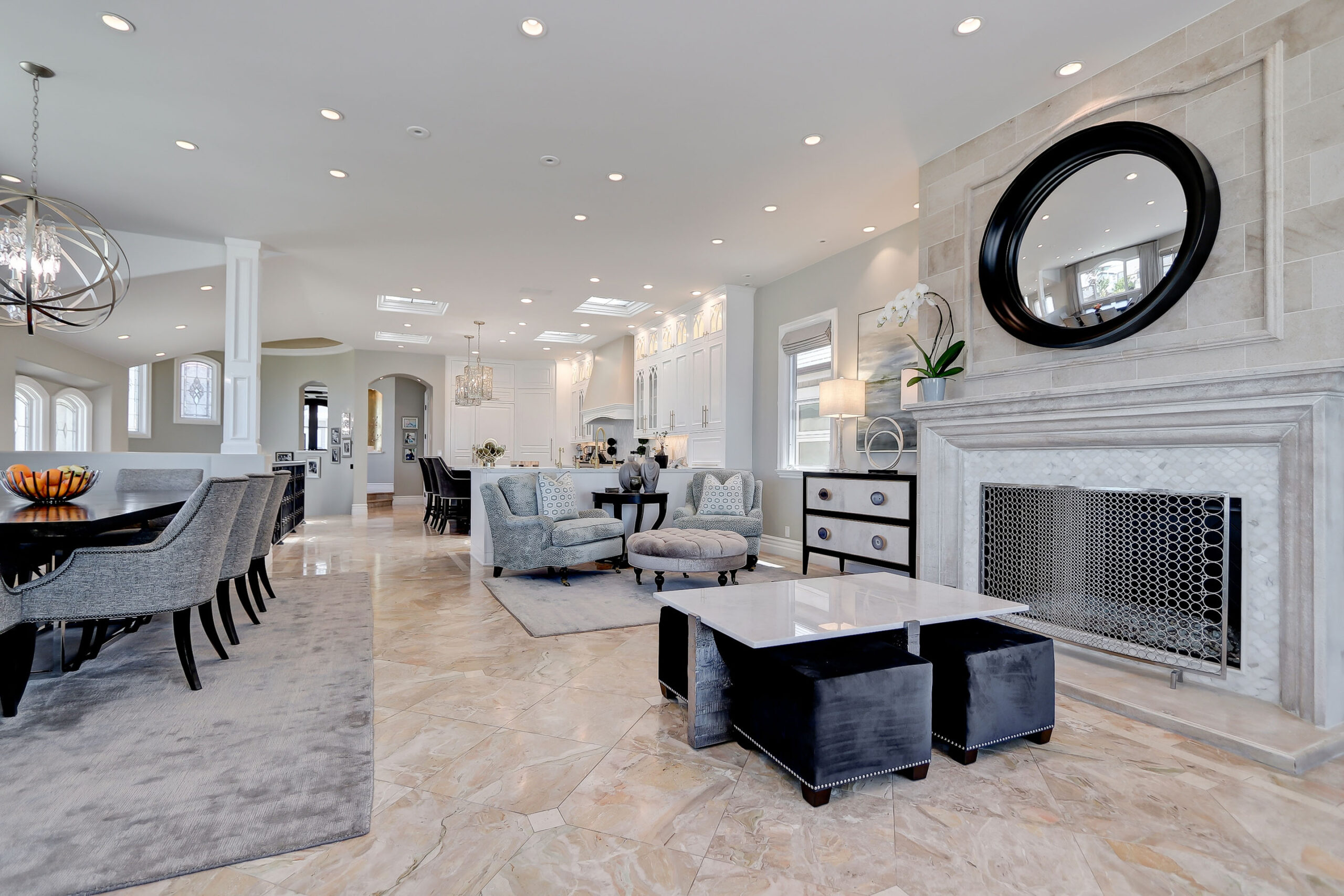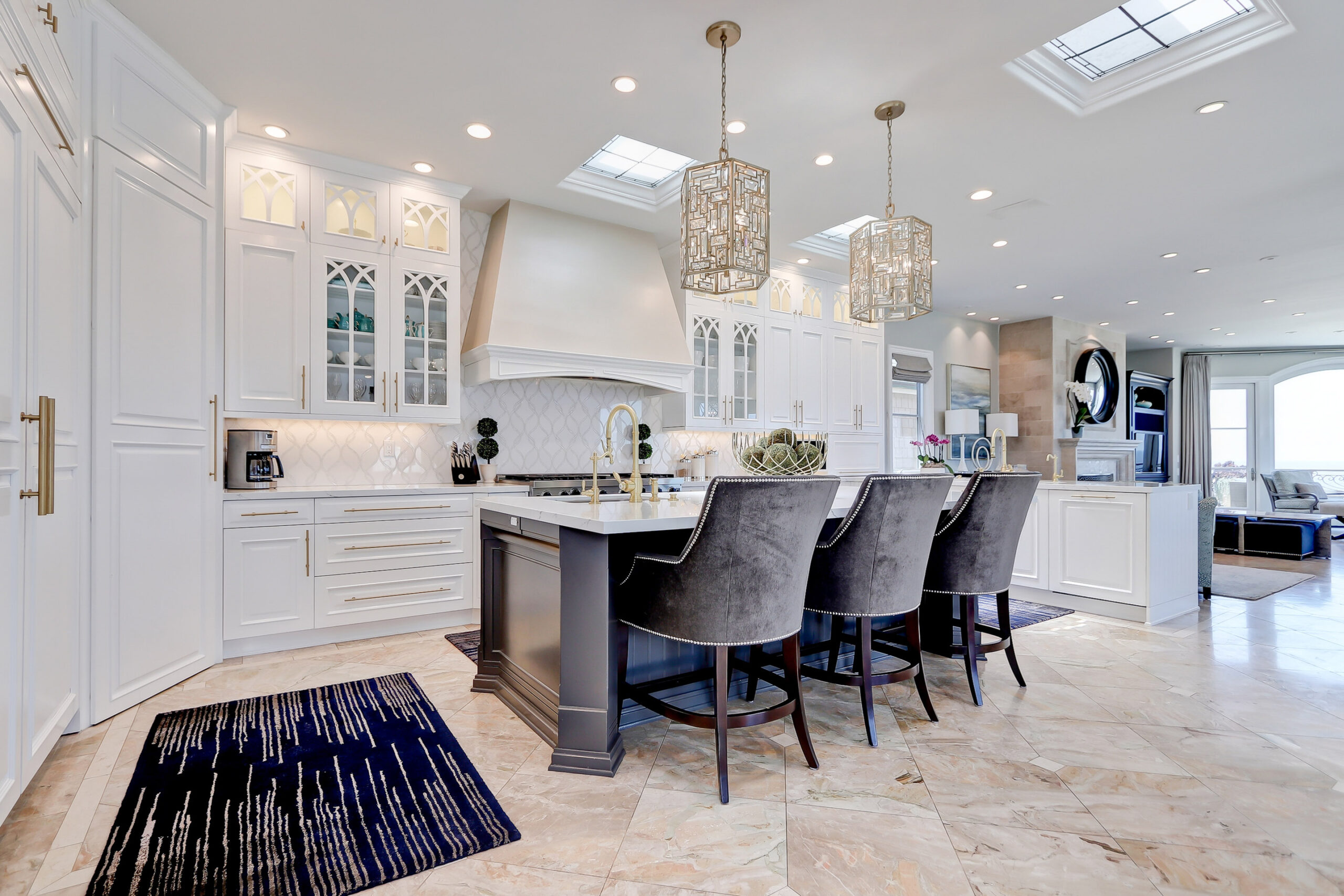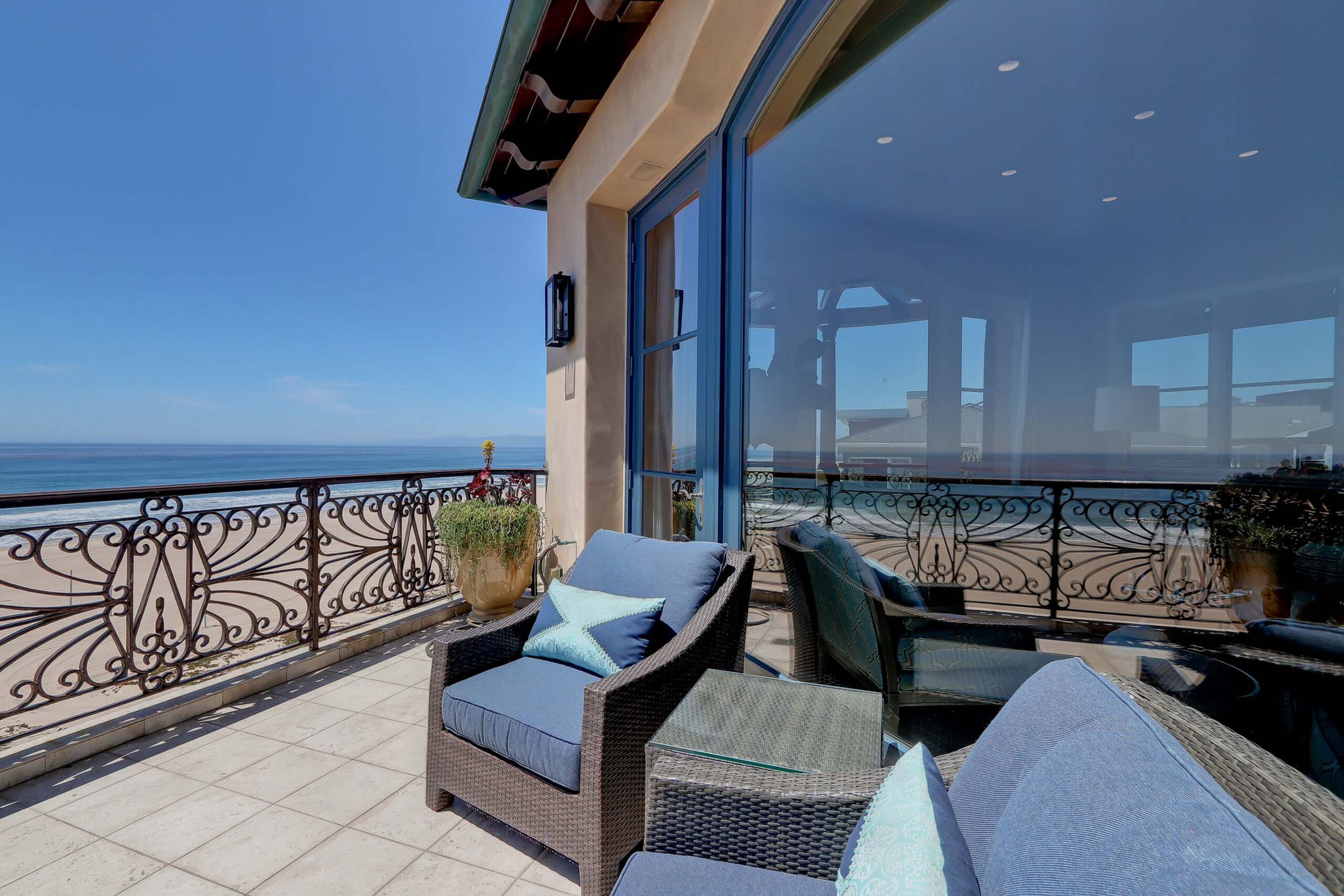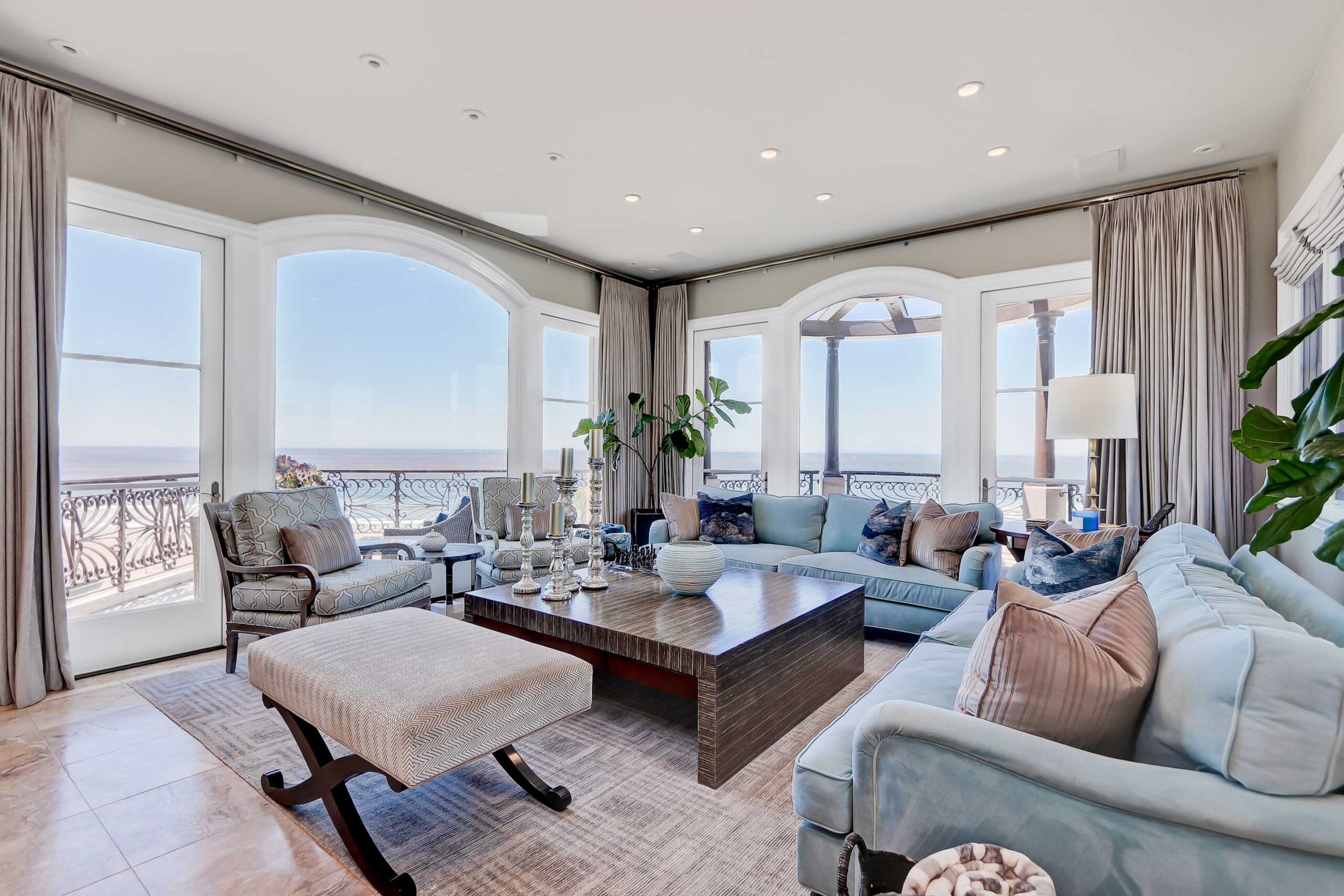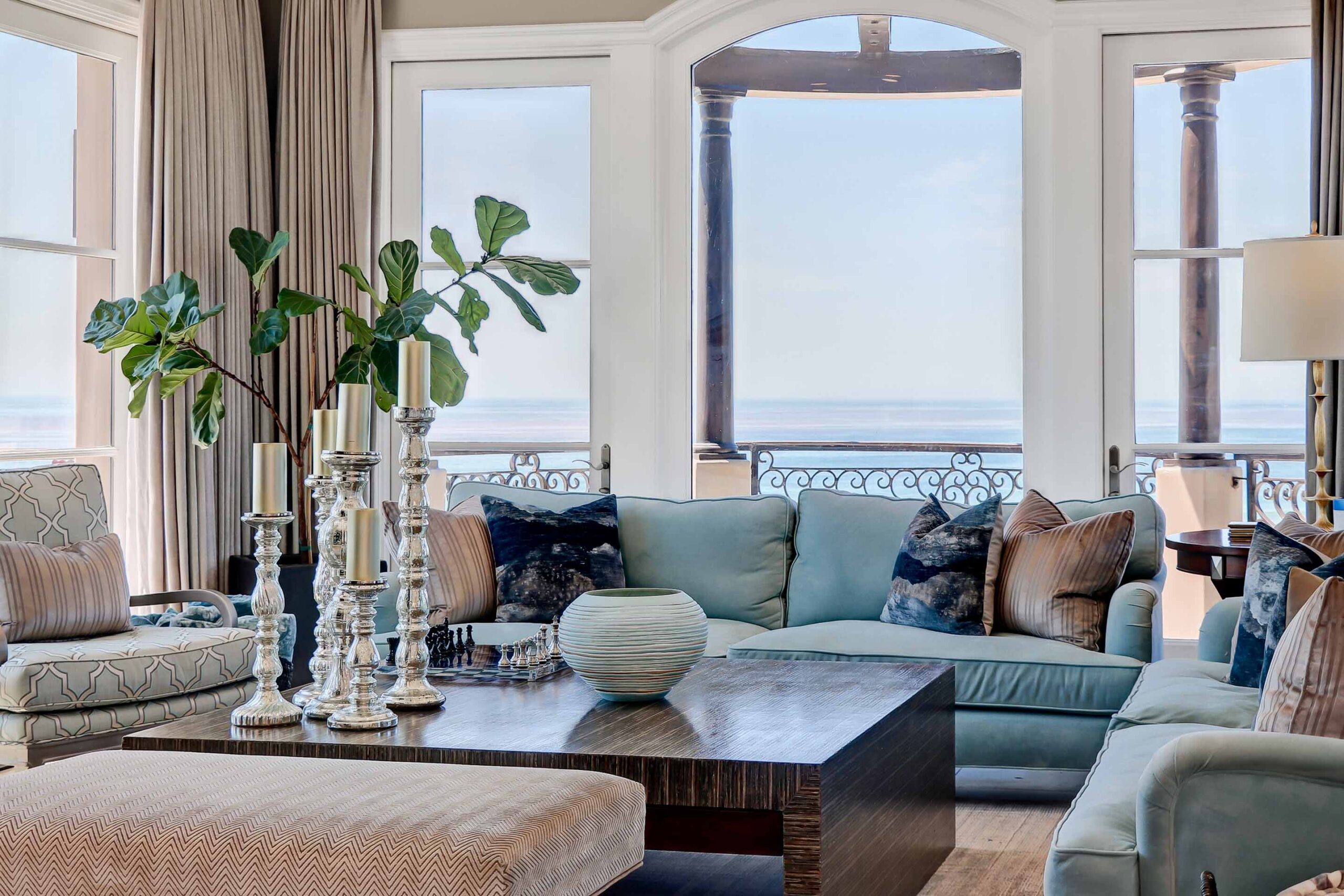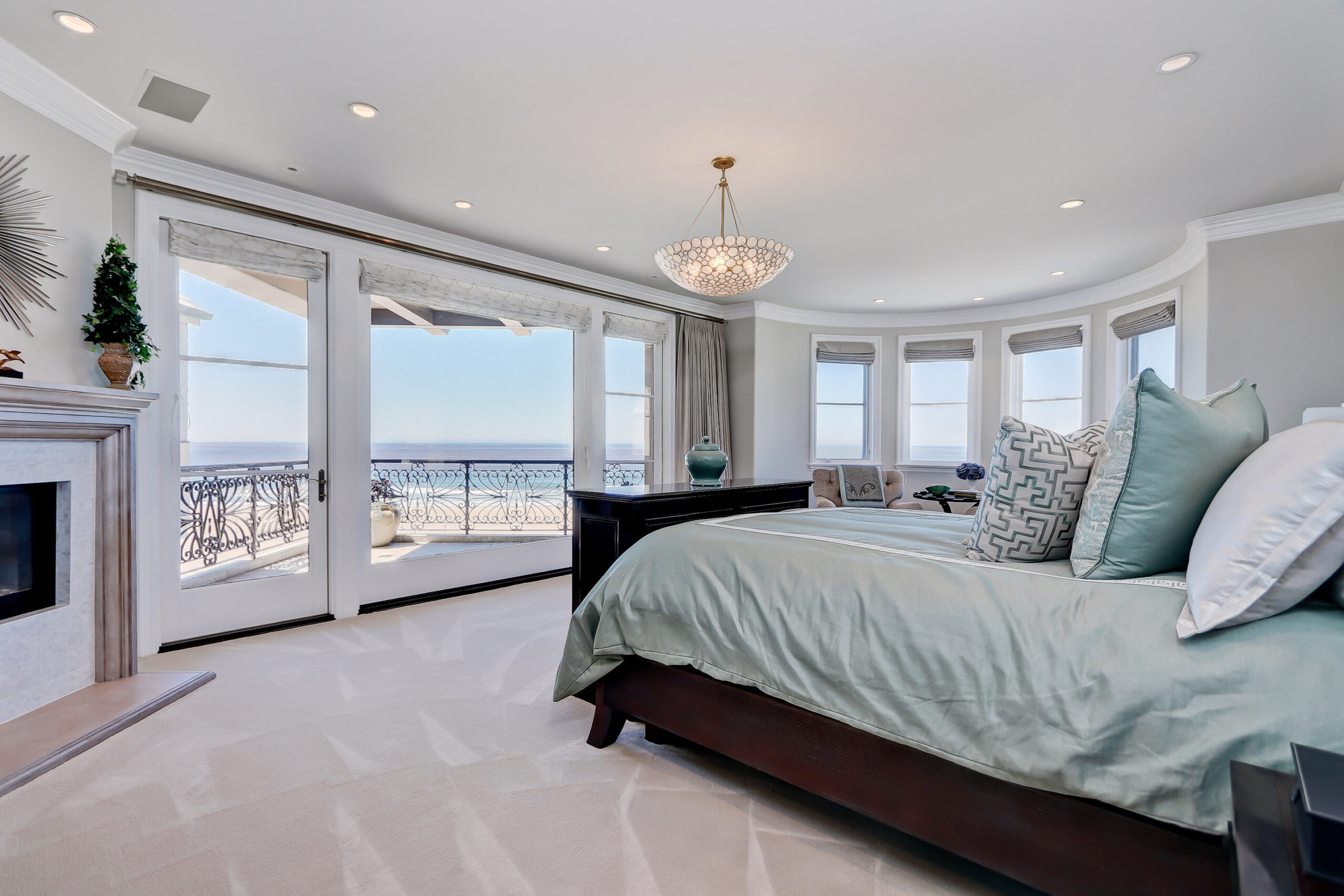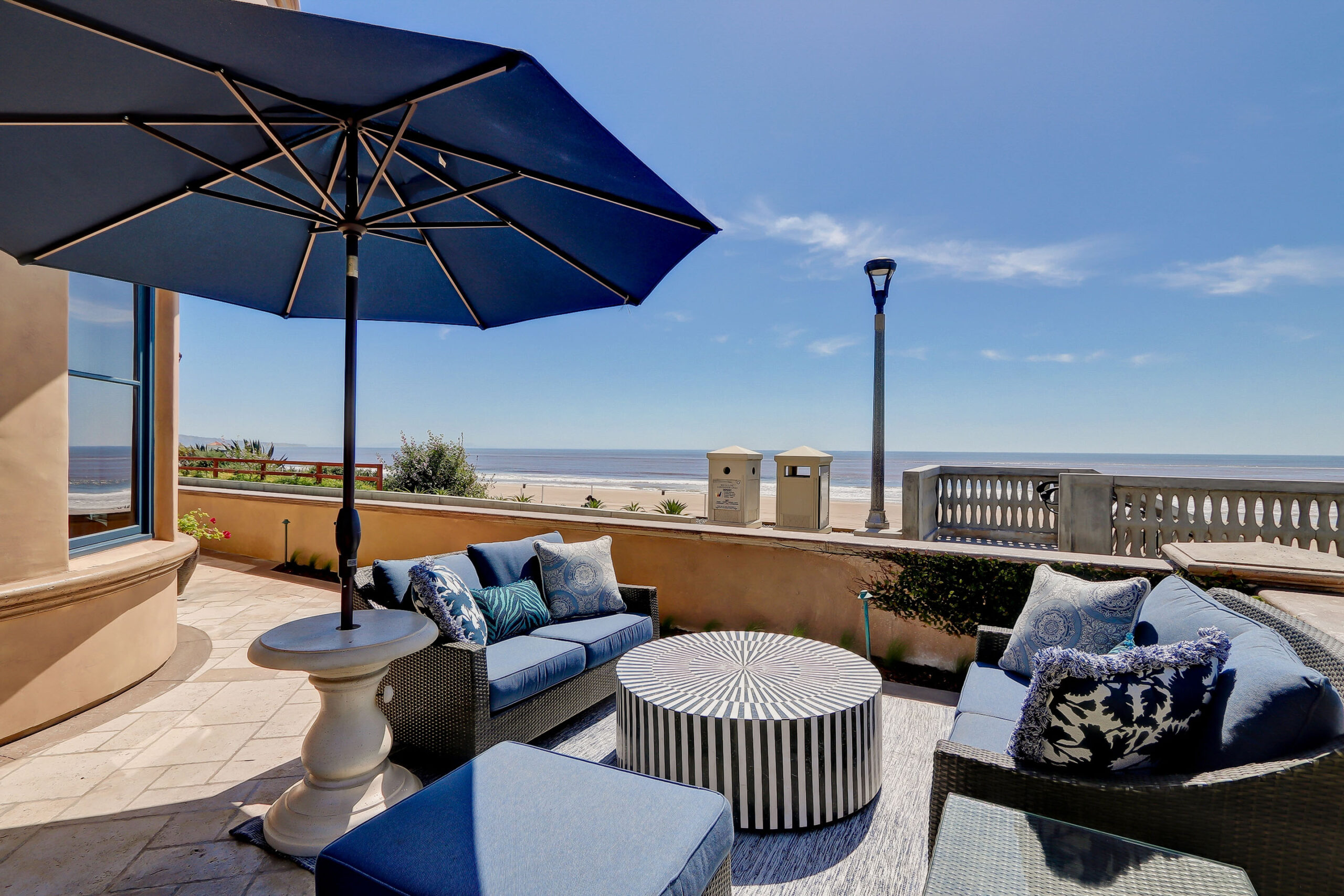 This style of architecture, which is a natural fit for coastal regions like this, is put to good use in this home. Public spaces, many of them converged on the top floor, are open and airy, defined by a near-constant backdrop of blue sky and sea. Arching windows, marble-veined floors and a twinkle of lights, inlaid in the ceiling, contribute to the feeling of a carefree life lived in a seaside villa. So do the property's abundant outdoor spaces, which include balconies and a generous patio along The Strand.
"In most traditional Strand build-outs," says Stroyke, "your main living area is reduced because you are sharing it with a three- or four-car garage, and an entry." By contrast, in this home, the garage is located on the second level, a floor where much of the space is dedicated to the private master wing.
In the master bedroom, soothing space with creamy walls and a flickering fireplace, one is instantly connected to the outdoors via an ample-sized deck that overlooks the beach. A walk-in closet completes the wing, along with a master bathroom where one can soak in the sunken tub over ocean views.
Throughout the home, ceilings and hallways are generous; so are establishing spaces like the sunny entrance foyer that welcomes one home with gleaming stone floors and a central staircase that curves through a tower-like section of the home, ending in an eye-catching golden dome along the ceiling. Bedrooms are all conveniently en-suite and distributed mainly on the first and second floors.
Extra perks in the design include a movie theater with stadium seating for eight, plus a stately office suite. Adorned with built-in wood cabinets and coffered ceilings, this uber-traditional space is punctuated with a delightful feature—a hidden room. "If you look at it, it's just a bookshelf," Stroyke says of a custom panel. Push a button, and it glides open to reveal a bedroom, which is currently home to a bright gym with an adjoining bathroom.
It's an unexpected touch. But then again: "It's an unusual offering," Stroyke says of the house. "It's an elegant landmark of a home that's positioned in one of Manhattan Beach's most desirable, and seldom available, spots." 
Photographs Courtesy of Stroyke Properties Group | Bayside Real Estate Partners
5 Bed • 7 Bath • 5,574 SF
$16.9 Million
Stroyke Properties Group | Bayside Real Estate Partners • Bryn Stroyke
Type: SFR
Price: $16.9 M
Architect: Doug Leach 
Custom Home Builder: Mike Davis 
All Access Pass to LA's Hottest Homes
Get an inside scoop on celebrity homes, exclusive real estate, mansions & more.