A New Rolling Hills Ranch Home Makes For A Contemporary Break From Tradition
Written by Constance Dunn | Photography by Paul Jonason | Presented by Raju Chhabria | List Price $10,900,000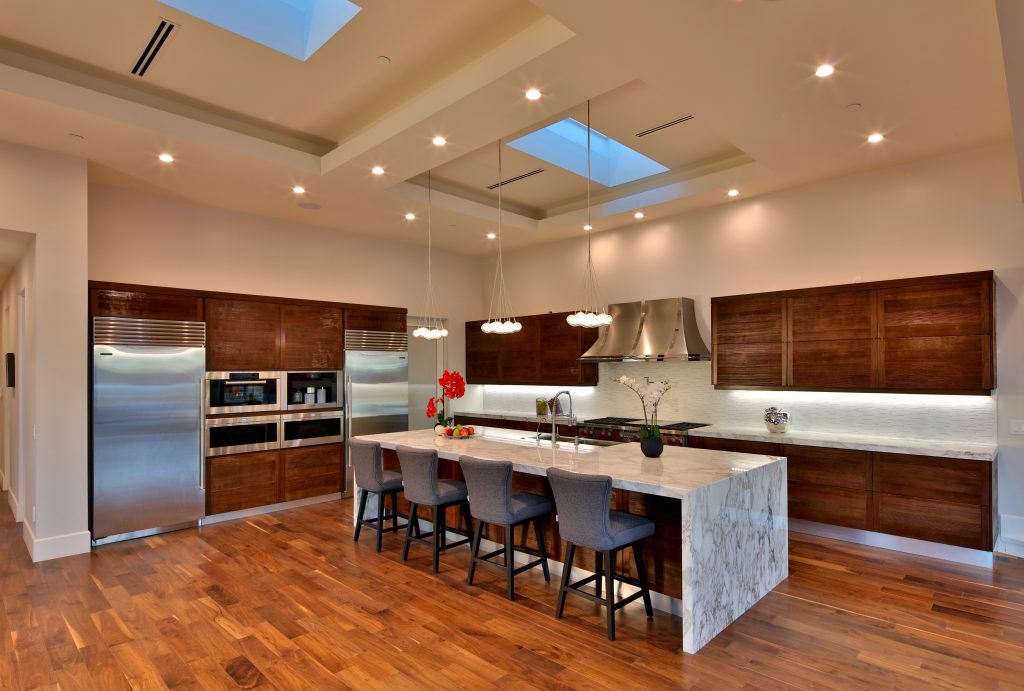 "My goal with a contemporary home is to remember that it is a home. It needs to be inviting, it needs to be warm—but it doesn't mean you can't have dynamic spaces."
For Palos Verdes architect Criss Gunderson, this stylistic balancing act between domestic and striking, is resolved in grand fashion with one of his latest projects, a 9,100-square-foot spread nestled along the peaceful canyons of Rolling Hills. In tandem with the size of the home is the generous lot of over nine acres upon which it sits. It's one of the largest parcels in Rolling Hills, a private community on the Palos Verdes peninsula where homes are spaced at a nice distance and horses amble along leafy equestrian paths.
A MAST AND ITS WINGS
Sumptuous yet streamlined. Powerfully elegant while also being approachable. Easy for going about the business of everyday living. These are dualities that are difficult to achieve in any case, yet even more so when local building codes are rather curbed. "Rolling Hills requires a great deal of any homeowner," says Gunderson. "They have some very strong requirements." (Among them, homes must be no higher than one story, must be of the ranch or hacienda variety, and must have white exteriors.) Despite this, Gunderson, who has been designing in the area for decades, produced a singular and sleek home that, though wholly au courant, possesses the feel of a classic.
The type of luxury that comes with a grand scale can often be cold, loose and rambling. Not here, due to the architect's keen sense of measure. "I very much enjoy the proportions and the balance of the home," says Gunderson, when asked for his favorite aspects of it. "Since it is such a large home, I wanted to make sure that the overall design wasn't really busy with wings or elements that would make it too busy. My approach was to take a simple solution of a main wing with very simply proportioned wings coming off the main mast."
The strategy works beautifully, creating an interior atmosphere that is consistently voluminous—and even in its temperament, due to being outfitted throughout in fine materials, whether it's the wine room, gym or just a powder room. There are glowing inlaid fireplaces on the walls of the family room and the living room. Smooth hulks of smooth Calcatta Gold along the kitchen counters and island. Dark textured wood cabinetry that slides open at a touch. Planks of American walnut, rich and glossy, that flow across the floor.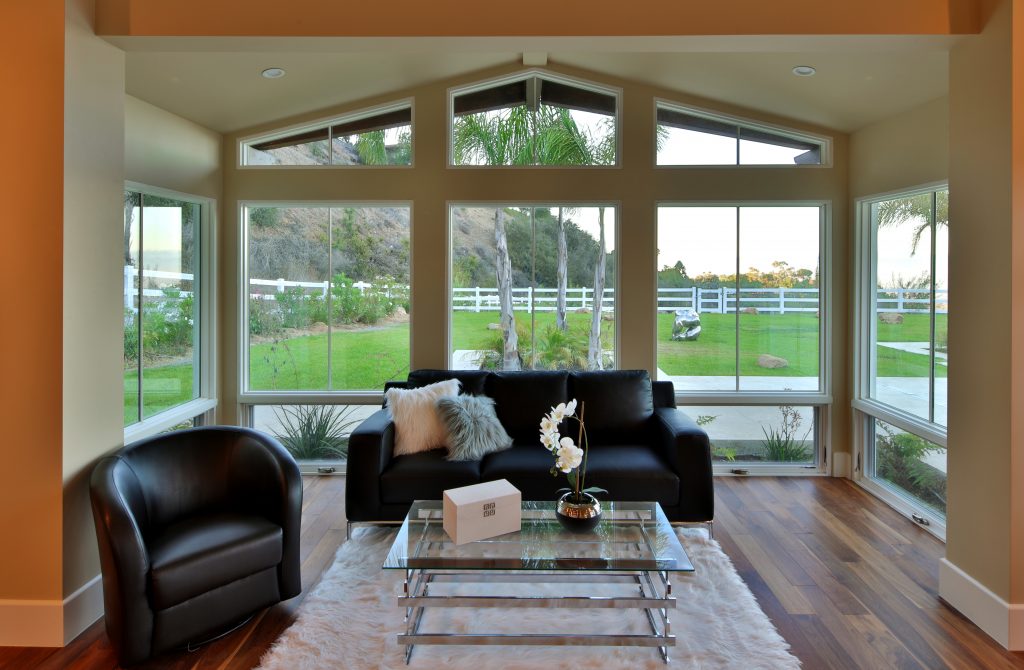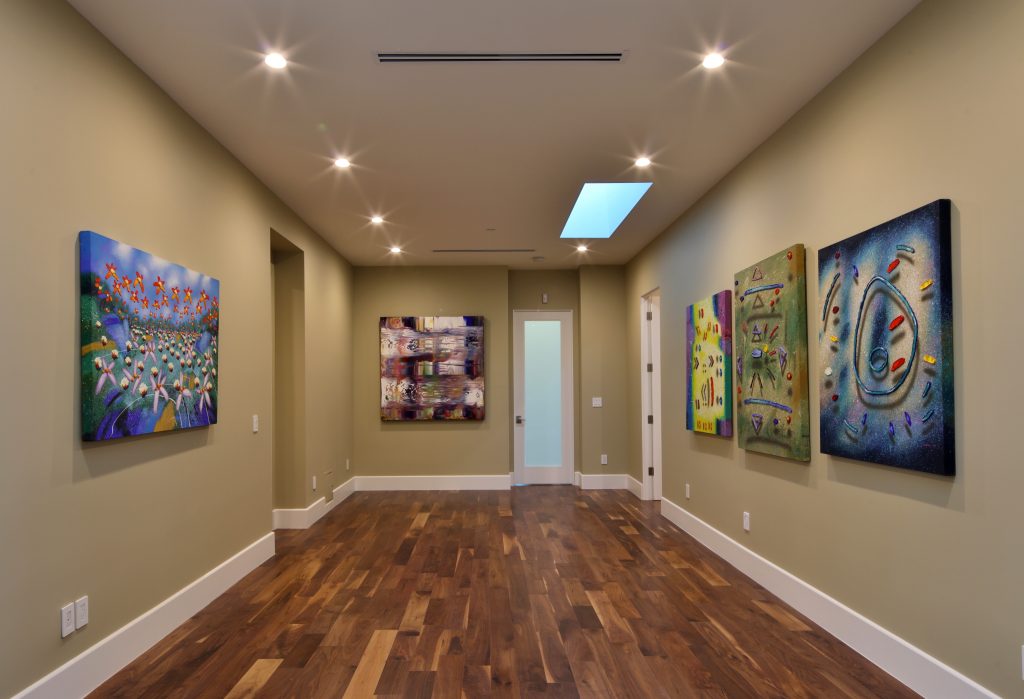 FRIENDLY CONTEMPORARY
In other words, no room is given short shrift, either in materials or size, due to its perceived lack of unimportance in the grand scheme of things. The master suite is, fittingly, a standout, with fairly massive his-and-her bathrooms and walk-in closets, and twin doors that open onto an outdoor sitting area with fireplace. Guest rooms are well-proportioned too, with walk-in closets and bathroom suites each sporting a different palate of tiles and finishes. The wine storage is a spacious room decked with stonework and custom wood cabinetry to hold your stock, and even the garage is air-conditioned and big enough for half a dozen cars.
Cues to the home's identity are tipped before entering, starting at the generous rectangular driveway inlaid with stone and desert landscaping. There's a long-running gable roof with overhanging eaves and exposed beams. The creamy hued exterior plays against pale-stone columns that frame an imposing covered entranceway. The foyer, which was painstakingly designed, serves as a gorgeous Hello. There are glossy marble floors and 25-foot ceilings, along with modern block columns and a mood-making glow of sun and light via inlaid ceiling lamps and a generous skylight. Even from here, the views jut past the master living room and through to the canyon and twinkling city lights.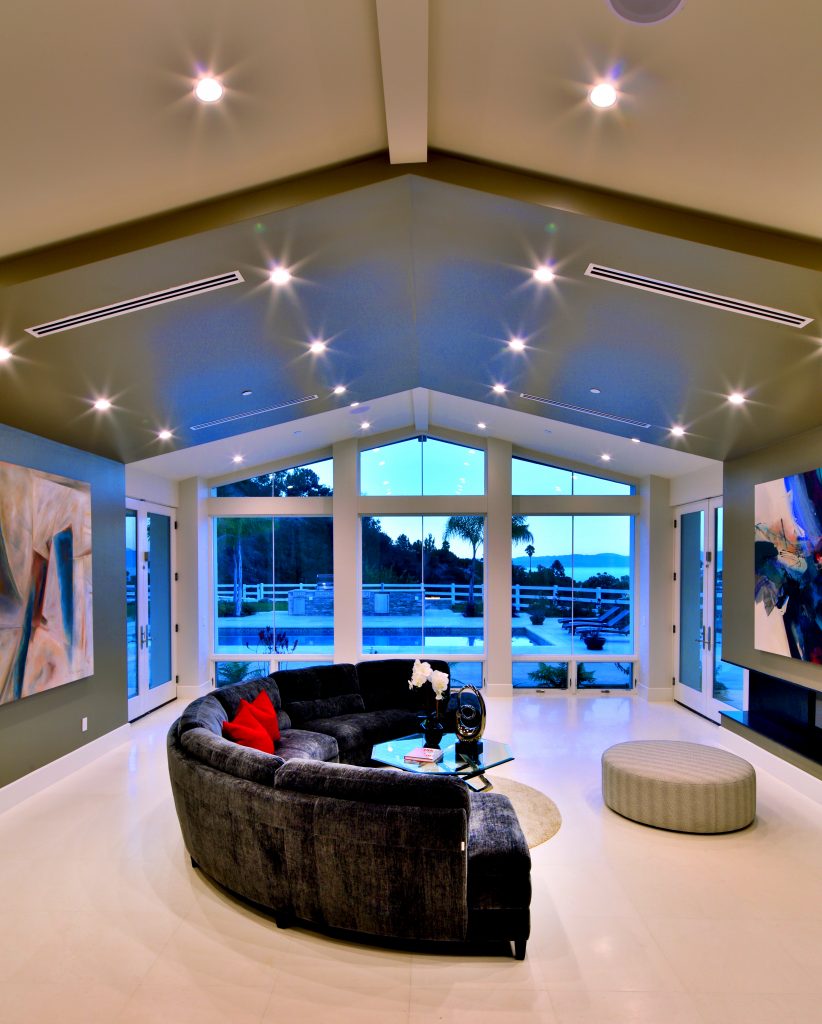 A LIVING GALLERY
To establish an atmosphere of warmth, the home's sophisticated finishes and features are broken up by light and nature, which seep through at every turn, due to Gunderson's careful positioning of windows, rooms and angles. In the wing, where the kitchen and family room are found, a wall slips away to join the indoors with the outdoors—in this case, a spacious pool and play deck with an al fresco cooking station. The area is freshly landscaped with palm trees and a tidy yard of green grass, and there's an ample sauna and a full bathroom.
This juxtaposition—between luxury and fresh air—is the hallmark of this home, with the former amplified by a number of streamlined spaces and transitional rooms that can transform the home into a living art gallery. "This home is ideal for an art lover to showcase his or her collection," notes realtor Raju Chhabria. Grand hallways, lined with canvases, connect the wings of the home. Sculptures stand in side nooks, and an elegant viewing room links the master bedroom wing to yet another spacious wing, where four of the home's six bedroom suites reside.
The home has been designed so skillfully, that it could function as a collector's grand gallery just as easily as it could shape shift to a versatile stage for a social hostess—the formal, separate dining room is just one of the spaces that's ideal for sizable gatherings—or, a family home with a dedicated children's wing. And it's been carefully sited on the hillside to exploit its high vantage for maximum views of the California landscape, too. Whether luxuriating poolside or indoors, one is always surrounded by a calm panorama of green trees on the surrounding hillside, rambling earth of the canyon below and just far enough away, the spread of the city. All in all, a poignant setting for this home, a work of art in itself, brought to life by a thoughtful and harmonious mesh of function, character and structure.