A renovated hillside home boasts four levels of luxuries for top-notch living
Photos courtesy of Will Edwards Photography
Presented by Michael Rodgers, Keller Williams Realty Brentwood
List Price $6,175,000
www.222amalfidrive.com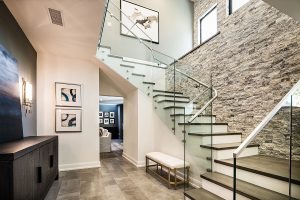 The bucolic pocket is known as Rustic Canyon, tucked just between the Pacific Palisades and Santa Monica, offers a neighborhood that is unique to Los Angeles. Thickly shaded with trees, its gentle winding roads are a sharp contrast to the broad, heavily traveled streets that comprise the heart of the city.
Yet, despite this area's rustic feel—more Northern than Southern California—it's astonishingly central. It's within easy walking distance of world-class restaurants, shops and the pounding beauty of the ocean. A short drive brings you to Brentwood, Beverly Hills and Malibu, while the Pacific Coast Highway, which connects to the city's many freeways, is just moments away. The famous Santa Monica steps are here and bikers abound, swooping through the streets, waving to neighbors out walking their dogs.
Likewise, 222 Amalfi Drive combines the best of two worlds: a near 5,400-square-foot hidden hideout with state-of-the-art amenities, it rolls country tranquility into city bustle, the result of which is perfect balance. Originally constructed in 1929, and recently renovated with exquisite attention to detail, this modern four-bedroom, six-bath home, built into the hillside, coaxes maximum drama from its site.
Three entrances allow for the ultimate in privacy, autonomy and flexibility. For a party, direct guests to the Sumac Lane door, where a flight of highly polished wooden steps lead down to the home's main living room. Greeted by a fire crackling in the home's original wood-burning fireplace, the open and airy room, with its large windows and skylights, sets the scene for a memorable gathering. After cocktails, everyone moves easily into the great room, where a long table is designed for a feast. With the TV in the adjacent sitting area, no one needs to miss a moment of the game.
A buffet arrayed on the kitchen's capacious, Carrara marble-topped island is a picture straight out of the pages of a magazine. Vibrant white Roble Frape high-gloss cabinetry invites the 180-degree view—of the ocean, treetops, and mountains—to take center stage. Gleaming stainless steel appliances that include a Bertazzoni Professional Series Range Top perform as magnificently as they look.
Just downstairs, a 700-bottle temperature-controlled wine cellar stores carefully collected vintages. Later, when most guests depart, a few chosen friends linger, retiring to the screening room downstairs. Whether it's the latest hit or a favorite old flick, here is the perfect place to end the party.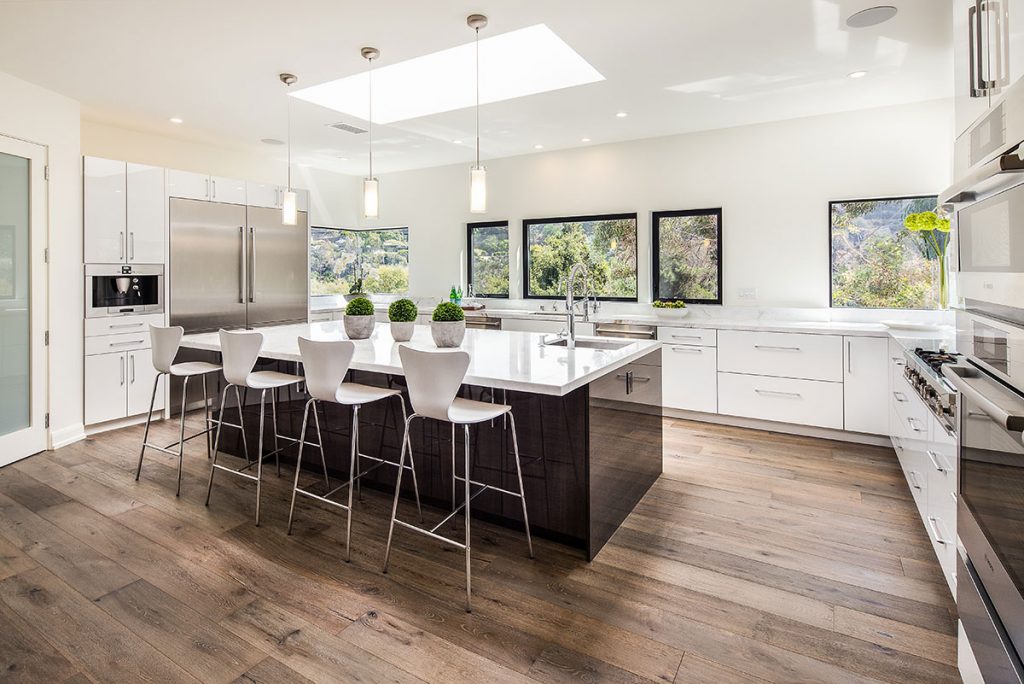 Before it all began, SmartHome technology (with CAT 6 Networking that can be controlled by a smartphone) ensured the evening's success by allowing you to command its every aspect, from music to lighting to temperature. And though you hired help for the evening, the second entry, from Amalfi Drive, allowed all assistants to perform their duties and coordinate deliveries without disturbing the festivities on the main floor above.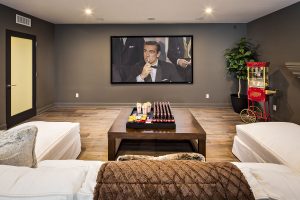 Of course, entertaining is only one of the pleasures of having a house that lives as beautifully as this one. Rest and relaxation are others, with the home functioning equally well in private times. You'd be forgiven for spending entire weekends within the confines of the master bedroom, only venturing downstairs for coffee, pulled from the built-in espresso machine.
Here's a suite that's a true getaway. A cavernous closet, a beautifully appointed bathroom with Walker Zanger tiles and a separate seating area imbue this space with luxuries befitting the best rooms at a four-star retreat. But it's the large adjacent deck that truly stuns, adding an element of escape to a home that already feels like a dream vacation. With plenty of room for lounging, dining and entertaining, it's no wonder it's become a second living room. Nothing beats an evening here, watching as the sun slips into the ocean. And as you so often leave the patio doors open at night, the white noise of the wind rustling through the leaves lulls you into a gentle sleep.
The home's other bedrooms do not skimp on luxury either. One mimics the master's indoor-outdoor enjoyments, with a private deck of its own. Another offers a private suite with its own separate entrance and adjacent sitting room, proposing the possibility of a well-appointed home office or compact living quarters for a nanny or long-term visitor.
A welcoming respite from the hustle and bustle of city life, this elegant retreat provides the perfect place to relax and unwind with friends and family, whether it be hosting a grand fête or enjoying an intimate dinner, in a truly unparalleled location.