A large country estate in Malibu is a magical, tranquil world unto itself
Written by Abigail Stone | Photography Courtesy of Paul Jonason
Presented by Ellen Francisco – Coldwell Banker, Malibu West and Barbara Tenenbaum, Hilton & Hyland
List Price: $14,450,000
Around the turn of the last century, cowboys roamed and herded cattle along the coastline of Southern California's Rindge Ranch. Now considered one of Malibu's most prestigious streets, Bonsall Canyon Road was a grazing place favored for both the shade its leafy oak and giant sycamore trees provided and fresh water from a stream.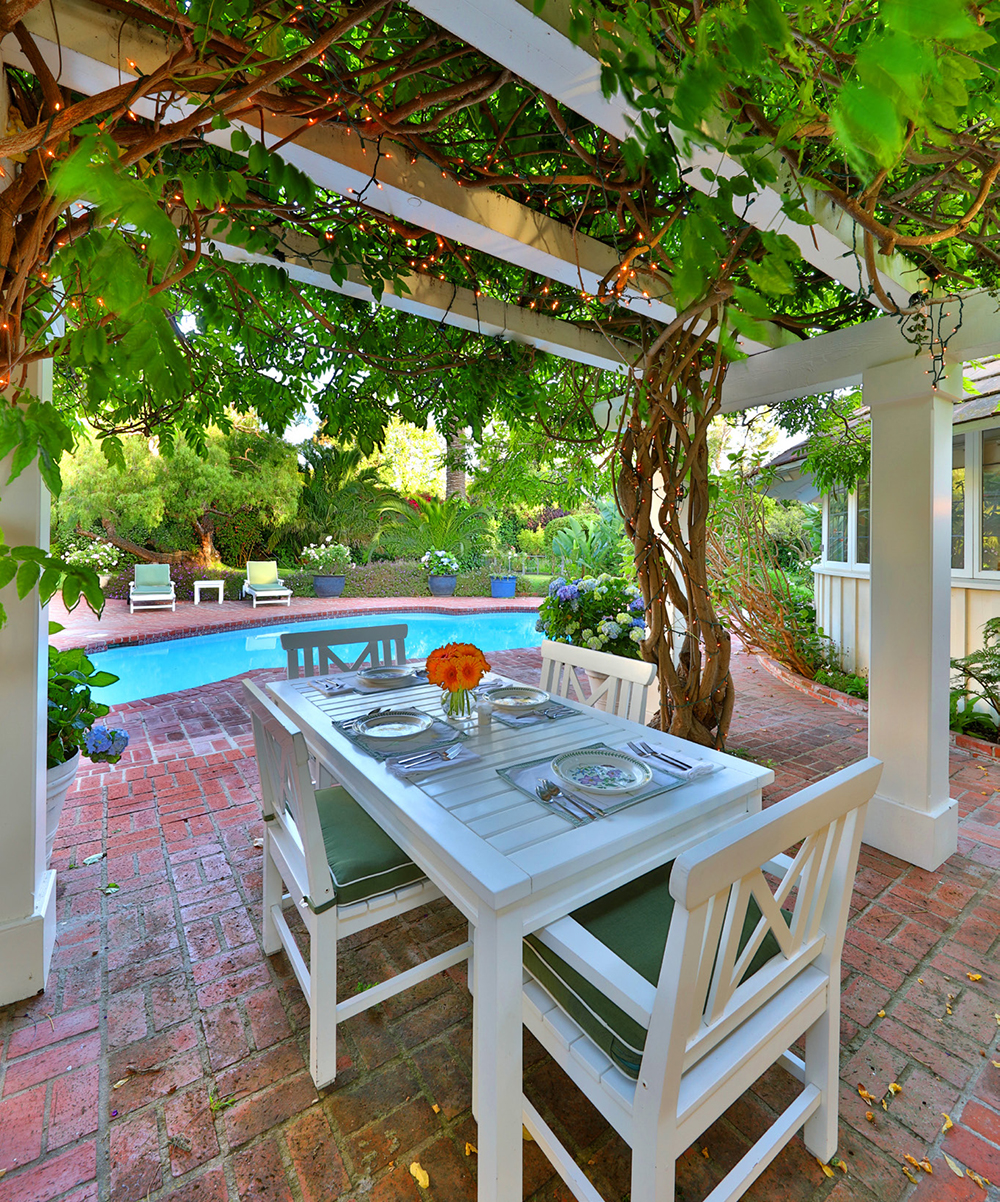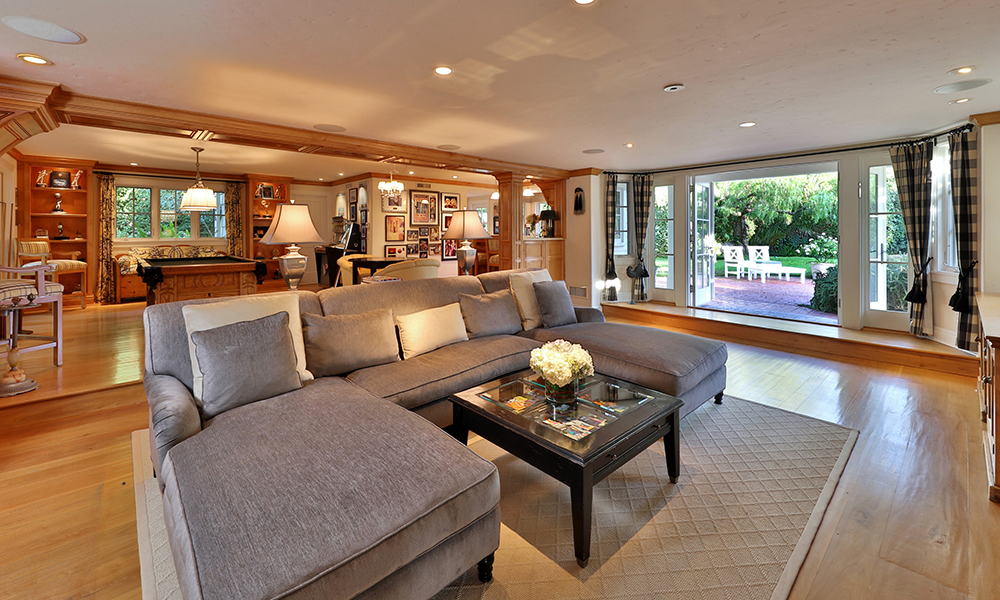 Driving through the gates of 6133 Bonsall Drive, it's easy to imagine that unsullied time. A long private brick lane winds past towering pines and redwoods. The only sounds are the birds singing overhead and the rustle of the leaves. Los Angeles, less than an hour away, seems a distant memory. Here is a magical world, plush with nature's beauty and magnificence. It's hard to believe this is Malibu. The lush grounds, flush with flowers, seem drawn from the verdant beauty of the East Coast. Sturdy branches of a centuries-old sycamore tree shade a capacious rolling lawn that extends from the main home to the far end of Zuma Canyon creek. Traversing the private bridge leads to a custom barn with room to comfortably stable eight horses plus a large riding ring. Equestrians will relish both the winding trails that crisscross the tail end of the property and the easy access to the stunning canyon trails of nearby national parklands.
Located within a short distance of the beach, the home is practically self-sufficient. A chicken coop promises fresh eggs every morning. A vegetable, herb and flower-cutting garden offers fresh produce. And, of course, there are fruit trees in abundance. Composed of three parcels totaling more than four acres, this property, proudly monikered Silver Raven Farms, truly encompasses the grandeur and bounty of a storied country estate.
Perfectly positioned amid this lush landscape is the house. Sprawling over 6,000 square feet and rebuilt by the current owners, it pulls classic farmhouse details through a luxurious modern lens. The deft balancing act of casual and elegant is pure Malibu. Although rambling and spread out, the home feels intimate and comfortable, warm, and livable. A flowing floor plan subtly separates the house into distinct sections.
The inviting front entry area leads to the entertaining rooms. The living room, flooded with light through parallel walls of French doors and a skylight cut into the vaulted, hand-carved, wood-beamed ceiling beckons.
The statement fireplace wall, built with gray and cream stone brought in from Pennsylvania's Schuylkill Valley, promises long evenings with friends and family. Nearby, the generous dining room, with hand-crafted walnut floors, a stacked stone fireplace, and a cozy window seat is the ideal setting for Thanksgiving dinner. A stone countertop that runs down one side of the room calls for a buffet plush with mouth-watering holiday treats.
Completing the formal entertaining spaces is the kitchen, its generous octagonal shape created with a professional chef's needs in mind. If everyone always ends up in the kitchen, here's a space designed to make guests comfortable. Each window in this room, as in the rest of the house, was created to frame the landscape with Instagram-worthy perfection. Along with professional-grade appliances, custom cabinetry and two large pantry closets is plenty of prep
space, including a center island that echoes the room's unique shape. For guests who will inevitably want to relax here while a meal is being prepared, bar stools anticipate their arrival.
An upholstered bay window seat encourages them to stay. With the front of the house catering to formal entertaining, the back area was created for game-day fun. There's plenty of room in this wood-paneled media and game room for a generous, comfortable sectional to watch the large screen TV. Spacious enough to accommodate a pool table, game table and a juke box, this is the hang-out spot, with a second snack kitchen doubling as a wet bar, ideal for tending bar, whether the drink of choice is a Manhattan or a Margarita. There's a wine cellar downstairs and, just outside, a barbecue.
Still another setting for socializing is the landscaped pool area. Positioned outside the dining room, living room and game room, it's perfectly situated to take advantage of the scene. Serve dinner under the loggia, tangled with wisteria, while the kids let off steam playing tag on the lawn. The vegetable, herb and flower garden, situated only steps from the barbecue, puts nature's bounty within easy reach of the table.
The home's secondary bedrooms seem conjured up from a fairytale: two double-height en-suite rooms give children or guests a choice of sleeping and visiting areas with ground floor and loft spaces; and a large guest suite frames the home's beautiful scenery through its leaded glass windows.
With the home's upstairs guaranteeing privacy, the generous master bedroom suite boasts a fireplace, a balcony sitting area overlooking the pool, and a separate sitting room. But it's the dressing room that stuns, with room for seasons' worth of clothes behind wood-paneled doors. Merged into the bathroom—where a tub set within a bay window practically demands long bubble baths—it promises to make the simple act of dressing into a mindful moment. A minibar ensures that snacks and beverages are close at hand, making a five-star hotel hard-pressed to compete with this space.
Also on the property are three cozy and welcoming stand-alone houses, each with its own kitchen, bath and patio, offering a myriad of possibilities, functioning from private writing retreat to yoga pavilion to art studio to recording studio. And, of course, they'd be ideal for housing weekend guests or those staying long-term.
Certainly, anyone under the spell of this wild and enchanted place will find it hard to leave. As the sun sets, casting its glow over the lawn, there is no thought of the city. Just pure beauty. Pure escape. Pure magnificence.