Tours of DTLA and prominent speakers highlight the Urban Land Institute's Fall Meeting in L.A.
Written by Wendy Bowman
Building resilient communities is high on the agenda at the Urban Land Institute's (ULI) 2017 Fall Meeting, set for Oct. 23-26 at the Los Angeles Convention Center. The gathering—which unites internationally renowned land-use and urban-development experts for four days of networking and education—will focus on various issues such as housing affordability, gentrification and social equity, technology advancements and demographic shifts, as well as DTLA's resurgence as a highly sought-after place to live and work.
"ULI'S FALL MEETING IS A MUST-ATTEND EVENT FOR PEOPLE AT ALL STAGES OF THEIR REAL ESTATE CAREERS, AS WELL AS THOSE WHO ARE NOT DIRECTLY INVOLVED IN REAL ESTATE BUT WHOSE WORK AFFECTS OR IS AFFECTED BY REAL ESTATE."
The event, expected to draw more than 6,500 industry leaders from around the globe, will feature a different focus each day. Among the highlights: tours of some of the metro area's most innovative developments (Monday, Oct. 23); lessons learned from experts in the real estate industry and beyond (Tuesday, Oct. 24); and industry trends, including what's next for the residential, hospitality, office, industrial and retail sectors, as well as the impact of driverless transportation technology on all property types (Wednesday, Oct. 25). On Thursday, Oct. 26, real estate "deal day" will feature the chance to explore and initiate development projects and to share best practices in the art of making deals.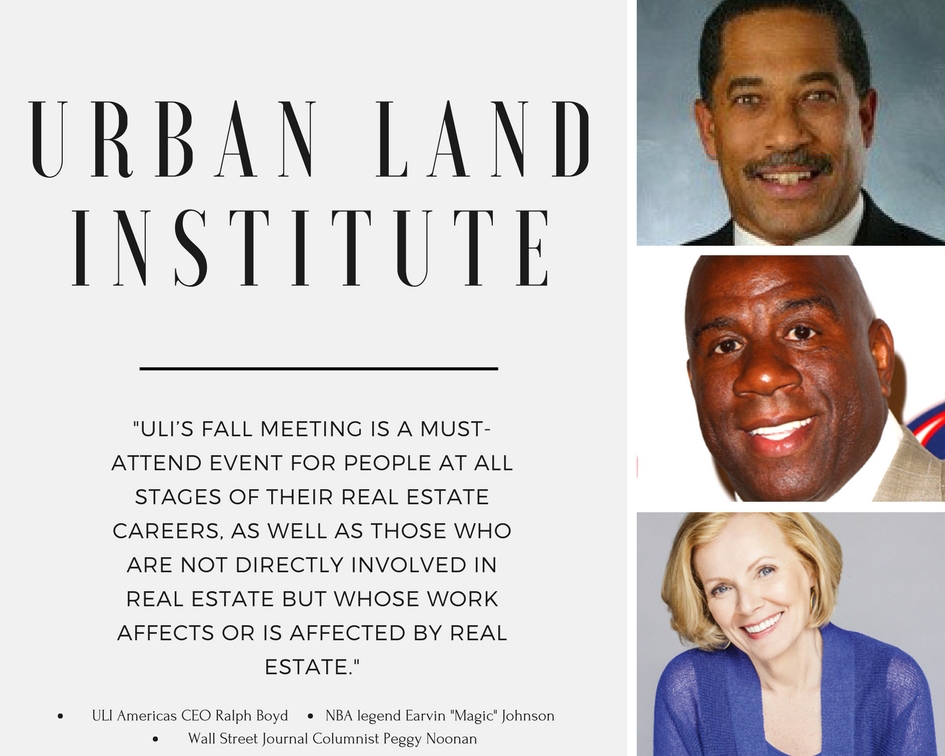 Also of note is the impressive lineup of speakers, including NBA basketball legend Earvin "Magic" Johnson, chairman and CEO of the investment conglomerate Magic Johnson Enterprises; Wall Street Journal columnist Peggy Noonan; and globally renowned architect Frank Gehry, designer of L.A.'s Walt Disney Concert Hall.
Findings from ULI and PwC's Emerging Trends in Real Estate 2018 survey also will be discussed during a general session spotlighting the most favorable markets for investment and development in the coming year. (Last year, L.A. ranked fifth out of more than 75 markets.) "ULI's Fall Meeting is a must-attend event for people at all stages of their real estate careers, as well as those who are not directly involved in real estate but whose work affects or is affected by real estate," says Boyd. "There is no better place for sharing knowledge, ideas and lessons learned about creating communities that are resilient, prosperous and livable."