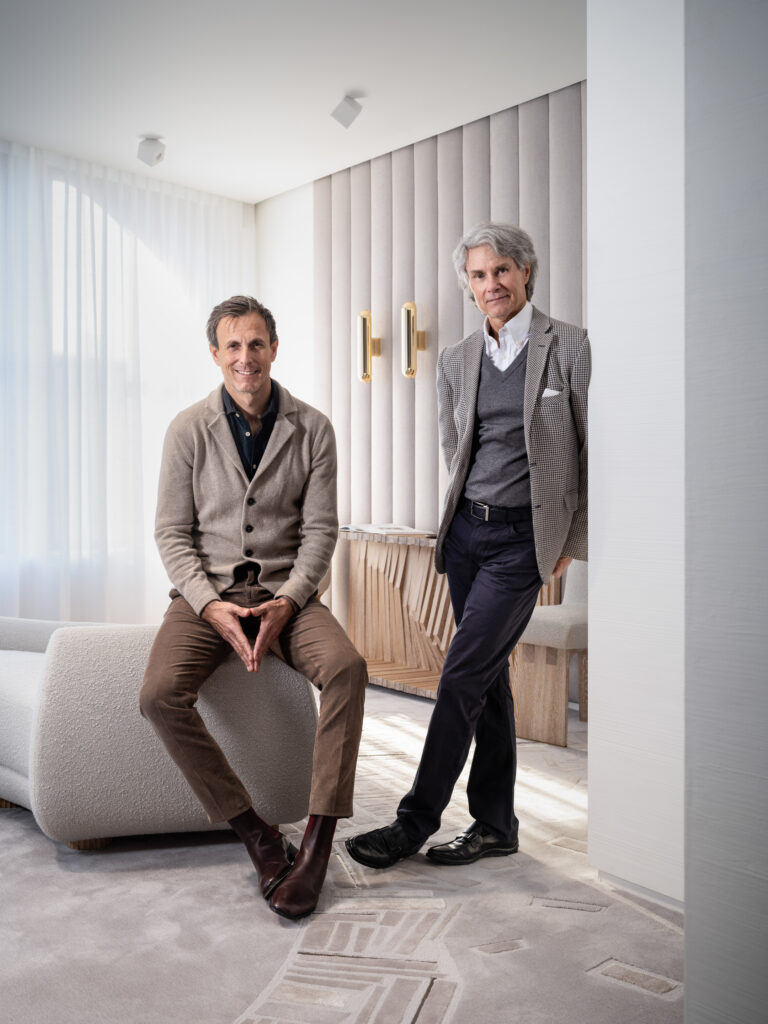 The New Showroom of Par Excellence is the Result of a Unique Collaboration Between American Designer Thomas Pheasant and Some of the Best Craftsmen in the World
In the heart of Manhattan, 344 Bowery is home to a new, one-of-a-kind place two years in the making. With its arched windows and columns, the facade of the building draws inspiration from classical European architecture. The real magic, however, happens on the inside.
With views of the Bowery Hotel and the Chrysler Building, the inspiring space comprises a bright 1,076-square-foot living room and an elegant open dining room adorned with bespoke pieces of furniture, lighting and architectural decor in a scenography created by Thomas Pheasant.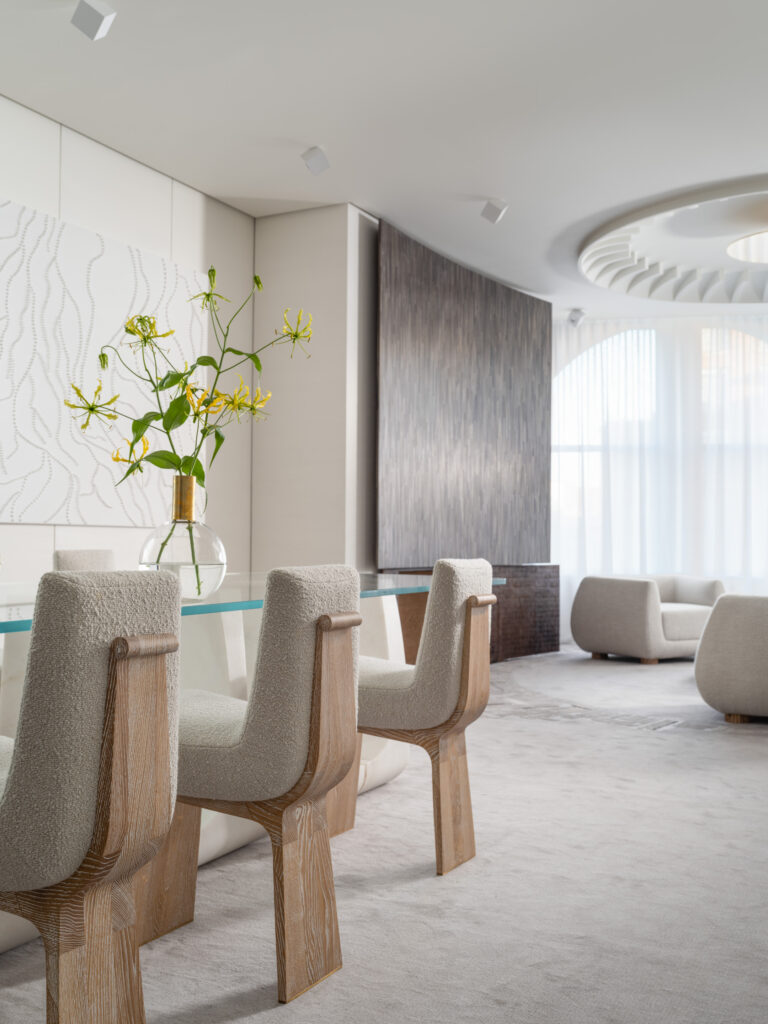 Two sample libraries—of about 600 square feet in total—display a selection of bronze textures, woodwork, metalwork, plasterwork, decorative painting, straw marquetry patterns, hand-tufted and hand-woven rug models, lightings, luxury electrical hardware and technology.
"We were looking for an American designer who knew French culture and heritage—somebody who could help us make all of our artisans work together," says Guillaume Bouchez, CEO of Par Excellence, a company that promotes the expertise of French craftsmanship in the United States.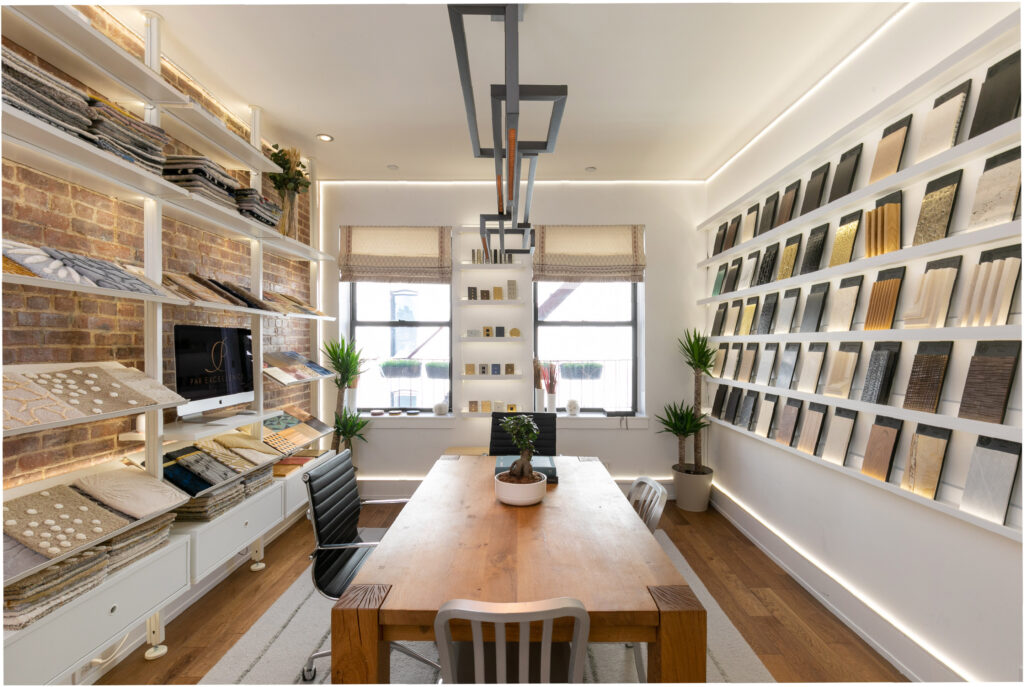 Thomas Pheasant was a natural choice.
"He is passionate about France and even owns a pied-à-terre in Paris. Thomas was already working with one of our artisans, Romain Jouffre—the CEO of Jouffre and the son of Charles Jouffre, founder of Par Excellence—who made the introduction."
The renowned designer was immediately convinced.
"I love the idea of what Par Excellence is all about," says Thomas Pheasant. "In working on this showroom, I wanted to channel the creative forces of this group of stellar French artisans through my own personal lens. It is my hope that American designers and architects will see how their projects can be elevated through this special creative process."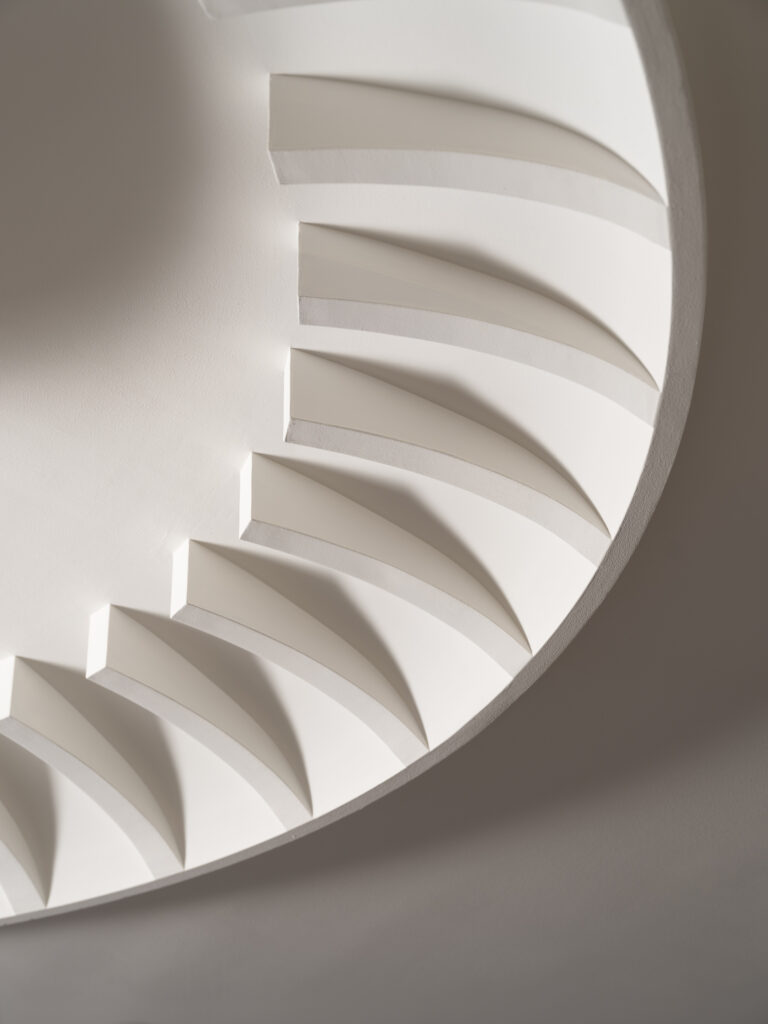 Ten artisans of Par Excellence—among the 11 total, with Declercq Passementiers—worked on the project: Ateliers Saint-Jacques for the joinery wall structures, a wooden console, a marble coffee table, a bronze chimney and a marble dining table; Manufacture de Tapis de Bourgogne in collaboration with Ateliers Saint-Jacques for the hand tufted wall-to-wall rug called 'Lingot'; Auberlet et Laurent and Ozone for the cupola; Atelier de Ricou for the walls covered by textured graphic stripes; Jouffre for the wall upholstery panels; Souchet and Jouffre for the circular sofa, two assorted armchairs and the 10 chairs displayed around the dining table; Ateliers Lison de Caunes for the two charcoal gray straw marquetry panels; Meljac for the switches and power outlets in a bespoke gun barrel finish mixed with golden details; and HENRI for the electrical controls, from lights and curtains to temperature, audio and video systems.
"I wanted the place to feel more like a residential space and create a flow, a sense of motion within the restrictive rectangular form of the room," says Thomas Pheasant. "The dome brings the circular designs into focus while giving the place a unique signature."
Throughout the year, exclusive events—such as expert talks with artisans and private dinners—will be organized on a regular basis.
"As ambassadors of French savoir-faire based in New York, we are eager to source excellent and rare craftsmanship and bring it to light," says Guillaume Bouchez.
Par Excellence | parexcellenceny.com
Photograhy by Joe Kramm