This stunning modern Mediterranean in exclusive Ridgeview Country Estates is designed for the grandest in living and entertaining
Written by Abigail Stone | Photography Courtesy of Paul Jonason
It's true that Los Angeles County offers many beautiful homes. Whether you're looking for a beachside condo or a woodland cabin, its vast terrain contains something for everyone. For discerning buyers, however, the list shrinks considerably; true luxury demands that elusive combination of location and amenities that dovetail to facilitate one's lifestyle. The ideal home must be within easy driving distance of work and the best that the city has to offer, from multi-star restaurants to world-class museums, beautiful beaches to wild hills. For frequent travelers, a swift commute to the airport is a necessity. It should offer an elegant setting for opulent entertaining on a grand scale and amenities such as a butler's pantry, a pool and spa, housekeeper's quarters, and parking for at least three cars too. It must be private and secluded. If security is a prime concern, a gated community is best. Suddenly, the inventory of available properties dwindles to a trickle. Throw in the desire for a stunning view of the water and only a handful of homes remain. Of these, 16300 Shadow Mountain stands out as exemplary.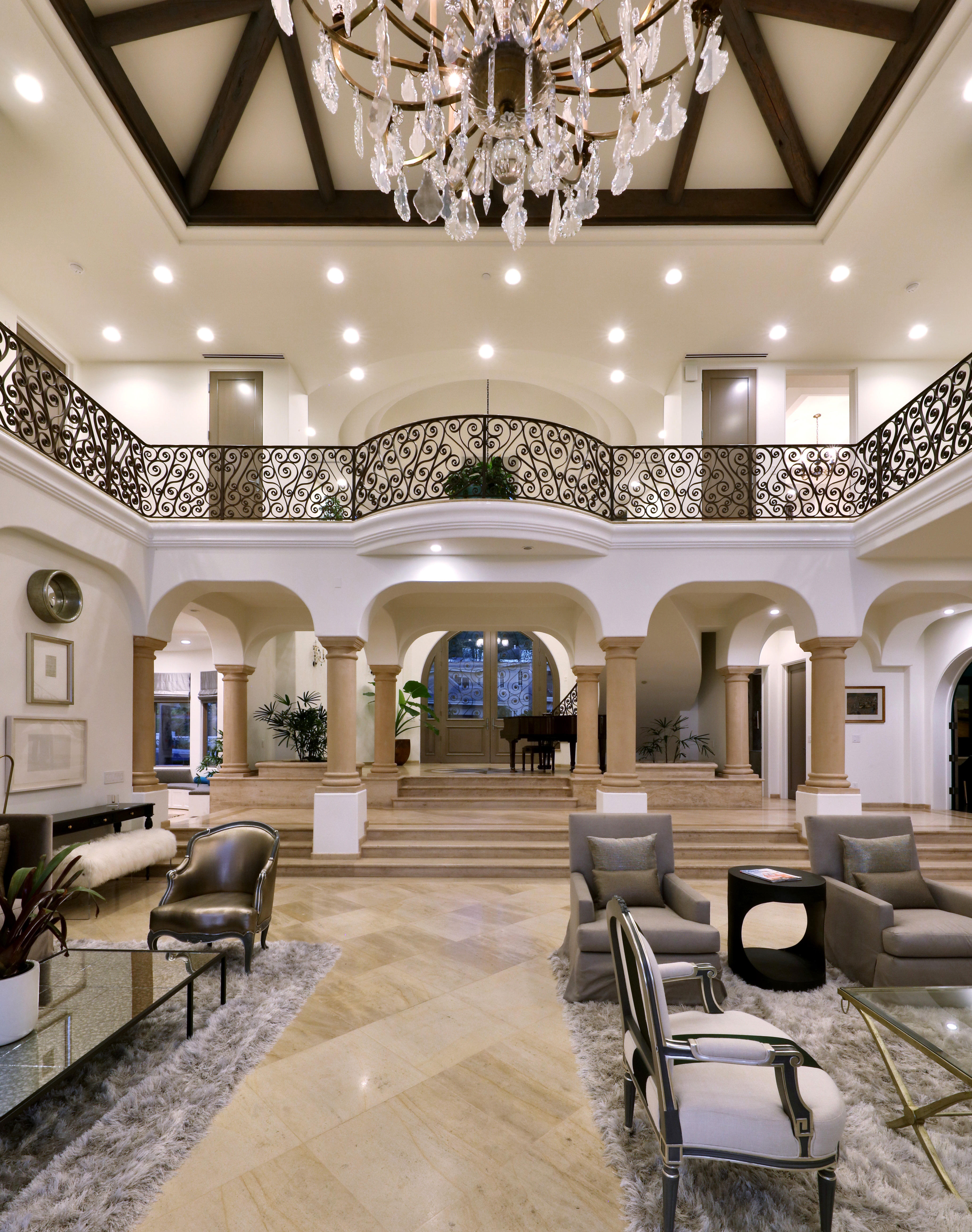 Located in the desirable Ridgeview Country Estates, just west and north of Pacific Palisades, the home is situated close to the top of a beautifully landscaped winding road whose every turn seems to ease the stress of daily living. The exclusive gated community, one of a small fraction in the area, includes only 46 homes, each custom built, with two guard gate entrances, one at Bienveda Avenue and the other at Shadow Mountain Drive, ensuring access from both the east and west side of Los Angeles.
Architect Dan Lang, whose motto is "elevating experience in daily life," put that credo to work when he created this house, one of few in this exclusive neighborhood whose design offers panoramic ocean views, front and center. It's there, framed across the vast living room, from the moment you step inside the more than 7,000-square-foot property. You find it while relaxing in the master bathroom's soaking tub; and again in one of the bedrooms. It's visible from across the elegant terrace and from the stepped garden, whose vineyard slopes down the hillside, culminating in a large grassy plain that offers a space for sunbathing or perhaps a bocce ball or tennis court. And, of course, it's the mesmerizing focal point of the family room and the grand living room.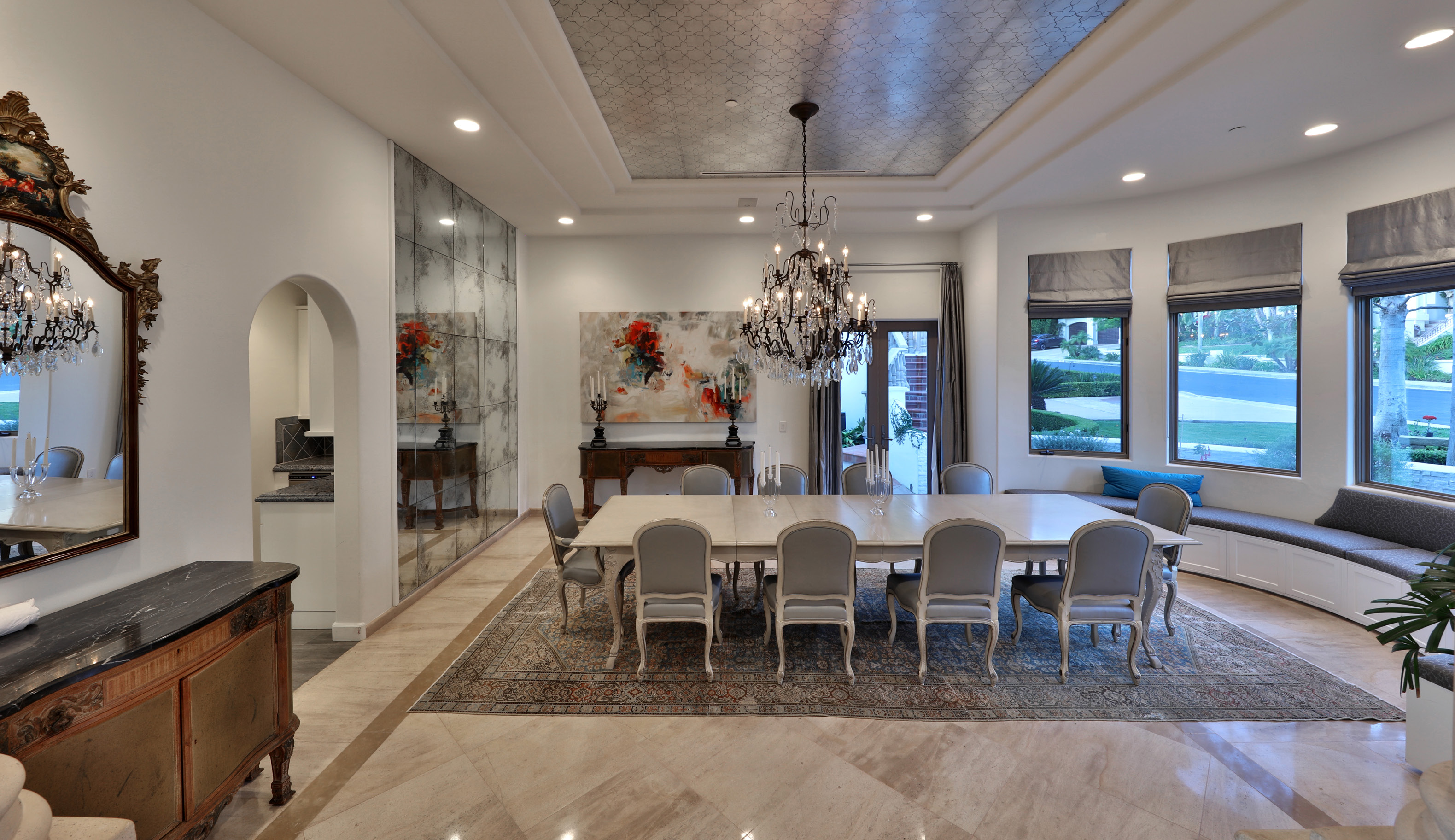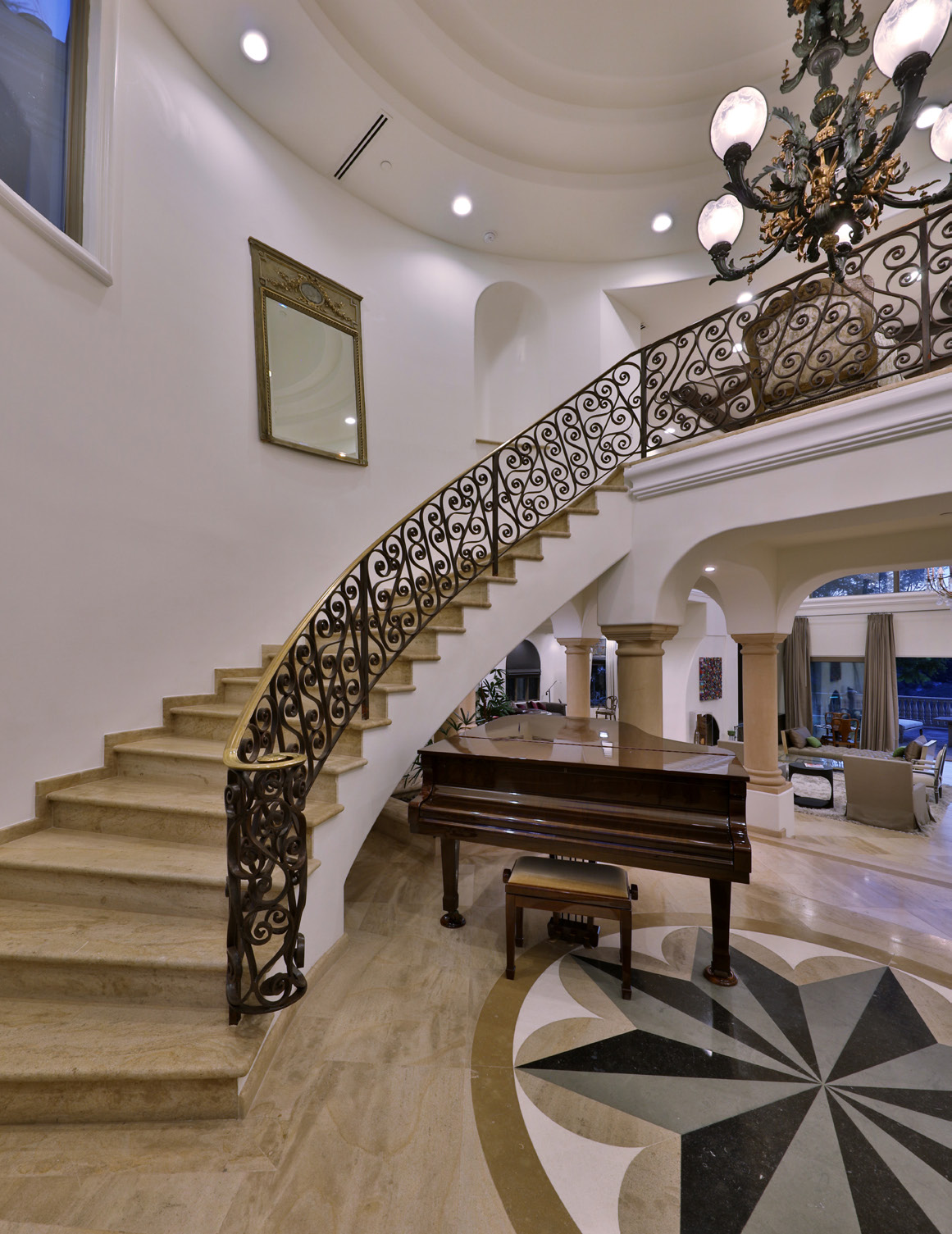 It's a home that impressed agent Cindy Ambuehl of The Agency, who quickly grabbed the listing. "Rarely," she says, "do you find a home of this quality in a 24-hour guard gated community that also boasts sprawling views from the Palisades vineyard to Catalina island. This home offers luxury and serenity in an A-plus location."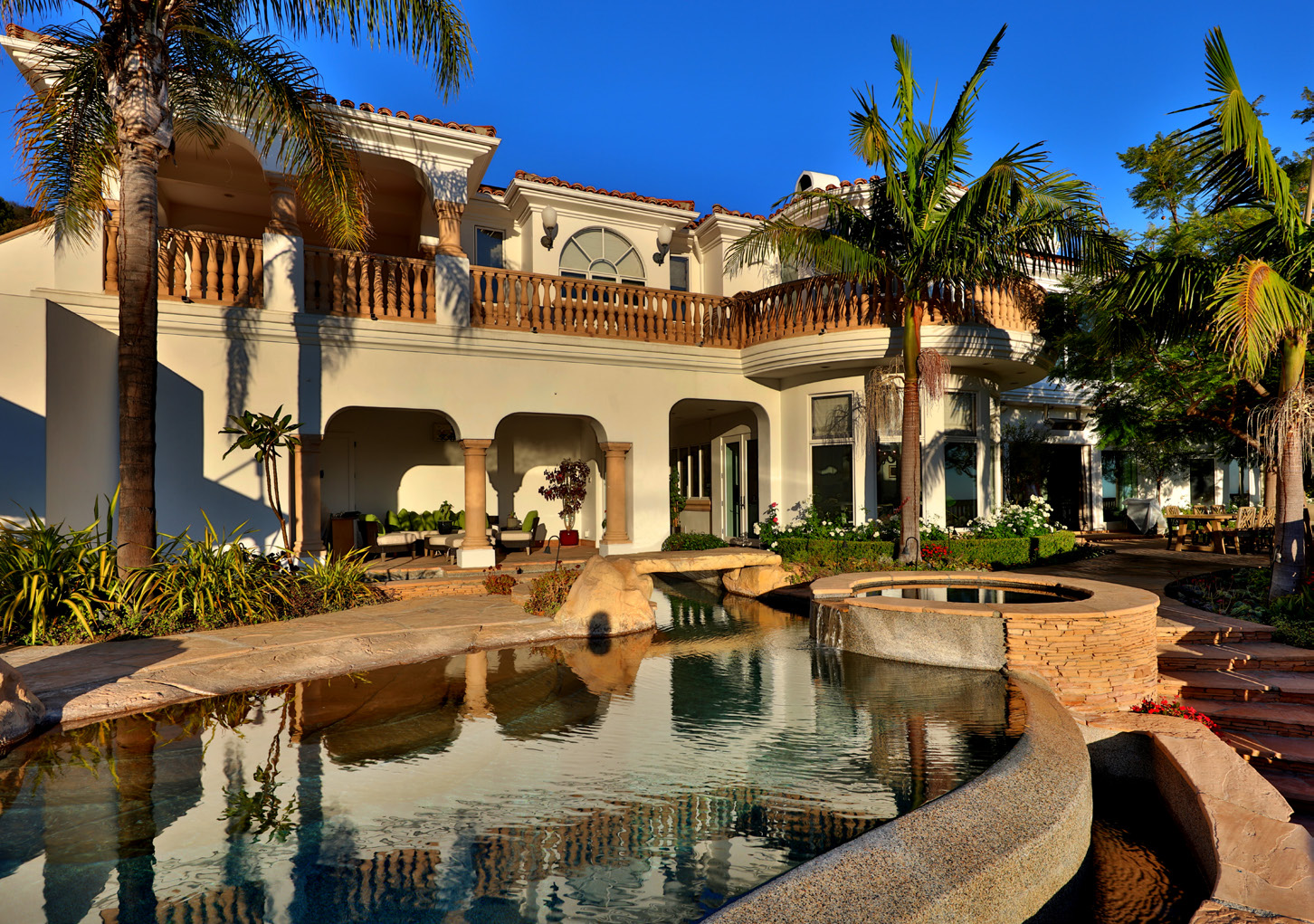 Befitting a home created in the modern Mediterranean style, sunlight suffuses its spacious interior. Melded with the imposing 31-foot height ceiling and the open-concept design of the first floor, the first impression is one of elegance and grandeur, a feeling the home's details reinforce. There's the beautifully balanced exterior with its arched doorway. A spiral staircase gracefully that swirls up from the entryway to the second floor. A row of Italian marble columns that not only elegantly define the boundaries between the front entry and the living room, but also create a gently arched arcade that steers one towards the other rooms on this floor. Tucked into the spacious corner to the left of the front entrance, a library lacquered in a deep and vibrant emerald green takes its cues from those in aristocratic English country estates. Gracefully arched windows, built-in shelves and a grand fireplace produce a sumptuous and regal setting that elevates the home office. There's a family room/den, a spacious spot for watching television or casual entertaining. Boasting a long bar and plenty of space for a long sectional, you'd be hard pressed to find a better backdrop for a Super Bowl Sunday party.
With its gracious proportions, this home was designed with lavish grand-scale entertaining in mind. For a serious business dinner, there's the dining room to the right of the entryway. More casual events might suggest brunch or supper al fresco on the large patio that stretches across the back of the house. And the terraced back garden is a dramatic locale for a charity event. Certainly with its impeccable views up and down the coastline, from Santa Monica to Malibu, a New Year's party is a must, whether it's a sit-down dinner for 200 or a cocktail party for twice that amount. The chef's kitchen is certainly well equipped for a crowd, enviable not only for its design, which brings a beautiful rhythm to cooking, but also for its rare Brazilian blue lapis granite countertops, creating a sensual setting.
Upstairs, the private rooms are equally opulent. The master bedroom flaunts sweeping dual walk-in closets and a secluded master balcony; the master bathroom is oriented towards the sweeping panorama. Three other en-suite bedrooms feature similar luxuries. And as to be expected in a house of this caliber, there's a separate space, complete with a pullman kitchen, ideal for live-in assistance. It might also function as a mother-in-law suite or place for extended-stay guests.
Sometimes, especially on the weekends, while sitting on the terrace and reading the paper, you have to remind yourself that you're not in the secluded Tuscan countryside but in Los Angeles, a city of more than 10 million people. If this is what they must mean by having the best of both worlds, you'll take it.
PRESENTED BY
CINDY AMBUEHL OF THE AGENCY
424.321.4947 | LIST PRICE $8,750,000