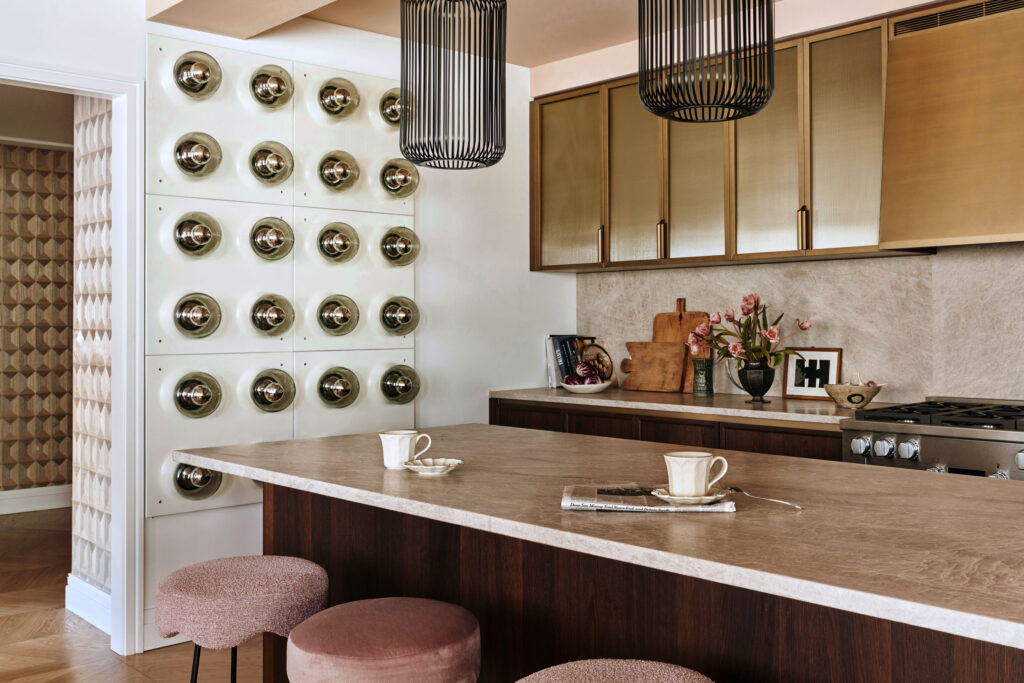 In Manhattan's Upper West Side, Crystal Sinclair Designs Injected Glamorous Touches Into This Model Apartment That Was Imagined for a Fun Family
Situated within the landmark West End Collegiate Historic District in New York City, 393 West End Ave. is a pre-war building originally designed by architects Goldner & Goldner in 1927 that houses this 2,435-square-foot, four-bedroom apartment. The interior spaces were transformed by Crystal Sinclair Designs for the modern era. Geometric shapes, warm tones, and vintage finds can be discovered in every corner that reveals surprises in an inviting atmosphere.
With her team, the interior designer imagined the decor of the model apartment as if it was her own home, reflecting her bold aesthetic and adventurous design spirit to give life to an eye-catching home with playful patterns and visual references to the 1970s.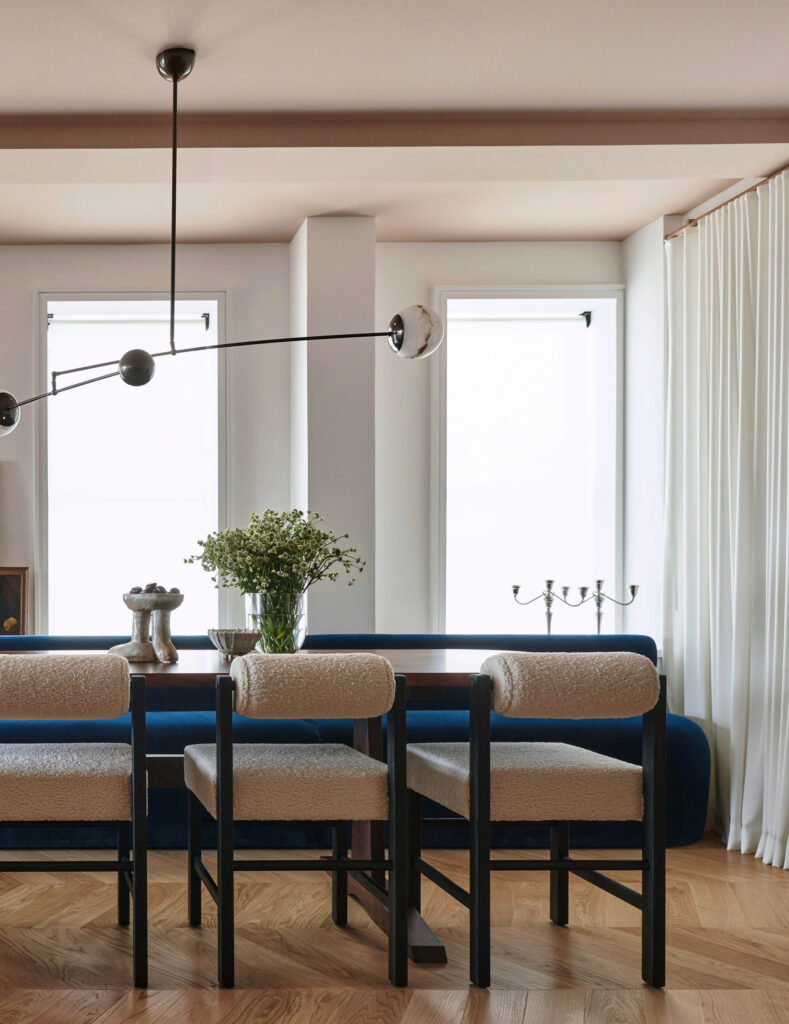 "It's not often that you get to design with you in mind," says Crystal Sinclair. 
The starting points for the color palette were a photo of a woman in a long wool taupe trenchcoat with warm, tall boots and a photo of a clay tennis court surrounded by smokebush that Crystal Sinclair happened to come across. The mix of warm hues, wood tones, pinks and creams throughout gives the feeling of "a sunset on a plateau desert," as Crystal Sinclair describes. Textured and layered fabrics complement the look of this apartment adorned with plush elements. 
A curved sofa by Vladimir Kagan, rugs by Crystal Sinclair Designs, paints by Farrow & Ball and Benjamin Moore, as well as vintage and contemporary furniture, accessories and lighting by Phillip Jeffries, Percival Lafer, 1stdibs, Kravet, Romo, Circa Lighting, Burke Decor and Thomas Hayes, among others, contribute to the fun and energetic look. All the pieces were sourced from around the world—from Switzerland and France to Germany, Denmark and Brazil, for example.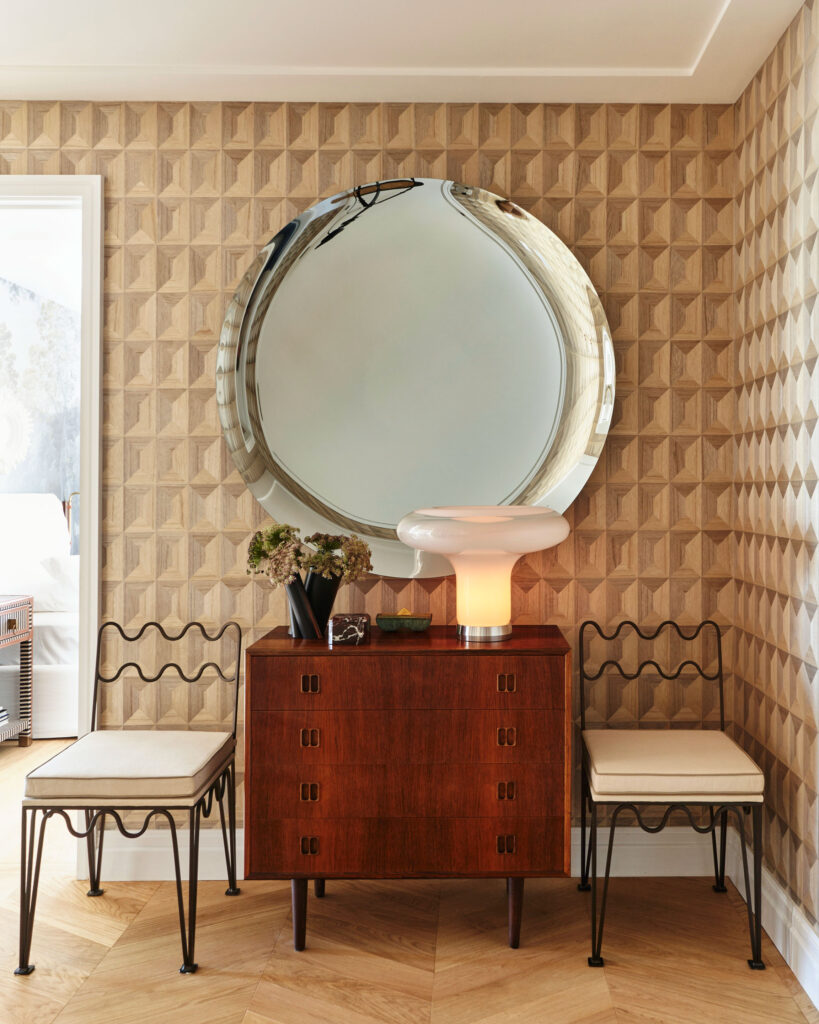 The blend between feminine and masculine touches results in a perfect balance. Materials such as wood, leather, boucle and wool perfectly combine in this eclectic home filled with character and color.
One of the key features in the main area that contributes to visually separating the living and dining rooms is a tapestry from the late 18th century. Another tapestry, from the 19th century, is the primary bedroom's focal point while the teen and children's bedrooms feature pops of bold colors.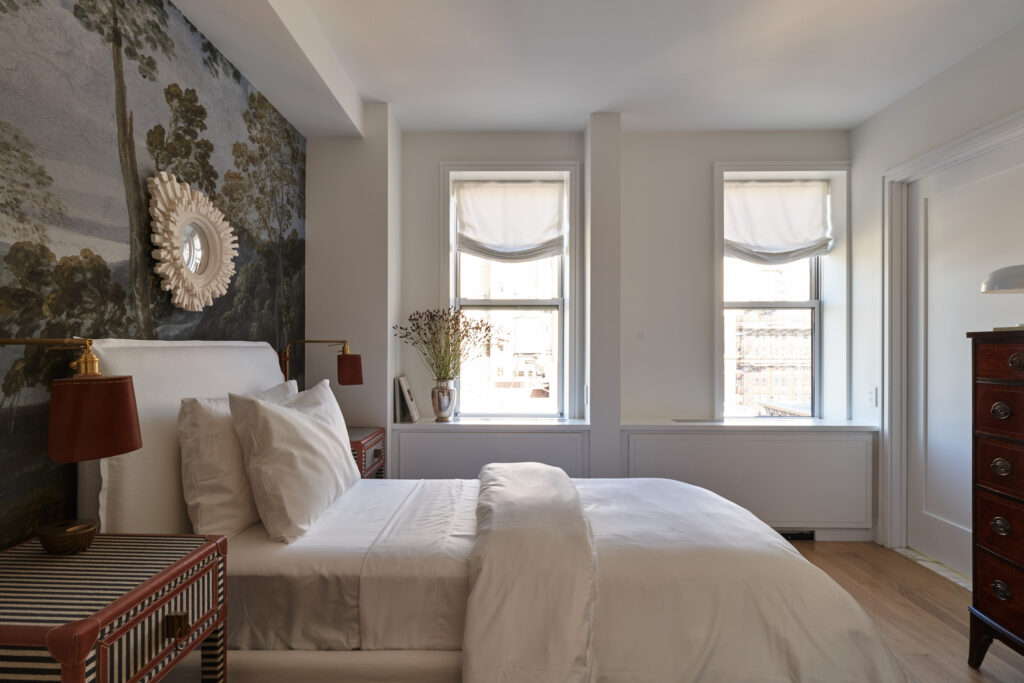 Several of the residence's finishes were done by CetraRuddy, the firm that also preserved the Collegiate Gothic architecture and original 1920s details of the building throughout the renovation. 
"I loved every minute of this project that really reflects our current design aesthetic," says interior designer Crystal Sinclair who put her talent at the service of one of the 75 residences nestled in 393 West End Ave. to show how to marry past and present for a contemporary lifestyle.
Crystal Sinclair Designs | crystalsinclairdesigns.com
Images: Adrian Gaut, Stylist: Lauren Davis Britvan