A Class of Its Own
Behind its modest exterior, this three-story home reveals a treasure of riches, from an elevator to a tasting room, that are rivaled only by its prime location in the heart of Santa Monica's most stunning streets
Written by Abigail Stone | Photography by Paul Jonason
San Vicente, from Brentwood to Ocean Avenue, is one of the most bucolic thoroughfares in the city. Its long line of mature coral trees doubles as Santa Monica's exercise track, with joggers and bikers sharing space with glistening SUVs and sports cars. As Santa Monica's unofficial main street, it ferries neighbors from The Brentwood and Riviera Country Clubs to the exclusive shops and cafes of the Brentwood Country Mart and the award-winning restaurants and sumptuous boutiques sprinkled along its eastern end. More importantly, perhaps, it serves as the touchstone for the most desirable properties in the area. For, it is the homes that are within walking distance of San Vicente that are considered among its most coveted.
Such is the case with the over 8,200-square-foot stunner at 235 19th Street. Located in the leafy, quiet enclave between San Vicente and Montana Avenue, where neighbors walk their dogs, the noisiest traffic consists of kids on bikes or skateboards, and after-dinner strolls are common, the house, with its metal roof, wide paved driveway and columned front porch, sits back from the sidewalk. In fact, it's not until you step inside the front door that you realize that first impressions can be deceiving: With six bedrooms and seven baths, the smart home's modest street appearance belies its expansive interior. (HVAC, lighting and music can all be controlled via iPads) From its 20-foot-long entrance hall, to its three levels appointed with beautiful French Oak flooring throughout, to its grand kitchen/family/dining room, everything about this home reads as elegant and spacious.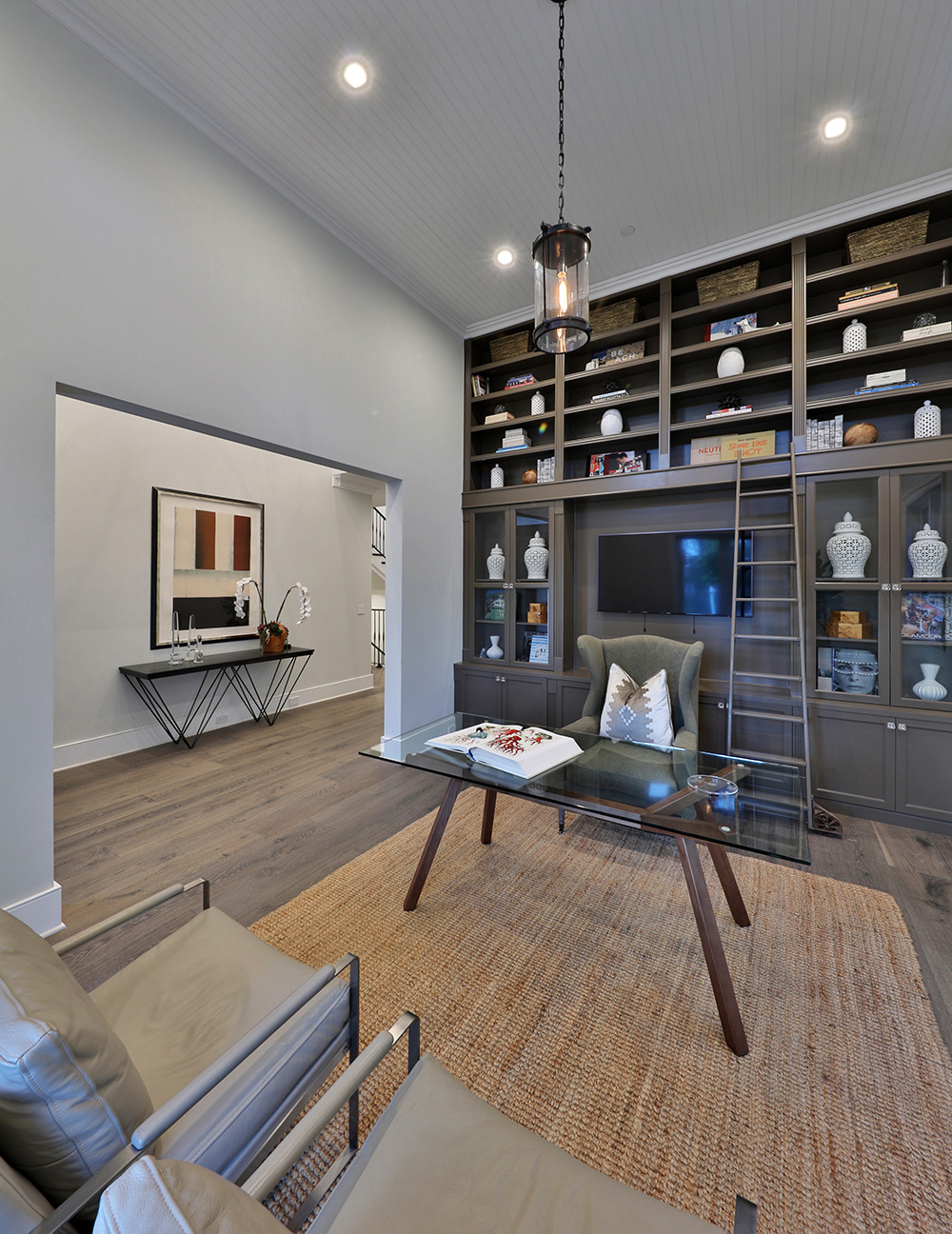 A home office is tucked just inside the front door. With its soaring ceiling and central location, it's ideal for watching the comings and goings of a busy household. Visitors who ask to use the powder room, which is tiled in soothing blues, will be pleasantly surprised. Like the other bathrooms in this home, it offers a state-of-the-art commode by Toto, with a hands-free toilet, a subtle but gracious detail.
Nearby, at the center of the home, are the formal entertaining spaces. If you work at home, the living room's proximity to the home office makes it an ideal spot to conduct business meetings; for evenings, with its placement just out of the direct flow of everyday living, and complemented by the light-filled formal dining room, it allows for the quiet of mature entertaining.
Most of the family's life in this home will revolve around the rooms at the back of the house. The open plan room pulls a kitchen, plush with Miele double refrigerators and freezers as well as a Wolf stove and a central expansive island, set off from the white kitchen by its rich dark finish, and a family room, into its embrace.
Warm and inviting, they were created to support the myriad activities of a busy modern family with its full calendar of friends and homework, sleepovers and parties. The details inherent in these rooms—crown moldings, cool porcelain flooring, marble countertops, a rustic tile backsplash, a fireplace—imbue this home with a layered beauty that elevates everyday life. Partnered with a lush backyard, complete with a wide lap pool and a barbecue patio, this is Southern California indoor/outdoor living at its best.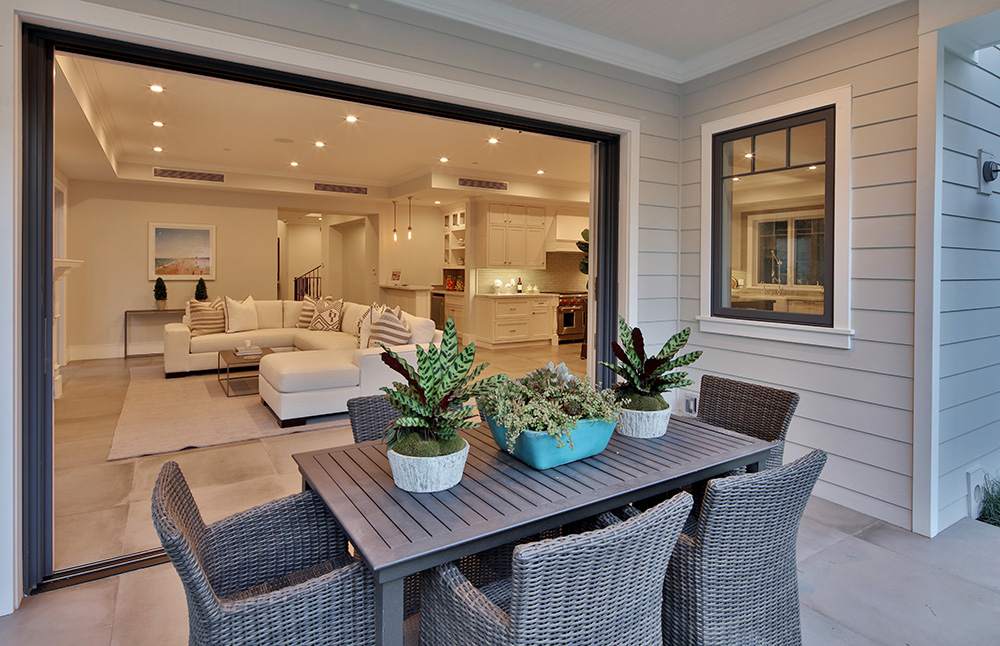 Even if you've never thought of yourself as host, this house makes that role an easy one. Don't be surprised if this is the place where everyone comes: the kids will bring their friends here, neighbors will stop by and linger and, without too much thought, somehow you'll inherit the Thanksgiving mantle.
And why not? You've room enough to accommodate two sets of in-laws downstairs. The cousins, in from college, can pile onto air mattresses spread out over the area that usually serves as your gym/dance studio. And a commercial grade elevator makes hauling things up and downstairs a breeze.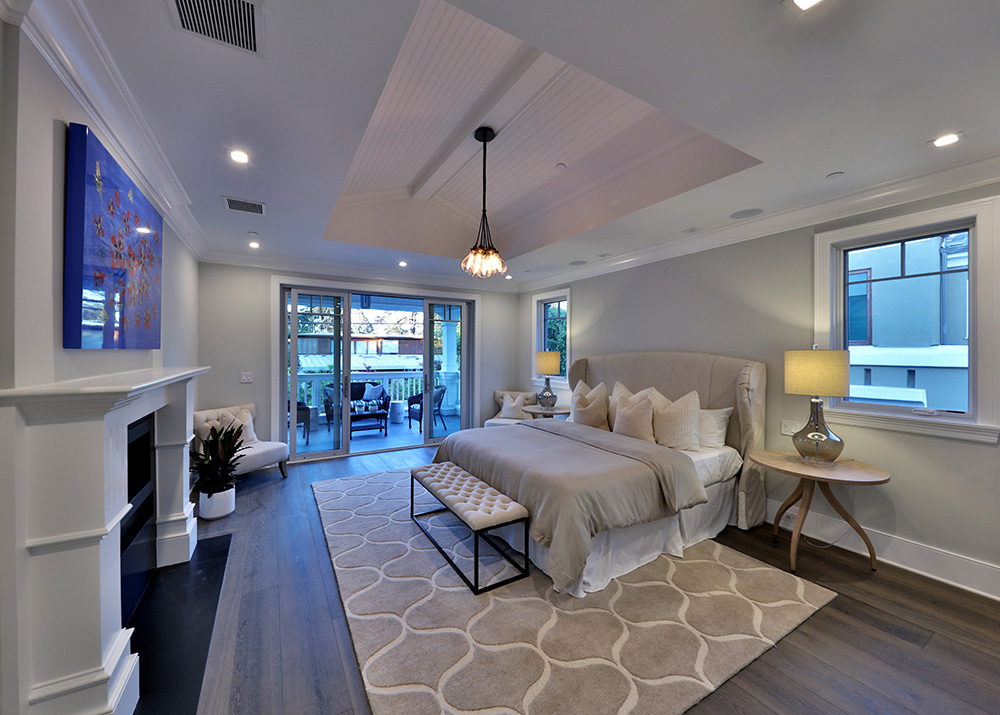 Funny, you'll come to love the chaos of it all—the spontaneous afternoon cookie baking sessions with the kids; the rambunctious come-one-come-all Saturday afternoons around the pool; the quiet Sunday evenings spent watching movies on the 120-inch screen in the theater; and the dinner parties fueled by yet another intriguing bottle of wine, plucked from the downstairs cellar.
Of course, knowing you can escape to the sanctuary of the master bedroom helps. A balcony overlooking the backyard, his and her walk-in closets, a sumptuous soaking tub, a steam shower, and privacy glass in the bath window makes even that favorite five-star hotel pale in comparison.
Your favorite, truth be told, is the dressing table. Given the jam-packed days and busy nights, taking a moment to yourself has become key. But, even as you savor the late-night quiet, with everybody retired to their en-suite bedrooms, you're happy this is the house everyone chooses. That's the real secret of this home. It's all about family and friends.
LIST PRICE $8,699,000
PRESENTED BY: FIORA ASTON, WSA OF COLDWELL BANKER SANTA MONICA
310.480.3585
Related Post
A timeless Playa del Rey retreat is home to private bliss and endless ocean views Written by Constance Dunn | Photography&n...
A private hilltop villa in Hermosa Beach proves the perfect retreat for the finest in resort-style living Written by Joclene Davey&nbsp...
A custom Mediterranean Revival brings home size, beauty and features galore Written by Constance Dunn | Photography by Paul...