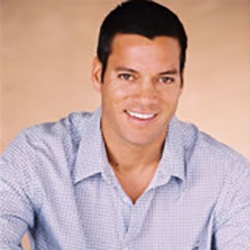 Eric is an Olympic Gold Medal winner at the 2000 Olympic Games in Sydney, Australia in beach volleyball. He was a dominant and consistent force on the AVP Tour for 16 years. He has won at least one tournament for seven straight years between 1998 and 2004. Fonoi is a former AVP Most Valuable Player and is in the top 10 in terms of all-time tournaments played. Eric has won all the major opens in beach volleyball including the King of the Beach, Hermosa Beach Open and the Manhattan Beach Open, twice.
A true local community activist and Manhattan Beach native, Eric has dedicated much of his winnings and time off the beach to his foundation "Dig for Kids" which helps kids in inner cities to e xcel in academics and volleyball. As the Founder and CEO of Dig for kids, Fonoi has raised over $ 1 million to help underserved kids. Recently named to the UC Santa Barbara Hall of Fame and Significant Sig by Sigma Chi fraternity, Eric continues to excel both on and off the court.
Fonoimoana is a licensed Real Estate Broker specializing in Manhattan Beach, Hermosa Beach and Redondo Beach homes for sale. Eric has helped elite athletes, Buyers and Sellers purchase and sell multi-million dollar homes. He has quickly established himself in real estate with the same impressive results he achieved on the court.
Interested in using Eric and his Gold Medal services and expertise? Please contact Fonoi directly to discuss how his portfolio of services can be customized for your needs.
Address:Eric.Fonoimoana@VistaSIR.com