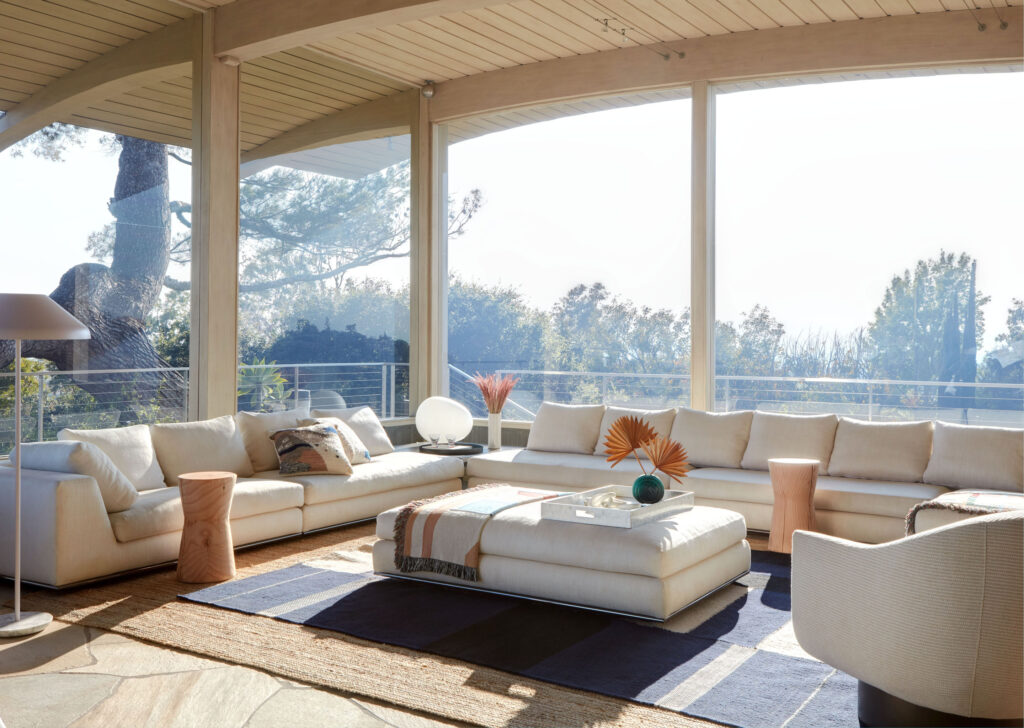 Located on prime Beverly Hills property, surrounded by residences that showcase a range of architectural styles, this house is characterized by its mid-century style designed by influential California architect Harry Gesner. To highlight this aesthetic, the team at ASH Staging—who furnishes homes for sale but also designs and installs fully furnished homes for discerning clientele in need of a move-in ready space—helmed this project's interior spaces.
Part of ASH NYC, ASH Staging recently expanded its operations to Los Angeles and drew inspiration from an array of 1970s interiors to create a home for an East Coast family who requested a sophisticated space. ASH chose a collection of classic furniture pieces by masters such as Serge Mouille, Jean Prouvé, Richard Stein and Cesare Lacca to adorn every room.
Known for transforming historic spaces into contemporary environments, the members of ASH Staging also included elements from established and emerging designers including Entler, Bari Ziperstein, Nina Johansson, Christian Woo, Jonathan Adler, Anna Karlin and ASH NYC's Will Cooper, creating a unique, balanced blend. "Most decades of the 20th century are referenced at some point," says Andrew Bowen, ASH NYC's director of staging. "Additionally, there's a nod to European design, along with an intentional focus on the personalities of California itself."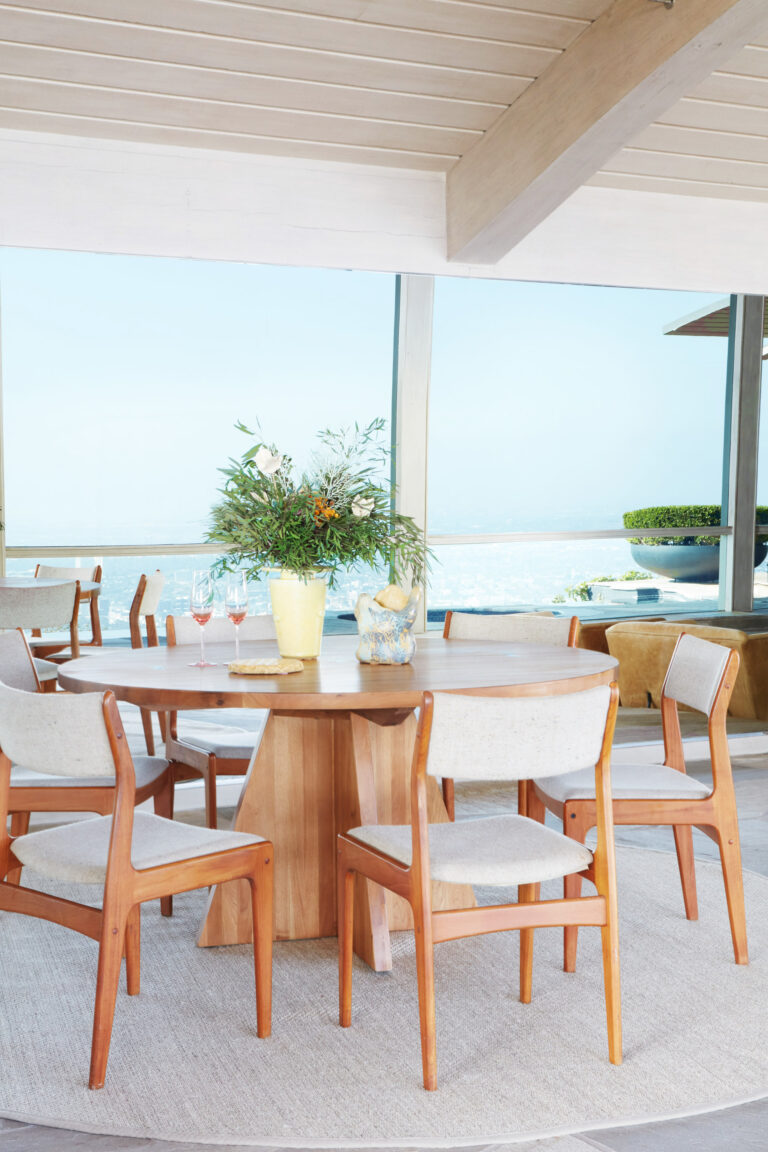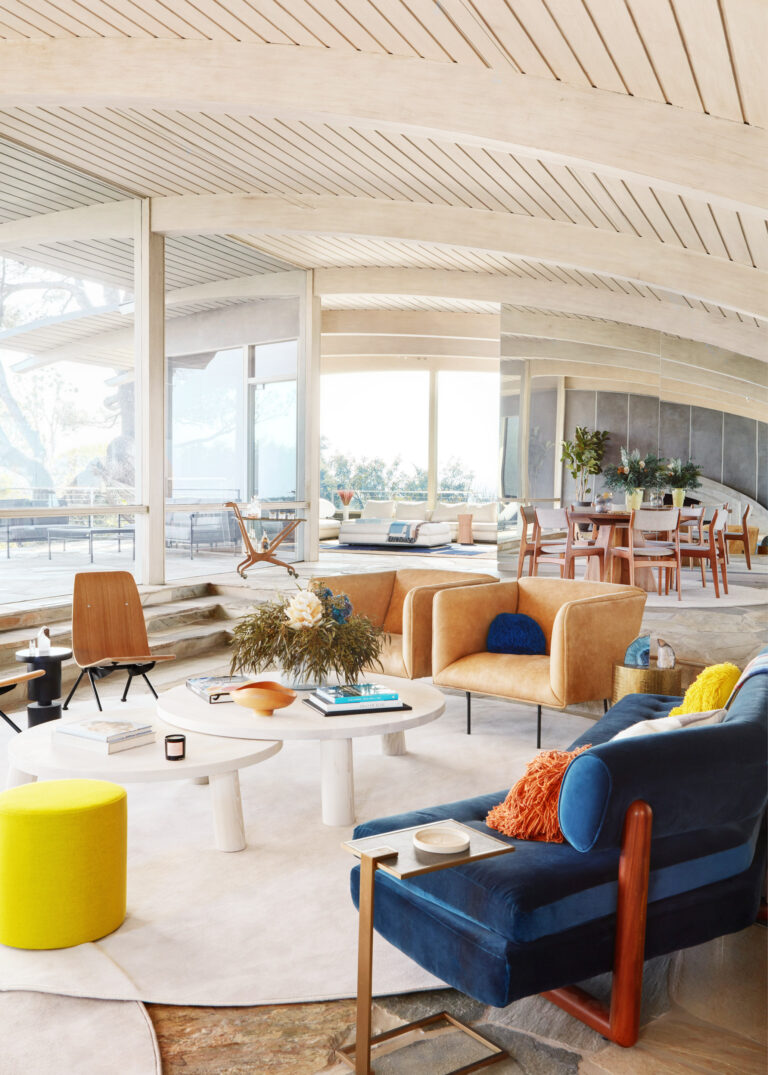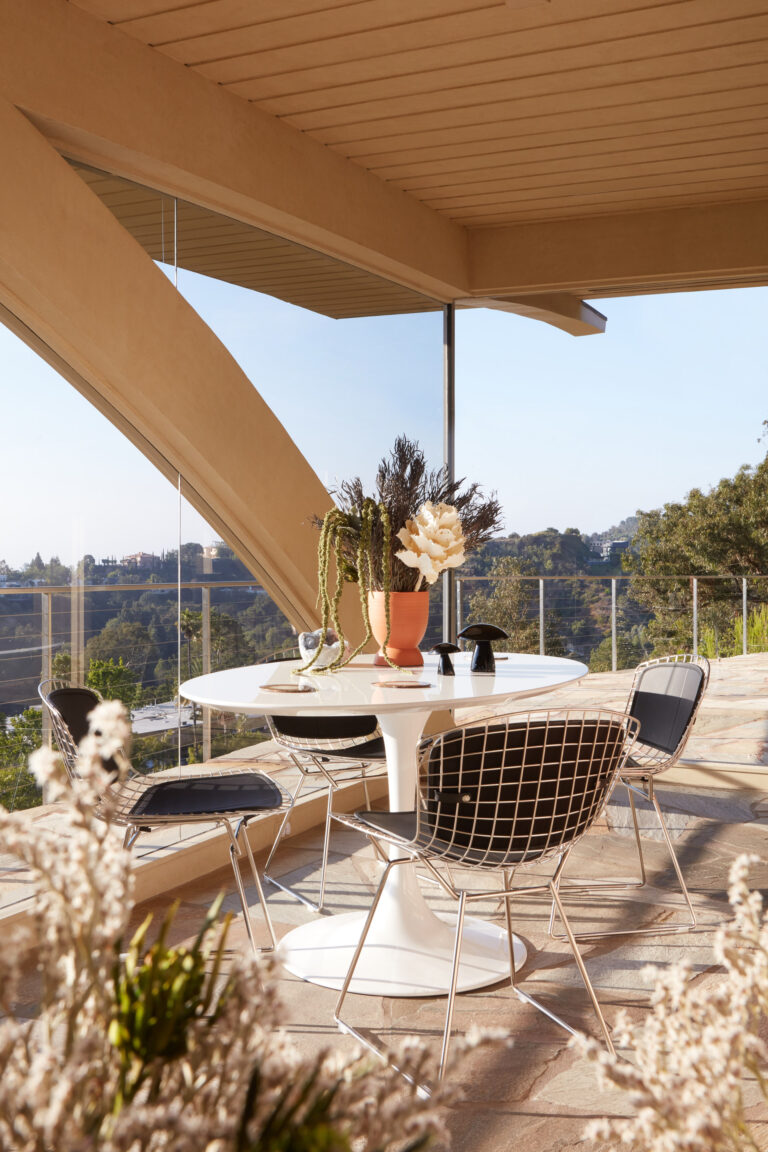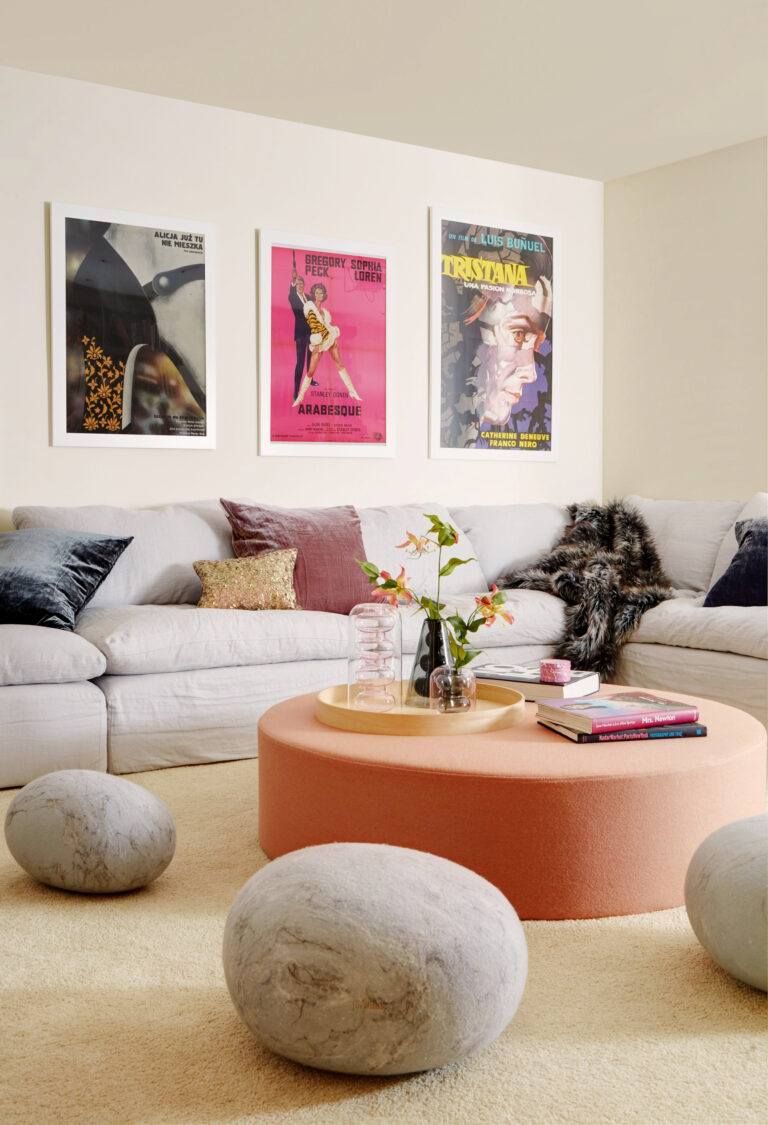 With a staging inventory of 25,000 items (located in Los Angeles and New York)that includes items from its own collection, ASH combined a vast array of styles, colors and materials through this project. "We used a mix of naturally derived and industrially produced materials to both celebrate the casual, laid-back lifestyle that California affords and echo the stone floors and wooden ceilings throughout, while also embracing the human technological advancements that made a structure like this possible," says Bowen. "There's an obvious modernity in the bones, yet a clear inspiration drawn from nature—crashing waves, hillside slopes, etc."
Filled with natural light, the living room is the heart of the home. In this area tiled in irregular natural stone, the exceptional, unobstructed views of the Los Angeles skyline take center stage. Christian Woo cocktail tables connect the individual seating components in addition to mirroring the area rug arrangement below. "This space has an incredibly unusual but interesting shape," says Bowen.
"In order to capture the right spirit, we decided to organize the furniture in a way that was directed out toward the windows and the view below, but also existed as a showpiece in its own right. . . . We landed on this sort of asymmetrical Venn diagram arrangement. To embrace the nest-like feeling, we used colors to draw the eyes back into the room, along with organically shaped furniture and circular rugs, which create an effortlessly playful space for everyday living and entertaining."
Adjacent to the living room, the family room is also flooded with sun but has a more neutral palette, complemented with blue and peach touches to echo the changing colors of the sky. In the dining room, where big windows are an invitation to admire the exterior panorama, Danish vintage chairs surround a circular wooden table, which holds pieces by L.A.-based ceramist Bari Ziperstein and Brooklyn-based Concrete Cat. "To satisfy our client's request for something that would be, frankly, fun to live in, we embraced saturated colors like cobalt blue, bubblegum pink and virtually all others that felt right, largely in the form of upholstery, accessories, and art," Bowen explains.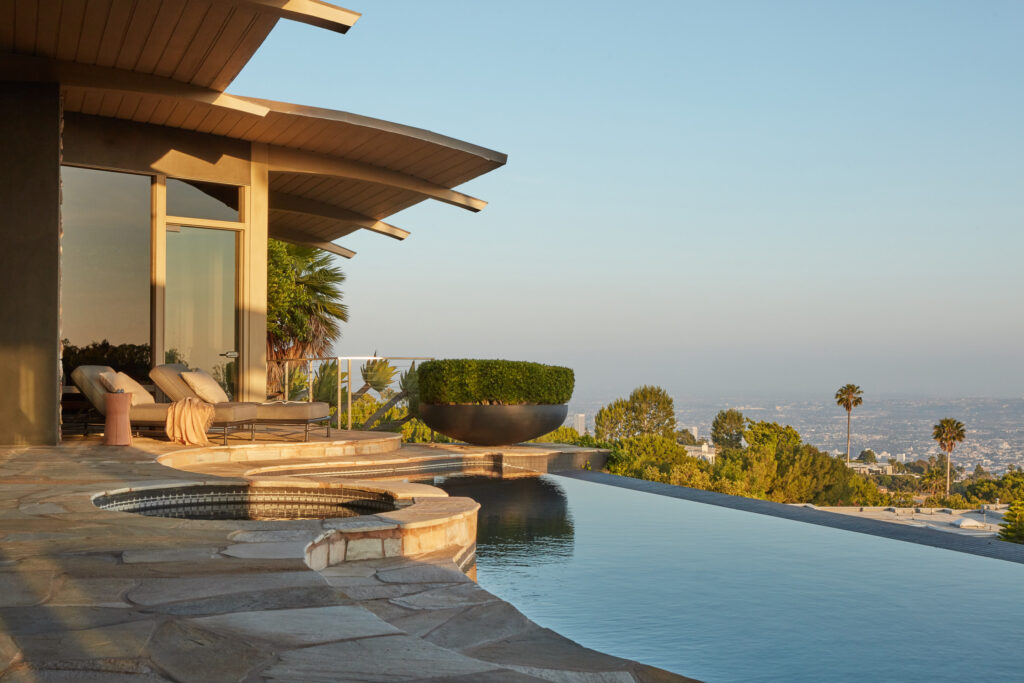 "For larger scaled elements like area rugs and sectional sofas, we softened the tones to their more neutral cousins. To complete the palette, we chose structural materials with inherently interesting hues like living brass or hand-stained teaks." In the kitchen, the Tulip table by Eero Saarinen and the Harry Bertoia chairs visually play with the curvature of the beam that runs through the window.
"There's a lot to appreciate, but I'm particularly fond of the curved ceiling which carries seamlessly from the inside to the outside," Bowen confesses. Using pink as the key color, the home theater created by ASH features vintage Hollywood movies posters; objects by Tom Dixon and AYTM; and velvet cushions by Aviva Stanoff, which add glamour to the decor. In the nursery, soft pastels and a mix of textures and fabrics contribute to the cozy atmosphere.
"We find inspiration in the confluence of history and innovation," the team at ASH NYC says in its mission statement. "The past lends us to the wisdom of civilizations before us; the future is limitless with the possibility of what has yet to be imagined."
Airy and spacious, sophisticated and warm, this dream home is an ode to this ethos, reflecting the chicest and newest side of L.A. ashnyc.com
All Access Pass to LA's Hottest Homes
Get an inside scoop on celebrity homes, exclusive real estate, mansions & more.