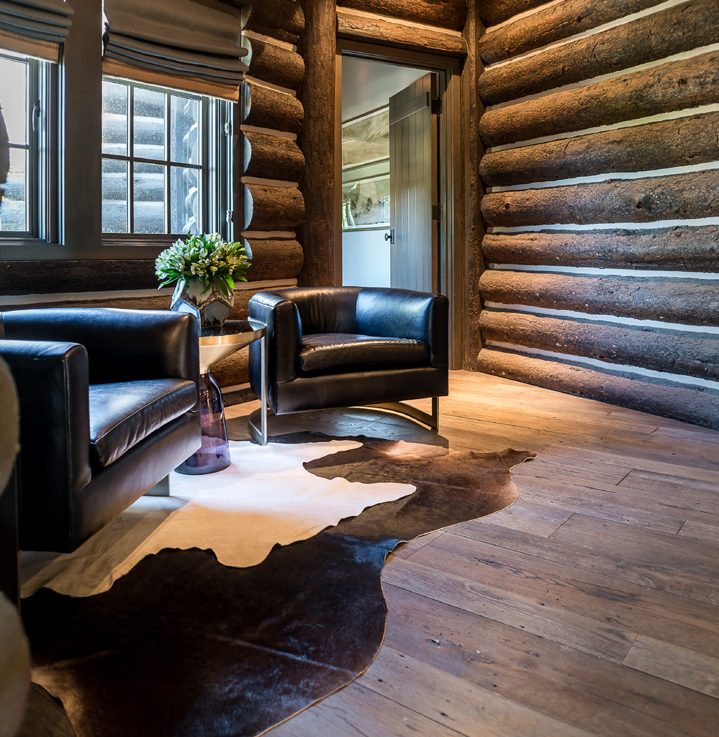 Rustic Chic
Picturesque surroundings meet luxe interiors at this contemporary mountain lodge-style home
Photography Courtesy of Tood Goodman LA Light Photography for Partners Trust
Upon deciding to transform a historic Santa Monica cabin in 2012, owners Marla and Larry Butler assembled a design team consisting of architect Chris Peck, interior designer Lisa Strong, builder Eric Dobkin and landscape architect Samantha Gore. Together, they proceeded to envision a substantial estate that would harken back to the property's days as a Bohemian retreat for Hollywood legends from Walt Disney to Clark Gable. The result?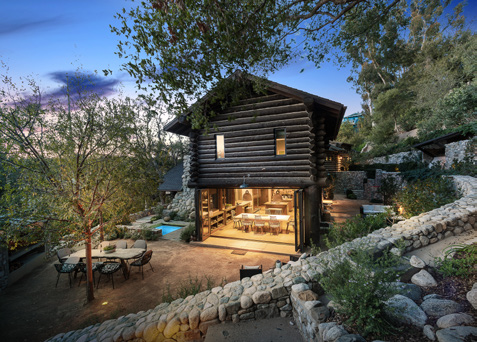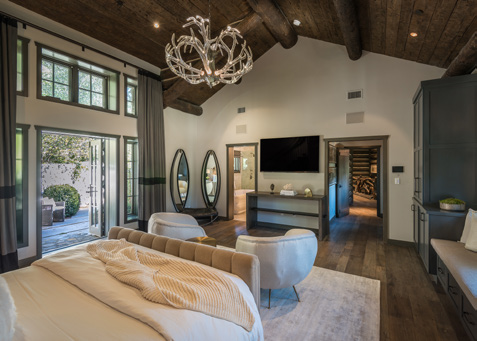 A contemporary mountain lodge-style home—complete with original materials, including a split-log frame of lodgepole pine timber from Montana and a charming double Dutch front door.
Situated at 38 Haldeman Road—amid the mature trees of the storied Uplifters Ranch neighborhood of Rustic Canyon—the six-bedroom, six-bath residence, completed in 2014, features the finest in modern finishes and native materials throughout.
"The owners stayed true to the origins of the neighborhood with the architecture of this home and spared no expense to create a thoroughly modern home more than double the size of its historic muse," says Hugh Evans of Partners Trust, who is listing the three-story 6,195-square-foot residence for $7.995 million.
Perhaps the home's most impressive feature is the enchanting great room that features an awe-inspiring fireplace crafted with stones that were meticulously dismantled from the original cabin, numbered, and then reassembled, along with a seating nook and upper balcony crafted from salvaged and restored eucalyptus.
Yet other stand-out attributes include an elegant bedroom suite sporting a spa-like bath and large walk-in closet with built-ins, and an open-flow kitchen and dining room flanked by walls of double-case windows and a set of bi-folding doors that open to the outdoors. There, on an expansive 26,258-square-foot lot, one finds a large terrace boasting a barbecue station, a secluded plunge pool and stone walkways meandering through a three-story-high hillside park.
Rounding out the home's special allure is its proximity to numerous amenities.
"It has a prime location between the main dining and shopping corridors of Santa Monica and Pacific Palisades, and is moments away from the polo fields of Will Rogers State Park," says Evans.
"The home also enjoys access to the neighborhood's community swimming pool, tennis courts, picnic area and the playing fields of Rustic Canyon Recreation Center, as well as the reputable Canyon Charter School." While rooted in the past, this newly minted home is planted firmly in the future, and sure to be a special spot for creating memories for generations to come.
PRESENTED BY
HUGH EVANS III OF PARTNERS TRUST
LIST PRICE $7.995 MILLION
38 HALDEMAN ROAD SANTA MONICA, CA 90402
Related Post
The first private, national off-market listing forum makes pocket properties accessible to all agents with a few simple clicks A novel new m...
A private setting, one-of-a-kind guest house and gorgeous newly constructed family home combine to make this Brentwood property the ideal We...
A new era has emerged for L.A.'s luxury real estate scene with Pacific Union International's recent acquisition of Partners Trust In yet...