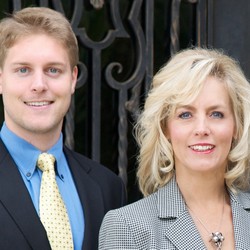 Janet And Cameron Stearns
agent
Phone:(310) 480-1167
Address:, , ,
Janet Stearns

Janet was born and raised on the Palos Verdes Peninsula. Her father was a custom homebuilder and she was often on his construction sites, seeing their progress from start, to finish, to "sold". Her first 'sale' occurred when she was 16 years old, showing her Dad's custom home on a rainy Christmas Eve. A couple stopped in and, after touring the house with her, requested to meet with her parents to make an offer. She was thrilled, and her real estate career was born!

Janet has always been drawn to all types of real estate. She worked for nearly ten years on the former Marineland property (now the site of the renowned Terranea Resort), interfacing with the location managers of major movie productions which were filmed on the property. She and her husband own industrial properties which she leases and manages. She always has an eye out for investment property because she says "I am a firm believer in California real estate and the stability of its future". She loves the South Bay and loves even more the satisfaction of helping people find the perfect home. She has three children who are now grown, so she is able to devote herself to her business, providing over-the-top service to her clients, which is evidenced by her constant stream of referral business. Says Janet "90% of all my clients have either referred me or used me on subsequent transactions!" Janet goes WAY beyond what normal Realtors provide.

When Janet isn't working, she loves spending time with her family, especially her new granddaughter, Brooke, and also loves to play competitive women's doubles tennis.
Cameron Stearns

Growing up in Palos Verdes has given me a unique perspective into the true value of real estate in the area. Being outgoing, energetic and athletic in my youth I was always hanging out with my friends. With each friend who invited me over, there was another opportunity for me to explore the area that was their house and their neighborhood. Reflecting on my earlier years has given me a great sense of what each neighborhood has to offer a family. I am able to portray that value to interested buyers from firsthand experience.
After graduating from Palos Verdes High School, I moved to Tucson to study finance and global business at the University of Arizona. My global business minor took me to China for two summers, India, and Mexico. Having studied in countries abroad makes it easy for me to relate to people of different cultures. Also, my degree in finance has taught me how to relate to professionals who work in the finance industry. My personality and past experiences have given me the skills necessary to successfully sell real estate in greater Los Angeles.
Address:jstearns@pvexecs.com