Truly Timeless
Experience the luxurious and relaxing lifestyle in Palos Verdes Estates' highly desired Lunada Bay
Written by Joclene Davey | Photography Courtesy of Paul Jonason
For those seeking a timelessly designed home with a tranquil ambiance, the Spanish-Moroccan offering at 3008 Via Victoria is just the place. Dual pathways amid a sea of indigenous landscaping and a central, delightful fountain lead to the Spanish, almost Mission-style, home. In keeping with the classic tradition of beloved Palos Verdes design is the home's big arched windows and terra cotta roof. Yet, hints of a Moroccan aesthetic—from intricately stained floor tiles to the star-patterned pendant light dangling above the front door—are quickly evident, making this home a true architectural beauty that seamlessly merges classic and contemporary styles to create a tasteful abode with an eternal air.
"Our goal with this house was to create something beautiful and enduring," shares builder Doug Mottram of Build.By.Design. "The design recalls the first Spanish homes that were built in Palos Verdes Estates. We combined that with a modern open floor plan and features to create a warm family home." Upon entering the foyer, one indeed finds an open and welcoming space, and just ahead of it, a dramatic curved staircase that draws the eye up to a backlit coffered dome ceiling. This space, and others beyond, make clear that the home is a special place for sharing and making memories.
Credit goes to the design collaboration between Mottram and Gunnar Jorgensen of Gunnar Jorgensen Interiors and Design. The team developed a gracefully designed home with unique details, sophisticatedly executed and exquisitely crafted. Take the interesting laser-cut wood details placed in the stair risers that add a fresh approach to the home's monochromatic color palette. A wrought-iron handrail elegantly wraps around the staircase, creating a centerpiece leading to three dramatic iron pendant lights with mercury glass. Well-planned and fluid are the home's details and fixtures (like special lighting the duo whimsically describe as "jewelry"), as is its layout.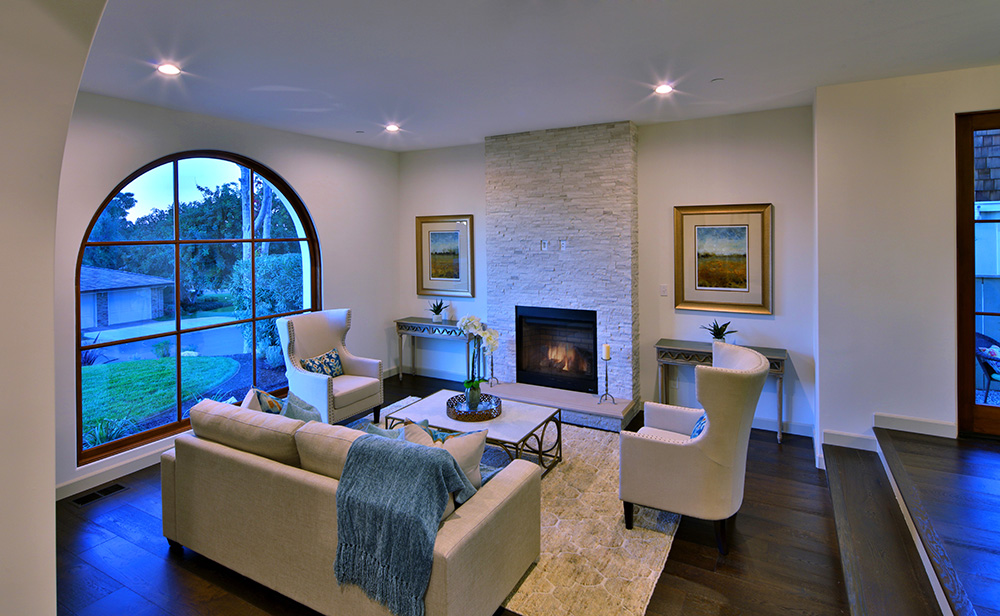 "Practicing restraint is part of what we do," Jorgensen states of the decision to downplay when necessary. "[F]or example, we take four or five design particulars and we focus on those details instead of going over the top, which you could easily do in a home like this. The finished product is elevated design, yet there is still room for the owner to make the home theirs." With the house standing proud at 4,000 square feet, with four bedrooms and four and one-half baths, its lot is on a gentle slope that plays well into interiors that allow for a sunken living room with sky-high ceilings and massive arched windows where one can take in the beautiful view. There is also an open colonnade that divides the entry space from the connecting living and dining room. The dining area has lots of light via French doors and windows. Throughout are ecru-colored walls that complement the Spanish-Moroccan style while simultaneously bouncing ample light about the home, along with dark wood wide-plank floors that contrast perfectly with the light walls.
Next, one moves into the great room of the home, which contains the kitchen and breakfast and family room. The kitchen is finished with limestone counters and sports an oversized island cut from a single slab of a stone called Taj Mahal. Cabinets colored a fresh taupe are framed in custom details and feature a door made of rain-glass. The cooking alcove above the range, which is highlighted by Moroccan star tiling also seen around the cast stone fireplace in the adjacent family room, is a distinctive touch. Floating above the island are more pendants with mercury glass, complementing the lighting in the entry. In the family room, warm-toned wood beams detail vaulted ceilings and match trims on the French doors and large glass folding doors that lead out to the grassy backyard.
It is here that one discovers a backyard built to provide everything a buyer could want. The yard is large enough for a pool and includes a gas fire-pit inspired by Nelson's at Terranea, which is just minutes from the home. Oversized Arizona Buff stepping stones enhance the dramatic landscape and, due to the large Saltillo brick patio, there is heaps of space for an outdoor dining or living area. Downstairs is a large guest room with walk-in closet that enjoys access to the backyard via French doors. The guest bath features a Moroccan raised panel detail in the cabinet doors as well as a touch of arabesque tiling. The motif featured in the cabinets and tile here carry over to the home's remaining baths.
The powder room on the downstairs floor is rich in design. The rare wrought-iron washstand with arabesque detail was meticulously stained to match the iron railings throughout the home. Complementing this is a champagne textured glass bowl, guided silver mirror and large print wallpaper in a neutral color palette. The powder room, and all baths in the home feature a matte Botticino marble floor.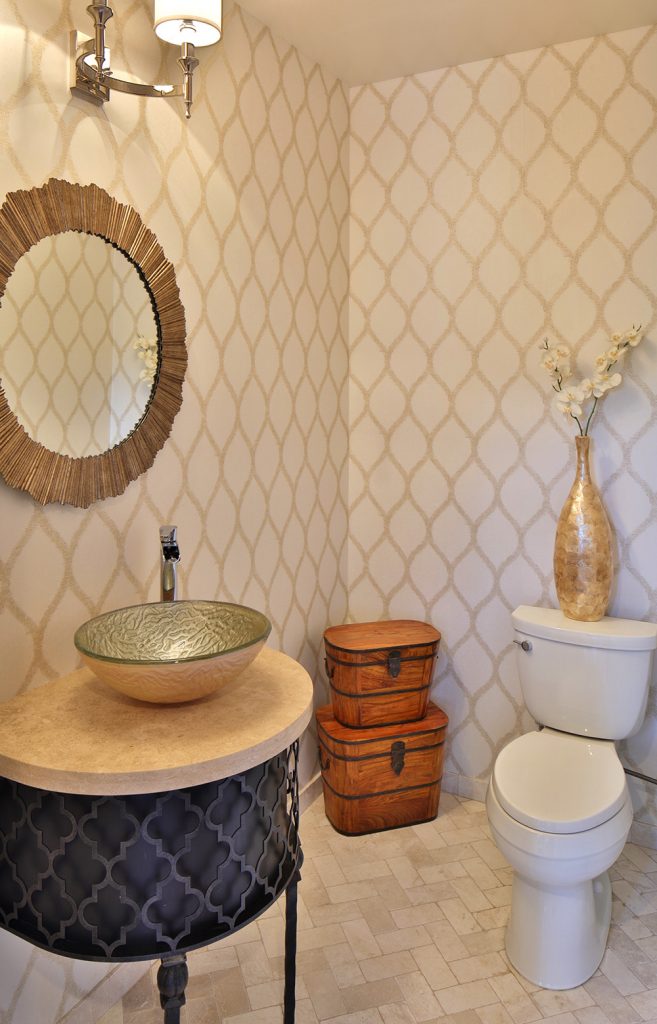 Upstairs, one discovers an office with built-in shelving and cabinets as well as two workspaces tucked to one side; the open area makes it an excellent place to do homework. Across are two large bedrooms, each with customized lighting fixtures, generous double door closets and en-suite baths. The large laundry room separating the two bedrooms is noteworthy for its beautiful finishes that match the aesthetic throughout the home. Detailed cabinets, marble floors, ample storage, and even a built-in desk for a computer are here, too.
Separating the upstairs bedrooms from the master suite is a lovely sunset balcony with oceans views, the perfect space for enjoying a glass of wine or a good book. The master retreat is elegantly appointed and includes vaulted ceilings. While having lots of windows for light, the suite also enjoys views of Malibu and Catalina. In addition, there is a Juliette balcony to let the ocean breeze drift through in the warm seasons.
Next, the luxurious master bath gleams with feminine touches like glamorous chandeliers, dazzling wall sconces and shimmering gold mirrors.
The additional space provided adds to the extravagant feel with a separate make-up area and—an extra special touch—a room dedicated entirely to the shower. This sexy shower room features dual shower-heads and controls, and walls trimmed floor-to-ceiling with the earlier referenced arabesque tiles and spa cabinets. Completing the bath is the cast-iron soaking tub, marble floors and Moroccan raised panel cabinet details. A large, boutique-style walk-in closet, meanwhile, is the icing on the cake. Built symmetrically, the his-and-her closet features glass display drawers for jewelry or watches, and glass display cabinets for handbags and shoes—every fashionista's dream.
Situated just up the hill from the beach, and near to both PV Cove and Riviera Village, the decision to live here and experience the lifestyle that doing so affords is an easy one. "This is a timeless home," concludes realtor Joe Alessi. "Living in PV is a lifestyle choice, and Mottram and Jorgensen have created a comfortable habitat that is classic and will last throughout a lifetime of memories."
Presented by Joe Alessi of Re/Max Estate Properties
List Price $3,399,000
Related Post
A timeless Playa del Rey retreat is home to private bliss and endless ocean views Written by Constance Dunn | Photography&n...
A private hilltop villa in Hermosa Beach proves the perfect retreat for the finest in resort-style living Written by Joclene Davey&nbsp...
A custom Mediterranean Revival brings home size, beauty and features galore Written by Constance Dunn | Photography by Paul...