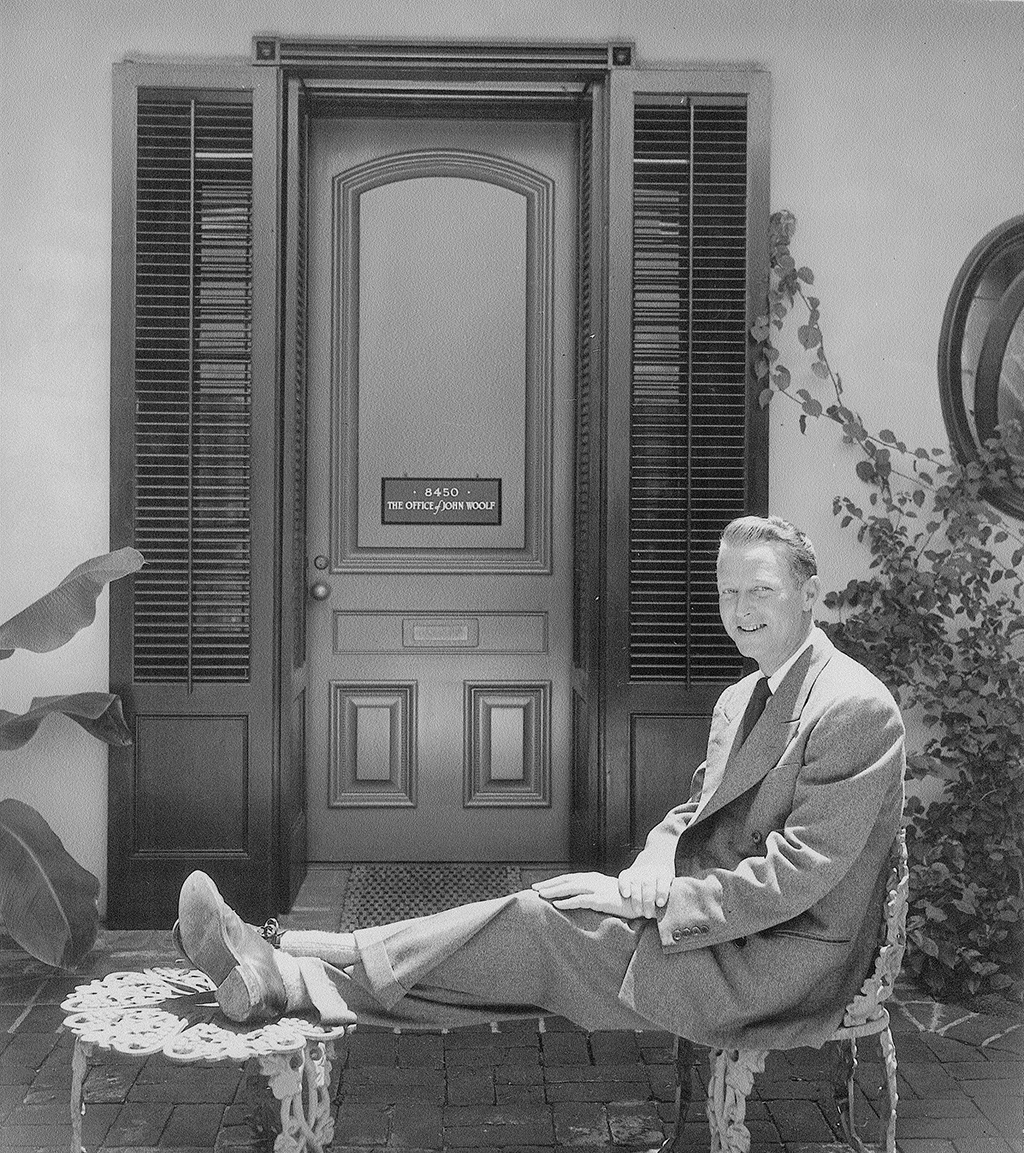 The Good Life: John Elgin Wool
Hollywood Icon
Architect to the stars John Elgin Woolf gets his close up with a new exhibit at Palos Verdes Art Center.
Written by JocLene Davey
The golden age of Hollywood ushered in new beginnings in film production and celebrity culture. During this time silent film became a thing of the past; production and sound quality improved greatly; and costume and set design became more elaborately detailed, yet always yielded the center of attention to the star. The growing industry paved the way for the dawning of the new Hollywood elite. The studios all but required the celebrities of the day to be seen socializing, hosting grand parties and living lavish lifestyles reflecting the characters they often portrayed on set. As the movement of the mega-star and the glamorous life ensued, so marked the beginning of a new era in architectural style called Hollywood Regency. 
The PV Art Center has been given the rare opportunity to share a large collection of works by one of the originators of Hollywood Regency style, John Elgin Woolf. Woolf's works have never been released for travel from the University of California Santa Barbara until now; therefore this glimpse into the past right here in the South Bay is both temporary and a must-see for those who appreciate architecture and interior design.
When John Elgin Woolf, an architect from North Carolina, came to Los Angeles, the building trends at the time were modern, clean-lined and simplistic. Everything needed to be thought of as pure. "Woolf's work was revolutionary, and he was considered to most to be the first postmodern architect on the west coast," states Joe Baker, CEO and executive director of the PV Art Center. Woolf, who had a gift for theatrics, initially came to Hollywood in hopes of landing a movie role, and instead found himself in the midst of Hollywood's A-list celebs, building homes for the likes of Joan Crawford, Bob Hope and Errol Flynn, to name a few. Woolf wanted to bring the theater and the love of theater into the homes of the celebrities for whom he built. His approach to architecture was completely fresh and contradictory to the era. He had an uncanny ability to blend perfectly 19th-century French, and Neoclassical Greek Revival, both with a modernist flair. The look was completely avant-garde and after the creation of the famous Pendleton house, everybody in Hollywood wanted one.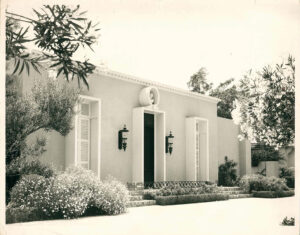 "Known for his attention to detail, Woolf was more like a French fine cabinet maker building homes that look like jewel boxes" says Scott Andrews, communications director for the PV Art Center. Mansard roofs with sky-high Pullman doors, columns and oval windows were signature styles in Woolf's designs, not typical of the time. He and his partner, Robert Koch, filled the highly decorative homes with elaborate fabrics and color while keeping the furniture on a smaller than normal scale to accentuate the celebrity in the room. Rooms were built to stimulate conversation, with sitting areas and settees; rooms weren't built around the TV, as they are often today. It was a time when people communicated face to face.
Within the exhibit, running at the PV Art Center through July 19, 2015, are original sketches and floor plans, photography, furniture and lighting designs, as well as some very interesting correspondence between Woolf and celebrities like the aforementioned Bob Hope and Joan Crawford as well as Robert Guggenheim.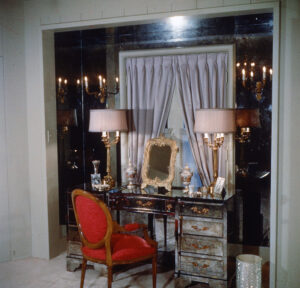 One of the many highlights is the case study of Craig Ellwood's ultra-modern experimental home of glass and steel that Woolf renovated to resemble an elaborate Greek Temple with Doric columns and a Hollywood Regency facade. Thus proving that "anything can be changed into anything," as stated by John Chase in his book, Exterior Decoration: Hollywood's Inside-Out Houses.
Another display to not miss is the well-known Pullman doors, a piece featuring some of Woolf's more famous works with spectacular facades, such as the Pendleton and Menifee homes with the exaggerated Pullman doors reaching to the stars. 
All is, of course, a fitting tribute to a true luminary-one known as the "architect to the stars."
Photos Courtesy Art, Architecture & Design Museum, UCSB.
Related Post
A timeless Playa del Rey retreat is home to private bliss and endless ocean views Written by Constance Dunn | Photography&n...
Historic Hole-in-One By Denise Kano | Photography Courtesy of Palos Verdes Library District, Local History Collection &nbsp...
A Hermosa Classic By Denise Kano | Photography Courtesy of the Hermosa Beach Historical Society We take our limitless ent...