A Pierre Koenig original—carefully revised for the  21st century—creates a private utopia atop the ocean.
WRITTEN BY CONSTANCE DUNN
PHOTOGRAPHY BY PAUL JONASON
Presented by architectureforsale.com
Represented by Gerard Bisignano of Vista Sotheby's & Crosby Doe of Crosby Doe Associates Inc.
List price $3,875,000
The year was 1966. Lyndon B. Johnson was in the White House, the Ford Mustang convertible was selling like hotcakes, and the Beatles recorded 19 songs, including "Paperback Writer" and "Penny Lane." And, on a mellow residential street in Rancho Palos Verdes, the finishing touches were being put on a flat-level home designed by prominent architect of the day, Pierre Koenig.
Best-known for his Case Study House No. 22 (aka Stahl House), an icon of West Coast Modernism built in 1959 that still stands, perched above the city in Hollywood Hills, Koenig transferred his leitmotif—exposed steel and glass—to a plot of land in the South Bay on Crest Road, which the Henbest family would call home for decades to come.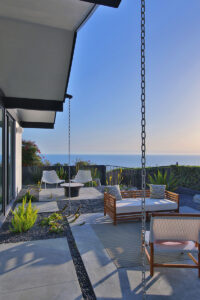 Flash forward to 2011, and the house came on the market, catching the eye of entrepreneur and South Bay dweller, Stephen Birkett, who has a thing for homes, and Mid-Century Moderns, in particular. "They're timeless," states Birkett, referring to this post-war architectural style characterized by lots of glass, slightly pitched rooflines and floor plans that erode the distinctions between indoor and outdoor living. "The floor plans of these homes and the way they opened up to the outdoors—they were decades ahead of their time," he notes.
After a bit of wrangling, Birkett closed on the property and embarked on what would be a 16-month project to bring the home into the 21st century, employing designer Robert Sweet to helm the project. "Robert Sweet did an amazing job," says Birkett, recounting the young architect's commitment to the project, which included "a ton of research. He even talked with Pierre Koenig's wife." [Pierre Koenig passed away from leukemia in 2004.]
"For the most part, this is the layout of the original house," Birkett relays as we stand in the kitchen, located smack-dab in the center of the home. He points to a Koenig signature: a thick, meaty beam grounding the airy white interior. "These are original beams. All we did was clean them up and paint them." Ditto for the globe lights dangling from the ceiling, which Birkett stowed away until after construction was complete, then meticulously polished and re-hung.
The home's update was largely a technical one, designed to keep Koenig's vision and aesthetic footprint intact. There was a thorough plumbing and electrical overhaul, and a spanking-new radiant heat system installed beneath the poured-concrete floors. Each of the rooms is now equipped with its own climate zone, so temperatures can be adjusted to suit individual tastes.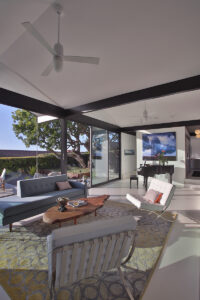 "About 80-percent of this home is glass," notes Birkett. This too, remains the same, though the original glass walls that lined the home—acting as sole curtain to separate the indoors from that endless supply of fresh California air and sunshine—were single-paned and stubborn to retract. All were updated to sturdy, custom models manufactured by upmarket window-maker Fleetwood, and they roll open and shut with well-oiled ease, no matter how light your hands.
The home's floor plan remains fundamentally unaltered from the original, though walls that once reined in the kitchen were knocked back. This successfully merges the space more prominently with open-floor dining and living spaces on either side, and allows more Pacific Ocean light to circulate throughout the home. The garage, formerly a standalone structure, is now one with the home, and connected via a newly constructed guest bed and bath suite that brings the total number of bedrooms to four.
Smartly, Sweet and Birkett didn't touch that which—aside from Koenig's stark beams—is the home's calling card: a ribbon roof line consisting of a series of low-peaked pitches. It's distinctive for a Koenig house, since the lion's share of the architect's residential designs sport flat roofs, yet serves a site-specific purpose in this case. It smoothly interrupts the rectangularity of the home while optimizing ocean views and the shifting positions of the sun, which bring in a kaleidoscope of mellow West Coast light throughout the day.
Arguably, the greatest re-shaping of the property occurred in the outdoor living area facing the street, which is now hemmed in from the world by a handsome wall of rock-hard Brazilian ipe wood.
"The front yard was a huge area that had tremendous potential. Problem is, there was overgrown bamboo and rock beds that had been placed there 40, 50 years ago," says Birkitt. "The huge Japanese tea house with a bridge and a 50-foot koi pond—not part of the original design—looked dated and took up tons of space."
Birkett journeyed to the Getty Center to peruse Koenig's original plans, and discovered that the architect had planned a pool for the front of the house. Sweet created the pool faithfully from Koenig's blueprints, "in the exact spot, and with the exact dimensions," notes Birkett. 
The home's front entrance was also re-worked to include a clever water feature. A shallow reflecting pool, its floor studded with flat river rocks, leads you along a concrete pathway to the front door, as if one is strolling along a stream.
"This really is the quintessential California indoor-outdoor home," states Birkett. "It's not a huge home, it's around 3,300 square feet. But it lives like a 7,000- or 8,000-square-foot home."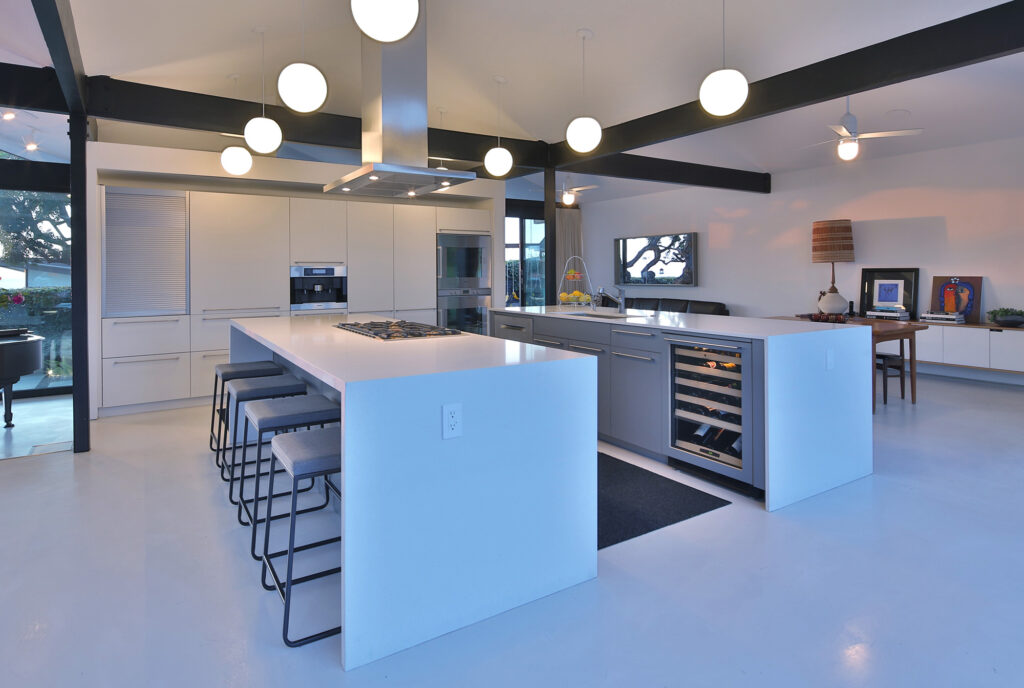 Indeed. And it has everything to do with the plethora of well-defined spaces that hide out in plain sight. Some are forged by careful interior design—like the fresh-air dining space that sits atop an elevated mahogany platform near the pool, dressed in a stark-white table and chairs, that practically begs for a candle-lit dinner party. Or the quiet corner perch tucked beneath a nest of green foliage that may be the best place in Los Angeles to sit with a cup of morning coffee and plot day. Inside? Outside? One forgets which is which, and it ceases to matter.
Birkett points out that the home's glass walls are open almost every day. "It's not a museum," he insists. "This is a home. Our kids run around in here. They ride their bikes in here. Mid-Century Modern homes were meant to be lived in."
Though ready to move on—the home is currently listed with Gerard Bisignano of Vista Sotheby's as well as Crosby Doe of Crosby Doe Associates—Birkett describes his time spent working on and living in the Koenig home with energy, detail and purpose. "We really did our homework to renovate this home the right way," says Birkett of the most satisfying part of the journey. "Everything was thought out to the nth degree. Every single surface, every material." 
Because of this, he continues, "[The] house is now alive for 50 more years."