Is your marketing remarkable?
THE CHALLENGE
How do you optimize your marketing results and differentiate your brand in the highly competitive local real estate community? The "Digital Revolution" has changed the rules for how real estate is marketed, advertised and ultimately transacted. Today's real estate consumer is more sophisticated and more educated than ever thanks to online search engines, public MLS listing access, market research / real estate data, and web-based real estate brokerage sites. As the real estate industry transforms, real estate professionals face a unique challenge: how do you coordinate and integrate your brand LOCALLY to maximize awareness, engagement and loyalty?
THE SOLUTION
Utilize a targeted, hyper-local, multi-channel marketing platform.
South Bay Digs provides and innovative and dynamic multi-channel marketing platform that maximizes exposure in the local real estate community. Our Integrated marketing strategy leverages the most relevant communication channels – print, Internet & digital media, social media, community networks – all working together to generate optimum 360 ̇ marketing velocity.
LOCAL REAL ESTATE HAPPENS HERE
SOUTH BAY DIGS is an Innovative 360 ̇ Multi-Channel Marketing Platform for Local Real Estate
South Bay Digs – the largest and only 100% targeted real estate media platform of its kind serving the affluent coastal neighborhoods of Manhattan Beach, Hermosa Beach, Redondo Beach and the Palos Verdes Peninsula. Our hyper-local and innovative multi-channel media platform provides targeted exposure to active home consumers in the South Bay of Los Angeles. Leveraging today's most relevant and engaging communication channels, South Bay Digs generates optimum 360 ̇ exposure for local real estate professionals, architects, mortgage lenders, interior designers, builders, banks and lending institutions.
South Bay Digs was created to harness and leverage the "digital revolution" and disruption in media. The "old rules" of marketing no longer apply.
Our "next generation" media platform redefines the local real estate experience by integrating our online digital media portfolio and digital media assets, (high definition video production, social media, audio podcasts, and tablet apps) with our hyper-local target audience luxury print publication. Our print publication is the community foundation for building trust, loyalty, and awareness for your business, your brand, and your service offerings.
MULTI-CHANNEL MARKETING
It's about results. We have a plan.
The best marketing results come from a cohesive marketing strategy that tightly integrates the most relevant media channels, allowing you to communicate directly to your target audience in a comprehensive manner.
Our Media Platform Generates 360 ̇ Marketing Velocity for your Brand: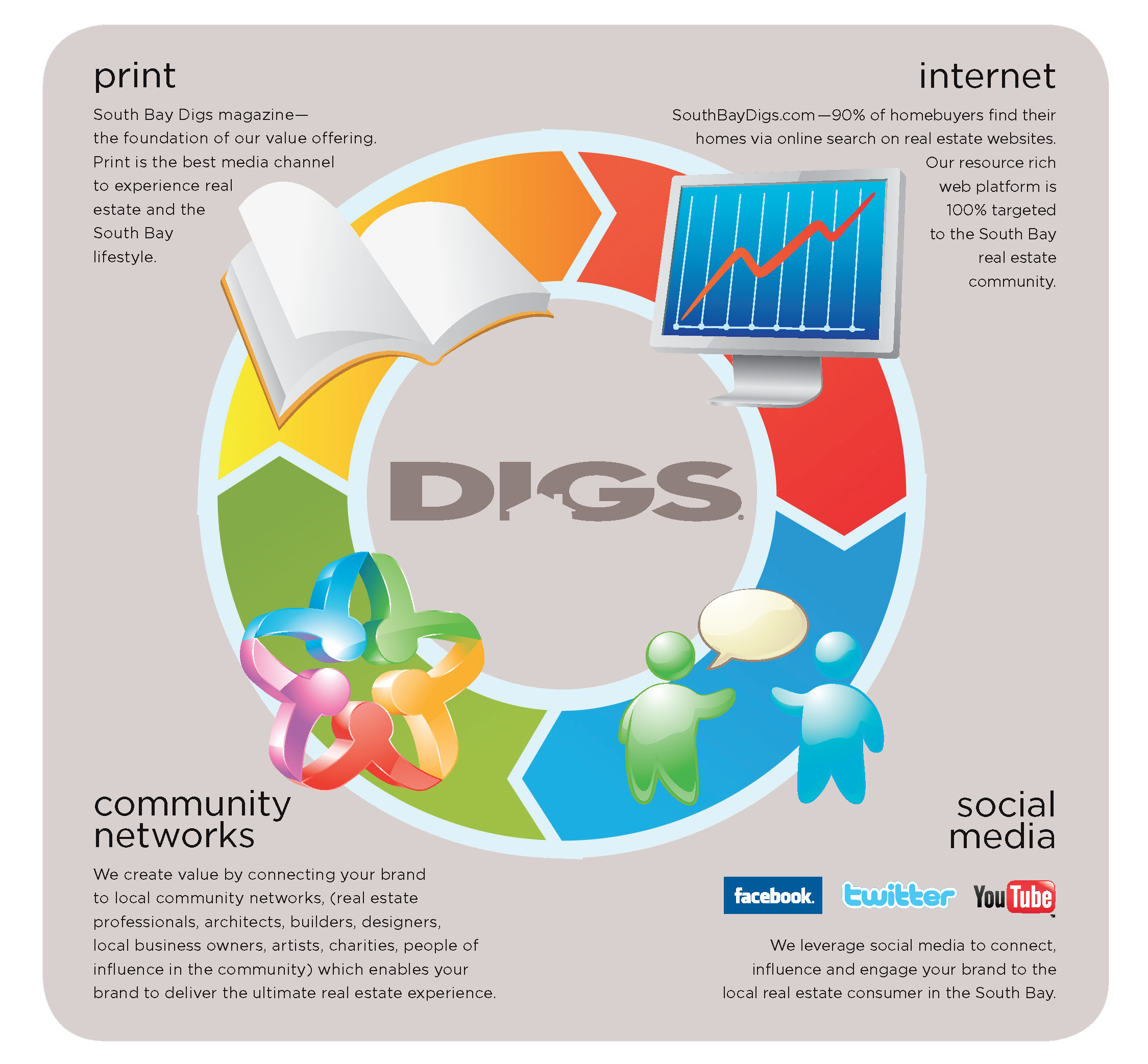 HYPER-LOCAL PRINT
South Bay Digs magazine – the South Bay's premier luxury real estate lifestyle magazine. Target audience print media continues to have the highest reader engagement of across all media.
INTERNET | DIGITAL MEDIA
SouthBayDigs.com | the gateway to the finest real estate offerings and hyper-local content in the South Bay
SouthBayDiggs.com | our Interactive Digital Edition archives and current Digital Edition
DIGS Digital Newsstands | DIGS is published across a variety Digital Newsstands
DIGS APP | iPod | iPhone | Global Exposure for South Bay Real Estate
SOCIAL MEDIA | Connect through us. We leverage the most relevant social media channels to connect, influence and engage your brand to the local real estate consumer in the South Bay Los Angeles.
COMMUNITY NETWORKS
Real Estate is local. We create value by connecting your brand to the local community network, (real estate professionals, architects, builders, interior designers, lenders, mortgage companies, artists, charities, local business owners, and people of influence in the community) which builds visibility, trust and overall engagement for your brand in the local community.