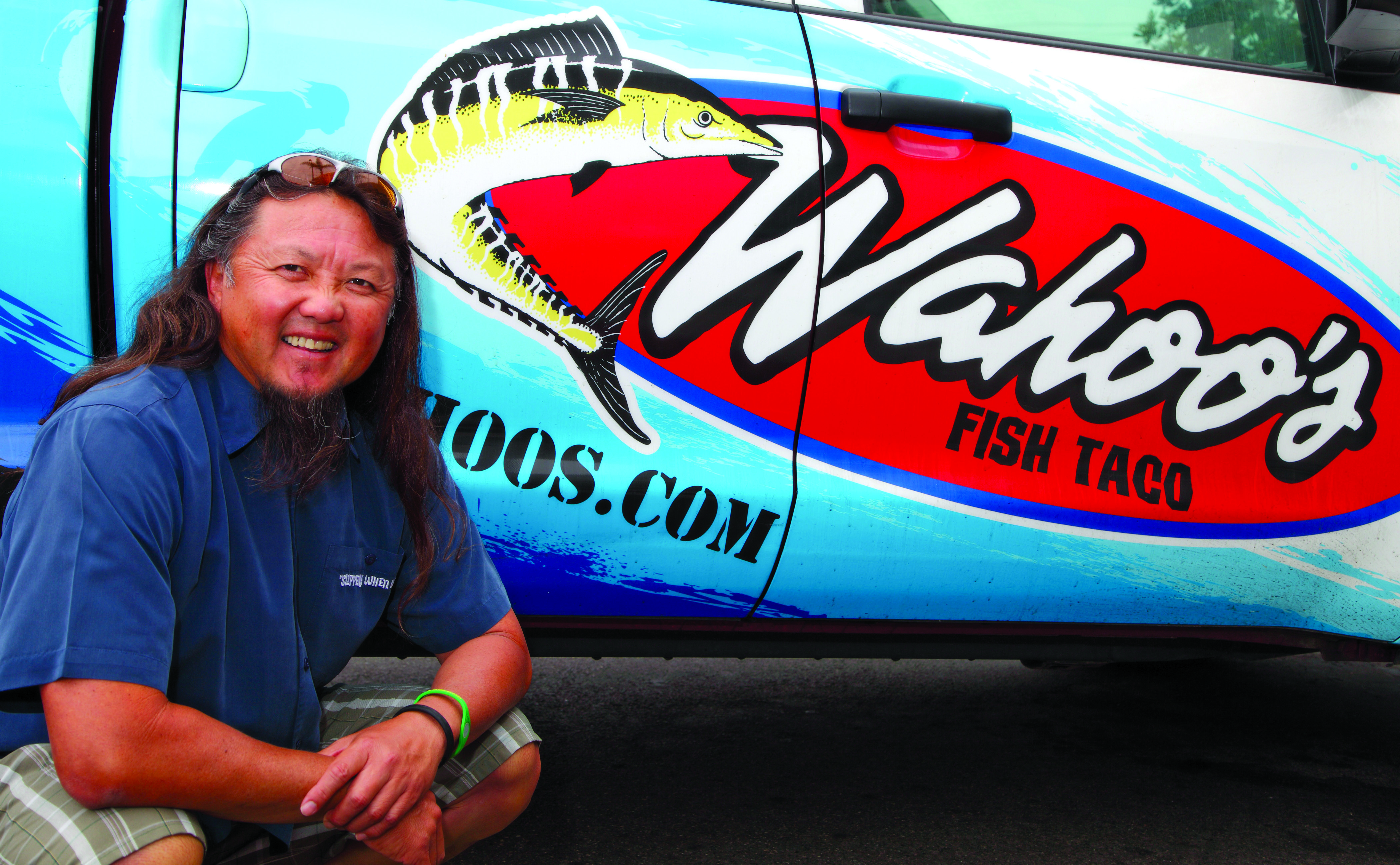 People: Wing Lam
Good Times with the Coolest CEO on the Planet
by Pamela Corante-Hansen
So this CEO walks into a taco shop. The Foo Fighters are blaring from the sound system. A guy with a volleyball player build is finishing up a combo plate at a table that looks like it was hand-dipped in surf gear stickers.
The CEO brushes a strand of long black hair out of his face, strokes his wispy billy-goat beard and holds up an ink-blue guayabera shirt emblazoned with a logo. "Hey," he says. "Do you guys think this is this okay?" The CEO's name is Wing Lam. His empire: Wahoo's Fish Taco. The shirt, bearing the Wahoo's logo, combined with his shorts and flip-flops, are standard business attire for this surfer-turned-entrepreneur, who sat down with South Bay Digs at his Manhattan Beach cheap mlb jerseys store to discuss life, food trucks and the pursuit of fun.
SOUTH BAY DIGS: You're known as the "Coolest CEO on the Planet." How do you live up to your reputation?
WING LAM: (Laughs). You know, I fool a lot of people by pretending that everything, no matter how hard it is, is a lot of fun.  The trick is you gotta make it look like it's fun. And that's hard work! You just have to have this attitude that's like, 'Oh yeah, no problem.' If you have to carry something heavy up a ramp, make it look like fun.
SOUTH BAY DIGS: But it's not all about the glory—I understand you're involved in a lot of charitable causes. Could you tell me a little more about that?
WING LAM: I don't talk a lot about it, but you can leverage your business knowledge and resources to really make a difference for nonprofits.  That's the fun part. Here's an example: If a nonprofit were to go to big beverage company for their 10K run and say, 'Hey, we need a pallet of water,' the company's like, 'Yeah, so does everyone else. What am I getting out of this?' And the nonprofit says, 'Well, you get your logo on everything,' and the Eure response is, 'We already have our logo on everything.' I can go in and say, 'Hey Big Beverage Company, I'm a happy customer, and by the way, you might want Sports to know about the great work this group does.' In the end, everyone's happy.
SOUTH BAY DIGS: What are some of the charities you support?
WING LAM: Oh, I could go on and on. The Alzheimer's Association, MDA (Muscular Dystrophy Association), MSAA (Multiple cheap jerseys Sclerosis Association of America), CFF (Cystic Fibrosis Foundation), Surfrider Foundation; just about any acronym you can think of, we're involved in.
SOUTH BAY DIGS: How do you decide which charities to support?
WING LAM: A lot of times it's customers who suggest a charity, and if they're a customer, they have leverage. We usually try to fit their needs with what we have. If it's sports- related—a walk, run or a tennis or golf tournament—it's easier for us to get involved than at events where people are all dressed up. If they ask us to help out on a gala, we may say, 'Well, we don't do that, but what else do you have on your schedule?' And they usually have some kind of sporting event. Our charitable giving is definitely a reflection of our lifestyle.
SOUTH BAY DIGS: Speaking of lifestyle, talk to us about what it was like growing up in Brazil.
WING LAM: I was born and raised in Sao Paulo. I grew up in the Liberdade neighborhood, which is kind of like the Chinatown there. We moved to California in 1975. And I've been here ever since. I've spent time in Brazil with relatives, and I was able to observe this life philosophy that 'work comes second; family, friends and having fun come first.'
SOUTH BAY DIGS: How did that influence your lifestyle and work?
WING LAM: (Laughs). Having Chinese parents, I have a mix of both worlds. Being Asian means work is first. Being Brazilian means work is second. So what I found is that as long as I can make it fun, I don't mind working. Swimming is working out. Surfing is fun. So if I tell my parents I'm going swimming, they don't mind, when actually I'm going surfing. It's all in how you position it. Catering is work. Going to a concert is fun. If I'm catering a concert, I'm having fun. You gotta work and you gotta play, so I balance the two.
SOUTH BAY DIGS: Switching gears a bit, Wahoo's has been described as 'fast casual dining' by different sources. How would you define fast-casual?
WING LAM: It means you want something good to eat, but you want it a little quicker. You don't have the full white-linen service where you wait a half an hour for your meal. We still prepare food to order; we just do it quicker – you order at the counter, pay and sit down and the order comes. What a lot of other people have done is taken it a step further and gone,  'Let's prepare all the food ahead of time.' They've removed a critical part of the dining equation. For us, it's supposed be fast, but it's not supposed to be processed.
SOUTH BAY DIGS: Along those lines, some have defined fast casual as being quick but still having ambiance. What does ambiance mean to you?
WING LAM: We've invested in our restaurants so that we're not just a takeout place. The whole takeout experience should be about dining out, not dining at home. So you have wholesale jerseys China to have a whole décor that reflects this, that allows you to relax and in some ways takes you to Mexico or Hawaii or somewhere a little more tropical than where you are.
SOUTH BAY DIGS: How does this influence your decorating aesthetic?
WING LAM: It's how you position yourself. You have to be in the right place in order to get what you're hoping to get. A girl who wants to attract a certain guy puts herself in a certain spot where he can see her, and she gets noticed. I had this idea that I wanted to be where the surfers are. You can't be in Riverside to do that. So we opened our first store in Costa Mesa where all the big surf companies in the world have their U.S. operations. If I cater to them, eventually they will come. So if the concept is that it's a restaurant for surfers, you can decorate the restaurant to reflect that. As it turns out, the surf companies did a lot of the decorating for me. I didn't have anything, so it was kind of twofold: One, they made it their own, and two, it's still decorated for everybody.
SOUTH BAY DIGS: That very first restaurant was actually once a single-family home. Does it feel like a house when you walk in?
WING LAM: It was a house converted to a veterinary office converted to an Italian restaurant and then we got there. You walk in through a world! porch, and if there were no signage you'd think you were in somebody's house.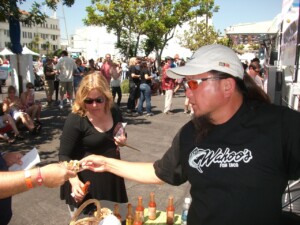 SOUTH BAY DIGS: What made you say, 'This is the place'?
WING LAM: Again, it's that girl waiting outside the locker room for the football player to come out. Near this house is where the surf companies are based. They go surfing during their lunch hour. If you know where your audience is and hangs out, and if you set yourself up there, you'll get noticed and the word will spread.
SOUTH BAY DIGS: What kind of effect do you think Wahoo's aesthetics have on your customers?
WING LAM: No matter where they are in the U.S. or in the world, whenever anybody thinks of California, they either imagine everyone lives next door to Who Disneyland or everyone surfs. A visitor may say to you, 'Let's go surfing,' but most people here don't.  So the idea is you take them to a restaurant that makes everyone feel like they surf. It's like people who wear NBA jerseys but don't play basketball. It's the famous-by-association concept.
SOUTH BAY DIGS: Some people are tremendously influenced by their physical surroundings, and others aren't at all. Where do you fall on that spectrum?
WING LAM: (Laughs) I appear to be very laid back, but I have very specific things that I like. I'm very…I hate to use the word but (whispers) I'm pretty anal. I'm particular. Our restaurant is organized chaos. It appears like it's a free-for-all, but I have to have things a certain way.
SOUTH BAY DIGS: If you had to define your life's philosophy in three words, what would they be?
WING LAM: Have fun. Have fun more than anything else. In anything that you're doing, just have fun. That's more than three words. Here you go: Just have fun.
SOUTH BAY DIGS: wholesale jerseys What's the one thing in your house that you'd save if there were a fire?
WING LAM: (Silence) You know what's really funny? I don't really care. I'm not very materialistic. I would make sure my girlfriend was out, I think.
SOUTH BAY DIGS: That's good. I think she'd appreciate that.
WING LAM: Yeah, other than that you can pretty much replace anything.
SOUTH BAY DIGS: Food trucks—here to stay or passing trend?
WING LAM: We've got three of them. Way before anyone was doing food trucks in California, we were doing them in Austin, Texas and Hawaii.  We put our trucks where we're wanted because we don't want to upset merchants. Way back when, food trucks used to go to industrial parks and hang out there. The way some companies do it today is that they park [their trucks] in front of retail businesses. I don't know how I feel about that—it makes sense if people want to eat out after the restaurants close, but if people have the option to eat off a food truck while my restaurant is open, they may not eat at my restaurant. Good or bad, food trucks have created an opportunity for people who can't afford to eat out much.
SOUTH BAY DIGS: So where can we find the Wahoo's truck?
WING LAM: Our truck goes to sporting events, and we were just at the food and wine festival at Paramount Studios. It's a lot of work, but it's a lot of fun.
Related Post
From spec mansions to legendary Hollywood estates, L.A. properties continue to net top dollar Written by Wendy Bowman A lavish estate h...
Modern Flora Pacific Bougainvillea brings 63 new single-family homes to Torrance Written by Alisha Henson | Renderings Courtesy of Pac...
A masterpiece made for au courant living in Manhattan Beach Live the luxe life while steeped in elegance and the grand surrounds of a French...