Local Gem
Written by Joclene Davey
When dining at Lou and Grace Giovannetti's Southern Italian outfit PRIMO, it's as if one is home for dinner. First- and second-generation Italian Americans, the Giovannettis' roots stretch from the Campania region to Sicily, which their restaurant's cuisine reflects. "The menu is a culmination of our two family['s] recipes and the talent of chef Michelangelo Aliaga, who is ardent about Italian cooking. It's an amalgam of our Nonno's and Nanna's recipes, coupled with the highest grade of fresh ingredients available," Lou explains.
As always, the perfect accompaniment to a great Italian meal is a well-paired wine. PRIMO's thoughtful and concise wine list is compliments of sommelier and co-owner Grace Giovannetti. The well-balanced list offers delectable Barolos, Brunellos, and Super Tuscans for even the most cultured palate. "As a sommelier at PRIMO, I get to take it to another level by sharing wines that showcase varietals from all over Italy that pair perfectly with our food," she says. "Through our wine dinners we can extend more knowledge to our guests, especially when the Italian winemakers join us to tell their stories and how they capture the love of their land and history in a bottle for us."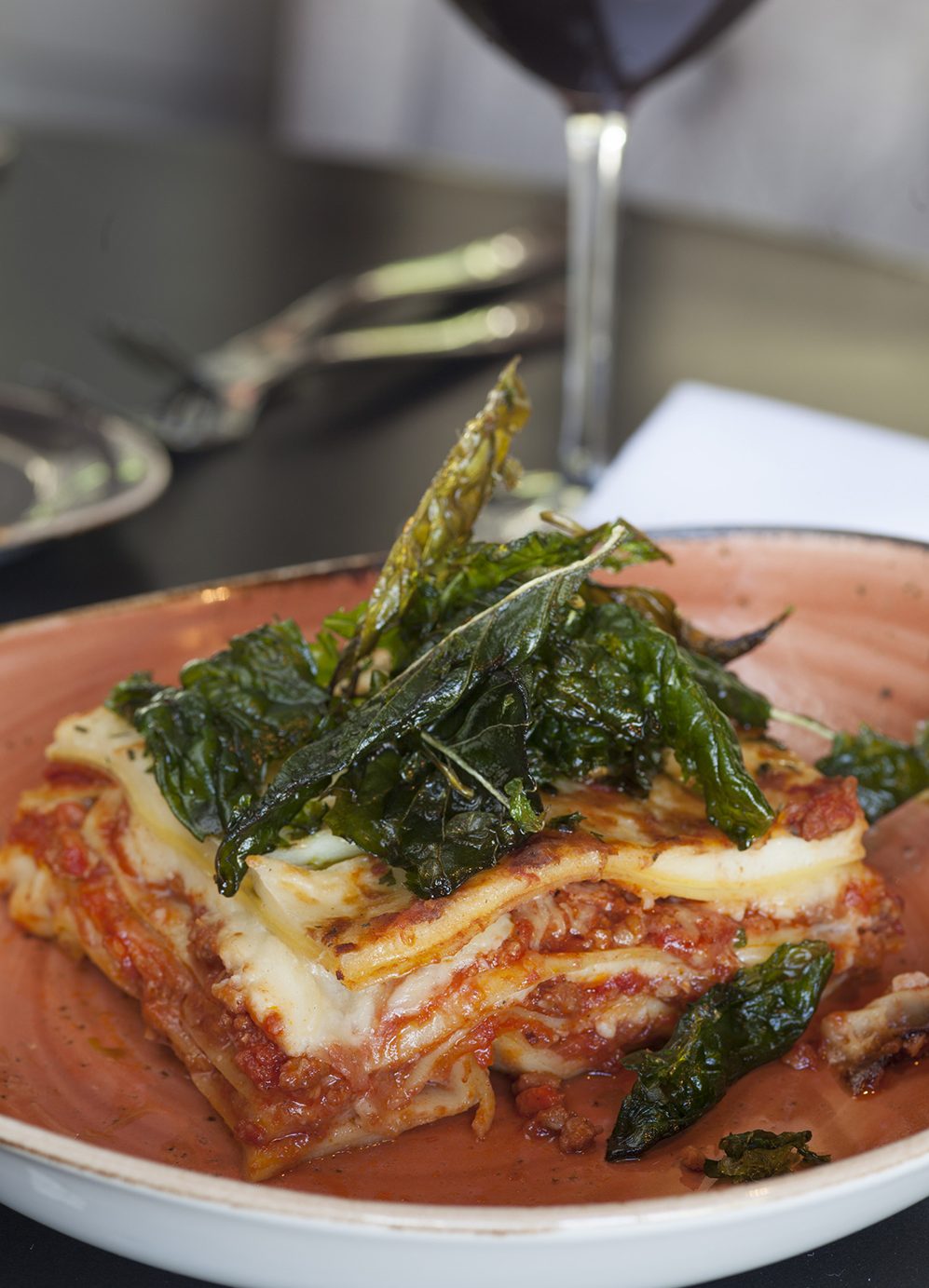 The restaurant's dynamic, bespoke interiors come together in an elegant manner that is comfortable and inviting. Reclaimed wood touches, statuary Italian marble, exposed ceilings and custom-designed furniture set the stage for an enjoyable experience.
"Everything in the interiors [is] based on relationship," confides Lou, referencing sketchbook pages from a friend whom traveled Italy and handwritten recipes from Grace's grandmother. Meanwhile, there is a mélange of personal artifacts from New York, Sicily and Cava de' Tirreni, where the Giovannettis made a pilgrimage to retrieve a family heirloom of Saint Rocco that overlooks the space. All tell a romantic story of Italian heritage in an updated atmosphere that is just trendy enough.
Noteworthy are two private areas for entertaining. Rocco's Room is a large private dining space with banquette seating for up to 35 guests. The tech-savvy space contains a massive satellite TV for a variety of uses, from board meetings to personal parties. The second room is suited for more intimate occasions. Called La Cucina Del Nonno, it was inspired by a family owned cottage in the Montepulciano region of Italy and is fit for parties of 12 and under.
A must-see is a feature wall in the main dining room dedicated to Frank Sinatra. It serves as an homage to Lou's personal history of singing on Broadway. A born entertainer, he has been known to perform around the South Bay over the years. In fact, on Friday and Saturday nights, one might be lucky enough to hear him serenade patrons with a block of big band hits. On a final note, Lou shares, "Our angle is simple. If you want to enjoy the weight of what Italian family and food is, come in, enjoy, take your time, visit with your friends. We aspire to be a true dinner house. When you are here, you are coming into my house for dinner."
PRIMO ITALIA 24590 HAWTHORN BLVD, TORRANCE, CA 90505 | 310.378.4288 | EATPRIMO.COM
Related Post
A duo of downtown Hermosa Beach homes showcases the best of today's South Bay Modernism Written by Constance Dunn | Photography by Paul Jo...
Pools offering an alluring visual element, plus the irrefutable recreational factor, have L.A. homeowners taking the plunge Written by Wendy...
Guests of the Beverly Hills outpost of Fogo de Chão now can enjoy the restaurant's authentic churrasco dining experience in a newly revam...