Hidden Gem
Named for one of the most famous, elegant and expensive streets in Rome, Santa Monica's Via Veneto restaurant exudes an Italian vibe via its warm setting and authentic flare
Written by Wendy Bowman | Photography Courtesy of Via Veneto
When Via Veneto first began serving fine Italian fare almost two decades ago on Main Street in Santa Monica—a fairly run-down area at the time, almost an extension of the Venice Beach boardwalk—many people thought that its born-and-bred Italian owners, Fabrizio Bianconi and Marco Cialini, were a little bit off their rockers. Now, 16 years later, the intimate and romantic restaurant has carved out quite a home for itself amid the blossoming neighborhood, serving as a favorite spot for celebrating special occasions—from birthdays to anniversaries to engagements—and attracting a loyal clientele that includes a regular cast of celebrities.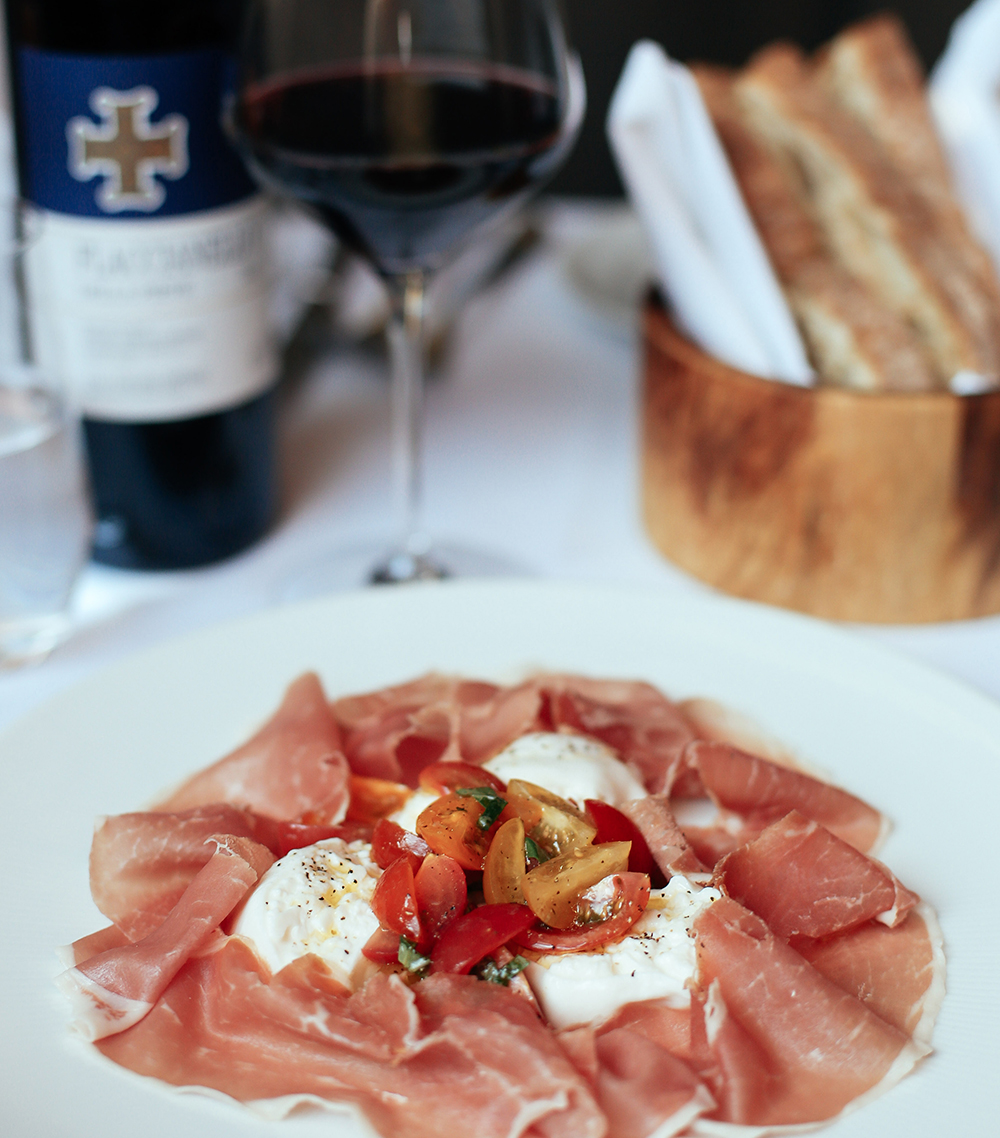 "We opened Via Veneto in 2001, at a time when Santa Monica looked very different compared to what it has become today," says Bianconi. "The city felt dreary and shady and had not yet become the Santa Monica Angelenos know now. It was a crazy idea, offering the type of high-end fine-dining experience I wanted to offer, serving the authentic Italian food I grew up eating in the Tuscany region of Lazio, in a gorgeous, intimate space with a valet drop off out front. Somehow, it was exactly what the city needed, and we have been hugely successful."
Little has changed in that time. The restaurant has remained at its beautiful location on Main Street; a master list of every dish ever served is kept on hand to bring regulars' favorites back into the monthly rotating menu, and guests return time and again to observe key milestones in their lives. Through the years, Via Veneto also has emerged as a favorite destination among celebrities, with the odds pretty high of spotting a famous face enjoying a meal at the eatery's cozy seats and small tables nightly. Among them: Harrison Ford, Oliver Stone, Gwyneth Paltrow, Sean Penn, Charlize Theron, Bradley Cooper, Jeremy Piven, Madonna, Sylvester Stallone, Denzel Washington, Leonardo DiCaprio, Matt Damon, Keanu Reeves and Steven Spielberg.
The undeniable allure? Bianconi's passion for sharing his home country's cuisine, along with his and chef Ruben Vasquez's dedication to elevating traditional Italian comfort food to creative, high-quality fare using organic, locally grown and sourced ingredients. Highlights include an off-the-menu Ravioli Trio special (a flight of delicate, handmade pasta stuffed with sweet lobster, fresh asparagus and ricotta, and pumpkin with butter and sage), followed closely by Melanzane Alla Parmigiana (parmigiana-style eggplant) and Burrata E San Daniele Stagionato 24 Mesi (24-month-aged San Daniele prosciutto and burrata). The restaurant also maintains an extensive, meticulous wine list supervised by general manager and master sommelier, the handsome Simone.
So, set your sights on "the sweet life" of Italy without leaving Santa Monica. Uncover this hidden gem named for one the Eternal City's most famous streets (which just happens to be where Federico Fellini was inspired to create his 1960 film La Dolce Vita). Bravo!
VIA VENETO
3009 MAIN STREET
SANTA MONICA, CA
310.399.1843
Related Post
A new mobile bar service is bringing the party to L.A. doorsteps About four years ago, California restaurant and bar entrepreneur Greg Medow...
A buzzy burger joint turns fun foodie spot in Hermosa Beach "Wow, let's do something that's completely opposite." That's what Greg...
The West Coast's premier design fair is coming to the Westside with the best in modern design Written by Jenn Thornton | Photography Court...