Beach Inspired
Strand Boards turns surfboards into fun home fixtures
Written by Constance Dunn | Photography Courtesy of Strand Boards
Living in the South Bay with her husband and three young children, Hansni Thadhani was looking for a fun way to wash off the sand and saltwater after coming from the beach, and a cheerful water-play feature for days when ocean frolicking wasn't on the schedule. "To our surprise, finding a surfboard shower was harder than we thought, and we didn't like anything we saw," says Thadhani, who let necessity, and her desire for a specific home item, be the mother of invention. "We made a shower exactly to our liking and specifications. Pretty soon, friends were saying 'I want one,' and we knew others would too."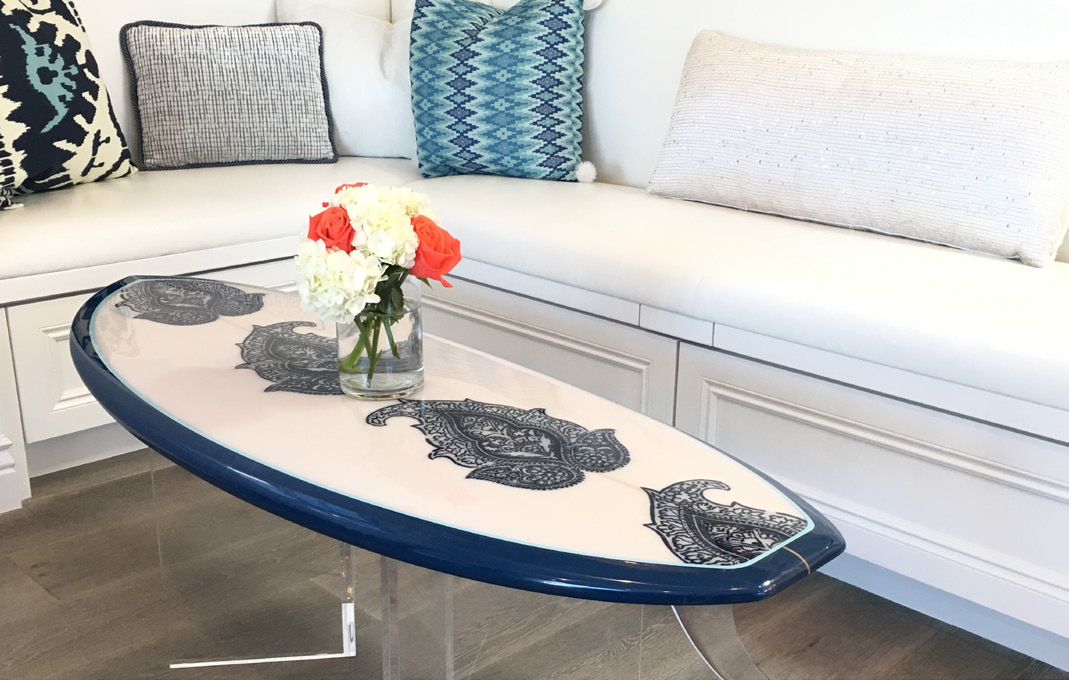 At the start of 2016, Thadhani officially launched Strand Boards with a line of signature surfboard showers, each individually crafted locally in Manhattan Beach from actual surfboards, and sporting cheerful rainbow colors. Given customer demand for showers that melded with their homes' native palettes, Strand Boards has made customization a big part of what they do, from the size and dimension of each shower to turning a customer's beloved but beat-up board into something wholly new.
"We love re-purposing old surfboards," Thadhani explains. "We can take an old board and remake it into one of our products." Not just a shower, but a lighting fixture, a piece of functional furniture, or another home item, since Strand Boards has expanded past showers and into making plucky decor. There's a surfboard with a clear Lucite base that functions as a coffee table or bench, for instance, and the Boardwalk Surfboard Chandelier, which features a trio of glass pendant lights that hang from a surfboard.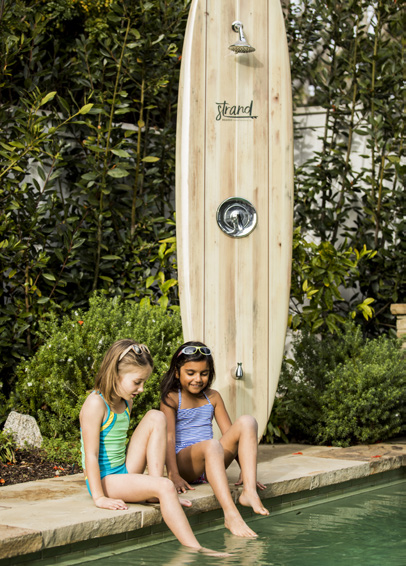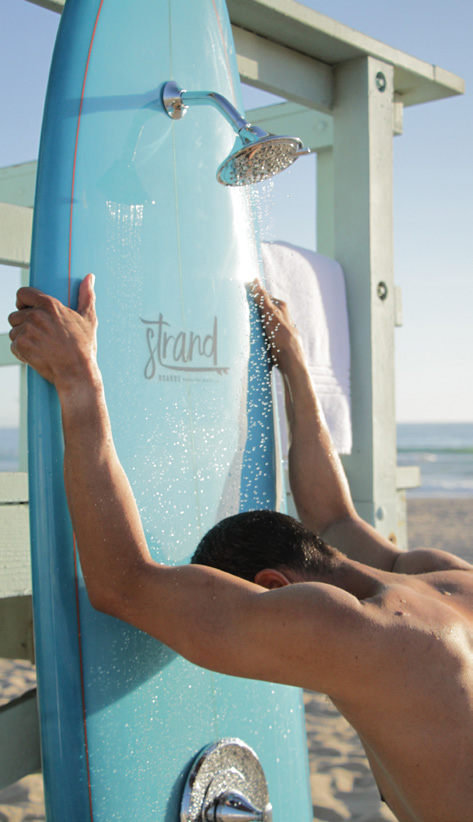 But showers are still at the core of Strand Boards. "They love the cool factor and their ability to customize the shower," says Thadhani when asked what folks love most about Strand Boards showers.
"It's really a unique piece that marries purpose, style and great beach vibes." The company has recently innovated a new series, the Beach Blvd. line, which dispenses hot and cold water with all the copper plumbing neatly integrated inside the board, plus a handheld shower head for rinsing from head to toe.
Conveniently, a plumber is not needed for the install, the shower is mobile and it can be affixed to a wall or surface, much like how one would hang a picture frame. (Other Strand Board models require a plumber for installation.)
Living in the South Bay for the past four years, the entrepreneur counts the area's family environment and the intimate feel of the community among the reasons for her love of the place—that, and the beach, provide the inspiration of her business. "My husband lived here after college and kept trying to get me to leave the Westside. I wish I'd listened sooner!"
STRAND BOARDS
424.213.6002
Related Post
A luxurious home, located on one of Brentwood's premier streets and balancing state-of-the-art technology with Old-World quality craftsman...
In celebration of its 60th anniversary, famed lighting and antique purveyor Paul Ferrante is reopening a newly designed showroom in the Melr...
A duo of downtown Hermosa Beach homes showcases the best of today's South Bay Modernism Written by Constance Dunn | Photography by Paul Jo...